Traveling in Taiwan
12 Ways to Embrace and Enjoy Taiwan's Summer Heat
精華簡文
Source:MyTaiwanTour
Summer is at our doorstep here in Taiwan, meaning two things. It's hot, and getting hotter, so make sure and stay hydrated! (Have you tried fresh watermelon juice?) There are tons of things to do everywhere on the island, both to beat the heat and to embrace it.
12 Ways to Embrace and Enjoy Taiwan's Summer Heat
By MyTaiwanTour
web only

It's hardly an exaggeration to say that summers can be a little intense here. So this week we'd like to offer a few suggestions for outdoor activities that'll actually make you glad you visited our beloved subtropical island during the hottest part of the year: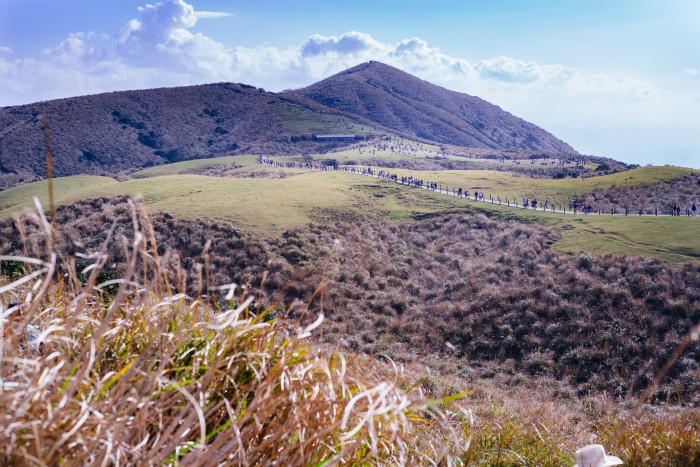 Yangmingshan Mountain (Image: MyTaiwanTour)
1. Head For the Hills
While the cities may be broiling, it's always bound to be a bit cooler up in the mountains. And Taiwan has no shortage of mountains. This summer you'll definitely want to get as high above sea level as possible. Even if you can't spare the time (or get the permits) for a serious multi-day expedition to Jade Mountain, you can always hop on a bus from Taipei into Yamingshan. Dress appropriately, wear sun-block and bring plenty of water. If you're looking for a more structured guided tour, check out MyTaiwanTour's Seven Star Mountain Day Hike.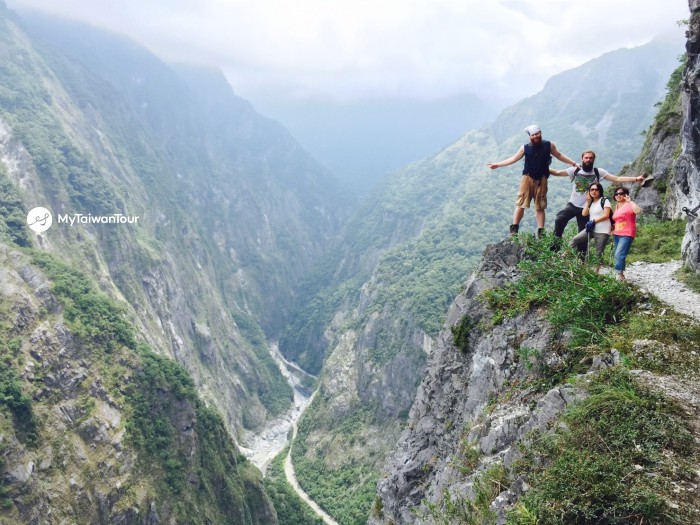 Hiking the Zhuilu Old Trail (Image: MyTaiwanTour)
2. Make for the Gorge
Alternately, instead of heading up, you could head down to Taroko Gorge. It's accessible, and beautiful year round. One of the added benefits of hiking Taroko Gorge in the summer is that you're generally within site of the river, which has a number of spots to chill out and soak your feet. Two of the more accessible trails in the region are the Shakadang Trail and the Zhuilu Historic Trail; both are beautiful, offering plenty of hiking, climbing and amazing views. You'll need to arrange a permit for the Zhuilu Historic Trail, but not the Shakadang. MyTaiwanTour's Taroko Gorge 3 Day Hiking Adventure combines hikes on both trails, as well as arranging meals, accommodations and permits.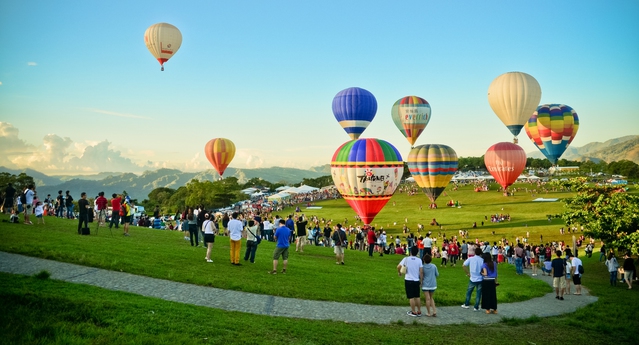 (Image: MyTaiwanTour)
3. Head for the sky
No matter what the temperature, riding in a hot air balloon is an intrinsically cool thing to do, and in Taiwan, summer is the season to do it. The annual Taitung Balloon Festival happens from 6/30 until 8/13 and brings ballooning enthusiasts from around the world to the fields of Luye (one of the most beautiful parts of the island) to fly high above the rift valley. Definitely file this in the once in a lifetime experiences category. ( Read More: Up, Up and Away in Taitung – Taiwan International Balloon Festival)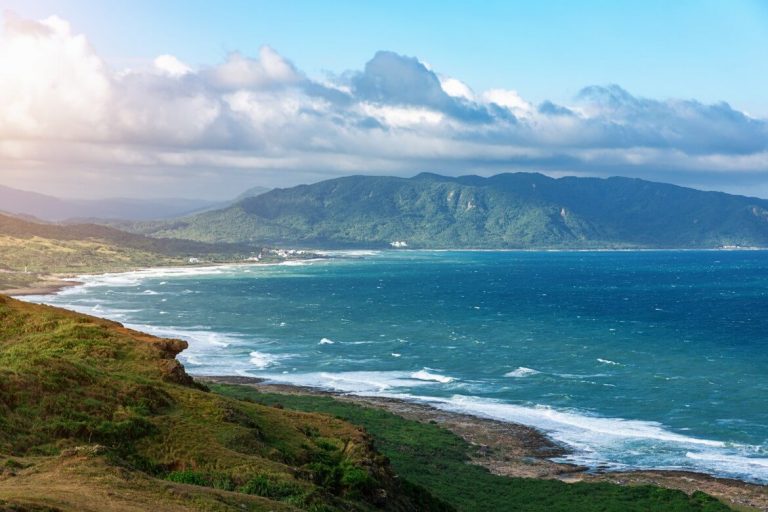 Kending, Southern Taiwan (Image: MyTaiwanTour)
4. Make for the waves (1) : Go to the beach
Being an island, Taiwan is (naturally) surrounded by water. But as all beachcombers know, not all beaches are created equal. Most of the island's popular beaches are on the Pacific side, where the waves are higher and the water wilder. (Less confident swimmer take note). A few popular east coast beaches, including Fulong and Wai'ao beaches are fine day trips from Taipei City. There are tons of other east coast beaches down the coast ranging from white sands to pebble beaches. There aren't really any beaches considered nice for swimming along the west coast until you get down to the southernmost part of the island at Kenting (who's beaches are a year-round favorite), but people do occasionally swim on some of the nicer spots around Tainan and Hsinchu. (Read More : Kending? Ken Do! – Surf and Turf Eco-Fun in Taiwan's Deep Tropical South)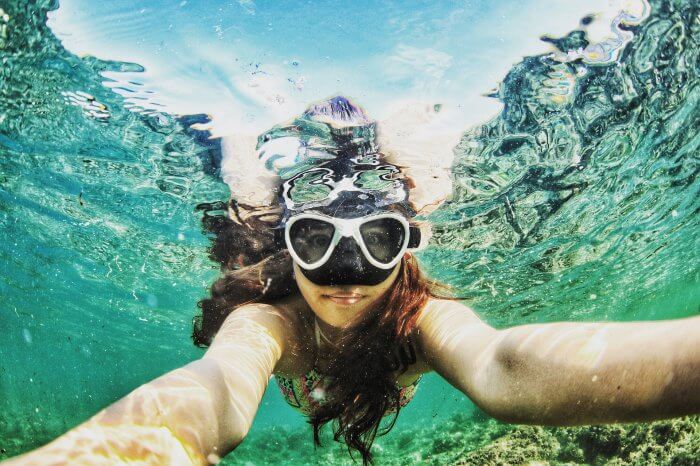 Snorkeling in Xiao Liuqiu (Image: MyTaiwanTour)
5. Make for the waves (2) : The Outlying Islands
Some of the best beaches in Taiwan aren't on the main island itself, but over on the outer islands. Matsu has some pretty cool swim spots, and being way off the beaten path keeps them pretty uncrowded year round. Xiao Liuqiiu isn't known for having the best sand, but it's easy to get to and has some of the best coral in Taiwan for snorkeling. (It also gets bonus points for being very chilled out.)Check out MyTaiwanTour's Xiao Liuqiu Island 3- Day Free & Easy Package. For our money, some of the best beaches in Taiwan (and maybe even Asia) can be found on the island of Penghu – yet another reason to visit this off-the-beaten-track enclave of history and culture.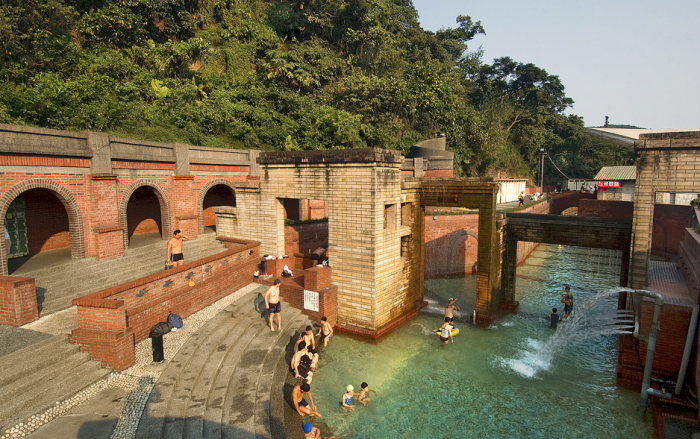 Su'ao Cold Springs, Yilan (Image:Taiwan Tourism Bureau)
6. Go for a dip in the Su'ao Cold Springs
Taiwan's hot springs are justly famous, but when the mercury rises folks on the east coast head to the town of Su'ao, a quaint town in Yilan that happens to be home to one of the globe's extremely rare natural cold springs (the only other one we've heard of is in Italy). In addition to just being damned refreshing, the bubbly waters of Su'ao are said to have tons of beneficial properties for skin & bones alike.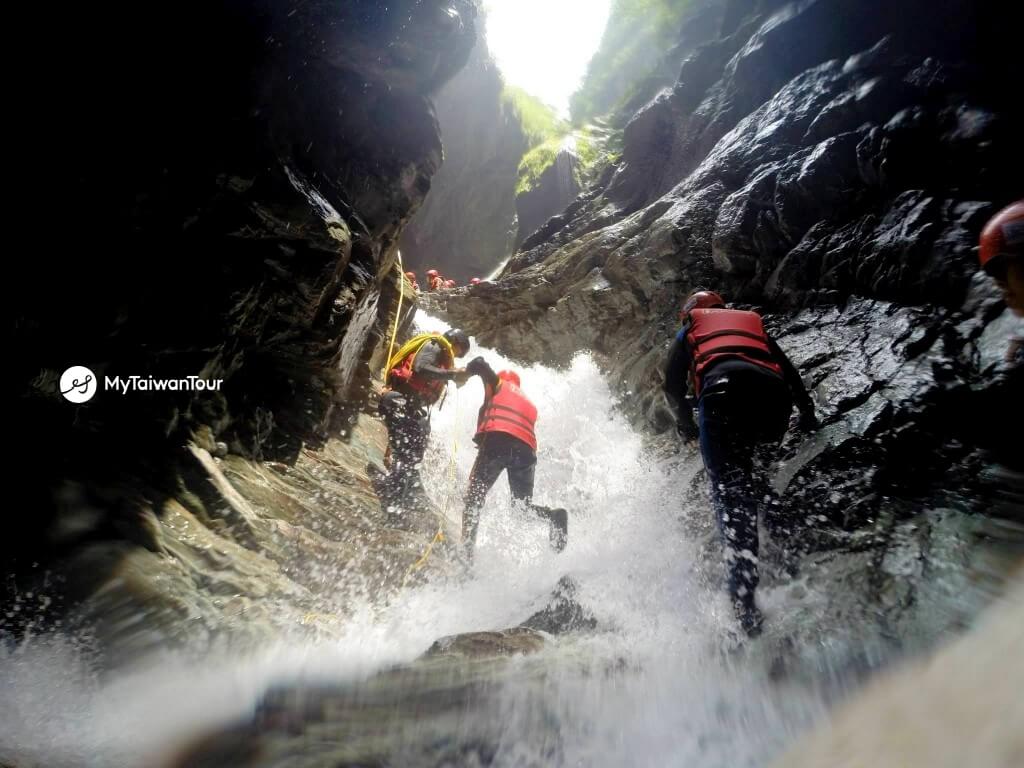 MyTaiwanTour customized river trekking tour in Hualien (Image: MyTaiwanTour)
7. Go river tracing
River tracing (or "canyoning," as its sometimes called) is an excellent way to simultaneously embrace and escape the summer heat in Taiwan. The activity entails walking in a river wearing a pair of booties with brillo-pad like soles that help you cling to the rocks. Depending on the conditions, you'll be in water anywhere from your ankles to your neck. This can definitely turn into an extreme sport, so it's best to go with an experienced group. Make a river tracing expedition part of a customized MyTaiwanTour trip.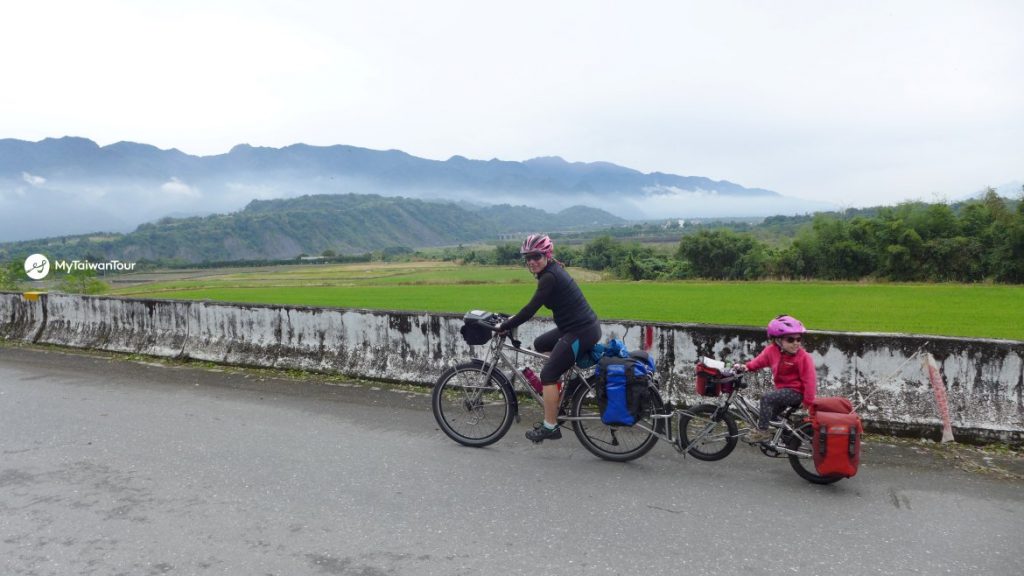 8. Take a cycling tour
Serious cyclists prepare for heat without letting themselves get discouraged by it, so if you fit into this category you should consider making the best of your summertime riding by doing it on the island's most beautiful roads. Taiwan has amazing, scenery filled cycling roads, and whether you're looking to ride along the coast or do some serious climbing in the mountains you'll definitely find what you're looking for. Join MyTaiwanTour's Early Summer Sea and Valley Cycling Tour this Summer or Hot Springs & Flowers: Eastern Taiwan Cycling Tour in Winter time.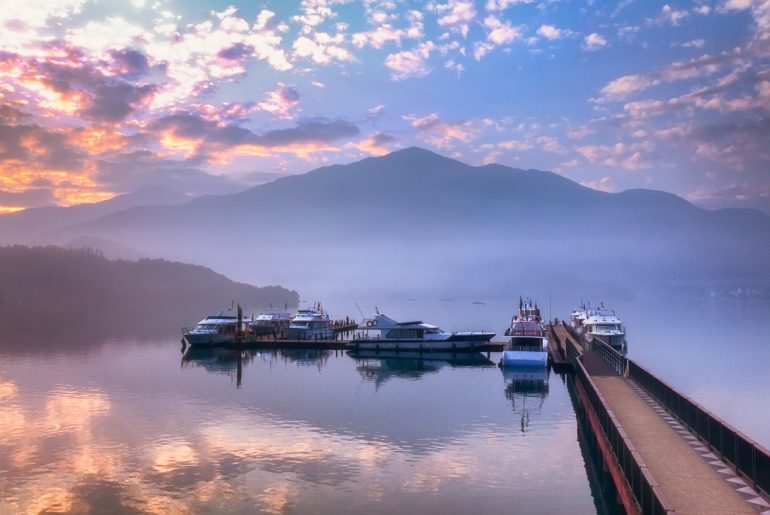 Sun Moon Lake, Taiwan (Image: MyTaiwanTour)
9. Visit a lovely mountain Lake
Sun Moon Lake gets more press, but for our money, Hualien county's Liyu Lake wins out hands down when it comes to more peaceful mountain lakes. It's easy to get to from Hualien (you can definitely make a stop at Liyu lake part of your eastern Taiwan cycling trip) and is a cool place to boat (kayak rentals are available) or just chill out with a beer or two on the shore. And on the subject of kayaking (or things to do before you start drinking beer for the evening)… (Read More: The Sun Moon Lake National Scenic Area – An Experience Wholly Different Every Few Hours)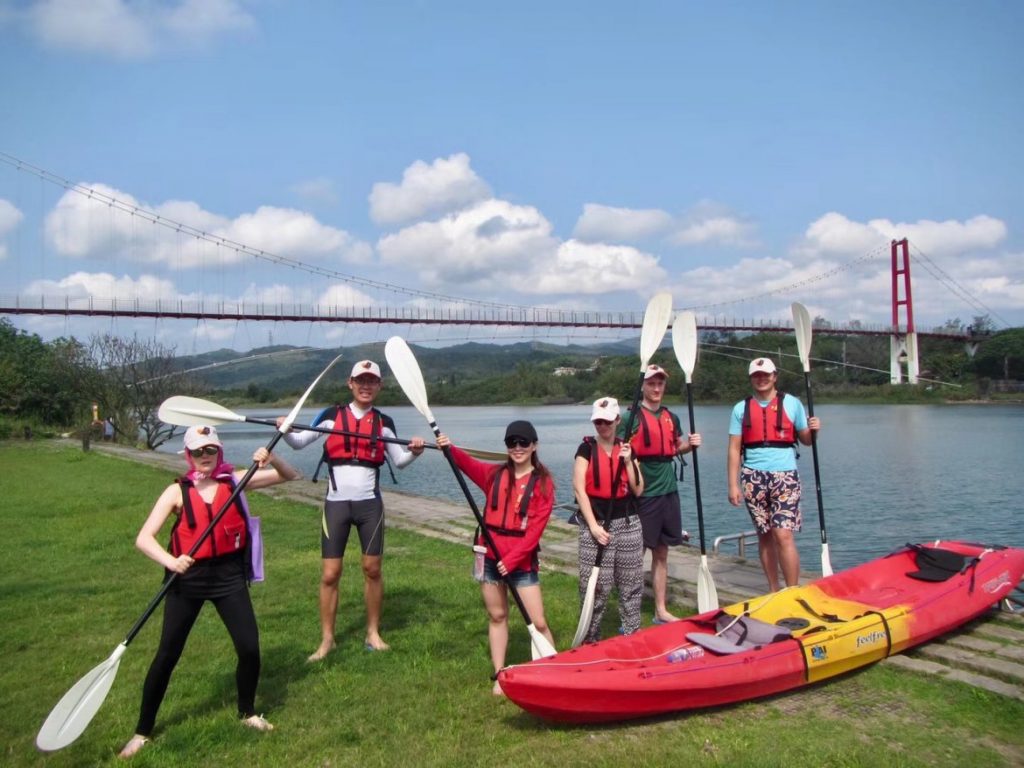 (Image: MyTaiwanTour)
10. Go Kayaking (or Stand Up Paddleboarding)
Kayaking (and it's hipster cousin Stand Up Paddleboarding) is quite popular in Taiwan, and there are various spots offering both rentals and lessons around Taiwan. (We've even heard about a spot in Taipei that offers Stand Up Paddleboard yoga lessons, but we haven't checked it out yet.)
Drop us a line and we'll connect you with an English-speaking kayaking outfit in Taiwan.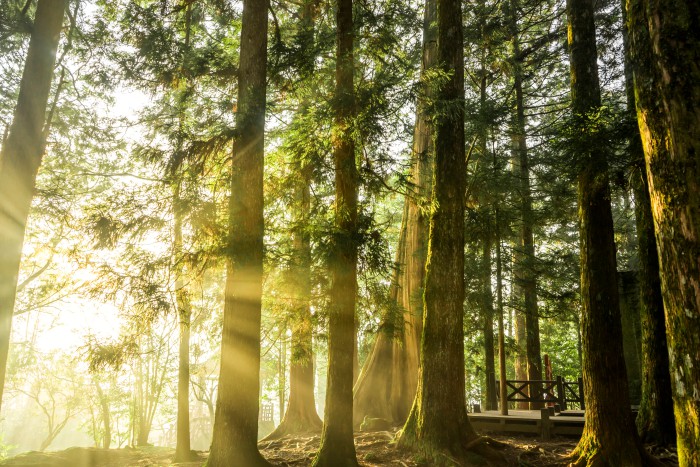 Sunrise in pine forest (Image: MyTaiwanTour)
11. Experience forest bathing
The Japanese call it Shinrin-yoku, or forest bathing, and it's positive effect on physical, mental and spiritual well being is proven. Taiwan has no shortage of spots where you can meld with nature, including the high altitude forests of Alishan (where you'll find some of Taiwan's oldest, most beautiful cypress trees) or the sacred bamboo groves surrounding the tribal town of Smangus.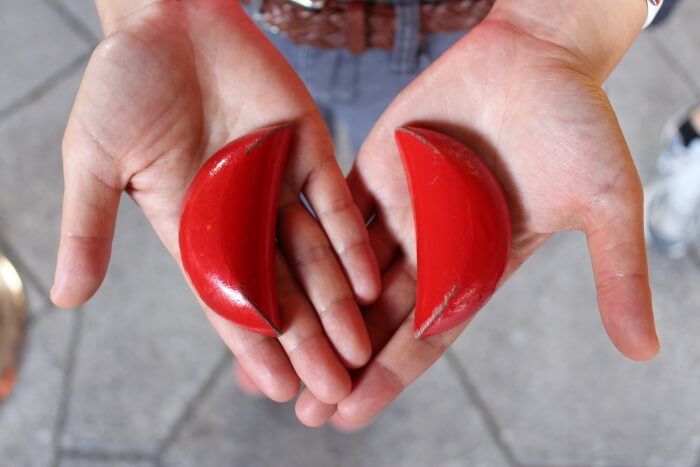 Jiaǒ Bei are red crescent shaped pieces of wood. (Image: MyTaiwanTour)
12. Jump headfirst into Taiwan culture
OK, it's hot, and pretending it's anything but won't change the fact so…why not fight fire with fire? Taiwan's deeply devout Taoist population aren't about to let a little something like rising temperatures stop 'em from feeding scented paper into a fiery ghost money oven or communing with the gods via large numbers of smoking joss sticks. Why should you let the heat stop you from experience the same? Head down to the historic town of Lugang, or the city of Tainan (both of which are spots on our Southern Taiwan Tour and experience the sweaty majesty of Ancient culture in a truly subtropical environment.
Had enough embracing and enjoying Tawan's summer heat? Join us next week, when we'll be offering suggestions on how to evade and escape it!
Want to win a free MyTaiwanTour? Share with us your #Taiwander story!
CommonWealth Magazine Open Call for Submissions
Taiwanders from abroad, what is the object that can best describe your wandering experience in Taiwan?
Tell us what it is. Share with us the story behind it. Let us broadcast your #Taiwander story to the world, and win an exciting trip brought to you by MyTaiwanTour!
Guidlines for #Taiwander Submissions
---
Additional Reading
♦ Best Travel Spots for #Taiwander
♦ Circle Taiwan With a Bike – A New Trend for Japanese
♦ 'Cruise' Around the Island by Train
♦ HsinPu Persimmons, Golden Pearls of Wisdom
Original content can be found at the website of MyTaiwanTour.
♦ Taiwan's Best Travel Spots for 2018
This article is reproduced under the permission of Taiwan Scene and terms of Creative Commons Attribution-NonCommercial-NoDerivs 4.0 Unported License ("CCPL"). It presents the opinion or perspective of the original author / organization, which does not represent the standpoint of CommonWealth magazine.
---
About Taiwan Scene
Taiwan Scene is the online journal of MyTaiwanTour.
We publish stories introducing readers to the culture, scenery and travel possibilities of our homeland, articles to help travelers make the most of their time in Taiwan, and occasional interviews with movers and shakers from Taiwan's ever-expanding creative scene.
Prolonged exposure to Taiwan Scene may instill in readers a profound desire to experience Taiwan personally. If these cravings persist, please contact us immediately.