Political Stars Take Small Step Back
2015 Local Leader Approval Survey
精華簡文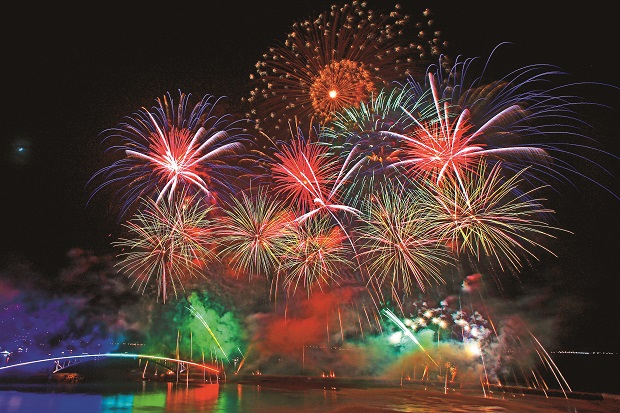 Source:CW
In CommonWealth Magazine's survey of people in Taiwan's 22 cities and counties, many local leaders, including those considered stars, saw their satisfaction ratings fall below expectations, but some newcomers made big jumps.
2015 Local Leader Approval Survey
By Jimmy Hsiung
From CommonWealth Magazine (vol. 580 )


It's been eight months since the heads of Taiwan's 22 cities and counties took office following nationwide local elections in late 2014. How have they fared and what do their constituents think of them after seeing them at work?

CommonWealth Magazine's 2015 Local Leader Approval Survey found that the eight leaders serving second terms benefited little from their advantage in experience and the 14 newcomers failed to get much of a boost from their honeymoon periods.

Among the eight city and county chiefs who won re-election last year, only one of them improved their position in the CommonWealth local leader rankings. That was Tainan Mayor Lai Ching-te, who rose to the top this year after finishing second last year. (Table 1)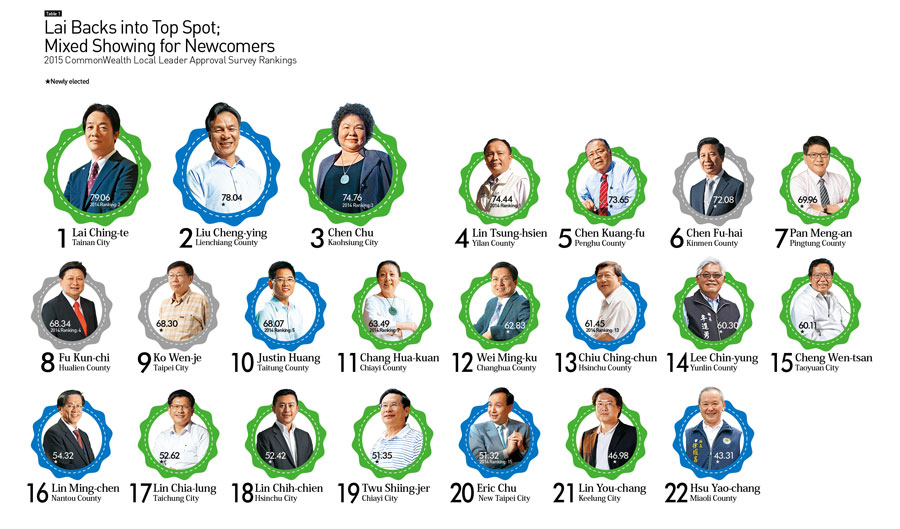 Among other incumbents, Kaohsiung Mayor Chen Chu and Hsinchu County Commissioner Chiu Ching-chun maintained their rankings at third and 13th, respectively. Of the five second-termers who slipped, New Taipei Mayor Eric Chu took the biggest tumble, falling from the middle of the pack in 15th last year to third from the bottom at 20th this year.
"That's the burden of incumbency following a fierce election," says Lyu Yu-cheng, chairman of the Department of Public Administration and Policy at National Taipei University. Lyu contends that every election cycle spurs grudges and conflicts, and though they may settle below the surface after the ballots are cast, those sentiments can still affect voters' level of satisfaction, as appears to have been the case in New Taipei.
Hurt by the nationwide battering his Kuomintang (KMT) suffered in the local elections, due in large part to the sagging popularity of President Ma Ying-jeou and his KMT administration, Chu squeaked by Democratic Progressive Party (DPP) opponent Yu Shyi-kun by just over 1 percentage point in a race in which he was seen as a heavy favorite.
Then there was the disaster at the Formosa Fun Coast water park in New Taipei, in which nearly 500 people were injured when colored powder exploded at a concert; add to that Chu's struggles as the new KMT chairman in finding a candidate willing to run for president and party members jumping ship over the eventual choice, Hung Hsiu-chu. It was only natural for New Taipei voters to be influenced by these factors in expressing their level of satisfaction, even if some of the problems had little to do with Chu's governance.
As for the newcomers, they faced a different challenge. The high-profile mayor of Taiwan's capital city of Taipei, Ko Wen-je, only finished ninth in the rankings despite getting widespread media exposure on a nearly daily basis, a result at odds with his star status.
The overall rankings of the local leaders' performance were based on a total score consisting of the results of a public opinion poll in each of Taiwan's cities and counties (accounting for 80 percent) and the opinions of experts and scholars in each area (account for the other 20 percent). (For more details, see "About the Survey")
A key part of the public opinion poll was constituents' overall satisfaction with each leader's performance, and that was the area in which most newcomers did well.
A total of 70.6 percent of respondents in Taipei expressed satisfaction with Ko's overall performance, far higher than the 51.3 percent who expressed satisfaction with the governance of predecessor Hau Lung-bin last year but still well behind the more than 80 percent garnered by Lai in Tainan and Chen in Kaohsiung.
"Taipei residents have always had high standards. Look at the typhoon. They couldn't take it when the tap water had high levels of turbidity for a day or two, but that may be commonplace in other cities and counties," Lyu says of the water issues Taipei faced following Typhoon Soudelor in early August.
Ko Wen-je: Not Worried about Polls
Former Taipei mayor and president Chen Shui-bian once said that "being really harsh on its leader is a sign of a great city," and Ko tends to agree. "I believe that if I headed another city or county, my poll ratings would be higher than in Taipei," he says in his usual blunt style. "The ratings in Tainan and Kaohsiung would definitely be higher."
But from another perspective, one scholar cautioned that Ko needs to be careful not to become another Chen Shui-bian.
The scholar recalled that when Chen had high name recognition around the county and a good image as an administrator, "residents expressed high levels of satisfaction but municipal government workers did not."
When politicians repeatedly tell their constituents that the bureaucracy "is a bad egg," they often forget that they need the bureaucracy to carry out their vision and ideas.
"The result of a pushback (from civil servants) is that when you want to run for a second term, you can't get re-elected," the scholar argues.
Ko believes, however, that such a scenario is unlikely, contending that he has changed the culture of the city government team after considerable effort. "You know it by the shine in their eyes when they do things," Ko says.
In an interview with CommonWealth Magazine on the survey's results, Ko reiterated his emphasis on "doing the right thing," unlike other politicians who try to "do things right."
"Why should the YouBike be free? Why should parking on the side of the road not cost money?" Ko says, slapping his hands on his chair's armrest for emphasis. "Others don't dare get rid of these things. But I did!"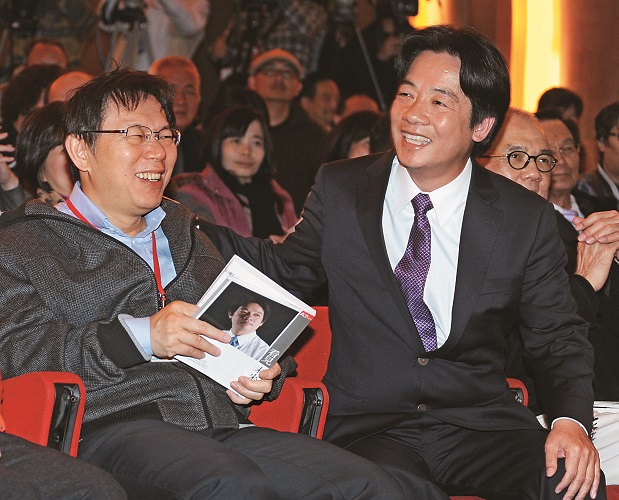 Both seen as stars, Taipei Mayor Ko Wen-je and Tainan Mayor Lai Ching-te have to guard against their aura fading.
Ko is animated because he recently decided to apply means testing to cash stipends the city distributes to senior citizens for the Double Ninth Festival, the day on which the elderly are honored in Taiwan. Beginning next year, the stipends will only be paid to low- and middle-income people.
"Giving NT$1,000 to Terry Gou is nuts," Ko says, referring to the 64-year-old chairman of Hon Hai Precision Industry Co., the world's biggest electronics contract manufacturer. Doing the right thing should be done, "even if poll numbers fall 5 percent," the mayor says.
Taipei has handed out the cash stipends, ranging from NT$1,500 to NT$10,000, to city residents 65 years of age or older for nearly 30 years as a form of support to senior citizens.
After means testing, the benefit will only be distributed to 18,000 people, compared with 400,000 previously, and spending on the program will fall from NT$700 million to around NT$30 million.
"Once a politician is not afraid of falling poll numbers, you can do the right thing, rather than just doing things right. I think that's where I'm different from other politicians," Ko says.
"As long as my poll numbers are above 65 percent, I'm doing the right things. If I fall to 50 percent, then I'll do things right," he says laughing.
Lin You-chang: Sharp Rise in Satisfaction
Other new city and county chiefs are also bringing about atmospheres of progress that are boosting public morale.
One example is Keelung Mayor Lin You-chang. Though he still had the second lowest satisfaction rating in the CommonWealth Magazine survey, it actually rose to 53.3 percent, compared with the 20.4 percent garnered by predecessor Chang Tong-rong last year. (Table 2)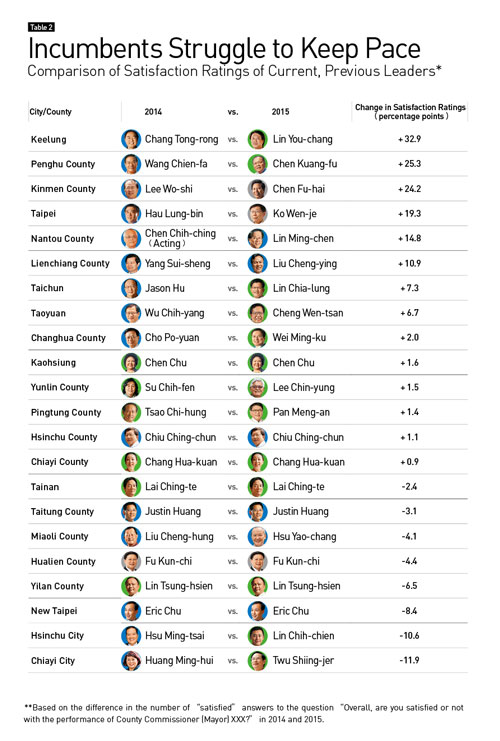 "It feels like things are changing," says Hsieh Chin-fu (謝進福), the chairman of Chenhsingwan (臻興旺) Co. Ltd., which wholesales lubricating oil in Keelung, pointing to the rehabilitation of the old fishermen's association building and Lin's communications with Port of Keelung authorities to reshape the cityscape.
"You can't say the former mayor did not do anything, but the young guy in there now (Lin You-chang) has his own methods and boldness," Hsieh says.
The small business owner cited the example of Lin clearing out vendors who had been doing business under the Chenggong Overpass for the past 30 years just 11 days after taking office. In following through on the plan that was hatched in September 2014 under the city's previous administration, Lin completed a mission his predecessor Chang could not because of the political and personal baggage that existed between Chang and ward chiefs and elected representatives.
When CommonWealth reporters were in Keelung to interview the new 44-year-old mayor, he was barely able to sit for more than a few minutes before getting up and bringing people to the places he was talking about, showing his vitality.
Lin's excitement in describing Keelung's "Smiling Port" project, which encompasses improvements to Ocean Plaza and the Customs Office Building and the rehabilitation of West Wharf 2 and West Wharf 3, or the gradual reshaping of the Zhengbin fishing harbor-Peace Island tourism corridor demonstrated his passion for the port city.
Similar to Lin in seeing their satisfaction ratings rise above low bases of comparison were Nantou County Commissioner Lin Ming-chen and Taichung Mayor Lin Chia-lung.
Though the two Lins both ranked in the bottom third of the rankings, the Nantou County chief (ranked 16th) and Taichung mayor (ranked 17th) had overall performance satisfaction ratings among their constituents that were 14.8 and 7.3 percentage points higher than those of their predecessors. Because of the different type of regions they govern, they each have their own specific challenges and priorities.
Lin Ming-chen: Having People Feel Change
Lin Ming-chen gives his top priority away simply by describing his county as the "tourism capital" on his name card and eagerly talks up the development of new attractions, such as the "Jurassic Park" dinosaur theme park and the Shanlinxi cable car. He may be a typically blunt grassroots politician, but he still has plenty of ideas when it comes to turning his agricultural county into a haven for tourism.
The best example is the Houtanjing Sky Bridge project, which took shape even before Lin took over the reins of the county. While still a legislator, Lin Ming-chen convinced the central government to support the plan, but when he returned to the county, no local agency was willing to take charge of it, angering him to the point where he forced Nantou's Department of Public Works to handle the project.
"We spent NT$25 million at the time to build it. It has now been open four years and we've gotten back NT$120 million," he says proudly.
He hopes to replicate this success around the county in the future, planning, for example, to build three sky walks alone in the area surrounding Shoutian Temple in the western part of the county.
But Lin Ming-chen's challenge will be whether or not he can escape the traditional emphasis of Taiwan's tourism sector on development and devote more attention to education and culture.
One of the opinions of the experts and scholars that contributed to the final scores in the CommonWealth survey was this: "The central theme revolves around development, but that development is only being done on the surface, such as building a Jurassic Park in the Jou Jou Mountain Art and Ecological Park or legalizing previously unlawful land usage at Cingjing Farm."
The media worker in a Nantou community who expressed the view said Lee had yet to propose a plan or take action on a county development project to help education take root.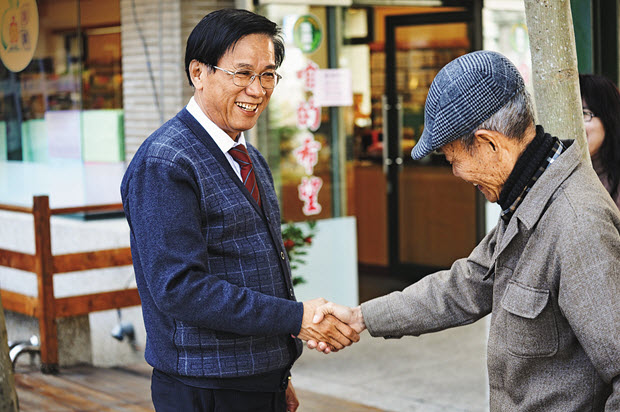 Nantou County Commissioner Lin Ming-chen is promoting his county as the "Tourism Capital," but he also has to focus more on education and culture.
Lin Chia-lung: TSMC Expansion Headache
As for Lin Chia-lung, though he has flashy degrees and experience at the central government level, he may face even bigger challenges and has more interests to satisfy than his counterpart in neighboring Nantou County.
One controversial issue has been dealing with the weekend traffic jams caused by consumers heading to Taichung's Shin Kong Mitsukoshi Department Store and the Top City shopping and entertainment complex in the city's 7th stage redevelopment area. Lin plans to build a parking tower in the center of the district, but city councilors immediately objected, saying it would "destroy the area's skyline."
"Destroy the skyline? Would a parking garage be built higher than a luxury high-rise apartment building? They're just afraid it would block the view of lower floors of the luxury high-rise," wrote a netizen in support of Lin even before Lin asked related agencies for a list of city councilors putting pressure on them to block the plan.
Aside from trying to balance the competing demands of the wealthy and the average city resident, Lin has had to juggle other conflicting interests. The city is not only Taiwan's hub for small and medium-sized manufacturers but also the commercial center for 6 million people in central Taiwan, a mix that requires wisdom and effective governing methods.
During our interview with Lin, he often boasted about getting the world's biggest contract chip maker, Taiwan Semiconductor Manufacturing Co. (TSMC), to expand its capacity in Taichung's Central Taiwan Science Park.
"This could bring investment of NT$700 billion and 5,000 jobs," Lin says, his eyes lighting up at the thought of TSMC's presence raising the overall salary level in the city and its investment injecting fresh energy into the manufacturing sector and boosting peripheral demand for services.
But the investment opportunity that Lin speaks so highly of is seen as a catastrophe by local environmental groups.
"TSMC generates the same amount of pollution as the other 40 to 50 companies in the Central Taiwan Science Park. Thermal power plants in central Taiwan will increase carbon emissions 11 percent, and 50 hectares of green land in the Dadu Mountain area will be gradually rooted out," says Hsin-Hsin Hsu, the convener of Civic Watch Taichung.
Hsu admits that Lin Chia-lung has shown more concern for the environment than his predecessor. Lin has halted cable car projects between Xueshan and Guguan and in Xinshe in the central mountains and the development of the Qingshui Industrial Park and the Taiwan Tower project, and also changed the planned site of the 2018 International Flora Expo in Houli for the protection of leopard cats. But Lin still has work to do when it comes to balancing economic development and environmental sustainability to derive the greatest benefit for the city.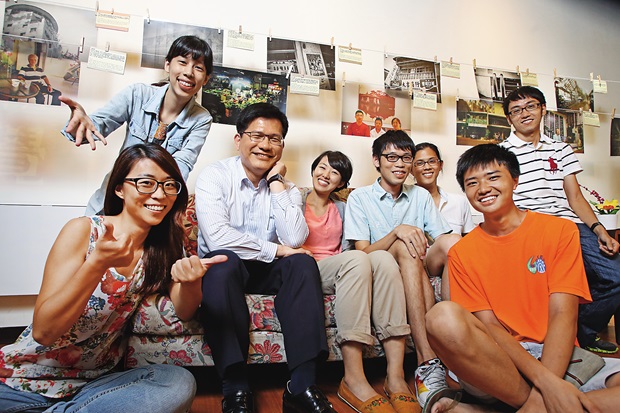 Governing central Taiwan's biggest city, Taichung Mayor Lin Chia-lung (third from left) needs considerable wisdom to balance the competing interests in his region.
Lai Ching-te: Staying on Top
Compared with the missions embraced by the newcomers, seasoned incumbents face the more difficult challenge of maintaining high approval ratings.
Of the eight local leaders who won re-election in late 2014, five had overall satisfaction ratings from their constituents that were lower this year than last year. They were Eric Chu, Yilan County Commissioner Lin Tsung-hsien, Hualien County Commissioner Fu Kun-chi and Taitung County Commissioner Justin Huang and even Lai Ching-te, who had the highest support level of any local leader.
The CommonWealth Local Leader Approval Survey was conducted from July 8 to Aug. 14, before the dengue fever outbreak in Tainan exploded in the second half of the month. But Lai was still hurt by protests over the city's plans to move its rail line underground and a vote by the Control Yuan to impeach him for not attending Tainan City Council meetings, and he was unable to maintain the record 90 percent satisfaction rating he received last year.
"Seeing all those protesters waving flags, some people were definitely influenced," observes Chi-Lin Kuo, the chairman of curtain maker Lung Mei Cloth Co. Ltd., whose business got started in Tainan. But he stressed that most people in Tainan still strongly support Lai, which is why his satisfaction rating in the survey remained at 88 percent.
Kuo says most people in Tainan believe that shifting the railroad to the east and putting it underground would make the city better, and he also supported Lai's refusal to enter the city council (to protest alleged vote buying by council speaker Lee Chuang-chiao) because "not going in showed his opposition to vote buying."
But Lai's almost legend-like image buttressed by the strong backbone he has shown may suffer because of the city's record-breaking dengue fever epidemic, which has already led to 3,000 cases in the city alone this year, the majority coming after mid-August.
An employee of a big plant in the Southern Taiwan Science Park surnamed Chou says the city has forcibly entered the homes of some of his colleagues who live in neighborhoods stricken by dengue fever and sprayed insecticides to keep away the mosquitoes that spread the dengue virus.
"When those experiences of not being respected actually happen around you, you begin to blame the mayor for not dealing effectively with the epidemic," says Chou, who has been a fan of Lai.
In fact, Ko Wen-je, who like Lai has been given almost god-like status in some quarters and sticks to his guns on issues, disagreed with Lai's position on not appearing in the city council for briefings or question-and-answer sessions.
"That's wrong," he says in a deliberately lowered voice. The quality of "governing according to the law" has always been lacking in Taiwan," Ko says, and while he supports Lai for protesting Lee's alleged vote buying, he believes it should be done under the precondition of "adhering to the law."
Whether leaders are in their first year or have the experience of a term behind them, or start from a position of high popularity or from behind the eight ball, only by building satisfaction among their constituents can they create a bigger voice for themselves.
Translated from the Chinese by Luke Sabatier
---
About the 2015 Local Leader Approval Survey
The annual CommonWealth Magazine Local Leader Approval Survey gauges public and expert satisfaction with the performance of Taiwan's local chief executives. The public opinion poll results accounted for 80 percent of the final ranking and the expert scores accounted for 20 percent of the total.
Public Opinion Survey
The public opinion survey was conducted between July 8 and August 14, 2015 covering residents 20 years and older throughout Taiwan. A total of 14,603 valid responses were obtained via telephone using stratified random sampling. Each of the 22 cities and counties was surveyed as a separate unit. In order to ensure representativeness, between 521 and 1,009 completed responses were required per county or city, depending on the total population of each jurisdiction. The poll had a confidence level of 95 percent and a margin of error of plus/minus 3.1-4.3 percent for each area surveyed. (Lienchiang County, comprised of the outlying Matsu islands, had 201 valid responses, yielding a margin of error of plus/minus 6.9 percent.) The margin of error for the entire area surveyed was plus/minus 0.8 percent. Statistical representativeness verification and weighted processing were applied to all data, based on gender, age and educational level.
Rating by Experts
Between July 21 and August 14, 2015, CommonWealth Magazine worked with the National Association of Small & Medium Enterprises R.O.C., the Society of Wilderness, the National Association for the Promotion of Community University (NAPCU), and the United Way of Taiwan, asking the four organizations to recommend scholars and experts with intimate knowledge of local government affairs in their respective fields to rank the performance of local government leaders. A total of 620 experts took part in the approval survey on 22 local chief executives by filling out questionnaires.