Tsai-chu Yeh
The First Taiwanese Commencement Speaker of UC Berkeley
精華簡文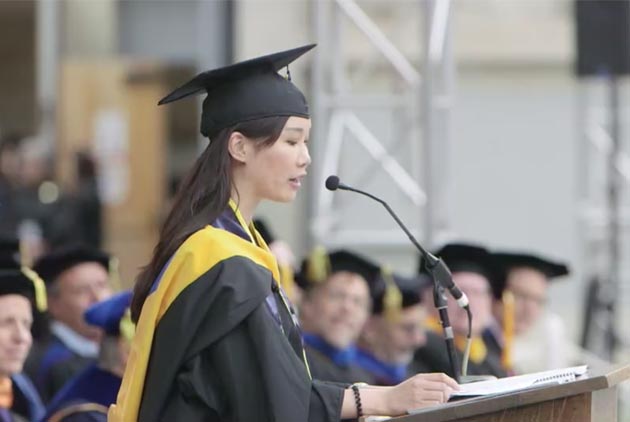 Source:Yang-Ming University
Tsai-chu Yeh, the first Taiwanese student to step on the podium of UC Berkeley College of Engineering, has given a commencement speech that hit a new record of views for UC Berkeley's graduation ceremony videos.
The First Taiwanese Commencement Speaker of UC Berkeley
By CommonWealth Magazine
web only


"I would worry less about which tool I'd choose, because it is not the tool in hand that matters, but the will in mind."

Leaving the campus, entering the workforce, facing the feeling of being lost and aimless as every fresh graduate, she understands.

Being doubted, being disapproved of, dealing with the frustration of being labeled as "impratical", she understands.

But still, she gives herself the right and courage to dream.

"In the end, I would still want to return to Taiwan to become a doctor." For her, Taiwan has always been the destination of her dream.

"Today, it's not me who had let Taiwan be seen. It's you, who loves Taiwan, who has together made Taiwan be seen. If I can, I'd like to thank each and every of you," she said emotionally in the phone during an interview with CommonWealth Magazine.

This is Tsai-chu Yeh, the first Taiwanese commencement speaker in UC Berkeley's 150-year history.

The video of her speech has not only gone viral in Taiwan, it has hit a new record of views in shortly two days after its release, becoming the most-viewed among videos of all UC Berkeley's graduation ceremonies.

Tons of comments with a Taiwanese flag emoji were left in the school's Instagram page. Even the director at UC Berkeley College of Engineering was shocked by Taiwan's solidarity.
The following is the full text of her speech.
Greetings, family, friends, faculty, alumni, and Congratulations to the class of 2018! I stand before you as a less conventional choice for student speaker because I am not an engineer by training.
But before you start questioning the decision of the committee, I would like to tell you why we doctors and engineers share so much in common.
• We both take time to ENJOY the little things in life, such as those little bugs in the human body and those little bugs in our code.
• We both LOVE working late into the night and on holidays, and we don't stop when we are tired; we only stop once we've found a solution.
• But, it's not just our achievements or the recognition we receive that motivate us. It is the real impact and indelible marks we leave on others' lives that fulfill us.
On my first morning here, our program director laid out a table of tools ranging from a hammer to a measuring tape to a spoon, and instructed us to choose one without knowing what it was for. From there we got into groups for our "ice-breaking" session, which was literally, to break a giant ice block, using our tools, until it weighed exactly one kilogram. I looked down at my a spoon in dismay.
Standing here now with all of you, my fellow graduates, I realize that we are facing a similar challenge. The world is changing unpredictably around us, faster than ever before, and the tools we have in hand may rapidly become outdated or simply not match the problems we are faced with.
When we got to Berkeley we each picked a discipline that matched our personal strengths, without knowing what tasks we will now encounter. Whether you picked a stethoscope, a calculator, or a pipette, I want to reassure you that we have learned far more at Berkeley, than just how to use a tool.
However things unfold from here on out, our mission will be accomplished, as we found out with the ice blocks, not by any single tool, but by our combined creativity, critical thinking and teamwork.
During a visit to Tibet, I met Yomei, a local student who had dropped out of school due to financial strains, even though the education was provided for free. I later learned she had to spend all of her time working in order to raise her siblings, although graduating was her dream. A year later as we were corresponding, I found out she had used all her extra savings to buy coal, to provide heat so the students who were forced to work in the summer could continue to learn during the freezing winter.
By being in the world's best public university, we are all blessed with having more than one tool in hand to better the world. Yomei, who had almost nothing in hand, except for her own motivation and determination, made this world a little better than she found it.
The world outside of Berkeley may be filled with people ready to tell you to be realistic. But the truth is, no one really knows what is possible until they actually try. As the great German philosopher Nietzsche noted, "He whose life has a why can bear almost any how." It is all about our willingness to put one foot in front of the other, to brighten the lives of those around us. Scientist or artist, doctor or engineer, whatever your background may be, the same holds true for each of us: Life takes on the meaning that you give it.
This year we celebrate Cal's 150th birthday, and are reminded of all the life-changing discoveries and miracles that have happened here. Here at Cal, we do not merely strive to meet the gold standard. Together, we create the new golden (bear) standard, which is not only to be a bright light for others to strive toward; but to make others around us shine brighter as well. Here at Cal, history has been made, and we've been given the power to shape the future, but there's no way we could've gotten this far, or will achieve what's to come, without all of you, who have been there for us since day one, and are still with us here today.
So now, on my last day here at Cal, if I were faced with the same "ice-breaking" challenge, I would worry less about which tool I'd choose, because it is not the tool in hand that matters, but the will in mind. My fellow bears, let's take the light Berkeley has sparked in us, and go after our dreams, go better the world. Go bright, go bold, go brave, and, GO BEARS!
(Full text provided by Tsai-chu Yeh.)
(Source: 黃梅茵@YouTube)
---
Additional Reading
♦ Virginia Tech Commencement Address from Sheryl Sandberg: We Need to Build Collective Resilience
♦ Victory Speech of Tsai Ing-wen
♦ Reversing the Brain Drain: Time for Homecomings