Finding a Media Niche
A German Voice for Taiwan
精華簡文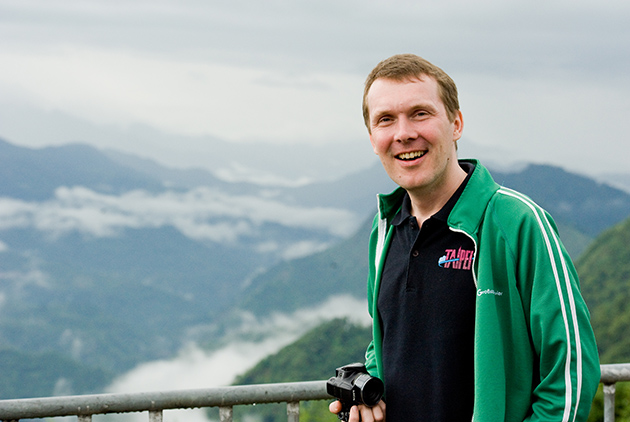 Source:Klaus Bardenhagen
When Klaus Bardenhagen was working as a journalist in his native Germany, the idea of living in Asia never crossed his mind. But he now lives in Taiwan, doing his best to tell the stories that most Germans would not otherwise have the chance to see.
A German Voice for Taiwan
By Hocheng Yen
web only

Life is full of surprises. Just ask Klaus Bardenhagen, a German reporter who has lived in Taiwan for nearly 10 years since settling in the country in 2009.
"I never thought about living overseas," he says with a laugh.
Using the name "taiwanreporter" on his Facebook page to identify himself, Bardenhagen works with Germany's public international broadcaster Deutsche Welle, German public radio broadcaster Deutschlandradio, and other media to bring the stories that make Taiwan such a fascinating place to Europe through articles, radio feeds and TV reports.
"My goal is to make the world know more about Taiwan….There is so much people in the West should know about Taiwan, about its democracy, diverse culture, stunning landscapes and the amazing people here." "I support democracy, human rights, sustainabilty and common sense," is how he introduces himself on his Facebook page.
First Taste of Taiwan: A Presidential Election
Bardenhagen actually knew very little about Taiwan before fate brought him to the country. While working as a reporter for a German TV station in 2008, he saw an announcement posted in his office that aroused his curiosity. It was for a three-month scholarship offered by Taiwan to foreign journalists to visit and get to know Taiwan and take a Chinese class. He had never thought about learning Chinese, but he decided to go for it because it gave him the chance to see something new, and he was at a point in his life when he felt he needed a change.
So on little more than a whim, he arrived in Taiwan in March 2008, setting foot in Asia for the first time in his life.
Bardenhagen was greeted immediately by an eye opener – the frenetic final days of a presidential election campaign that was more emotionally charged and intense than the national elections he had witnessed in Germany. That year, Taiwan experienced its second peaceful transfer of power, with Ma Ying-jeou winning victory in part by pledging to improve relations with China.
At the same time, China was suppressing protests in Tibet, and a candlelight vigil was held at Liberty Square just days before the election to remember Tibetans killed in the Chinese crackdown and call for a Free Tibet.
"This was a few months before the Beijing Olympics so people were starting to look towards China," he recalls, and with the presidential election in Taiwan and the demonstration on Tibet in Taipei, he remembers thinking "something is happening here right now that is connected to the bigger world." It was his first glimpse of Taiwan's democratic vitality and the complicated cross-Taiwan Strait situation.
Three months later he returned to Germany and wanted to continue studying Chinese but realized it would be impossible to make progress in a non-Chinese-speaking environment. He also wondered why Taiwan was not heard from much in Germany and felt it was partly because German media covered Taiwan through reporters stationed in China, resulting in only a trickle of articles and story angles that inevitably looked at things from a Chinese perspective. So Bardenhagen decided to return to Taiwan the following year.
Unfair Plight
"Politically and socially I saw this very interesting place here. Why did I never hear about this before in Germany in the news and the media? And then I thought, one of the reasons is that there are no German reporters here telling the story for German media. So I thought maybe I could do this," and took up residence in Taiwan as a freelance journalist.
He has covered a wide range of topics, but one subject that has left him particularly perturbed has been Beijing's recent campaign to pressure international hotels and airlines into no longer treating Taiwan as a "country" on their websites, especially after many of the companies capitulated and changed the name "Taiwan" to "Taiwan, China."
Looking for the German angle, Bardenhagen asked for comment from Lufthansa, one of the airlines pressured by China, and its answer was not surprising, at least to him: "Lufthansa always adheres to all local regulations" is how the German carrier put it.
"The fact that it's a German company does not make me especially angry because the German government itself is leading the way," Bardenhagen says. "Official German foreign policy is not the American one-China policy; it's the Chinese one-China policy."
America, Bardenhagen says, only acknowledges that China claims Taiwan as part of its territory but does not take a position on that.
But similar to many countries, the German government supports the "one China" principle propagated by Beijing, that there is only one China and Taiwan is part of that. In fact, Germany never had diplomatic relations with the Republic of China (Taiwan's official name today) at any time after World War II.
"I'm not proud of my government's Taiwan policy at all," Bardenhagen says, though he praises the work being done by Germany's representative office in Taiwan, even if there are limits on what it can do.
Thus, at a time when many international media routinely refer to Taiwan as a "self-governing island," Bardenhagen has always described it as a "country" in his reporting.
Letting Germany 'See Taiwan'
So why is Bardenhagen willing to be an "advocate of justice" for Taiwan? He says it's because Taiwan is very friendly and it has made him feel welcome, and because democracy and human rights are values he shares.
"I feel a very deep connection with Taiwan. I think in many aspects it deserves better," he says.
He has long written a biweekly column on Taiwan for his hometown newspaper to introduce the country to Germany. He also gives speeches about Taiwan when he returns home and was given permission by the late director Chi Po-lin to screen his highly acclaimed documentary "Beyond Beauty: Taiwan from Above" at one event, drawing an enthusiastic response.
"The movie may have only been about Taiwan but [people in the audience] said it made them realize that we are facing the same questions here basically about exploiting our environment. I realized that the movie has a universal appeal. It doesn't only speak to Taiwanese. It's about our modern world," he says.
In his mind, Taiwan is actually doing several things better than in Germany, citing the MRT system, the Youbike bike rental system and the EasyCard stored value payment system. He also sees the riverside parks and bike paths as a true success story. Where Taiwan falls short, he contends, is in execution and enforcing basic rules.
"On the one hand, society is trying to improve itself, and on the other hand people are still willing to tolerate a few people not playing by the rules," he laments. "You see people just parking on the red line on busy streets, and nobody tells them to go away. You see some people with big motorbikes that are very loud, and policemen just tolerate it."
Taiwan – a Third World Country?
In stark contrast to Taiwan's freewheeling atmosphere, Germans strictly follow the law and plan projects thoroughly before going through with them, Bardenhagen says. Where some of Taiwan's ubiquitous coffee shops are squeezed into the smallest space possible and seem perfectly fine with it, restaurants in Germany have to follow strict codes, to the point where bigger restaurants are required to have separate male and female bathrooms for staff use only.
The contrast "has made me see living in Germany differently. You realize that the way you've always done things is not the only way," he explains.
That's in part why surface impressions can be deceptive, Bardenhagen believes. He once wrote an article comparing cityscapes in Taiwan and Germany and openly asked why Taiwan looked like a "third-world country."
His first impression upon arriving in Taiwan was of the "concrete boxes with the rusty windows that have never been painted," but he has since come to realize that the reality is more complicated.
"To this day, whenever someone visits me and comes to Taiwan for the first time, I always tell them 'Do not be deceived by the first impression. The way many houses look here has nothing to do with if this country is wealthy or not or if the people who live inside are poor or not.' They just don't bother that much about how the houses look from the outside."
The problem, Bardenhagen believes, is that under Taiwanese law, "if you live in a shared apartment building, no one is actually responsible for the outside of the house. Everybody can more or less do what he wants to."
In Germany, on the other hand, people feel responsible for the outer appearances of their property, so one rarely sees residential buildings that look like a mess.
Chaotic Charm?
Despite the often chaotic overload of neon lights and shop signs on Taiwan's city streets, Bardenhagen also senses in them a unique charm.
"In older neighborhoods or the alleys, every ground floor is like a little shop unit," he says. "Everything can be in there. It can be a motorcycle repair shop. It can be a place selling ghost money and incense sticks, or it can be a dentist's practice, or they can sell computers and next store is selling cakes or making noodles.
"It makes the city so interesting," the German reporter believes, in contrast to German cities maybe feeling "a little more boring than what's going on here" because the many regulations make it almost impossible to open a little restaurant in Germany or a little food cart.
It is these contrasts that Bardenhagen comes across in daily life and in his reporting that is not only offering Germans a chance to get to know Taiwan better but also giving Taiwanese a chance to see themselves in a different light.
Additional Reading
♦ Taiwan: A Nation 'Half Empty' or 'Half Full'?
♦ An American Beach Boy's Cleaning Journey
♦ A British Barber in Taiwan