Architect of Microsoft's Cortana Joins Local AI Team
Who Says AI Gurus Ignore Taiwan?
精華簡文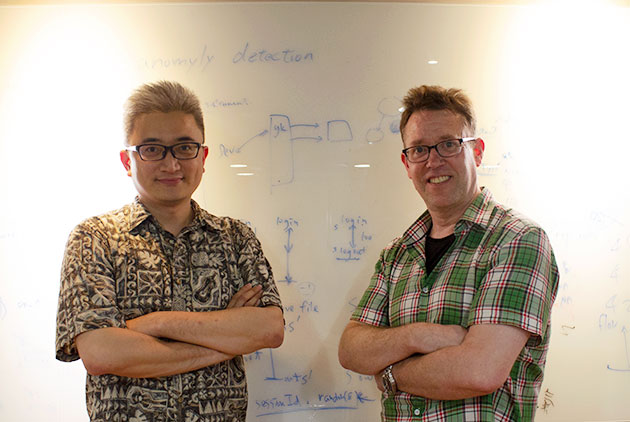 Source:Elaine​​​​​​​ Huang
Microsoft recently announced that its voice-activated personal assistant, Cortana, the key to the company's AI strategy, would be integrated with Amazon's Alexa in a cross-platform partnership. In mid May, the driving force behind Cortana, Mike Calcagno, appeared at Taiwan AI Labs, founded by PTT bulletin board inventor Ethan Tu. The two former Microsoft colleagues joining forces is expected to be a shot in the arm to Taiwan's efforts to develop AI technology.
Who Says AI Gurus Ignore Taiwan?
By Elaine Huang
web only

"What will our mornings look like in the year 2038?"
A new book published by Microsoft, The Future Computed: Artificial Intelligence and Its Role in Society, asserts that human lives in the future will be closely tied together with "personal assistants." Microsoft's personal assistant is called "Cortana."
Twenty years from now, in 2038, this is how our morning might unfold: While you slumber, your virtual assistant Cortana has already reviewed and arranged your schedule, allowing you sufficient time to get up, shower, dress, commute, and prepare for meetings. Cortana will read the news, research papers, and review activities according to the day's schedule and your personal interests, as well as provide weather forecasts and meeting reminders, and contact the people you are scheduled to meet. Finally, it will remind you when to leave, depending on current traffic conditions.
Upon taking over as chief executive officer of Microsoft, Satya Nadella proclaimed that artificial intelligence (AI) is the core direction of Microsoft's future.
Personal assistants using voice recognition, from the likes of Microsoft, Amazon, Google and Apple, have already made inroads as the most mature applications of AI sweeping the globe. In fact, no major technology company today is without such a system.
This May, at the conclusion of its Build 2018 developer conference, Microsoft announced the release of its "Siri killer," Cortana. Cross-platform integration with Amazon's Alexa can be expected to further elevate personal assistant applications to new levels.
Nadella's announcement of the cross-platform partnership between Cortana and Alexa marked the conclusion of the Build confab with an exclamation mark.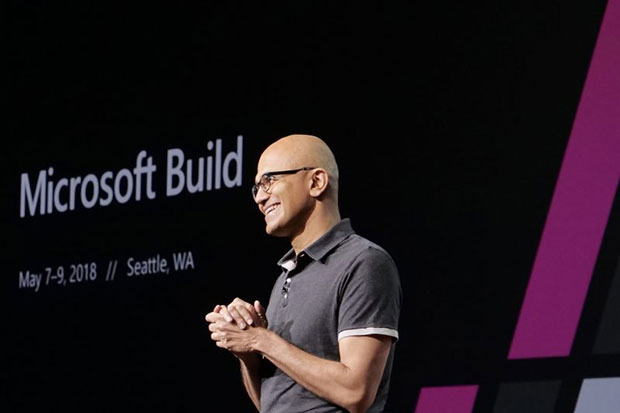 Nadella's announcement of the cross-platform partnership between Cortana and Alexa (Image: Microsoft)
Calcagno Visits Taiwan to See Former Ally
Cortana lies at the center of Microsoft's tilt toward AI and its quest to recapture the company's former glory. One man, Mike Calcagno, has been an instrumental force in shepherding the development of this new product.
As the product and engineering director for Microsoft's Bing for Cortana, Calcagno directed Cortana's backend service development and operations team. From 2012, he led Microsoft's first Windows Phone team in the development of the first iteration of Cortana.
After leaving Microsoft in 2016, Calcagno practically vanished from the technology sphere while he worked on making a film in Seoul, Korea. This summer, this major force behind Cortana will move to Taipei to join forces with Taiwan AI Labs founder Ethan Tu, himself a former Microsoft colleague and fellow AI heavyweight.
"We aspire to set up an AI software industry in Taiwan. To establish an AI industry rooted in Taiwan, we need to make real products and applications," Ethan Tu said on the first anniversary of Taiwan AI Labs' founding. Calcagno, who has a great feel for products, will play a major role in this undertaking, and his participation is a significant boost to Taiwan AI Labs in particular and the future of Taiwan's AI industry in general.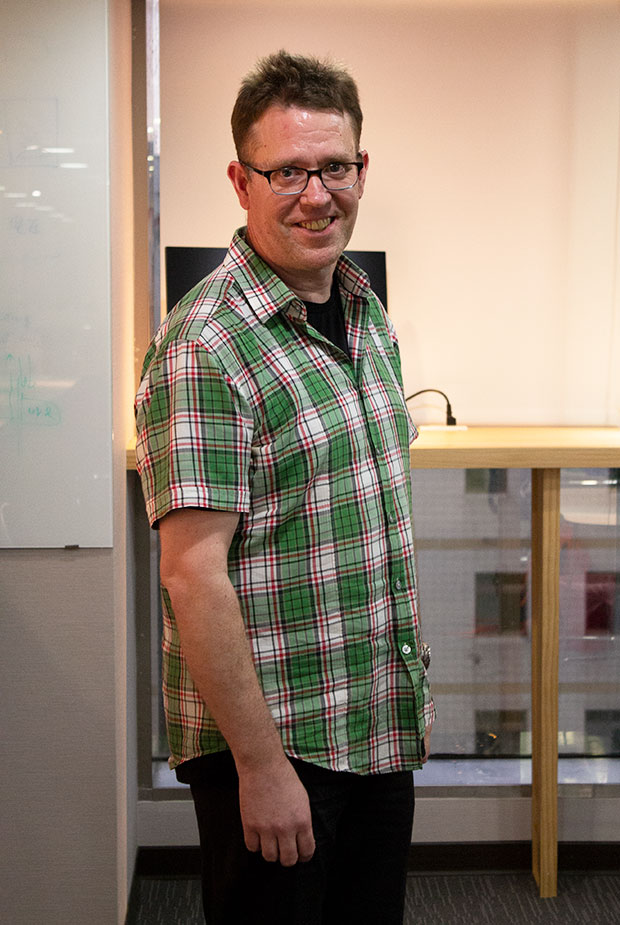 Calcagno's participation will be a significant boost to Taiwan AI Labs in particular and the future of Taiwan's AI industry in general (Image: Elaine Huang)
Cortana – Conceived on Christmas Eve Six Years ago
Mike Calcagno and Ethan Tu were colleagues on the early seven-member Cortana team. Just how was Cortana, the key pillar upon which Microsoft's AI enterprise stands, brought to life?
The name Cortana was taken from a video game series called Halo, where Cortana is the AI personal assistant of the Master Chief character. From the start, Cortana has been Microsoft's secret weapon for catching up in the mobile age.
"Two events came together to bring about Cortana's birth," recalls Calcagno.
In 2012, Calcagno, then general manager of Bing experiences, was working on developing voice recognition technology for Microsoft. In the search for better applications, he did not want to be restricted to existing interfaces and user experience architecture, instead looking to approach the issue from the experience of the user. At the same time, Microsoft's Windows Phone team was busy planning the next-generation Windows Phone 8, and incorporated the idea of a digital assistant into its development.
Zig Serafin, who headed up Calcagno's team at the time, hooked him up with Microsoft's Windows Phone team.
"We happened to have very similar concepts and ideas, and needed each other to succeed," recalls Calcagno. He needed a portal for experimentation, and the mobile phone team at Microsoft was willing to bet on the new voice-recognition interactive mode. As a result, Calcagno's Windows Phone team was integrated into the team.
During this period, Cortana had to integrate the various services and functions already offered by Bing, while also cooperating with the Windows Phone team. To help forge a common sense of mission across the team, a Cortana doll was placed on every member's desk. This way, an outsider seeing the figurine on someone's desk would know immediately that they were working on Cortana.
Cortana's Launch Paved Way for Microsoft's AI Transition
Cortana prepared to make its market debut at the April 2014 Build developers' conference, which would prove to be a critical juncture for the virtual assistant. "That was probably the scariest moment of my life. The new product had just been completed, and I had no idea if Cortana would work well," relates Calcagno.
Yet Calcagno's fears did not come to pass, and Cortana's emergence paved the way for Microsoft CEO Satya Nadella to lead the company's transition to AI.
The Cortana team under Calcagno's direction consisted of just seven members, which had grown into a product team of over 1,000 people by the time Calcagno left Microsoft in 2016. According to official Microsoft statistics, by 2017 Cortana had over 100 million users.
Leaving Comfort Zone to Make Documentaries
Mike Calcagno ultimately decided to leave his "comfort zone" at Microsoft, to which he had dedicated 17 years of his life, to form the AgX Film Collective, an artist-run body that "focuses on the creation and appreciation of photochemical filmmaking."
"I'd already stayed (at Microsoft) longer than I'd ever imagined I would. And I decided to leave on my birthday in 2016. I had always wanted to move on to the second stage of my life while I was still young," said Calcagno.
Calcagno came to Microsoft with a dual degree in mathematics and linguistics, becoming a software engineer of highest regard. However, he had always had varied interests, with a passion for writing and photography while growing up. He never worried about lacking related experience in forming a film-making collective, intent instead upon pursuing his interest in the visual arts instead of thinking about making a big box office hit film.
"I believe that there are two fields capable of changing the world, namely art and technology. Art can change the way people think and look at the world, and technology can change the way things are done," he says. Calcagno believes that as the future moves more towards AI, people must be equipped in both areas in order to have enough room for the imagination to come up with innovative technologies and services.
"We live in an era where technical capacity can finally catch up with the imagination. Now is the time for the AI Renaissance," stresses Calcagno.
Major Global Players Woo Taiwanese AI Talent
Calcagno had no idea what was in store for him when he journeyed to Taiwan in March of 2017 to visit his old colleague Ethan Tu at Taiwan AI Labs, the new company he founded.
Over the past three years, Ethan Tu's team has concentrated on three areas, namely smart medicine, smart cities, and interpersonal interaction. In that pursuit, they have created voice recognition software with a higher accuracy rate than China's iFlytek, and taught AI drone software to mimic the filmmaking techniques of Taiwanese director Chi Po-lin. Calcagno was intrigued by the team's capacity for developing such potent applications.
"We started talking seriously about cooperating last November," reveals Tu. And this coming summer, Calcagno will once again join Tu as his colleague.
The assertion that "Taiwan has excellent AI talent" runs counter to the perceived wisdom spread by keyboard commandos lamenting Taiwan's brain drain and Taiwan's inability to develop AI technology. On the contrary, both Calcagno and Tu stress that Taiwan definitely has the talent to develop AI.
The most tangible proof, says Tu, is that "From Microsoft, to Google and Amazon, AI R&D centers are being established in Taiwan." And major international companies are falling over themselves to recruit computer science professionals trained at top institutions like National Taiwan University, National Chiao Tung University, and National Tsing Hua University.
"When you find a good talent market, a comfortable place to live, plus great food and colleagues you trust, with an open, forward-looking environment he (Tu) cultivated, I see it as an extremely attractive opportunity," says Calcagno.
Translated by David Toman
Edited by Sharon Tseng
---
Additional Reading
♦ Taiwan AI Labs Founder Ethan Tu: Taiwan is Well Positioned to Develop Smart Cities
♦ Microsoft's New AI R&D Center: Taiwan Lands the Prize
♦ Google Taiwan Managing Director Chien Lee-feng vs. Columnist Tom Wang: Should People Fear Robots