Good Quality of Death
Asia's First 'Natural Death' Law, Will Taiwan be Ready?
精華簡文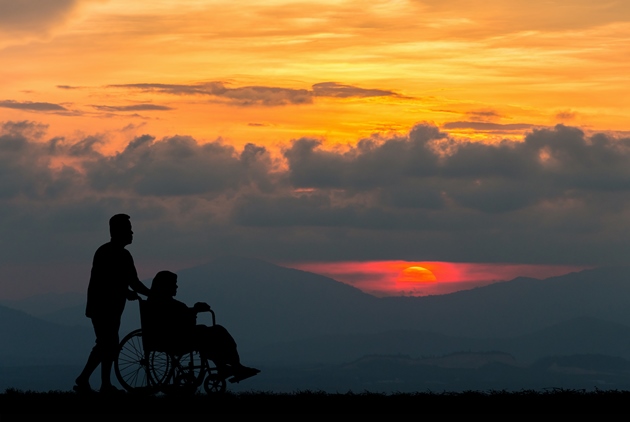 Source:Shutterstock
Taiwan will become the first country in Asia to carry out a law promoting the concept of a "good quality of death" if the "Patient Right to Autonomy Act" comes into effect early next year as expected. But before that happens, four challenges still have to be overcome.
Asia's First 'Natural Death' Law, Will Taiwan be Ready?
By Yiting Lin
web only

Living, aging, falling ill, and dying – all inevitable chapters of life. But the unpredictable nature of each stage dominates the storyline. Any of us could have been part of this narrative:
A half century of torment: Go back in time to 2010, when Wang Hsiao-min, who had been confined to a bed in a vegetative state for nearly half a century, died.
At the age of 17, when she was a student at Zhong Shan Girls High School and the conductor of the marching band, Wang was involved in a car accident that left her with a serious head injury. After intensive treatment, her life was saved but she ended up in a persistent vegetative state.
Her mother wrote several letters to the Presidential Office pleading with the authorities that Wang Hsiao-min be "euthanized," but her request was repeatedly rejected.
In the end, both of Wang's parents passed away before she did. Wang was sent to a hospice and died at the age of 64.
This story of the hopelessness of people lying in bed without being able to express themselves and families struggling and fighting over what to do plays out in Taiwan every day.
A New Law Starting Next Year
And it could become even more common with the rapid aging of Taiwanese society. In February, the number of deaths exceeded the number of births in Taiwan for the first time and in April the number of seniors 65 and older accounted for more than 14 percent of Taiwan's population – reaching the threshold for an "aged" society.
As the population ages, a growing number of families will have to face the awful decision of "saving" or "not saving" a loved one, but voices in Taiwan advocating "a good quality of death" and the idea of "better to die well than live badly" have already bubbled to the surface.
That is why the "Patient Right to Autonomy Act," which was passed by the Legislative Yuan at the end of 2015 and is set to take effect in January 2019, has drawn so much attention.
It is Asia's first "natural death" law that focuses on a good quality of death and will complete Taiwan's puzzle promoting the concept, which is geared to preventing the dying process from being medicalized and enable patients to die free from avoidable distress and suffering for patients and their families.
The ball actually got rolling in 2000 with passage of the "Hospice Palliative Care Act," a law designed to protect the rights of terminally ill patients. In the 18 years since, the seeds of hospice care have taken root.
The 2000 law gave people the right to sign a letter of intent in which they could decide in advance whether they wanted to receive hospice and palliative care or life-prolonging treatments if they fell terminally ill. A total of 530,000 people have signed the letter since, an indication that more and more Taiwanese are thinking about end-of-life issues and agreeing to not be resuscitated if they are terminally ill (having less than six months to live) and lose consciousness.
In 2016, the number of Taiwanese using hospice and palliative care in the year before they died rose above 30,000 for the first time. The trend has been especially noticeable for terminally ill cancer patients, 58.7 percent of whom opted for such care to head peacefully to the ends of their lives, up nearly 50 percent from five years earlier.
Immeasurable Pain for 3,000 Families
Taiwan's end-of-life puzzle is still missing many pieces, however. The "Hospice Palliative Care Act," for example, was not applicable to people in a vegetative state such as Wang Hsiao-min, leaving 3,684 Taiwanese families without recourse from their plight as of the end of 2017, according to Ministry of Health and Welfare statistics. And there are even more Taiwanese who have fallen into permanent comas or are suffering extremely serious diseases that were also left behind.
Yang Yu-hsin, a legislator from 2012 to 2016 who herself has a rare disease, once visited members of families of nearly 200 rare disease sufferers, and "every one of them talked about suicide," she recalls with a sense of frustration. Some of the people she encountered had been through 10 to 20 years of hardship, tending to loved ones who lost consciousness and relied on artificial respirators to stay alive.
"They've suffered enough. If people cannot breathe on their own, artificial means should not be used to extend their life. Why can't we allow a life to end naturally?" she asks.
It was that philosophy that drove Yang to push for the "Patient Right to Autonomy Act" while she was still in office.
Because anybody is susceptible to falling into a vegetative state or a permanent coma, Yang wanted to expand end-of-life rights in Taiwan and give people a chance to prepare ahead of time. They would have the right to refuse or accept treatment in advance rather than having to decide their fate in a rush when they got sick or leaving their fate up to their families.
Similar laws have been in effect in Germany, Australia and the United States for many years, and Taiwan's legislation finally passed not long before Yang's term came to an end.
In the two and half years since, hundreds of health care workers have received training and seven hospitals and nearly 600 families have participated in trial runs, in anticipation of the new law taking effect early next year.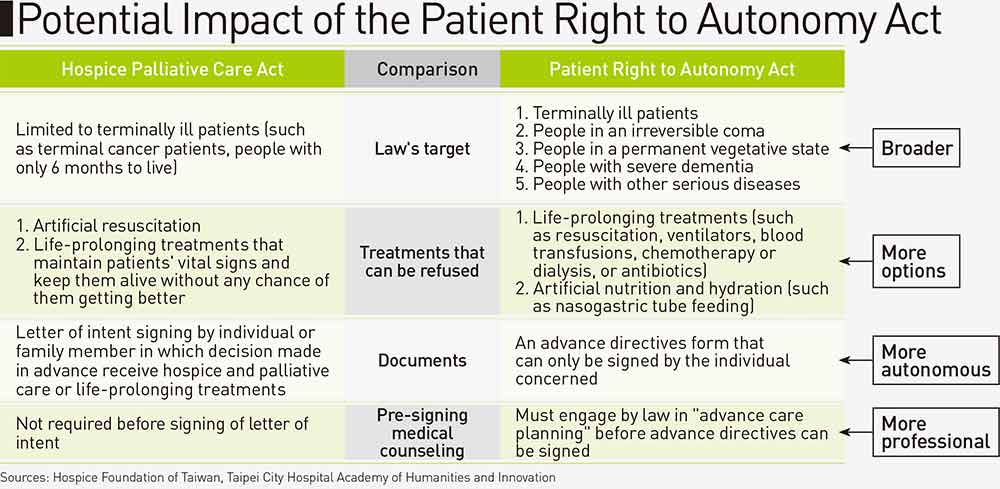 But for this to happen, four major challenges still have to be overcome.
Challenge No. 1
Talking about Death—A Taboo
Despite passage of the law, there is no guarantee dignified end-of-life outcomes will become the norm because of the need to talk frankly about the taboo topic of "death."
"A peaceful end-of-life is not a given. It requires planning and discussion," says Huang Sheng-jean, superintendent of Taipei City Hospital. He has seen too many people who have to face death suddenly and did not have the time to discuss their end-of-life wishes or express things clearly, leaving behind regrets and even splitting families.
Twelve years ago, Huang himself signed a DNR (Do Not Resuscitate) order. More recently, he has thought about end-of-life medical decisions in greater detail: he has rejected getting organ donations after the age of 65 so organs can be left to younger people, he does not want to continue living in a vegetative state and does not want to be sustained by a machine.
But Huang admits that his wife's reaction to his directives was similar to that of many people – "Why sign that? Aren't you still healthy?" she wondered, believing like many that her husband was jinxing himself.
Taiwanese are still uncomfortable about talking about "death," not to mention having little knowledge of the "Patient Right to Autonomy Act."
Some see the act's provision allowing the "refusal of care" as tantamount to legalizing "euthanasia" or "suicide," but in fact that's not the case.
So-called euthanasia, also described as physician-assisted suicide, relies on taking the initiative and using drugs to end a patient's life and is currently illegal in Taiwan.
What the provision actually stipulates is that a person can refuse to be kept alive by artificial means or medical devices – it is not synonymous with suicide or asking to die but rather a way to respect an individual's wish to die a natural death with dignity.
Many have similar misperceptions about removing a feeding tube, seeing it as something that will cause "immediate" death. In fact, it does not cause patients to die of hunger or thirst; they will continue to live for a period of time during which they can be hand-fed and given hospice care until they pass away.
Only when people are willing to talk about death can they understand it and allow society to move toward widespread acceptance of the idea of a "good death."
The new law will introduce "Advance Care Planning" provisions that give people a platform to discuss end-of-life issues with their families and medical workers, something that has never been experienced by Taiwan's public or medical community.
Challenge No. 2
'Love'—A Natural Death Obstacle
But a family's love can also be a hindrance to a patient dying a natural death in peace. When it comes to hospice care, for example, the family often has trouble letting go in the end even if a patient's intent has been made clear in advance.
In April, a 72-year-old woman who had personally signed a DNR form still had a feeding tube inserted and kidney dialysis done after losing consciousness at the insistence of her younger sister, who was unwilling to say goodbye.
"All that was left was an empty shell being kept alive, remaining in the world to suffer," lamented a medical intern.
Although the "Patient Right to Autonomy Act" encourages people to make medical decisions in advance, the medical community is concerned that family members will continue to go against the patient's will and demand that doctors do everything they can to keep patients alive because the new law does not mandate any penalties for such behavior.
Yet even if that's the case, medical workers are better off siding with the patient if they face a difference in opinion between the patient's intent and a family's wishes, says Taiwan High Court judge Liao Chien-yu.
Liao believes that the new law will upend the traditional culture of "family members taking precedence" in such cases, likening it to a "big tsunami" that will initially create friction between families and medical workers.
"Our education and training has always led us to focus on providing medical care but has neglected the need to have a dialogue with society. The government should spend more time communicating with family members," Liao says.
Shih Chung-liang, director-general of the Ministry of Health and Welfare's Department of Medical Affairs, agreed with Liao that "long-term education was needed" in this area and said the ministry will work with the Ministry of Education to promote life education starting at a young age. But it remains unclear how that will be done and how effective such a process will be, and will provide a real challenge for the government.
Challenge No. 3
No Integration of Long-term Care, Good Death Policy
Taipei City Hospital's Huang argues, however, that "the biggest stumbling block to a good quality of death is medical expertise."
Taiwan's medical community has long been conditioned to keep people alive by whatever means, and some doctors believe that dealing with death is none of their business, Huang says. But any gap in medical expertise throughout the process, from emergency rooms and individual departments to hospice care, renders the idea of a good-quality death impossible, he contends, and attitudes may be changing.
For two Fridays in a row, Su Chiu-min, the head nurse in the Palliative Care Unit of Taichung Veterans General Hospital's Chiayi Branch, has left home around 5:30 a.m. and headed north for training to become a "core instructor" on the "Patient Right to Autonomy Act."
Nearly 700 medical workers like her have sat in the classroom learning the ins and outs of the new law; most of them have backgrounds in hospice care, but they also include professionals in the infectious disease, radiation oncology and neurology fields.
Hsieh Wan-ting, the head of the Hospice Ward at Chi Mei Medical Center and a participant in the program, says her ward's positive results so far have benefited from a favorable environment: hospital management has been willing to provide resources and manpower, and will allow the program to continue even after the trial run ends.
But she acknowledges that not all hospitals have been as supportive, because meeting a patient's wishes requires hospitals to be more engaged than just holding consultations, she says. Public policies must include incentives for the medical community to carry out the "Advanced Directives" patients can give under the new law on such issues. Those directives can include how they want to be cared for in an emergency room, how to deal with a neurologist's diagnosis, or who should provide care and how care should be provided after a feeding tube is removed.
At present, policies related to this process are unclear, leaving many hospitals waiting to see what happens.
Even long-term care organizations need to be involved, but Weng Yih-chyang, the chief of the Department of Radiation Oncology at Nantou University who has extensive experience with palliative care, has his doubts.
"Long-term care institutions are not yet even familiar with the hospice care that has been promoted over the past 18 years, to say nothing of the 'Patient Right to Autonomy Act,'" Weng says, noting that figuring out how to integrate long-term care with medical care remains a major problem today.
A sound and complete system spanning health care to long-term care is urgently needed if dignified natural deaths are to become reality in Taiwan, he argues.
"The launch of the [new law] seems to be arriving a little too quickly, but there's no choice. You need to educate people bit by bit and build experience," says Weng, who hopes a "virtuous cycle" will emerge.
Challenge No. 4
No Budget Means No Policy
Money is a force that often propels policies forward, but in this case, where is the money coming from?
In a survey conducted by the Taiwan Healthcare Reform Foundation last year, 76 percent of the respondents said they were willing to engage in the Advance Care Planning (ACP) required under the new law before an individual can sign advance directives on end-of-life decisions. But that number fell to only 9 percent if people had to pay a NT$2,000 consultation fee for ACP (based on the fee paid in Canada) out of their own pockets. It shows how much Taiwanese have grown accustomed to plentiful and cheap health care.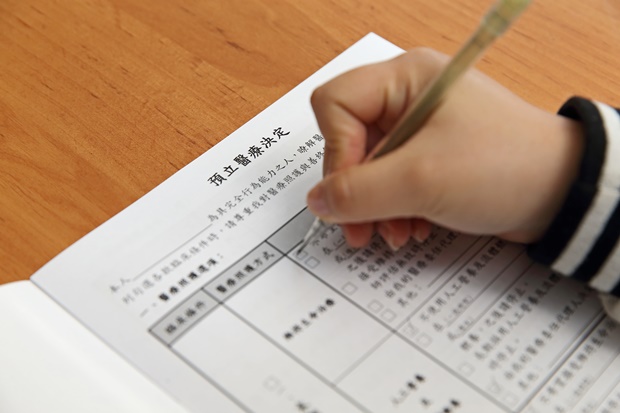 The Ministry of Health and Welfare budgeted funds for a trial run of the new "Patient Right to Autonomy Act" and related training. But because of delays, the Legislature cut the proposed budget by 40 percent. (Image:Chientong Wang)
It's a perception that has to be reversed, because if a majority of the public is unwilling to foot the bill for advance care planning and the national health insurance system won't cover it, hospitals won't have as much motivation to change their ways.
"This won't help hospitals make money," former legislator Yang admits, explaining that consultations take at least an hour and at least three people must be present, usually a doctor, nurse, and social worker or psychologist, professionals who already face huge clinical, teaching and administrative demands on their time.
Giving a patient extracorporeal membrane oxygenation or artificial ventilation or putting them on kidney dialysis, on the other hand, is reimbursed by the national health insurance system, providing hospitals a steady revenue stream. Without financial incentives, how can reforms on promoting a good quality of death gain traction?
Yang believes the allocation of the health insurance system's resources should be recalibrated by reducing funding for ineffective, late-stage treatments and increasing support for measures that prevent suffering.
Ineffective intensive care treatment before patients die, for example, costs the system NT$3.58 billion per year, Yang says.
But the Department of Medical Affairs' Shih says consultation fees will be reviewed based on the program's implementation rather than simply opening up the national health insurance spigot.
"If a lot of funding is channeled to [end-of-life] consultations but the public can still backtrack before they die, then that will create huge waste," he says.
The "Patient Right to Autonomy Act" is about to take effect, but is Taiwan really ready? How will the chapters of the lives of Taiwanese be rewritten by this new approach? That will all depend on the determination of the government, the medical community and the public in upholding the concept of a "good death."
Translated by Luke Sabatier
Edited by Sharon Tseng
Additional Reading
♦ Taiwan's Hospitals Seeking Revenue Outside of Healthcare to Make Up for Losses under NHI
♦ Will Taiwanese Physicians Flock to China? Chief Surgeon: Those Who are Supposed to Come are Already Here
♦ WHO: Healthcare Costs are Pushing Millions into Extreme Poverty, This Outrage must End