Taking on Marine Waste
Taiwan & Indonesia Singing the Blues for the Seas
精華簡文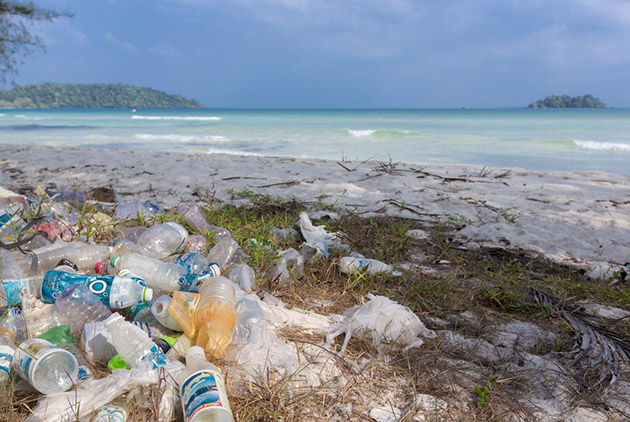 Source:Shutterstock
Taiwan has an enviable record of recycling plastics while Indonesia is one of the world's biggest contributors to plastic waste in the oceans. But are the two countries really that different when it comes to fighting marine pollutants?
Taiwan & Indonesia Singing the Blues for the Seas
By Hocheng Yen
CSR@CommonWealth


Interviewing Karyanto Wibowo, the director of sustainable development at Danone Indonesia, there is a feeling of both familiarity and unfamiliarity.

Unfamiliarity because France-based Danone is not a commonly recognized corporate name to Taiwanese consumers, even if it is the world's biggest producer of dairy products and second biggest producer of bottled water, boasting well-known brands Evian and Volvic as subsidiaries.

Familiarity because Karyanto attended the B Corp Asia Forum 2017 held in Taichung.

"See how beautiful this is," Karyanto said in an exclusive interview with CSR@CommonWealth, showing a photo on his smartphone of a beach with white sand and blue waters on a small Indonesian island.

But the next photo was shocking – a beach littered with plastic bottles and other plastic trash. "This is the other side of the same beach," he laments.

Idyllic Beach Becomes Garbage Dump

The contrast in photos reminds one of Fenniaolin beach in Yilan County, a once secluded haven that has exploded in popularity in recent years. Known only to a few people not long ago, this Yilan hideaway has gone from idyllic beach to garbage dump because of the hordes of visitors flocking through, forcing Yilan County to shut down the beach at the end of August.
But the problem Taiwan is facing pales in comparison to that seen in Indonesia. According to a study published in the American journal "Science" in 2015, Indonesia ranked as the world's second biggest contributor to plastic waste in the oceans, trailing only China. A major factor has been the country's low recycling rate.
A Jakarta Post article in October 2015 cited Sudirman, the waste management director of the country's Environment and Forestry Ministry, as saying that only about 7.5 percent of all waste is recycled in metropolitan areas and that only 1.9 percent of all waste is recycled across Indonesia.
In contrast, about 57 percent of Taiwan's waste is recycled, including more than 90 percent of plastic water bottles. "Your recycling rate is really high," says Karyanto.
His admiration stems in part from the participatory nature of Taiwan's resource recycling system and environmental education, habits yet to be instilled in Indonesia.
In Taiwan, most plastic bottles are voluntarily given to be recycled by residents who sort their trash, while in Indonesia, recycling depends on people who pick through garbage looking to make a buck. Internet photos of this "scavenger" phenomenon are nothing short of shocking: people sitting on a "garbage mountain" looking for plastic bottles or paddling a raft through water clogged with plastic waste, trying to pick it up. These individuals not only earn minimal incomes but also face awful hygienic conditions. Predictably, the amount of waste recycled is quite inconsistent.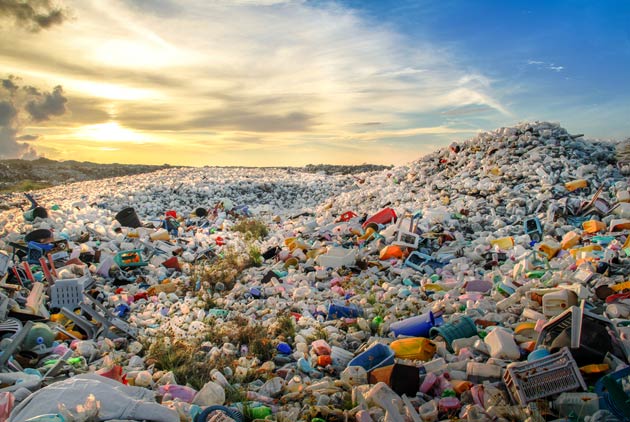 Read: 90% of Plastic Polluting Our Oceans Comes from Just 10 Rivers (Image: Shutterstock)
Cutting Marine Waste by 70% in 8 Years?
During the interview, Karyanto bemoaned the fact that the Indonesian government has a policy on waste but has not been able to fully implement it.
In March 2017 at the World Oceans Summit in Bali, the Indonesian government declared that it would invest US$1 billion a year to resolve its waste crisis. The stated goal was to eliminate 70 percent of its marine waste in eight years using such methods as developing a biodegradable materials sector, promoting public education and charging for plastic bags.
It is an extremely ambitious goal. In 2016, the Indonesian government charged for plastic bags on a trial basis in 23 cities across the country. Despite charging an environmental tax of less than 200 rupiah (about NT$0.45) per bag, the program was strongly opposed by Indonesian businesses and the public, and hopes of extending it to other parts of the country remain on hold.
Though the outlook for progress may be gloomy, some companies have stepped up to fulfill their social responsibility and helped promote a reduction in plastic use.
The Danone Group in Indonesia is one of them. Its bottled water brand Aqua is the biggest in the country and contributes 6 percent of the group's revenue there. Because Indonesia is one of the world's five biggest bottled water markets, Danone has the opportunity to play a particularly important role in mitigating the plastic crisis.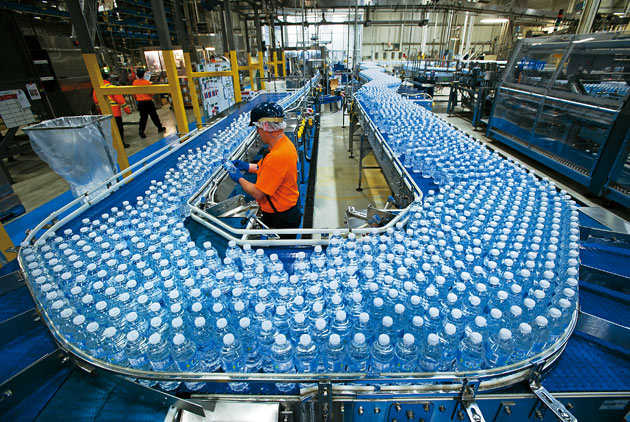 Read: Which Countries Recycle the Most? (Image: Getty Images)
Reduction, Recycling Equally Important
Danone has set up six recycling centers around Indonesia, able to collect a combined 12,000 metric tons of PET bottles a year and providing a more hygienic environment and better material conditions for roughly 9,000 human garbage sorters.
The group has also taken the initiative at the source, not only eliminating the plastic wrapping around each bottle's mouth but also using recycled PET bottles to produce new plastic bottles. Danone hopes these rPET bottles will account for 25 percent of its bottled water production by 2020 not only in Indonesia but around the world.
Its initiatives suggest that reducing plastic use at the beginning of the cycle is just as important as recycling at the end of the cycle.
Taiwan is in much better shape than Indonesia, starting with the policy of charging for plastic bags, which began in 2002 and has now practically become a standard part of daily life. Beginning this year, the policy will extend to small shops such as beverage outlets and bakeries, and while retailers have voiced concern about a possible consumer backlash, the government has stuck to its guns.
Some companies in Taiwan have also moved aggressively into developing applications for recycled materials. Da.Ai Technology Co., for example, has used rPET to produce clothing and bags, while Far Eastern New Century has made use of technology to produce for Adidas the world's first sneakers made of plastic waste recovered from the ocean.
Karyanto was particularly impressed by Da.Ai Technology after participating in a panel discussion at the B Corp Asia Forum 2017 that included Da.Ai's Lori Chen. The company is one of only 20 Taiwanese companies to have received B Corp certification to date; Danone announced in April 2017 it would pursue B Corp certification for all of its branches around the world. (Editor's note: Danone AQUA got BCorp certified early 2018. They have announced their commitment tol further drive for BCorp movement in Indonesia, with BLab Taiwan's support, and to recover plastic more than we use by 2015.)
Taiwan & Indonesia: Really that Different?
Yet even if Taiwan's environment is a step up over Indonesia's, why do scenes such as the pristine yet polluted beach seen in Karyanto's photos also appear regularly around Taiwan? Though some of the garbage that washes ashore may originate outside Taiwan's borders, the abundant Taiwan-generated trash on Fenniaolin beach illustrates that the country's public still has plenty of room for improvement when it comes to plastic reduction awareness and action.
Though Taiwan and Indonesia are divided by a vast ocean, they are both singing the same blues about marine pollution. Is it really fair to say that Taiwan and Indonesia are that different?
Translated by Luke Sabatier
Edited by Sharon Tseng
---
Additional Reading
♦ Island-Nations Echoing Each Other by Declaring War Against Plastic Straws
♦ Which Countries Recycle the Most?
♦ 90% of Plastic Polluting Our Oceans Comes from Just 10 Rivers
♦ Indonesia's BTPN: Turning Corner Grocers into Banks
♦ The Night Jakarta Burned