The Arrival of Solar Power
精華簡文
Source:CW
Solar energy trellises dotting farmland have formed a "crop and energy farming ecosphere" that only stands to get bigger with the imminent institution of electricity liberalization.
The Arrival of Solar Power
By Liang-Rong Chen
From CommonWealth Magazine (vol. 579 )


Taiwan's only expert in "climate politics," Tze-Luen Alan Lin, associate professor of political science at National Taiwan University (NTU), sits in the university's faculty lounge, looking haggard from the strain and excitement of the recent birth of his second child. But when he sees the CommonWealth reporter, he becomes animated as he relishes in describing his latest plan.

Long active in anti-nuclear campaigns, Lin got together with other like-minded NTU alumni to form Green Dot Communities, a company that installs free rooftop solar panels for old age homes. The firm will derive its income by sharing in the money derived from selling power generated by the panels. At present they have reached cooperative agreements with two old age homes in northern Taiwan.

"A similar concept, known as 'energy welfare,' has been adopted in other countries," explains Lin. His company's is the latest, most unusual model for solar energy companies – the hottest new industry in Taiwan at the moment.

Observant passengers on Taiwan's high-speed rail line will have noticed in the past year or two a growing number of solar panels appearing, sparkling in the sunlight on roofs in rural areas.

In rural Pingtung and Yunlin counties, one can even see billboards reading, "Turn your roof into a cash machine."
Renewable Energy on the Rise
The winds have quietly shifted.
In late July, the Executive Yuan unexpectedly announced that it had purchased an additional 230 megawatts of solar-generated power this year, taking the yearly total to 500 MW, 85 percent more than last year.
At about the same time, the electricity industry liberalization that environmentalists had pushed for more than a decade was right on the horizon.
In mid-July, the Executive Yuan passed a draft revision of the Electricity Act. The new law breaks Taipower's monopoly on electric power, allowing electricity providers to compete freely. Judging by the experience of other countries, this move is expected to further stimulate the growth of solar energy and other emerging modes of energy generation.
"Everything has really moved so quickly lately that I've hardly even had time to think about what's going on," says a very pleased Lin.
For Lin, who has attended annual United Nations Climate Change Conference several years in a row, the government's flurry of green energy policy moves was perfectly timed.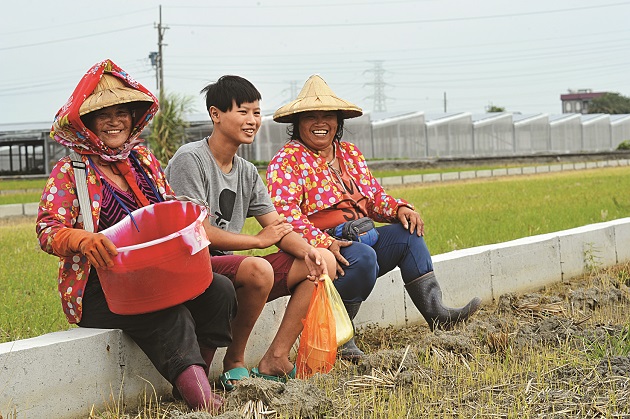 Renting out farmland has become a way to generate income for PV farms, earning twice what the government pays out in subsidies for letting land go fallow. But many have not decided to participate because of the potential risk of renting their land for 20 years.
Lin relates that a major breakthrough is expected to transpire at this year's U.N. climate summit in Paris in December, as nations are expected to reach a consensus on a greenhouse emissions platform similar to the Kyoto Protocol. Professor Lin believes that a host of emissions reduction-related mechanisms, including carbon (dioxide) pricing and trading, will become reality, greatly boosting the competitiveness of renewable energy.
The Bureau of Energy (Ministry of Economic Affairs, MOEA) introduced the Million Sunny Rooftops Project three years ago, setting off a cascade of new energy startups. The installed capacity of solar power facilities has doubled every year since then, and 581 MW of installed capacity was in place throughout Taiwan as of June according to Taipower statistics.
And the Executive Yuan's latest pronouncement is that it aims to add an additional 500 MW of installed capacity every year in the future.
The current target is for the installed capacity of photovoltaic (PV) installations around Taiwan to reach 8700 MW by 2030. If achieved, it will account for 30 percent of the island's total installed power capacity.
For Farmers, a Source of Stability
The robust development of solar power has even led to a sphere of prosperity between agriculture and electricity across the agricultural areas of central and southern Taiwan. For instance, not far from the Taiwan high-speed rail line in Yunlin County's Paochung Township, a brand new "solar chicken coop" was completed early this year. The structure, occupying an area equivalent to two basketball courts and made from corrugated aluminum, was designed to accommodate rooftop solar batteries, tilting in a southerly direction.
Over the next 20 years, the 0.49-megawatt capacity installation will bring coop owner Chen Chu-tsai over NT$4 million per year in "electricity generation" fees from Taipower. Accounting for installation costs, depreciation and amortization, and interest, Chen stands to profit by more than NT$2 million a year.
Chen relates that when the prices are good, the coop – which houses over 30,000 chickens harvested for their meat – can make him NT$2 million to NT$3 million a year. But when the market is down, like when a bird flu outbreak struck early this year, "a lot of (poultry farmers) were put out of house and home," he says.
The benefits of the agriculture and electricity ecosphere are plain to see. An additional stable income from green energy can help farmers, who are vulnerable to the whims of the weather, achieve economic security even in lean years.
In countries that began promoting solar power long before Taiwan, such as Germany and Japan, "solar energy farms" have long been a hot topic.
In addition to producing crops, the era of fields "harvesting" energy is dawning. These changes prompted Nikkei Technology to declare in 2013 that "the concept of 'agriculture' is set to undergo a fundamental transformation."
A number of individuals in Pingtung and Yunlin have taken these notions to heart and put them into practice,
further hoping to attract young people back to the countryside to work in agriculture.
However, Chen Chu-tsai's application to build three more solar chicken coops earlier this year was denied by the local government, due to suspicion of engaging in false advertising.
Betrayed by "Perpetual Mushrooms"
Chen Chu-tsai was unable to escape the reverberations of "fake agriculture, real electricity farming" news reports.
In the effort to accelerate the pace of the million sunny rooftops program, in October 2013 the Executive Yuan worked with the Council for Agriculture to permit "designated agricultural areas and general agricultural areas" to apply for and build solar power facilities, provided that they be ancillary to "agricultural production facilities."
In just one year, "PV parks" with comparable power generation capacity to Chen cropped up all over the Yunlin countryside like mushrooms after a spring rain, becoming the main source of the significant growth of solar electricity in Taiwan last year. But the areas under many of the solar tents were barren, save for tangles of brush and weeds.
Extensive negative media coverage described it as a "second farmland disaster" after a previous wave of misappropriation of designated farmland for residential and commercial usage. Agriculture chief Chen Bao-ji promptly put a halt to the program, tasking local governments to conduct strict inspections.
In an interview with CommonWealth, Chen Bao-ji stressed that "energy farms" must first of all be run as actual agricultural farms.
"If solar power (production) impacts your (existing) agricultural production, that's not acceptable," he said.
Conducting a survey of our own on the ground in Yunlin County, CommonWealth found that there were indeed a certain number of newly constructed greenhouse-like trellises within which there was a row of mushrooms growing in insulation material but no sign of irrigation equipment. A local figure accompanying our reporter explained that this was a method of subterfuge to trick local agriculture department auditors.
Chen described these as "perpetual mushrooms," adding: "when you see those mushroom coverings you know it's a deceptive farming operation."
Several large facilities suspiciously appearing to be fake farmers and real energy growers are owned by Light Master, a company located in the Taipei suburb of Xinzhuang.
"No One Was Growing Anything"
Light Master is the owner of Yunlin County's largest solar farm facility. Last year alone, Light Master put up 57 installations with a combined power output of 20 MW, sufficient to provide power for over 7,000 households.
"In the beginning, no one was actually growing anything," admits a Light Master business associate. The majority of investors in solar farms figured early on that they would be lucky enough to avoid running into trouble, but as the Council of Agriculture began conducting strict inspections, businesses were forced to farm for real. They started to immerse themselves in techniques for raising crops that grow well in the shade and offer high economic value, including mushrooms, lingzhi, black fungus, and shitake mushrooms, all of which are popular.
Light Master President Tsai Tsung-jung (蔡宗融) pointed out a photo and related that it was a picture of a fungus that experts he hired took two years to develop. He said it sells for up to NT$1,000 for 600 grams. He also displays wasabi experimentally grown by a Huwei University of Science and Technology professor. In the future, these crops can be grown underneath the more than 100 pens Tsai owns, grown in rotation in the summer and winter months with an edible member of the fern family, guiniao.
"Now we are really serious about agriculture," insists Tsai.
A graduate of National Chengkung University with a degree in electrical engineering, Tsai's core business is the production of power systems, marketed in Europe under the Power Master brand.
Other large Taiwanese optoelectronics firms actively invested in solar power include LCY Technology and Tatung – owners of numerous agricultural pens and PV roofs in Pingtung –, Anji Technology, Neo Solar Power Corp. and Giga Solar Materials, which concentrate on overseas markets. Like Light Master, these companies' core business is related to solar power.
However, it is a financial leasing firm, Chailease Finance, which is growing rapidly through the acquisition of solar power facilities.
Since throwing its hat in the solar power ring just two years ago, Chailease acquired 71 electricity facilities with combined installed capacity of 22.5 MW last year from Neo Solar, quickly becoming one of Taiwan's top players in electric power generation.
Chailease even announced that it planned to reach an installed capacity of over 150 MW worth over NT$10 billion within the next two to three years through a combination of newly built and acquired facilities.
With no shortage of bidders, the Bureau of Energy's listed prices for solar energy have dropped precipitously every year of late, the latest price having dropped to NT$5.0 per kwh. Compared to two years ago, when it was NT$8 per kwh, these businesses' profitability has become increasingly limited.
ShinIng Energy CEO Lewis Hsu (徐嘉男), a corporate lawyer by trade, believes that having reached the price slashing stage, big financial corporations like Chailease are well positioned, "due to better access to capital than other companies," he contends.
A number of businesses believe that Chailease could end up as the Taiwan market's "final winner." Meanwhile, other companies are heading to Japan and points around Southeast Asia to bid for solar energy facilities in a "photovoltaic Asia Cup" of sorts.
From energy, to industry and the environment, "electricity farming" is reshaping Taiwan in many ways.
Translated from the Chinese by David Toman