An Island of Understated Beauty
Kinmen—The Once Critical Front Line against Communism
精華簡文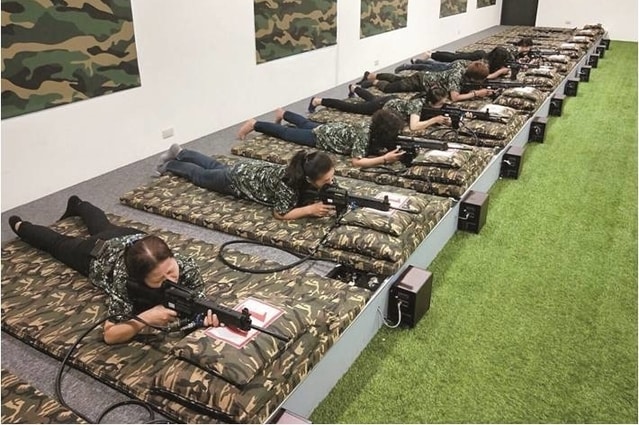 Source:Kinmen County Government
Fifty minutes away from the island of Taiwan by air, Kinmen has an incredibly rich history, culture and natural environment. Once a Cold War battleground, the island county stands out for its protected historical sites, traditional Minnan houses, and birdwatching opportunities.
Kinmen—The Once Critical Front Line against Communism
By Kinmen County Government
Sponsored Content

What to Do in Kinmen?
Easy enough to get around on a scooter, Kinmen County's main island is a paradise for people interested in cultural history, boasting old relics and historical structures pretty much everywhere, including complete residential complexes in the Minnan style with their carved beams and ornate pillars.
Part of what makes Kinmen unique is its more recent history as a military outpost for much of the 50 years after the two sides of the Taiwan Strait were divided in 1949. Remnants of its battlefields remain poignant attractions visitors do not want to miss.
At the same time, because development on the island was prohibited for decades because of its front-line status, its environment has been preserved in pristine condition. Birds in the sky, fish in the ocean and animals and vegetation on land all co-exist peacefully with Kinmen's people.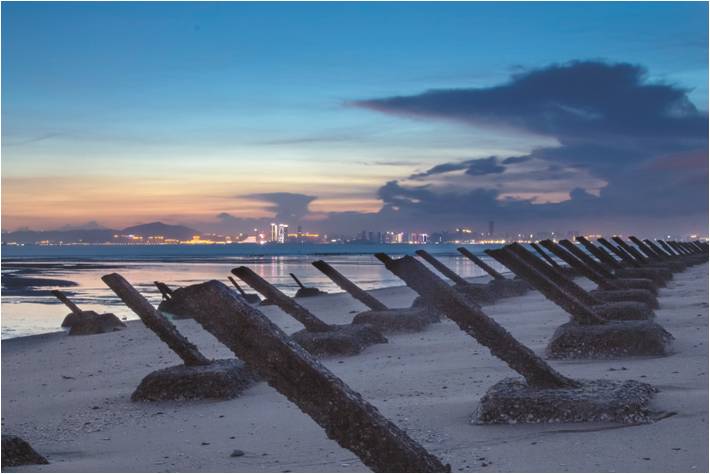 Old rail tracks anchored in cement line Lake Ci, with Xiamen in the distant background.
A Wealth of Diverse Attractions
Though only half the size of Taipei at 150 square kilometers, Kinmen is home to 75 places of historical interest and 152 historical structures, and visitors need plenty of stamina to work through each one of the rich offerings of this outdoor museum.
Kinmen is recorded far more often in Chinese history than Taiwan proper: it was home to a ranch set up in the Tang dynasty and educational academies set up by philosopher and writer Zhu Xi in the Song dynasty. It was a site for logging and salt production during the Yuan dynasty and served as a base for Koxinga in the 17th century as he fought to restore the Ming dynasty.
Though Kinmen's people have shuttled between land and sea for the past few hundred years, traditional Minnan architecture has remained immaculately preserved, including temples and homes featuring dovetail ridges or round-arch "horseback" roofs.
Every building bears witness to stories of struggle of island residents' ancestors. Many Kinmen residents sailed to Japan or Southeast Asia to make their fortunes, and those who succeeded returned to build Western-style houses with novel styles and exquisite workmanship. They were decorated with objects such as angels, Indian policemen, lions, elephants and other objects only found overseas, depicting the glorious return of these ancestors to their native island while leaving an impressive cultural heritage.
Even those who do not understand architecture or know much about the region's history will inevitably be drawn to these brilliant structures that remain undiminished by time.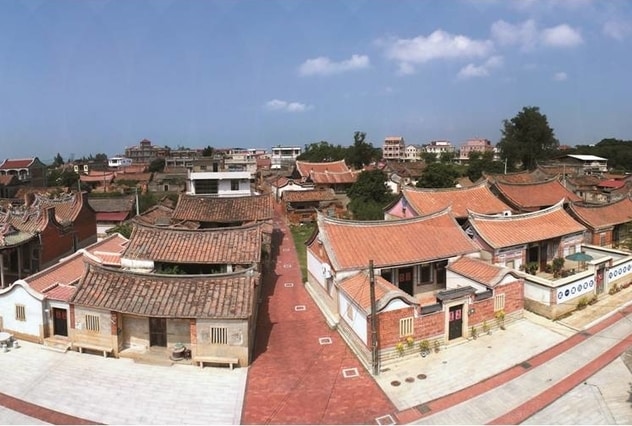 A cluster of traditional Minnan-style houses in Shuitou Village
Battlefield Culture
After 1949, Kinmen became a critical front line in the fight against communism for five decades. The last military skirmishes between Taiwan and China occurred in the island county, and soldiers posted there fare outnumbered civilian residents.
Even after Taiwan's economy took off and society became freer, the island still remained under tight military control for a long time, persisting in an age without radios, kites or a sense of security.
Today, various military fortifications continue to tattoo the island's landscape, from a reserve road for military vehicles circling the island and anti-landing piles in the middle of fields to anti-air assault bunkers in the middle of roads, underground tunnels, and pointed railroad tracks secured in cement lining the beach of Lake Ci.
With the passage of time, these former battlefields have become fertile ground for culture, the many neglected remnants of war revived into new scenic spots by the Kinmen County Tourism Department. Among them: the Shaxi Fort area and Houlin Military Camp on the smaller Lieyu or Little Kinmen Island, the old Jindong Theater in Jinsha Township, and the Xiyuan Chenggong Fortress.
The Houlin camp is being used as the country's first public laser shooting range, giving military enthusiasts the rare experience of firing a rifle. Many men who did their military service on one of the country's outlying islands are said to be eager to visit the Houlin facility and relive their youth.
Compared to the old battlefields and historical sites, Kinmen's rich ecology remains relatively obscure yet is absolutely worth a visitor's time, untouched by development during the decades the island was controlled by the military. Kinmen is located on the northward route of many migratory birds, and its spring wheat, fall sorghum and intertidal zone life provide plenty of food for the birds. Several rarely seen species, including ring-necked pheasants, hoopoes, blue-tailed bee-eaters, make Kinmen a prime spot for birdwatching.
The waters near Guningtou, once a pivotal battleground, are now a conservation area for the horseshoe crab, and the island itself is the only habitat in all of Taiwan for the Eurasian otter. Every year from April to June, one can also see amazing "blue tears" – produced by glowing algae – along Kinmen's coast. It's an ecological smorgasbord that is no further away than a 50-minute domestic flight.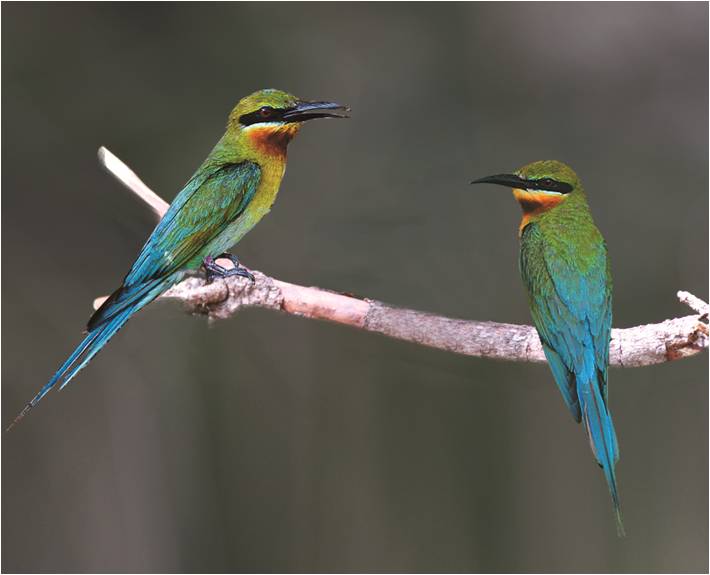 Blue-tailed bee-eaters are among the bird species that can be seen in Kinmen.
Intent on capitalizing on this great diversity of natural beauty and cultural heritage, Kinmen County's Department of Tourism has actively promoted themed tourism in recent years. It plans to combine the opening of Dadan Island – a small islet west of the main Kinmen Island – and a Little Kinmen revival plan, for example, to create itineraries featuring authentic military experiences and ecological clusters.
The county government has also come up with love-themed tours for young couples this summer, playing on Kinmen's amazing vistas to create romantic ambiences and unforgettable memories.
"Active tourism" themes, from jogs through picturesque villages, marathons, and cycling events to power walking, hikes through the wild, and parent-child games, have been conceived to attract different demographics. Visitors can explore every corner of the island and experience local culture while engaging in healthy exercise.
So if you're looking for a summer getaway, Kinmen and its history, culture, military relics and natural environment could very well be the perfect choice.
Translated by Luke Sabatier
Edited by HanSheng Huang
This content is sponsored by Kinmen County Government.
---
Additional Reading
♦ Kinmen-An Island Lost
♦ Taiwan's Outlying Islands in Distress: Blue Tears and Green Dreams
♦ Can Taiwan Become A Tourism Powerhouse?