Taiwanese Style—Designing Sustainable Soft Power
How Taiwanese Design Can Stem the Korean Tide
精華簡文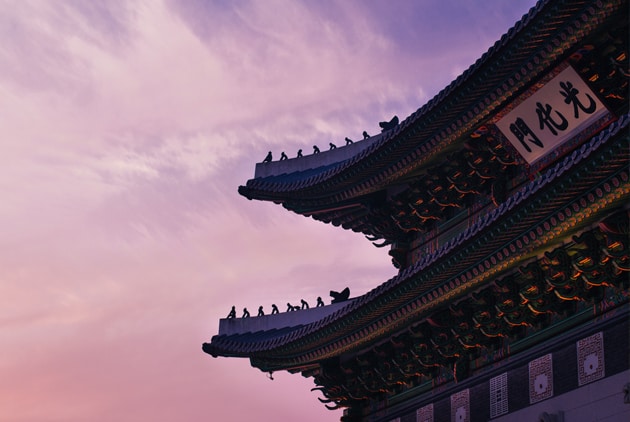 Source:Unsplash
Korean popular culture has swept across Asia in recent years, proving to be tremendously lucrative from period costume TV dramas to K-Pop. Aside from becoming obsessed with "Oppa" and wearing "authentic Korean" accessories, what do you think of when you consider what Taiwan has to offer? Is it creativity, fine food, the high-tech hardware industry, or the warm hospitality and enthusiasm foreign travelers rave about? How should this form of Soft Power be "designed" to ensure that cultural creative products are more than "flashes in the pan?"
How Taiwanese Design Can Stem the Korean Tide
By Chi-Yi Chang
FutureCity@CommonWealth

Soft Power should be "designed" to prevent laments of "flash in the pan" sounding out in the future. Moreover, it should not be limited to high volume reproductions of cultural creative products, but rather deeply rooted living aesthetics. Korean popular culture and K-Pop have swept the globe in recent years, backed with government support, and focused on enhancing content quality and emphasizing design outcome from policy to on-site logistics. According to figures from the Korea Creative Content Agency, the South Korean cultural creative industry generated 110.4 trillion Korean won of production value in 2017 (approximately NT$3.30 trillion), a comparable figure to the annual production value of the Korean semiconductor industry.
In this rapidly changing, increasingly unpredictable society, if designers and artists can skillfully connect things that appear to be unrelated so as to engender new possibilities, then cross-discipline innovation across art, technology and design is a critical skill for today's leaders.
The design realm faces a completely new revolution, as conventional simple design thinking has progressively shifted towards a design services system to "create collective intelligence, and provide shared knowledge.
Accordingly, designers must be adept at employing local aesthetics and using their professional skills to create distinctive perspectives and to overturn the established aesthetics of visual iconography if they are to produce innovative designs that genuinely serve everyone.
From State to Capital, Design Life to K-Culture Craze
In 2009 Korea amended the Cultural Industry Development Basic Law, which integrated the broadcasting and visual industries, cultural industry, gaming industry, software industry, and digital culture industry, placing administrative units representing different fields together under the Korea Creative Content Agency. Entirely funded by the Ministry of Culture, Sports and Tourism, with numerous overseas offices, it is the umbrella organization responsible for overseeing the cultural climate and fostering the overall cultural industry.
With good content in place, ongoing product design is essential. The Korea Design Development Agency, founded by the Ministry of Trade, Industry and Energy in 1970, which comes directly under the administration of the Korean prime minister, provides 80 percent of the country's funding to promote design awareness and skills. The agency is charged with encouraging enterprises to produce "design-oriented" products to power overall national economic development, targeting a 26 percent design usage rate by 2022 and expansion of the design industry market to 25 trillion, with exports of design products reaching 130 billion won, and a customer satisfaction rate of 95 points or higher.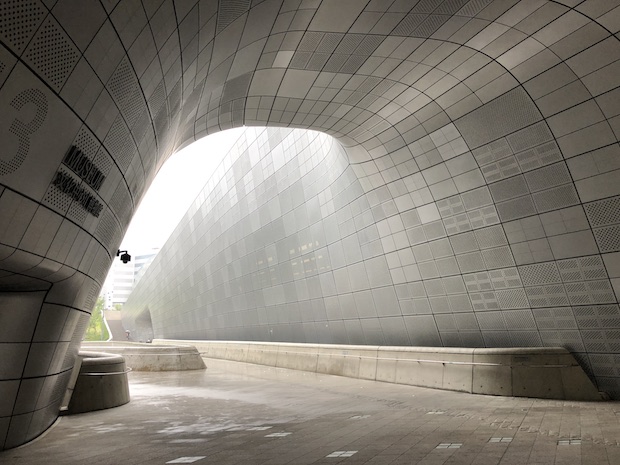 Dongdaemun Design Plaza (DPP). Dongdaemun is not just the shopping mecca of Seoul, but also a design industry center. (Image:Chi-Yi Chang)
With national-level design policy leading the way, the national capital of Seoul has incorporated the program into municipal governance. Financed wholly by the city government, from the quality of citizens' lives to international competitiveness in city design, it is studying the relationships between design and social issues in relation to economics, society, the environment, and cultural realms, with an eye on becoming a world design capital.
Beyond visible changes to the appearance of the city, even something less manifestly visible as service calls for design. The twin pillars of focus for the Seoul Design Foundation, established in 2008, are Service Design for Seoul and Design Business, building a new image for Seoul's design that attracts local attention, and can be marketed to the world with such topics as research and analysis of design service and business applications to corporate partnership and urban transportation.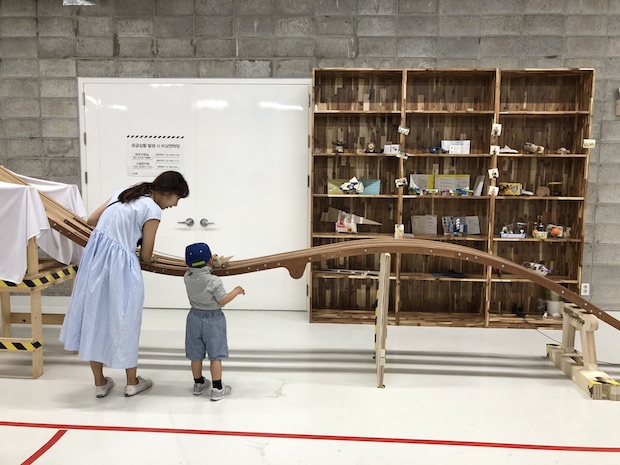 Seoul Upcycling Plaza. "Upcycling"is similar to recycling but it takes the act of re-use one step further: used resources are transformed into completely new products. (Image:Chi-Yi Chang)
Taiwanese Style - Designing Sustainable Soft Power
Seeing that the demand for design is increasing in Taiwan, many city and county governments see incorporating design into governance as an opportunity for innovation in public administration. For instance, Taitung established the first design center in Taiwan, while Taichung has been named World Design Capital for 2022. As society ages and fertility rates decline, the demand for new social designs increases, and design research can facilitate the introduction of better products and quality.
Design creativity will soon become a national-level priority of governance in Taiwan. This past March I joined the team of the Taiwan Design Center, founded by chairman Lin Jung-tai to promote design, harmonize with international practices, and cultivate talents, with three main ambitions:
1. In line with the Executive Yuan's Forward-Looking Infrastructure Plan, facilitate the incorporation of design as commonly held values for central and local government policy. Only on the foundation of design thinking and aesthetics can we accelerate the promotion of the government's infrastructure plan.
2. Establish a platform for young designers, provide the room and the stage for youths to put their professional skills to work. Judging by various exhibitions and major events around Taiwan in recent years, the creativity of young professionals has most definitely introduced positive energy for change.
3. Elevate the Taiwan Design Center to a national-level design research institute. Take the momentum built over the past 14 years a step further, presenting the initial direction with reference to the Korea model by the end of this year, with targeted planning and establishment over a two-year period. Subsequently take on the role of the agency expressly in charge of policy planning, design research, development promotion, elevating aesthetics, industry assistance, promotion and marketing, and international exchange to forge the country's Soft Power.
Design power is national strength. In the global competitive environment, Taiwan's government must take the lead to invest more resources in forward-looking Soft Power infrastructure needed for the urban industries and lifestyles of the future. The Ministry of Economic Affairs has thrown its full weight behind the establishment of a Design Research Agency, and the Ministry of Culture is actively working to form a Cultural Content Development Agency. These two design and cultural content agencies will act as twin engines of Taiwanese Soft Power, transforming Taiwan through content, design, and sustainability, and strengthening Taiwan's ability to survive amidst the challenges of the future.
Translated by David Toman
Edited by HanSheng Huang
---
Additional Reading
♦ Seoul: An Old City Embraces the Future
♦ Seeds of Creativity Sown in Taiwan's Parched Earth
♦ Eliana Kuo: Taking Taiwanese Fashion Labels to Europe
---
About the Author: Chi-Yi Chang / Design Transforms Taiwan
A native of Taitung, Chang is an architect, educator, and aesthetics activist. Chang holds a Master's in Design from Harvard Design School and Master's in architecture from Ohio State University. Currently a professor in the Graduate Institute of Architecture at National Chiao Tung University as well as the institute's director, he is chairman of the Taiwan Design Center, vice chairman of the Xue Xue Institute, former concurrent deputy magistrate of Taitung County and director of the Taitung County Bureau of Cultural Affairs, dean of the National Chiao Tung University Graduate Institute of Architecture, and director of the A+@ Architecture Studio. He is the author of numerous works on architecture and aesthetics, including Conceptual Aesthetics of Contemporary Architecture, Europe's Captivating New Architecture, and Looking at North American Contemporary Architecture.
---

FutureCity@CommonWealth is a sub-channel of CommonWealth. Aspired to become a communication platform for citizens, corporates, and government through reports on model cities, technology application, expert insights, and civic participation, FutureCity@CommonWealth is committed to explore the potentials of a better city life.
---
This article presents the opinion or perspective of the original author / organization, which does not represent the standpoint of CommonWealth magazine.