Taiwan's First 'Digital Life Survey'
Who Rules the Cloud?
精華簡文
Source:CW
In its first ever "Digital Life Survey," CommonWealth Magazine found Taiwan's Internet users to be among the most avid fans of social media across the globe, and have distinct online behavior patterns that will dictate how companies position themselves in the future.
Who Rules the Cloud?
By Sandy Lo
From CommonWealth Magazine (vol. 579 )


You watch him with a smile. You stare at him when you have nothing to do. You cast him a glance the moment you wake up, and are reluctant to leave him when you go to sleep. You unconsciously cling to him around the clock and panic when he is out of sight. You tell him all the secrets in your e-mails, and lean on him when you have questions or doubts.

Who is this "person"? Meet the Internet, your "sweetheart in the cloud," an indispensable companion to many in Taiwan according to surveys.

Four out of every five people (80.7 percent) in Taiwan aged 12 or over have used a computer and 78 percent have gone on the Internet, the 2014 Digital Opportunity Survey conducted by the National Development Council found. Of those who go online, usage of wireless or mobile devices to access the Internet is growing quickly, from 76.6 percent in 2013 to 91.5 percent in 2014, the latest survey found.

Taiwan's Internet-user penetration is similar to that seen in developed countries (78 percent) and well above the 40 percent averaged worldwide, according to International Telecommunication Union figures for 2014.

Seeking to further explore the second lives of Taiwanese people behind the screens and monitors, CommonWealth Magazine decided to conduct a large-scale survey on people's digital lives and behaviors for the first time based on nearly 15,000 responses.

In doing so, CommonWealth wanted to break away from the traditional survey approach focused on the number of website visitors or app downloads. Instead, we examined the habits of those with digital abilities in 24 different digital behaviors (such as social networking, looking for a house, or shopping) across 568 digital tools (including websites and apps).

A "24-Category Ranking" was developed that outlined the 136 digital tools Taiwanese most often use in their daily lives and painted a picture of their digital lives today.
The Social Network Craze: Facebook vs. Line
The survey identified 14 digital tools in five different categories – social networking, shopping, entertainment, information searching, and workplace tools – that were used by more than 50 percent of respondents. Of those, the use of social networking tools was the most common. (Table 1)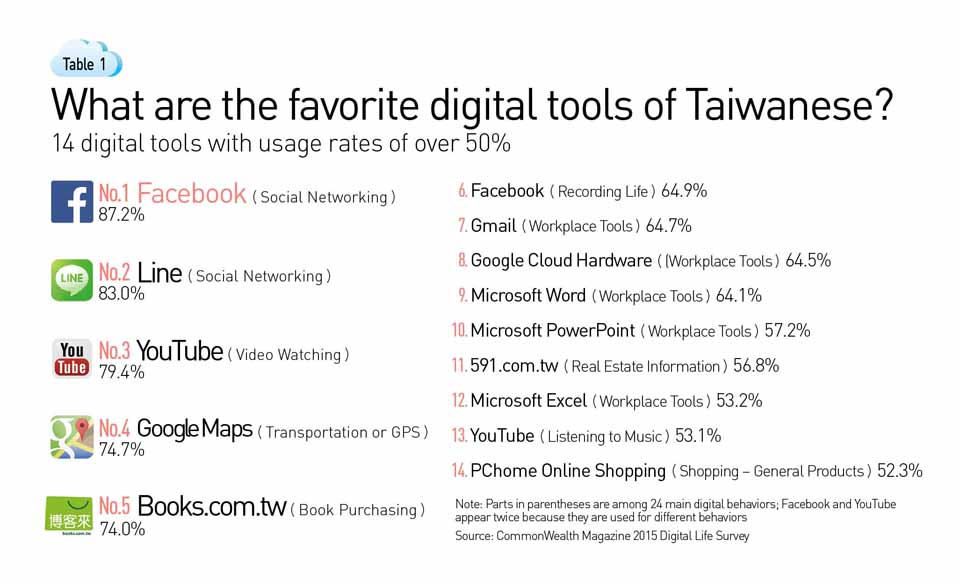 How much do Taiwanese really love social media? The winning digital tool in CommonWealth's first Digital Life Survey was Facebook, with 87.2 percent of respondents using it. The messaging app Line followed closely behind, with an 83 percent penetration rate. They were the only two digital tools with usage rates of above 80 percent, an indication of how indispensable the two social media brands have become to most Taiwanese.
"Facebook has more than 16 million active users every month in Taiwan," says Jayne Leung, the head of Greater China for Facebook. "Taiwanese especially like to go on Facebook to share their personal situations, preferring to check in or share their experiences more than users in most other countries.
It's not surprising that Taiwanese are loyal users of Facebook and Line, but they may even be among the most avid fans of social media across the globe.
According to data compiled by Singapore-based social media agency We Are Social, global social media penetration is 29 percent (number of active user accounts as a percentage of the population), and 59 percent in Britain, 58 percent in the United States and 66 percent in highly connected Singapore. As the Facebook numbers show, Taiwan, with its population of 23 million, goes even higher.
The other non-social networking digital tools identified in the CommonWealth survey's top 14 complete the overall picture of the digital lives of Taiwan residents, appearing consistently among the preferences of respondents regardless of gender, age or profession.
They use YouTube to watch videos, open Google for maps and navigation help, go to books.com.tw to buy books, and do their jobs with the help of Microsoft Word. The online real estate information website 591.com.tw also made it into the top 14, as many Taiwanese have grown accustomed to buying or renting a house online rather than going house-hunting with a real estate broker.
Brick-and-Mortar Brands Getting into the Act
Of the 568 digital tool options posted in the survey questionnaire, only 20 percent were from companies that started as brick-and-mortar brands, while 45 percent were from companies that got their start as online vendors and the balance from companies that started as app developers.
Yet of the 136 digital tools listed in the "24-Category Rankings," brick-and-mortar brands accounted for 34 percent of the total, signaling that they have maintained their advantages in the online world. App developers, on the other hand, accounted for only 10 percent of the total, showing how hard it is to build demand or a brand simply by developing apps.
"Ultimately, you're still doing business and providing service. The core part is no different for an online or brick and mortar enterprise," says Jason Chiang, CEO of Internet market research company InsightXplorer Ltd.
"It's all part of an ecosystem in which everything is integrated together. Brick-and-mortar brands are still the ones that understand their business the best. They just understood the Internet a little later than others."
In the online store developed by traditional 3C retailer Tsann Kuen Enterprise Co., consumers can place an order online and have the goods delivered from the electronics chain's nearest store within three hours. Ordering goods online has grown increasingly similar to ordering a pizza, explaining the power of the "click and mortar" model.
The Internet: 'Lover' or 'Spare Tire'?
Businesses are not the only ones adapting to the new Internet frontier. Every individual has a new virtual world self. The CommonWealth Magazine survey found that people in different age groups applied digital tools based on their own preferences and interests. (Table 2)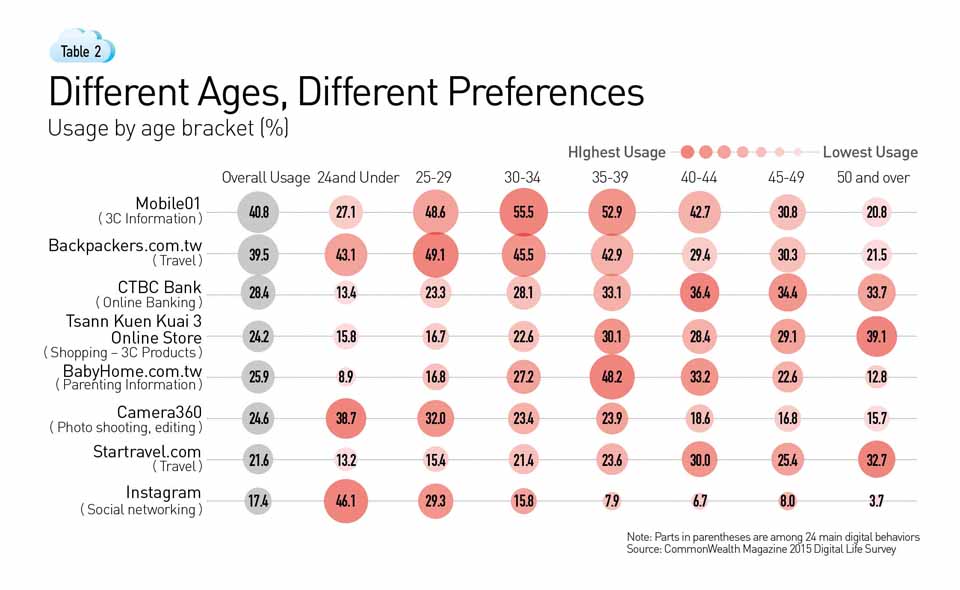 Among respondents 50 and older, for instance, who were more likely to trust traditional brands, 39.1 percent used Tsann Kuen's "Kuai3" flagship online store, compared with only 15.8 percent among those under 24. Conversely, mobile photo-sharing service Instagram is used by 46.1 percent of respondents under 24 compared with 3.7 percent by those 50 and over.
"People of different ages like using different digital tools not necessarily because of any distinguishing characteristics of the digital tools themselves but because of the different purposes people of different ages have for using them," says Bei Lien-ti, a professor of business administration at National Chengchi University.
When older people use Skype, for example, they want to communicate by video phone with their children or grandchildren who live far away and have few alternatives, Bei says.
"Also, people are still creatures of habit. They use what they are used to. Whatever was developed in a previous era will definitely still have a following. That explains why the users of BBS site PTT are concentrated in the 25 to 35 age bracket," Bei says of the site that was launched in 1995 and gained popularity just as members of the 25-35 age group were getting into the Internet.
Owen Lee, an Internet veteran and the general manager of Udn.com Co., observes that Taiwan's first search engine – Yam – also went online 20 years ago in 1995. To people who are now 40 or older, the Internet emerged after their lifestyles had become established, and as a result they tend to see digital tools as complements to their daily lives, such as looking for parenting information, finding banks or restaurants, or searching for health-related information, Lee says. They do not have purely virtual habits.
"Forty years old is a clear line of demarcation. People under 40, especially those 35 and under, came in contact with the Internet when they were in school or starting their careers. They are 'digital natives,' and the trend is clearer the younger a person is, to the point that they may even be 'mobile natives,'" Lee says.
Not surprisingly then, the main reasons people of different ages gravitate to various digital tools revolve around the purposes of use, preferences for tools from their own eras, and differences in how strongly they embrace the Internet.
There are two other objective factors at play. One is that people are at different points of their lives, meaning that students are more likely to use language-learning digital tools while middle-aged groups tend to search for health-related information.
The other is a difference in financial capabilities. Younger people have lower incomes and constantly look for the cheapest options. As a result, they frequently use auction sites. The more affluent people are, the more they use online shopping sites, which require credit cards to purchase goods.
Four Segments, Different Preferences
After studying the survey's results, we identified four age groupings in Taiwan that have specific preferences: the 24-and-under "easy-going social networking" group; the 25-to-34 "heavy entertainment" group; the 35-to-44 "finger therapy" group; and the 45 and older "pragmatists."
The digital tools used by each age bracket reveal their lifestyles. Those in the youngest age group are obsessed with social media tools. They often keep their messages short, "good morning, good afternoon, good night" being among their favorite expressions. It may seem like they have nothing to do, but in fact this is their relaxed side that gives play to their more creative impulses.
The older the groups were, the more the digital tools they employed focused on daily living, demonstrating a reliance, for example, on the websites of traditional brands. They are more receptive to the written word and their messages are usually written "seriously," talking about current events or books they have read, and jokes or stories may bubble to the surface when they are most at ease.
No two people use identical tools, and Internet resources cannot be exhausted no matter who is using them. In this Internet era full of freedom and charisma, what will the world be like in the future?
"Well, there's a whole world out there where people fight to be relevant every day. And you act like it doesn't even exist! Things are happening in a place that you willfully ignore, a place that has already forgotten you. I mean, who are you? You hate bloggers. You make fun of Twitter. You don't even have a Facebook page. You're the one who doesn't exist," says Samantha (Emma Stone) to her father (Michael Keaton), a washed-up Hollywood actor trying to revive his career, in the Academy Award-winning film Birdman.
Every generation has a way to define itself and meet others. This generation's heroes appear on the Internet, converging into "cloud sweethearts" who can accompany individuals wherever they are.
Translated from the Chinese by Luke Sabatier
---
About the Survey
Scope: 24 Behaviors
Digital Tools Selected: A total of 568 digital tools (including websites and apps) were nominated based on a list of the top 20 websites in each digital behavior category provided by comScore and the top performers in single quarters in App Store and GooglePlay rankings.
Survey Target: Select group of people with good digital skills
Survey Period: March 28 to May 18, 2015
Methodology: Random sample closed-access online survey targeting participants chosen from CommonWealth Magazine members with relatively good digital skills, such as newsletter subscribers and people who download apps, along with paid subscribers to udn.com's database. Participants checked off the brands they use in their daily lives, and they were allowed to choose more than one tool in each of the 24 digital behavior categories.
Valid Responses: A total of 14,973 responses were received, with between 3,361 to 4,267 responses for each of the 24 digital behaviors. The margin of error is plus or minus 1.5% to 1.69%.