Taiwan's Tourism Challenge
Opinion: Sign Designs for Global Travelers
精華簡文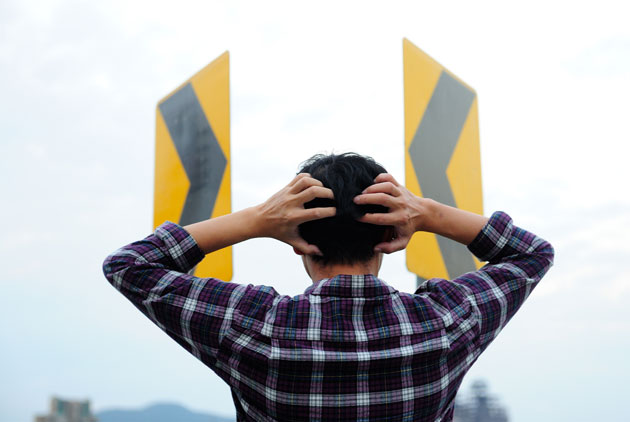 Source:Dexin Chen
Designing signs and services at tourist attractions that resonate with visitors from different countries can be a real challenge, and using English alone may not be enough. How can services be designed so that they are easily accessible to everyone?
Opinion: Sign Designs for Global Travelers
By Yu Horng-yi
FutureCity@CommonWealth

I remember the first time I went to Germany and found that bathrooms in restaurants were identified not by graphics but by two German words: "Damen" and "Herren." I guessed that "Herren" was for the women's bathroom, but fortunately some German friends let me know I had made a mistake and saved me the embarrassment of entering the wrong bathroom.
Good tourism experiences are usually accompanied by excellent international services or a common "language."
To achieve that and make visitors feel welcome and appreciated requires thinking about design in a way that resonates with them and communicating or conveying information in language, words or graphics that they understand.
Overseas visitors can provide a significant boost to the development of Taiwan's tourism economy, but if the social environment is incapable of providing better services or experiences, there won't be a "next time in Taiwan" or even positive "word of mouth" when the visitors return home.
There are three keys to good design that can overcome language and cultural barriers in the tourism sector.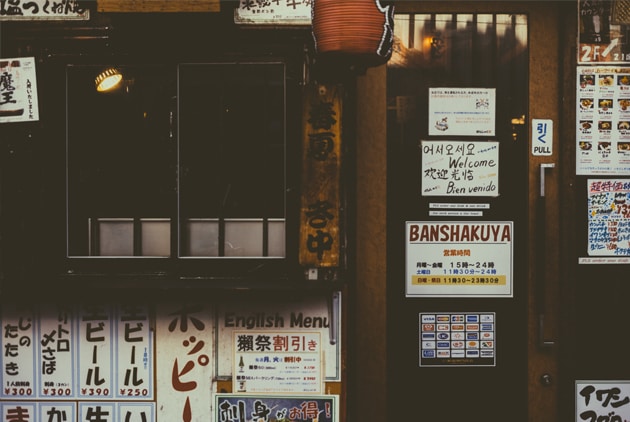 (Image: Unsplash)
Friendly Tourism 1:
Local + International Languages
English is generally widely seen in cities that put a premium on developing tourism. But those cities can struggle to find the right balance between English and the local language without complicating things or providing too much information.
The Acropolis Museum in Athens has come up with a clever solution in its presentation of an introductory film on the Parthenon. It rotates two versions of the film – one voiced in Greek with English subtitles and then one voiced in English with Greek subtitles.
On some international flights, the flight safety video will also intersperse local and international languages in the voiceover and subtitles, ensuring that safety information is accessible to all passengers, regardless of where they are from.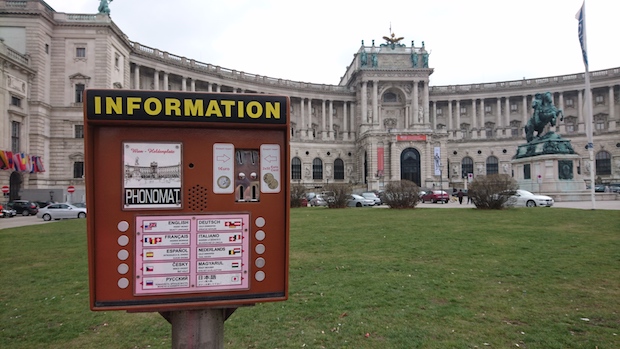 Because of Budapest's history and location, audio introductions of many historical sites are available in many languages. (Image: Yu Horng-yi)
Friendly Tourism 2:
More Languages than just English
Some countries may have been colonized by different countries or have close interactions with people in neighboring countries, elevating the importance of languages other than English. In Hungary, for example, menus are often in Hungarian, English, German and French.
Major places of interest often offer services in several different languages. It is not uncommon for introductions of historical attractions or audio guides in museums to come in eight or even 10 different languages, giving overseas visitors traveling on their own or who enjoy in-depth travel greater convenience.
Overseas visitors also tend to feel more secure or a sense of greater hospitality in a foreign land when they can see a language or words they're familiar with.
Having a placemat at a hotel breakfast offering visitors a "good morning" in several different languages, for example, can be a pleasant surprise to start the day.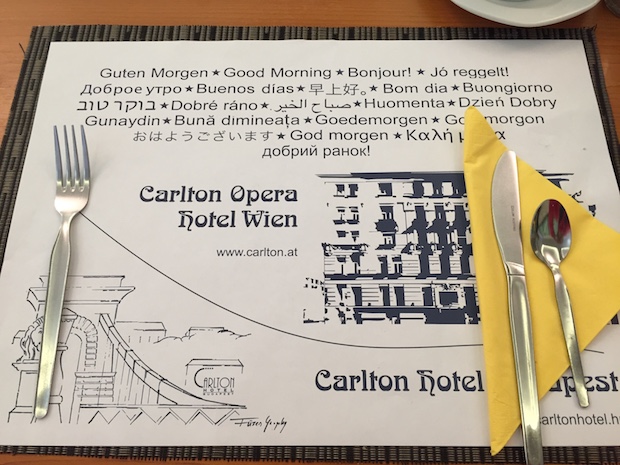 A paper placement at a hotel in Vienna offers a "good morning" to customers in many languages. (Image: Yu Horng-yi)
Friendly Tourism 3:
Signs, Body Language Can Be Big Helps
Aside from text, graphic symbols and photos are effective methods of communication that transcend language. But the use of graphics or symbols can be tricky because not everyone may interpret them in the same way. If they end up misleading certain groups of people for a different part of the world, using them will be self-defeating.
On the other hand, having people show the way is an approach that can overcome language, knowledge and experience barriers. That's especially true when it comes to in-flight safety demonstrations, which general use simple and clear methods to show passengers how to use safety equipment and evacuate an airplane in a way they can easily understand.
In an age of globalization, design and service need to cater to more than just the domestic population. They must also connect with overseas visitors who speak different languages and have different habits and experiences.
In Taiwan, several places already provide services in several languages. The National Palace Museum not only offers audio guides in Mandarin, Taiwanese, Hakka, English, Japanese, Korean, Spanish, French, German, Cantonese, Thai, Vietnamese and Indonesian, but makes content available in sign language, augmented reality, and multimedia for children.
I hope that in the future, every place in Taiwan that an overseas visitor could come across, down to bathrooms in small restaurants, can focus more on international-oriented services and common languages, which will only accentuate Taiwan's human touch and have visitors wanting to "come back to Taiwan."
Translated by Luke Sabatier
Edited by HanSheng Huang
---
Additional Reading
♦ Speaking English Does Not Mean Going Global
♦ Speaking More Than One Language Can Boost Economic Growth
♦ The Battle for Tourists in Asia is On
---

FutureCity@CommonWealth is a sub-channel of CommonWealth. Aspired to become a communication platform for citizens, corporates, and government through reports on model cities, technology application, expert insights, and civic participation, FutureCity@CommonWealth is committed to explore the potentials of a better city life.
---
About the Author
Yu Horng-yi is a columnist at Future City@CommonWealth. She has long championed universal design, which describes the design of social environments that can be accessed, understood and used by the greatest number of people. She has blogged and written extensively and also given many lectures on the topic in Taiwan. She runs the UDfish universal design studio and is a consultant to the Interaction Design Association.
This article presents the opinion or perspective of the original author / organization, which does not represent the standpoint of CommonWealth magazine.