Hawassa, Ethiopia
Taiwanese Textile Industry's New Paradise
精華簡文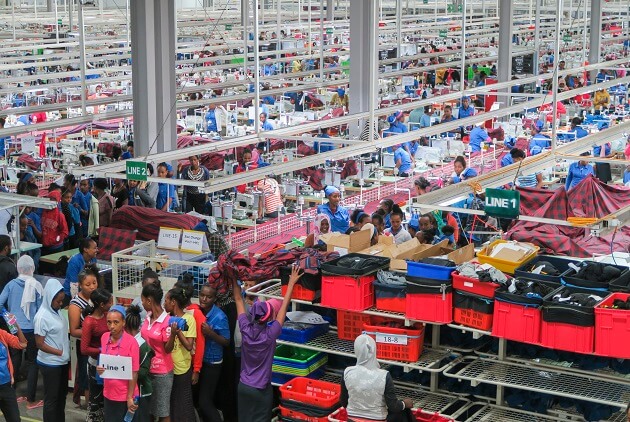 Source:Kaiyuan Teng
Ethiopia enjoys duty-free exports to the U.S. and Europe, and as the global division of labor is redrawn, the East African nation with a population exceeding 100 million is a new land of opportunity for the Taiwanese textile and apparel industry.
Taiwanese Textile Industry's New Paradise
By Kaiyuan Teng
From CommonWealth Magazine (vol. 653 )

There is not a single stretch of smooth pavement along the hour-plus journey from Hawassa Airport to the Hawassa Industrial Park. The bumpy, muddy road has left our vehicle's undercarriage similarly pockmarked from the constant abrasion. Passing through rhinoceros and great African crane habitats as we approach Lake Hawassa, the local farming population still resides in earthen dwellings made from straw and mud.
Yet this place has become a new promised land for the global textile industry, attracting the likes of major global brands such as the PVH Group (USA), Uniqlo (Japan), Zara (Spain), Decathlon (France), and Under Armour (USA) in recent years as companies look to invest and source suppliers in Ethiopia. Consequently, the supply chains of Taiwanese, Chinese, and Korean textile and apparel manufacturers have all put down roots here.
We toured a fabric facility in Ethiopia owned by the Chinese company Wuxi Jinmao, as well as a facility run by the Korean Shints (Shin Textile Solutions) apparel group for an inside look into how the textile industry has become established in Ethiopia.
Just three years ago, the land in southern Ethiopia now occupied by the Hawassa Industrial Park was a large swath of barren fields. Today, over 50 massive plant buildings have sprung up on 130 hectares of land, staffed by over 10,000 workers. Of these, three plant buildings are owned and operated by the Everest Textile Company, headquartered in Taiwan. "We leapfrogged straight past Southeast Asia and directly established an apparel facility in Africa," relates company president Roger Yeh. Under Yeh's direction, as part of Everest's expansion from fabrics to apparel, the company set up operations and commenced production in Ethiopia in less than a year.
Everest spent the last several years scouring the globe in search of the right country in which to establish garment manufacturing facilities before selecting Ethiopia.
There were two reasons for the decision. First, Ethiopia enjoys duty-free status for exports to the U.S. and Europe. Second, at over 100 million people, the country has the twelfth-largest population in the world, nearly 30 percent of which currently falls between the ages of 15 and 29. This makes for a large supply of young, inexpensive labor for the garment industry, which relies on a plentiful supply of cheap labor to establish a foothold. A 2015 survey by McKinsey noted that Ethiopia was the country the global textiles industry was most keen to invest in over the next five years.
Challenge #1: Infrastructure
The can-do attitude of Taiwanese businesses that saw a 1,000-person manufacturing plant sprout up from the fields in less than a year is truly astounding. The first challenge they confronted was the complete lack of functional roadways.
As the vehicle in which he was traveling bounced around on the muddy roads during his second visit to Ethiopia, Roger Yeh uttered repeatedly, "I thought after our apparel plant in Ethiopia was finished we might set up a fabric factory, but now I'm having second thoughts."
In reality, establishing a manufacturing park to attract the textile industry was a huge breakthrough for Ethiopia in the past decade. Starting eight years ago, the government mapped out a five-year economic development plan spanning two phases, of which the Hawassa Industrial Park was a featured component. Like the early stages of the Nanzih Export Processing Zone in Kaohsiung, the textile industrial park helped Ethiopia make its first bucket of foreign currency.
The Hawassa region is plagued by frequent power outages. However, Andualem Alebachew, chief of the Trade, Industry and Urban Development Bureau of the Southern Nations, Nationalities, and Peoples' Region (SNNPR), offers assurance, explaining that the industrial park is connected to two dedicated electricity distribution systems from two power plants to provide a stable power supply.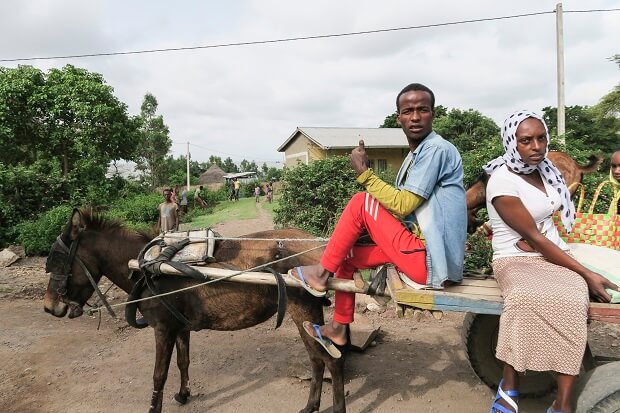 (Image:Kaiyuan Teng)
Challenge #2: People
With infrastructure and manufacturing plants in place, the second major hurdle was how to make farmers into textile plant workers.
Everest Textiles currently employs 1,400 workers at its first plant, along with 35 managers from Taiwan and Myanmar. Future plans call for expansion to three plants and 4,000 workers.
"Ninety-nine percent of the people here have never had had a 'job,'" relates Chen Shih-hui, general manager of the Ethiopia plant. The local population lives largely simple rural lives, so when they start working at a manufacturing plant it is not unusual for some workers to prop themselves up at a table and take a nap whenever they feel tired. And simple tasks like how to clock in or open a bank account are alien concepts to them, let alone how to sew a garment according to set standards. Consequently, they must be taught everything from scratch.
sending young Ethiopians with potential to Taiwan for training. Adem Fayera, one of a handful of local workers with a college degree, has worked at the Everest plant in Hawassa for a year, where she develops automatic template pattern stitching equipment. She traveled abroad for the first time for training at Everest's manufacturing facility in Tainan. "Most local residents stay at home with their families after graduating from high school instead of leaving home to seek jobs. This is my first job as well, which has taught me a lot of new skills and made my family very proud," she says.
Chen Shih-hui relates that, for the garment factory to become operational in Hawassa, it was necessary to train local managers. This is why the company has adopted the tactic of activating local grassroots managers and promoting them level by level.

Challenge #3: Societal Safety
The third challenge is that, although Ethiopia boasts better political stability and lower crime than neighboring countries, occasional conflicts still flare up.
A serious ethnic conflict took place just a few days before we arrived in Hawassa, one which took the lives of up to 20 people. Consequently, nearly 70 armed guards were stationed throughout the industrial zone during our visit.
One night, around 30 minutes by car from the industrial zone, shots rang out around 4:00 a.m., shattering the stillness of the night where we were staying with some Taiwanese company executives.
Reports conflict as to why the guard discharged his weapon. Some people say wild animals got too close, and others say it was a potential robber. "I hid inside, too scared to make a sound or turn on a light," said one of the managers, the fear still palpable as a group discussed the shots the following day.
With security an underlying concern, the garment workers must be protected. Consequently, company officers stationed in Hawassa live regimented lives not unlike members of the military.
After breakfast in the company housing unit just after six in the morning, they take a shuttle bus to the plant. At precisely 7:45 a.m., all the officers and line workers go through a morning calisthenics routine before commencing work at 8:00 a.m. In the evening they assemble once again to return to their dormitories.
"Life in Ethiopia is pretty boring. Fortunately we have the Internet, since there are no newspapers, and the only thing on TV is religious shows. Life is dull here," says Chen Shih-hui.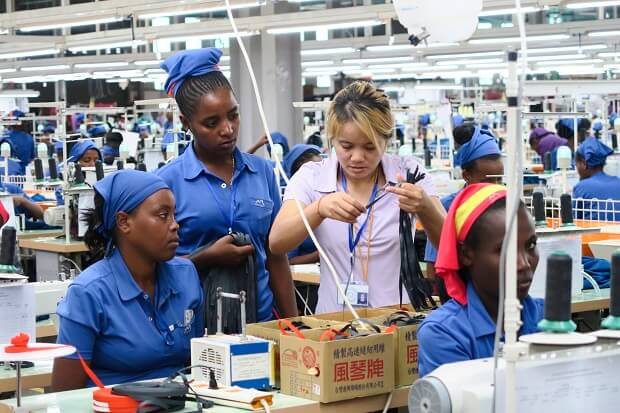 (Image:Kaiyuan Teng)
Challenge #4: Supply Chain
With personnel trained and plant facility construction completed, the supply chain line remains a major obstacle to setting up manufacturing operations in Ethiopia.
This is due to the shortage of local foundation industry, necessitating the importation of everything from fabric to chemicals for textiles and even cardboard boxes. In addition, Ethiopia is a landlocked country with no ports, making it necessary to route containers over land to the Port of Djibouti before setting sail for destinations in Europe and America.
"Containers can reach Europe in about a week via the Red Sea and the Mediterranean Sea. However, few sailings are scheduled, with only around one per week. In contrast to the completeness of the Southeast Asian supply chain, even cardboard boxes and raw materials for textiles must be imported here, resulting in poor control over delivery schedules," says Chen.
Everest is not the first member of the Taiwanese textiles industry to take on the challenges of manufacturing in Africa. Tony Huang, chairman of the New Wide Enterprise Group, will address an assemblage of textile industry representatives from around the globe this September at Textile World, the International Textile Manufacturers Federation (ITMF)'s annual industry conference. Huang will share his conglomerate's experience assembling a garment manufacturing force of over 8,000 people in Africa.
"Taiwan's textile industry is still very powerful," declares Huang confidently. Since venturing into the African continent for the first time in 2003, the New Wide Group has expanded operations in Kenya in very short order from one to five plants, while also setting up manufacturing facilities in Lesotho and Ethiopia. Thanks to stable quality control achieved over the years, the Lesotho and Kenya plants have received the highest "green light" designations reserved for only the top two percent of businesses in the industry.
Tony Huang relates that there is no textile supply chain in Africa to speak of, and that they are forced to ship fabric from Asia over a long supply line. Consequently, from order placement to calculating how much fabric is required, it is essential to make accurate projections throughout the process.
Challenge #5: Management
African management approaches are also quite different from Asian ones. As Huang relates, 70 percent of the management of its African plants relies on New Wide's uniform global management system, but the other 30 percent must be customized for unique local circumstances.
Armed with that knowledge, since establishing a foothold in Africa over a decade ago, they began hiring managers from Mauritius and Sri Lanka familiar with both the way things work in Africa and whom possess technical knowledge about the textile industry. "We (Taiwanese enterprises) don't really trust non-Chinese speakers, which is an unfortunate mental handicap to management. And that kind of attitude makes it difficult to manage things in Africa," says Huang.
These are just a few of the challenges that must be faced in order to reap the benefits Africa has to offer, but Taiwan's manufacturers are hopeful that these obstacles can be overcome, letting the people of both Taiwan and Ethiopia enjoy the benefits of successful cooperation.
♦ Taiwanese Textile Industry's New Paradise
♦ Taiwanese and Local Textile Mills 'Make Stone Soup' Together in Forest City, North Carolina
Translated by Luke Sabatier
Edited by HanSheng Huang
---
Additional Reading
♦ The Secret behind Burberry, Coach and Victoria's Secret
♦ From Uniforms to Shoes, Taiwan Is a Major World Cup Player
♦ 'Made in Taiwan' Scores Olympic Gold