With 120 Years of Distillery Experience
Taiwan Tobacco & Liquor Corporation Creates Whisky Miracle
精華簡文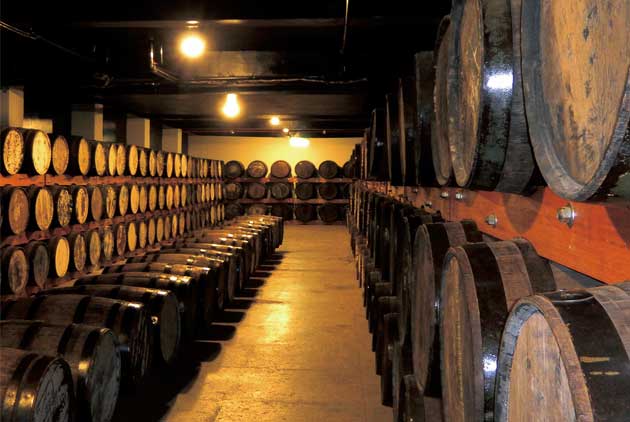 Source:Taiwan Tobacco & Liquor Corporation
How does a whisky taste with a hint of tropical fruit aroma? As one takes a sip and the golden liquid fills the mouth with flavor, one cannot help but reminisce about the changes in whisky aromas in recent years. You might have once loved that strong, peaty flavor but now enjoy a more mellow and sweet whisky that, along with its flavor, brings back sweet memories.
Taiwan Tobacco & Liquor Corporation Creates Whisky Miracle
By Taiwan Tobacco & Liquor Corporation
Sponsored Content


Taking a sip from a glass of this whisky not only triggers an emotional reaction, its smell and taste represent culture. This fruity whisky with a rich Taiwanese touch results from a blend of innovative thinking and master distilling skills. After making its entry on the world stage, it became a hot seller in the whisky department. The mastermind behind the OMAR single malt whisky series, which has created a buzz in the international market, is the Nantou Distillery of the Taiwan Tobacco & Liquor Corporation (TTL).

After TTL, previously widely known as the Taiwan Tobacco and Wine Monopoly Bureau, successfully made whisky at the Nantou Distillery in 2008, its products gradually entered the international market. For its distilling method, TTL adopted the Scotch single malt whisky process while incorporating a unique, distinct Taiwanese character.

Over the years, TTL created one international whisky star after the other, such as the OMAR "Sherry" type and "Bourbon" type single malt whisky. Both whiskies have created a buzz in Europe and Asia, and have been graced with countless awards.

Innovative Capacity from Rich Experience
Many Taiwanese are whisky aficionados. Over the past few years, Taiwan has consistently ranked second or third among the top whisky-importing countries around the globe. The amount of money that Taiwanese spend on this alcoholic beverage is impressive, showing that they not only love whisky but also prefer high-end products.
For TTL, which looks back on more than 120 years in the distillery business, whisky is definitely a market that deserves to be developed. TTL's Nantou Distillery, which has rich experience in distilling fruit wines, liqueurs and brandy, shouldered the double mission of developing and producing their whisky product portfolio.
In the beginning, whisky production posed a great challenge for the Nantou Distillery. Leaving aside equipment and technical problems, Taiwan's hot and humid climate alone forced the whisky makers in Nantou to come up with creative solutions. In Taiwan, the only period suitable for making whisky is between October and March/April. The island's high temperatures lead to increased evaporation of the precious liquid and also negatively affect the aging process.
Therefore, the Nantou Distillery dispatched specialists to far-flung Scotland to study with master distillers there. They returned to Taiwan with the most orthodox whisky-making technology and built a whisky distillery with professional, custom-made brewing equipment.
After many trials, discussions and team efforts, the first batch of whisky finally saw the light of day. However, successfully making a whisky is only half the story. Unless the whisky has its own distinct character and differs from competing products, carving out a niche in the extremely competitive market is bound to be very difficult. The best way to fame in the merciless international market was to showcase one of Taiwan's greatest pride – its tropical fruits.

TTL Truly Upholds Blending Cultures
At that time, TTL embraced an innovative spirit, resolutely and courageously pouring the young whisky into casks with a fruity flavor for aging. They hoped that a whisky that had been entirely produced in Taiwan would also develop a characteristic local aroma.
Since its founding in 1977, the Nantou Distillery had continued to experiment with fruit wines and liqueurs from different local fruits. As a result, it had plenty of casks that gave off different fruit flavors. They asked themselves whether and how this could enhance the whisky's aging and what kind of flavor would result from marrying the whisky with the fruity notes of tropical fruits. However, getting the answers was a matter of patience.
After three years, the answers emerged. Whisky that was aged in lychee liqueur barrels had a unique flavor reminiscent of the familiar sweetness of lychee. Whisky aged in a plum wine barrel lured connoisseurs with a subtle, elegant plum flavor.
This is how the OMAR single malt whiskey with a full-bodied tropical fruit flavor was born.
International Craze for Taiwanese Whisky
The success of its flavorful, fruity whiskies fueled the confidence of the Nantou Distillery. The subsequently developed black queen whisky, aged in black queen [grape] wine barrels, was a resounding success among whisky connoisseurs. More importantly, the OMAR whisky kept sweeping renowned international liquor competitions such as the Malt Maniacs Awards (MMA), the World Whiskies Awards (WWA), the International Spirits Challenge (ISC), the International Wine and Spirits Competition (IWSC), and the San Francisco World Spirits Competition (SFWSC). The spirits gained numerous awards such as the MMA "best sherry cask award" for three years in a row, the WWA "Best Taiwanese single malt whisky" for two successive years, and double gold medals at the 2017 SFWSC for the OMAR Single Malt Bourbon Type and Sherry Type whiskies, contributing to Taiwan's reputation in the world of spirits.
Traditionally, Europe and North America have been the major whisky exporters, so Taiwanese whiskies have had to play catch up in the global market. Yet OMAR whisky has meanwhile won the hearts of whisky connoisseurs around the globe.
OMAR whisky has not only carved out a niche in the whisky realm but also takes advantage of its brand reputation to promote Taiwan's diverse and hospitable culture in every corner of the world to make this beautiful island even more widely known and loved.
Edited by HanSheng Huang
This content is sponsored by Taiwan Tobacco & Liquor Corporation
---
Additional Reading
♦ Life in Taiwan is Too Sweet to Be Healthy
♦ Bargains Don't Come Cheap
♦ An Italian Entrepreneur Realizing 'His Meaning of Life' in Taiwan
---