Tseng Chun Hsin
How 'The Taiwan Night Market Champion' Fought to the Top
精華簡文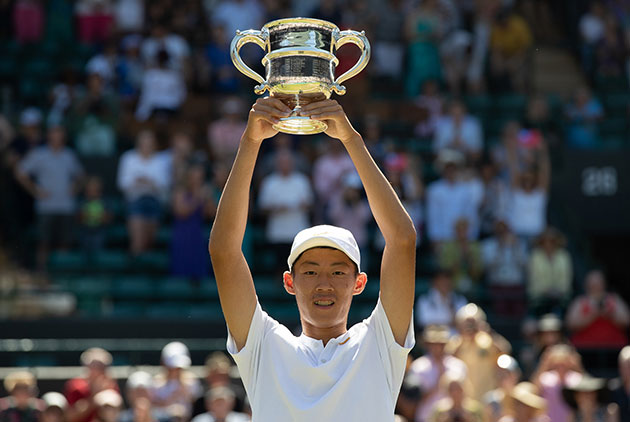 Source:Official homepage of The Championships, Wimbledon 2018
Tseng Chun Hsin, the Taiwanese boy who defeated the host country Britain's Jack Draper to win the Wimbledon boy's singles title, has just turned 17 today (Aug. 8), having fulfilled the goal he boldly claimed three years ago—becoming a world champion.
How 'The Taiwan Night Market Champion' Fought to the Top
By Elaine Huang
web only

On July 15 (Taiwan Time), at Lehua Night Market, a lady selling sugarcoated haw sticks who couldn't move her eyes away from her smart phone screen suddenly let out a cheer. She is the mother of Tseng Chun Hsin, the first Taiwanese champion of Wimbledon's history.
"So glad," said the proud mother to the camera. "He has come a long way."
A future Grand Slam winner?

Chun Hsin Tseng wins the boys' singles title, defeating Jack Draper 6-1, 6-7(2), 6-4 in a thriller on No.1 Court#Wimbledon pic.twitter.com/V4W7ZigYVu

— Wimbledon (@Wimbledon) July 15, 2018
Today, on August 8, Tseng celebrates his 17th birthday, which shares the same day with tennis world champion, the FedEx Roger Federer. Coincidentally, Federer has also claimed the Wimbledon boy's singles crown at the same place 20 year ago.
Earlier this year, Tseng has won the men's singles category of the Vietnam F1 Futures tennis tournament in May, and a Grand Slam title of Roland Garros Junior French Championship in June. This July, Tseng won his second Grand Slam title at Wimbledon.
He became the only player this year to compete in three hard-fought Grand Slam finals, and the first to complete the Roland-Garros-Wimbledon singles double since France's Gael Monfils in 2004.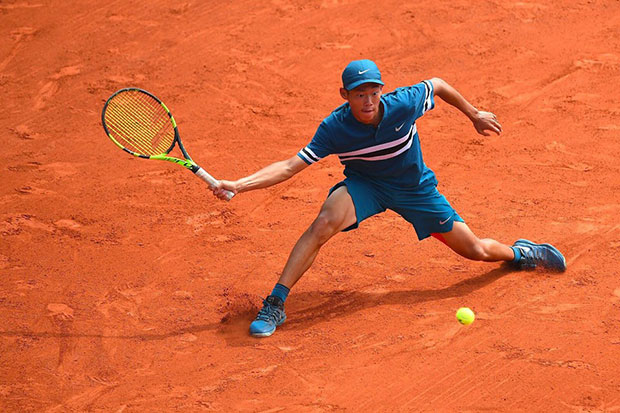 Photo Source: Mouratoglou Tennis Academy
Overcoming the pressure of competing with the host country in the Wimbledon's finals, Tseng has proved his potential as a young world champion.
"Actually, at one point I only can hear my breath sound," he said at the press conference. "There's always pressure in the beginning of every match, but as soon as I get myself into it, I begin to enjoy it. Noise from the audience won't affect me."
'One of The Most Talented Players in Asia'
"Maturity and stability, key characteristics of a great tennis player. He has both," observed Mats Hsu, anchor at Fox Sports. Having interview Tseng in person three years ago, Hsu recalled asking him what his goal was.
"I want to become a world champion," said the 14-year-old, firmly.
This May, Tennis World named Tseng as 'one of the most talented players in Asia.'

The Night Market Champion, and a Self-taught Top 3 A-Student
The press gave him the nickname 'Night Market Champion,' in regard to his parents who sold sugarcoated haw sticks at Lehua Night Market to support his sport participation.
Tseng has always been setting high standards for himself. Beginning his tennis journey at the age of five, he used to commute between cities for school and tennis practice, balancing schoolwork and training without compromising. According to his mother, Tseng has always been strict on himself. Throughout his years in elementary school, he never fell behind the top five in class. As training became more demanding since he entered junior high school, unavoidably eating up his time for class, he kept striving for top 3 in class through self-teaching.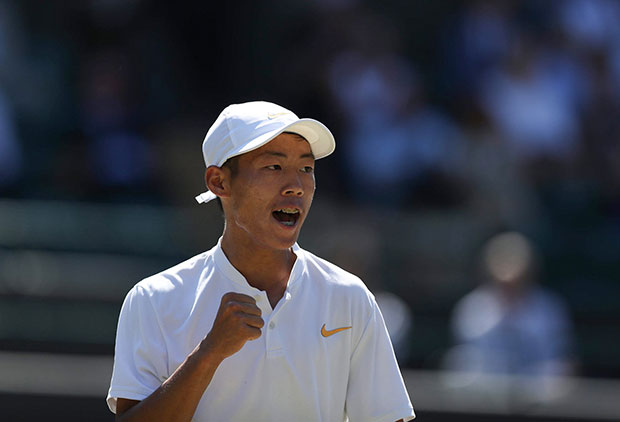 Photo Source: Official homepage of The Championships, Wimbledon 2018
After tennis practice and schoolwork, Tseng would often sit quietly alone at the back of his parents' vendor cart, folding paper boxes for sugarcoated haws. Now a student at Jianguo Senior High, he kept leading a self-disciplined life balancing between schoolwork and sports. To Tseng, this was his choice, his dream.
His self-discipline and perseverance brought him the crown of the most celebrated junior tournament in Europe, Les Petits As(Small Champions)in 2015. The first Asian champion title-holder of the tournament's 30-year history suddenly rose to fame.
"That championship three years ago was when people started to notice him. But not many recognized the efforts and hard work he had come through before that," said Hsu.
After fighting into three Grand Slam finals and wining two champions within the same year, Tseng's next big battle will be the professional.
"Turning professional is what I always yearned for. I'll keep focusing on every single shot I hit, and make the best out of each," Tseng posted on Facebook.
The young champion who shared the same birthday with Federer has become a new star in the sports world, continuing to shine with passion and determination.
Translated by Sharon Tseng
---
Additional Reading
♦ Taiwan's Badminton Queen: Tai Tzu-ying's Road to World No. 1
♦ B Talent, A+ Results: From the Bench to the Big Time
♦ From Uniforms to Shoes, Taiwan Is a Major World Cup Player