24 Days in a Student-Occupied Parliament, and the Future of the Region
Inside Taiwan's Sunflower Movement
精華簡文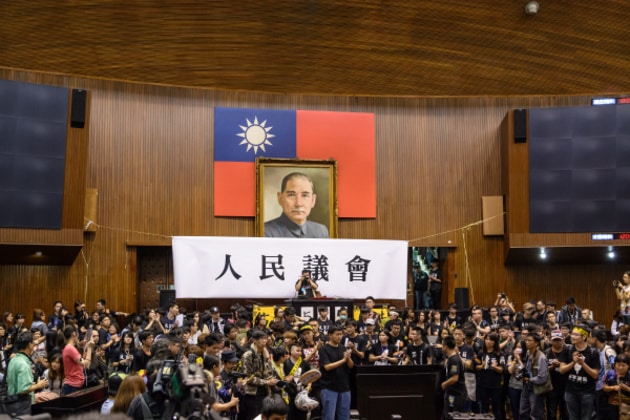 Source:Artemas Liu
"Say goodbye to Taiwan," wrote political scientist John Mearsheimer in a widely read article in the March-April 2014 issue of The National Interest. Threatened by China's rising economic might and abandoned by a weakening United States, one of Asia's most vibrant democracies was facing, in his "realist" analysis, an almost inevitable annexation via economic if not military force. "Time," he wrote, "is running out for the little island coveted by its gigantic, growing neighbor." But only days after publication, on March 18, activists and armchair analysts alike said hello to a new reality.
Inside Taiwan's Sunflower Movement
By Ian Rowen
web only

Editor's note: The article is an extract from a paper originally published on Cambridge Core, written by Fulbright scholar Ian Rowen
That evening, the assembly hall of Taiwan's Legislative Yuan was stormed by a motley crew led by students from the "Black Island Nation Youth," a loosely organized student political action committee formed the previous year. The several hundred occupiers repelled police efforts to eject them, escorted out the few officers on duty, and barricaded the doors with seats tied together with rope.
None of them expected that the occupation, later known as the 318 or Sunflower Movement, would last twenty-four days, spawn the biggest pro-democracy protest rally in the island's history, reframe popular discourse about Taiwan's political and social trajectory, precipitate the midterm electoral defeat of the ruling party, and prefigure unprecedented protest in nearby Hong Kong.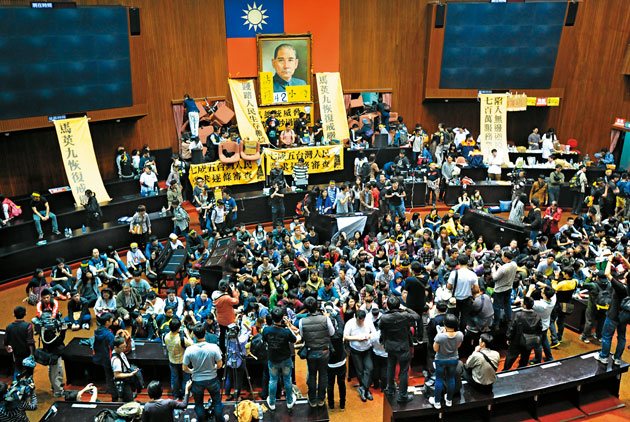 According to CommonWealth Magazine's State of the Nation Survey, only 16 percent of survey respondents expressed satisfaction with the economy's performance in 2015. (Read more statistical analysis on: China, Political Infighting on People's Minds)
The direct trigger for the protest was the perceived flouting of parliamentary due process by Taiwan's ruling party, the Chinese Nationalist Party (Kuomintang or KMT), in its efforts to push a major trade deal with China through the legislature. Indeed, on Monday, March 17, legislators from the KMT reneged on a June 2013 agreement with the opposition party, the Democratic Progressive Party (DPP), for an item-by-item review of the Cross-Strait Services Trade Agreement (CSSTA).
Instead of conducting the promised review, KMT legislator Chang Ching-Chung, the convener of the committee, unilaterally declared that the review period had already ended and that the bill would be submitted to a plenary session on March 21. Had this legally questionable process not been interrupted, it was all but certain that the KMT-dominated legislature would have passed the bill for a signature from President Ma Ying-jeou, who had championed its passage.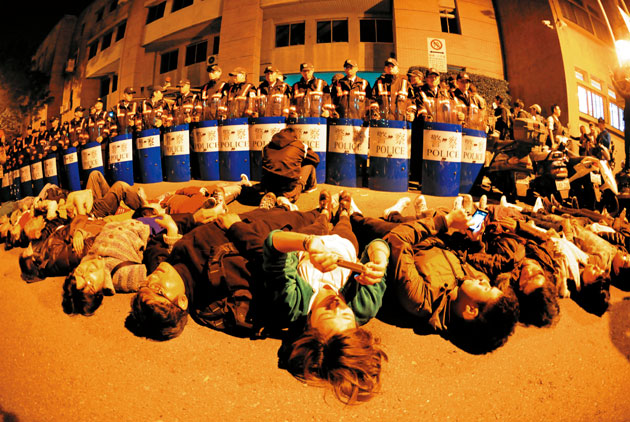 The controversy over a trade agreement with China has engulfed Taiwanese society. (Read more on: A Chance to Deepen Taiwan's Democracy)
The CSSTA was negotiated and signed behind closed doors in Shanghai on July 21, 2013, by representatives from Taiwan's quasi-state agency, the Straits Exchange Foundation, and its Chinese counterpart, the Association for Relations Across the Taiwan Strait. The CSSTA would open eighty sectors of China's economy to Taiwanese investment, and sixty-four sectors of Taiwan's economy to Chinese investment, including hotels, tourism, printing, and medical services.

The CSSTA followed the Economic Cooperation Framework Agreement (ECFA), a broad agreement for increased economic integration between Taiwan and China, signed in 2009. Both the ECFA and the CSSTA were touted by the Ma administration as major boons for Taiwan's economy, although the government's own Chung Hua Institute for Economic Research estimated the latter would bring only a 0.025–0.034 percent increase in Taiwan's annual gross domestic product (GDP).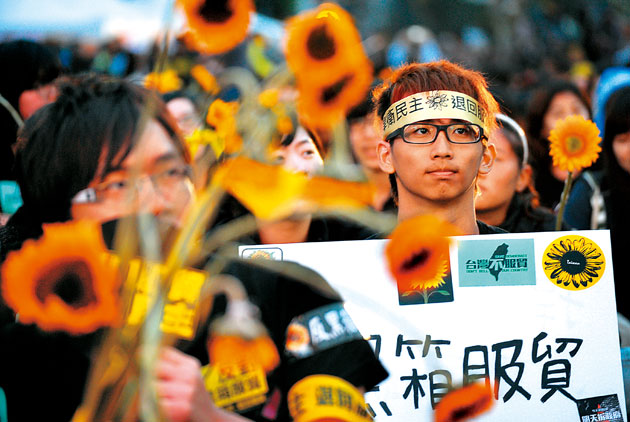 "It has never been a problem of signing or not signing the Trade in Services Agreement, but how to sign it," says Chen Tain-Jy, professor at NTU and chairman of CEPD. (Read more on: What Should Taiwan Do Next?)
Click to read full text on Cambridge Core, featuring:
♦ The Soil that Sprouted the Sunflowers
♦ Occupied Days and Nights
♦ The Legislative Yuan Reterritorialized as the Office of an Ad Hoc Opposition
♦ The Capital District Reterritorialized as a Microcosm of Civil Society
♦ From Occupation to Mass Rally to Exodus
♦ Aftermath: A Scattering and Sprouting of the Seeds
(This article is reproduced with the kind permission of Fulbright Taiwan. It presents the opinion or perspective of the original author, which does not represent the standpoint of CommonWealth Magazine.)
Edited by HanSheng Huang
---
Additional Reading
♦ Seeking Freedom, Living for the Moment
♦ Joseph Wu: We Resist China, Not Free Trade
♦ Can New Power Be an Effective Watchdog?
---
Original content can be found at the website of Fulbright Taiwan.
♦ Inside Taiwan's Sunflower Movement
---

The Foundation for Scholarly Exchange (Fulbright Taiwan) is one of 49 bi-national/bilateral non-profit organizations established to administer the Fulbright educational exchange program. For more information on the grants see the Fulbright Taiwan website. Research & Reflections is an online publication of submissions from Fulbright Taiwan grant recipients. We hope that it can help fulfill the Fulbright Taiwan's mission of cross-cultural understanding and knowledge-generation. Read more at Research & Reflections.
---
About the Author
Ian Rowen is Assistant Professor of Geography and Urban Planning in the School of Social Sciences at Nanyang Technological University, Singapore, and holds courtesy appointments in the School of Art, Design, and Media, and the S. Rajaratnam School of International Studies. His work on culture, politics, and place-making has appeared in The Journal of Asian Studies, Annals of the American Association of Geographers, Annals of Tourism Research, Asian Anthropology, International Journal of Transitional Justice, The New York Times, the BBC Chinese, The Guardian and elsewhere. He has delivered invited talks at institutions including Stanford University, Harvard University, University of California Berkeley, SOAS University of London, and NYU Shanghai. He has been a Visiting Scholar at Fudan University (China) and Eberhard Karls University of Tübingen (Germany) and a postdoctoral fellow at Academia Sinica (Taiwan). His research has been supported with a Fulbright Fellowship and multiple US National Science Foundation grants.