An Interview with Minister of Economic Affairs
Phasing out Nuclear Power?
精華簡文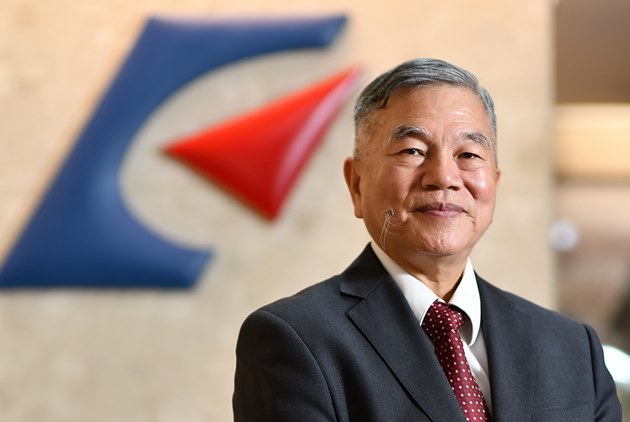 Source:Kuo-Tai Liu
In the year since a massive blackout was caused by power generators going down last August 15, Minister of Economic Affairs Shen Jong-chin has been in the hot seat on nearly a weekly basis, addressing concerns about Taiwan's energy transition. In spite of the host of challenges at hand, he is confident that policy objectives will be met.
Phasing out Nuclear Power?
By Kwangyin Liu
From CommonWealth Magazine (vol. 654 )

CW: People are dubious about the ability to reach the government's target of raising the proportion of renewable energy from five to 20 percent within seven years. Is this an overly ambitious goal?
Shen: Taiwan's renewable energy is currently in a period of rapid growth. Germany's renewables ratio grew 16 percent between 2010 and 2017, which is about the same as Taiwan's target.
Taiwan has excellent natural resources, ample sunlight, and excellent areas for wind power along the strait. The combination of these advantages, plus determination and execution, makes these goals completely achievable.
We have achieved 1.5 GW of solar generated capacity over the last two years, and hope to reach 3 GW of rooftop output in 2020, ahead of our goal. With full participation across the populace, driven by neighborhood chiefs, we can reach this goal in two years. Addressing people's concerns about unpermitted construction, every type of illegal structure is executed in a different way. Once the demonstration plan is released, the public should be reassured. (Read: Taiwan's Energy Tug-of-War)
CW: Germany has the European electrical grid to back it up, while Taiwan has an isolated electrical grid. So how can it kick renewable energy into high gear?
Shen: A comprehensive set of steps must be formulated. First, a facility like the Sun Moon Lake pumped storage hydro power plant uses solar power to pump water to the upper-level pool, then after dark, when there is no more sunlight, the water is shunted back down to generate electricity. We would like to build more of these pumped storage hydro power plants, but first we must complete environmental impact assessments.
Second is natural gas units. The environmental impact study for the Guantang Disantian Receiving Station is currently ongoing, and we are subject to doubts expressed by environmental lobby groups. Under such pressure, China Petroleum has already reduced the area for development from over 300 hectares to just over 30 hectares in order to avoid disturbing sensitive areas. If the plans are passed in the second half of the year, it can begin supplying gas by 2023.
CW: Japan's energy transition plan declares that nuclear energy will account for 20 percent of the country's power generation by 2030. If Japan can reopen the door to nuclear energy, why has Taiwan decided to scrap nuclear power?
Shen: The Environmental Basic Law of 2002 announced the intent to gradually phase out nuclear power from Taiwan. And the Electrical Power Industry Law passed early last year (2017) also mandates that existing nuclear power facilities be decommissioned on schedule, and that the Fourth Nuclear Power Plant cease operation. This is not overzealousness, as nothing is being decommissioned ahead of schedule.
Eliminating Nuclear Power According to Schedule
Ending reliance on nuclear power is an international trend. Industry and business groups would like to see the life of existing nuclear power generators extended, and even reboot the Fourth Nuclear Power Plant, and to this I always bring up three points: First, Taiwan is so small; how can it take on the risks of a nuclear disaster at home? Second, how should nuclear waste be treated? And lastly, the cost of decommissioning the Fourth Nuclear Power Plant is expected to exceed NT$400 billion.
After I communicate these three difficult issues with business groups and the American Chamber of Commerce, they invariably say that, as long as the supply of electricity is ample and stable, it is not necessary to support nuclear energy. But these three issues must be confronted for the conversation to move forward.

Why has Japan re-opened the door to nuclear power in the wake of the Fukushima disaster? Japan's power supply is certainly taxed. When I went to Japan a few years ago on business, the company I visited had no air conditioning precisely because there is not enough electricity, and everyone got a hand-held fan to cool off. Japan's shortage of power impacts economic development, and the government revived nuclear power generation under considerable pressure from business and industry groups.
For its part, while Taiwan has not yet experienced power shortages, reserve capacity is low. But this is not without justification, as last autumn and winter, local governments reduced coal-fired power generation capacity, as both Taichung and Kaohsiung reduced coal reserve capacity by about three percent. This year, even if there are further reductions, there is still six percent remaining, and 10 percent next year, so stable supply will certainly be achieved.
The public's keen attention to the power supply issue over the past several years is palpable to us. The pressure rests on our shoulders, and I assure you we will execute good control of scheduling risks and avoid any unwanted surprises.
CW: Can the target date for renewable energy be pushed back further?
Shen: This has to do with international trade. Taiwan is an export-oriented economy, and what happens if suppliers demand the use of renewables, but businesses cannot deliver? We cannot afford to delay.
CW: Coal-burning power plants emit pollution, yet coal power is expected to account for 50 percent of the supply at some point in the future. This has the public concerned about health.
Shen: Over the near term, while air quality is poor, the capacity of coal-fired units will be reduced, and priority given to deployment of natural gas-powered units. Older, outdated coal-burning facilities will be replaced over the medium term, employing ultra supercritical units to raise power generation efficiency. By 2025, it is predicted that thermal power energy production will be increased by 10 billion kWh over last year, while pollutants will be reduced by 35 percent.
Translated by David Toman
Edited by HanSheng Huang
---
Additional Reading
♦ Taiwan's Energy Tug-of-War
♦ Striving for Energy Transition
♦ Everyone Can Generate Green Energy
♦ Can Japan Go Nuclear-free?
♦ Taiwan's Energy Transition Can't Afford to Have No Plan B
---