Taiwanese Orchids to Bloom in Desert Countries
精華簡文
Source:CW
Last year, Taiwan's orchid growers exported potted orchids and seedlings worth NT$4.1 billion to 36 countries around the globe. Now they are eyeing the rich markets of the Middle East.
Taiwanese Orchids to Bloom in Desert Countries
By Kuo-chen Lu, Jenny Cheng
From CommonWealth Magazine (vol. 578 )


Every spring, the Taiwan International Orchid Show attracts tens of thousands of orchid lovers and industry experts from around the globe. Huddled away amid lush green rice paddies, guava plantations and melon fields in the rural town of Houbi in southern Taiwan, the 3,500 square meter exhibition venue greets a steady stream of visitors.

This year, the orchid industry posted several new records:

First, Taiwan's "ever blooming" orchid kingdom bolstered its world-leading position by adding Australia and Brazil as export markets. Meanwhile, Taiwanese orchids are being exported to 36 countries in North America, Northern Europe, and South Africa. Next, the island's orchid growers hope to bring their beautiful creations to India, Iran, Dubai and even as far away as the French Pacific island of Reunion.

Second, in the show's eleventh year, Taiwanese orchid exports continued to post new record sales. What began with modest exports in the order of US$23 million per year in 2004 has since grown to an annual export value of more than US$130 million (about NT$4.1 billion).

Third, Taiwan recently won its bid to host the 23rd World Orchid Conference in 2020. In the orchid industry, the triennial conference is the equivalent of the Olympic Games. That Taiwan was awarded the right to host this international event underlines the fact that the efforts of Taiwan's orchid growers have won international recognition.

The success of breeding the indigenous phalaenopsis (moth orchid) species shows that Taiwanese agricultural products are marketable and competitive on a global scale. However, the industry's rise did not come overnight and not without a few hiccups. Taiwan's orchid growers had to overcome numerous challenges along the way.

Eight years ago, phalaenopsis orchids from the Netherlands enjoyed a market boom, and many industry insiders feared at the time that a certain Dutch company could defeat Taiwan as the world's leading orchid exporter. This year brought another challenge when the United States approved imports of phalaenopsis orchids from China under the same conditions as Taiwanese imports (with sphagnum moss as growing medium).

Continued challenges have kept orchid breeders on their toes. Yet Taiwan's orchid industry remains in good shape, unfazed by growing global competition. What can Taiwan's agricultural industry learn from the success of the orchid breeders?
Advanced Breeding Technologies
In March, CommonWealth Magazine reporters joined buyers and growers from 36 countries on their tour of the Taiwan International Orchid Show. Defying the tropical temperatures and high humidity of the greenhouses, the visitors were eager to see the splendor of the latest orchid novelties with their own eyes. This year, the vast outdoor park area featured orchids in red, blue and gold. Paths lined with vibrant orchid displays led to the theme pavilions.
The show's main theme this year was the conservation of nature. Indigenous orchid species were presented against the backdrop of different landscapes with water features, mountains and valleys.
In another exhibition hall, artistic orchid sculptures and displays as well as special species vied for the attention of the visitors. "This event is very important because it's one of the top three orchid expositions. I've been here five times, and every time I come back, there's something new. It's fascinating to see all the different species. It all starts here," remarks Johan Hermans, chairman of Britain's Royal Horticultural Society Orchid Committee, in a display of admiration for the potential and diversity of Taiwanese orchid novelties.
One buyer from Europe searches for the best angle to take pictures of the orchid extravaganza. "I've got only three hours, but it's so beautiful that I want to see all the expositions," the orchid enthusiast exclaims.
How does Taiwan compare with the Netherlands in the eyes of international buyers and breeders? Andy Doherty, CEO at Pacific Wide (NZ) Ltd., which makes organic growing media under the brand Besgrow, flew in from New Zealand. Doherty believes that Taiwan and the Netherlands are the two key competitors in the European orchid market. He feels that Taiwan's strengths are breeding, novelty, new orchid varieties and diversity, as even the Netherlands wants to learn from Taiwan in these areas. On the other hand, Taiwan could learn from Dutch production technologies. If the island's growers combined both, the industry would become even more dynamic.
How can Taiwan's orchid industry ensure continued innovation?
Sogo Team Co. Ltd., Pingtung
Our first stop in our quest for industry innovators is orchid breeder Sogo Team Co. Ltd. in the town of Linluo in Pingtung County. CEO John Feng notes that overseas buyers generally hail Taiwan's skills in developing new varieties. However, the orchid growers had to tread a long and arduous road before their business blossomed into the robust and healthy industry it is today.
While electronics makers churn out a new generation of products every year, it takes up to a decade to breed a new orchid variety and bring it to market.
Feng points out that after a new hybrid has been bred from two different orchid varieties, 300 plants are propagated through tissue culture in a nutrient medium in flasks or test tubes under sterile conditions. It will take one year to 18 months before these young orchids produce flowers.
Following a six-month testing period, during which the plants are evaluated for stable growth and flowering, another pilot batch of 3,000 plants is propagated over three or four years. Each customer receives 300 samples to test the market for one to two years. Only if the new orchid variety is received well in the target market and the customer is satisfied with the plant's properties can production in large quantities begin, which takes another two years. Overall, the entire cycle from breeding to mass production takes nearly a decade.
However, there is no guarantee that the market will accept new orchid varieties. Pointing toward the myriads of phalaenopsis in his greenhouse, Feng notes, "We develop continuously to make international customers notice the diversity and R&D capabilities for new varieties that Taiwan's orchid breeders offer. But less than five percent of varieties make it from testing to real commercialization; the remaining 95 percent are eliminated. "
The goal of these breeding efforts is to release different products to win new markets. Describing customer preferences in Europe, Feng says, "Taiwan's got it rough. Even if our and their [Dutch growers] orchids are the same, the European customers will still not pick the Taiwanese orchids. Taiwan has to develop orchids that are clearly better than the Dutch ones just to compete."
However, Taiwan must vie with the Netherlands not only in the area of orchid varieties but also in terms of service and global reach.
Yu Pin Biological Technology Co. Ltd, Chiayi
On the second leg of our trip, we visited Yu Pin Biological Technology Co. Ltd. in the town of Minxiong in Chiayi County in a bid to better understand the division of labor in Taiwan's agricultural sector as well as its ability to go global. Among Taiwan's orchid growers, Yu Pin Biological Technology Chairman Chang Neng-I was the first to set up greenhouses in the United States, thus controlling both ends of the smiling curve – R&D and the market.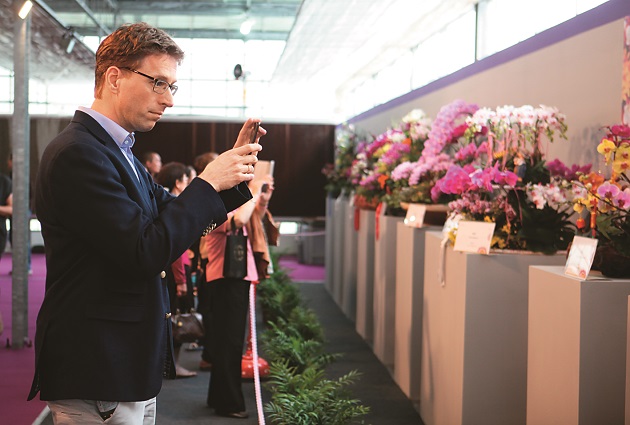 Taiwan has become the world's leading orchid breeder. Foreign buyers come to Taiwan to obtain the latest industry information and to buy new orchid varieties. The Netherlands is a major buyer of Taiwanese orchid hybrids.
In the past, Taiwan exported orchid seedlings to the United States, where local growers continued to cultivate the plants in greenhouse nurseries, forcing them to bloom at the desired time. Only then were they sold in the domestic market. Chang, however, exports potted mature orchid plants that he brings to bloom at his own greenhouses in the United States before selling them to his customers.
"We make great efforts to sell Taiwan orchids to every corner of the world," he says, proudly. "The island of Reunion in the Indian Ocean has a population of just 800,000 people, but Taiwan is able to ship ten containers with about 200,000 orchids to Reunion per year. Where there are business opportunities there are Taiwanese. Phalaenopsis orchids are a highly globalized business.
In order to ward off competition, Chang continues to come up with new ideas. His latest brainchild is a six-centimeter high flowerpot with a small orchid just 13.5 centimeters in length. When packaged in a box, the potted orchid meets U.S. courier service companies' size restrictions for the lowest domestic delivery fee.This means that these miniature orchids can be delivered directly to the domestic market upon arrival in the United States via local express delivery services. Chang points out that phalaenopsis orchids are not yet available in several American cities. He hopes to use pharmacies across the United States as a sales channel, selling potted mini orchids for the price of a hamburger.
The continued growth of Taiwan's orchid industry hinges on exploring markets overseas. Chang currently plans to build greenhouses in the Middle Eastern emirate of Dubai. He is also getting ready to enter the Indian market.
Why does he want to sell orchids in a desert country? "In Dubai, the wholesale price for an orchid stands at NT$1,000," explains Chang. With such lucrative prices, Dubai could become a new business paradise for Taiwanese orchids, should it be possible to invest in greenhouses there.
Taiwanese orchids will probably not just bloom in the desert but also enchant consumers in long-isolated Iran with their beautiful blooms and vibrant colors once trade sanctions are lifted in exchange for a freeze of Iran's nuclear program. While the world still debates how the resumption of Iranian crude oil exports will affect the international oil price, the Sogo Team has already zeroed in on Iran as a new consumer market. At the same time, Chang also sees great market potential in Mexico, Columbia and Brazil.
He does not worry about competition from the Netherlands at all. "The world is so big, there are so many people… there are opportunities everywhere, and there is no such thing as who destroys whom," Chang says.
Sometimes, competitors can even become business partners.
I-Hsin Biotechnology Corp., Chiayi
The third leg of our tour takes us to another orchid breeder in Dalin in Chiayi County. The strategy of I-Hsin Biotechnology Corp. highlights the coopetitive relationship with Dutch orchid growers.
In recent years, I-Hsin has mainly exported Taiwanese orchid seedlings, young plantlets and seedlings in flasks to European countries such as Denmark, Germany, Italy and the Netherlands.
Surprisingly, the Netherlands counts among I-Hsin's three major export markets. Not only has the Netherlands failed to completely eliminate competition from Taiwan's orchid growers, the country has even become one of the major markets for some Taiwanese orchid breeders.
I-Hsin Biotechnology President Jian Wei-tso observes that Taiwan boasts many orchid varieties, while the Netherlands has market access. Europe is the world's largest market for orchids, with annual demand reaching 150 million plants.
Dutch orchid marketers are able to sell orchid varieties that do not sell well in Taiwan in great quantities in Europe. Therefore, I-Hsin Biotechnology came up with an ingenious strategy. "We discussed whether it would be possible to sell the orchid varieties that were not picked by our customers to the Dutch orchid growers. Then Taiwan would take the royalty fees," Jian explains.
Inside I-Hsin's tissue culture lab, every cultivar has a product number. Over the years, more than 12,000 breeding experiments yielded more than 2,300 phalaenopsis varieties with product numbers, which means they were successfully bred and commercialized for mass production.
Given that it can take a decade to breed a novelty orchid and bring it to market, I-Hsin's more than 2,000 successful varieties represent many years of painstaking, hard work.
Four Crises
Although orchid exports keep growing, challenges and crises loom on all fronts. After Japan's multinational imaging and optical company Canon opened a production plant in the Chiayi Dapumei Intelligent Industrial Park three years ago, a growing number of manufacturing jobs became available in this traditional orchid growing region. As a result, orchid growers in Minxiong and Dalin find it increasingly difficult to find farm workers. Labor shortages have become the major obstacle that stands in the way of further orchid industry growth.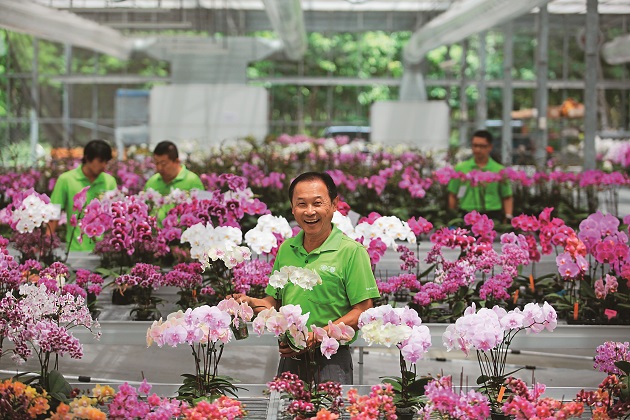 These new orchid varieties around Sogo Team Co. Ltd. CEO John Feng have not yet been brought to market. They symbolize Taiwan's strength in breeding but also highlight the long and arduous road to commercial success.
Second, while the cultivated area of the Taiwan Orchid Plantation in Houbi, which hosts the annual orchid show, continues to expand, the water supply cannot keep up with demand.
For the past three years, the 175-hectare biotech park has faced severe water shortages, throwing into doubt the long-term development of Taiwan's largest orchid production base.
Third, Chen Chia-chung, professor at the Department of Agricultural Machinery Engineering of National Chung Hsing University in Taichung, found during a recent fact-finding mission to Europe that Taiwan's orchid growers lag behind in their R&D of European mainstream varieties by three to five years. He warns that by the time Taiwanese breeders are eventually able to launch mass production of these orchids, market trends might already have taken a different direction.
Chen believes this is a serious problem. The Netherlands controls the world's largest market for potted plants and phalaenopsis orchids. Taiwan can only rely on its large variety of orchids but is not able to control or lead market trends.
Fourth, Taiwan is playing catch up with the Netherlands, while other competitors are on its heels. China has already obtained permission from the United States to export phalaenopsis in growing media such as sphagnum moss. This means that Chinese orchids are competing with Taiwanese orchids under the same export conditions.
Although Chang and Jian both believe that Chinese orchid growers have higher costs than their Taiwanese counterparts have and cannot compete with Taiwan when it comes to breeding new varieties, they still fear that China will unleash cutthroat price competition in the United States.
"In the past, the Dutch posed a threat; now there still is a threat," Feng admits. In order to cope with recurring challenges and relentless competition, Taiwan's orchid breeders will need a good dose of unshakable optimism.
Translated from the Chinese by Susanne Ganz