Taiwan's Unionist Party
United Front Target Taiwan's Grass Roots: Gangs, Temples, Business
精華簡文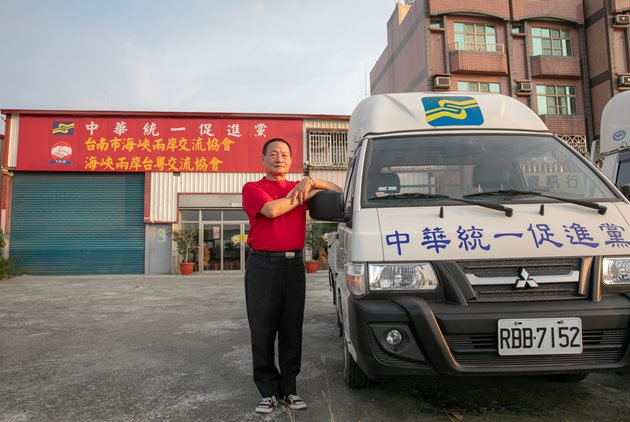 Source:Chieh-Ying Chiu
Most people see the pro-unification Unionist Party as a fringe group with little influence on society. But CommonWealth Magazine has found that it has successfully helped Beijing make inroads into Taiwan at the grassroots level. Here's how.
United Front Target Taiwan's Grass Roots: Gangs, Temples, Business
By CommonWealth Magazine Editing Department
web only

In the past few years, steady streams of Chinese officials have flocked to this important hub for the Unionist Party in southern Taiwan, and every time the party's leader and former underworld figure Chang An-lo, known as the "White Wolf," heads south, it greets him with a convoy of 10-20 sound trucks.
The hub is home to offices of the "Tainan Cross-Strait Exchange Promotion Association" and the "Cross-Strait Taiwan Guangdong Exchange Association." The head of the two groups, 59-year-old Lin Kuo-ching, was recruited and brought to Taipei at the age of 18 by the White Wolf to serve as his bodyguard. He has an extensive criminal record and was locked up on Green Island during a crackdown on organized crime in 1984 called "Operation Clean Sweep." Today, he is a central committee member of the Unionist Party.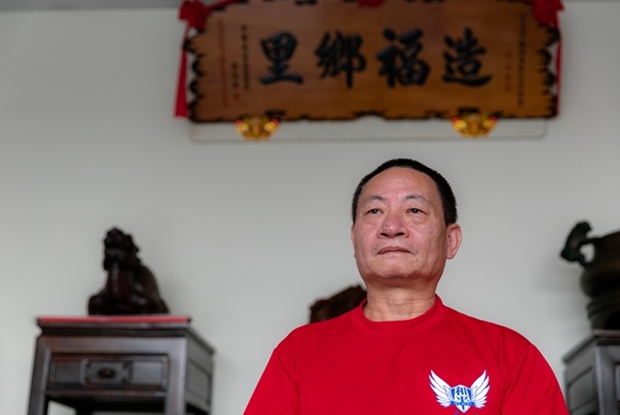 Lin Kuo-ching, a former gang member, is now a member of the Unionist Party's central committee and a key figure in promoting closer ties with China.
During a recent interview with CommonWealth Magazine, he was calm and at ease the entire time, even when he grabbed a stack of pink donation vouchers to defend his boss.
"What's so great about prosecutors? Can't our president [Chang An-lo] spend the money he's made doing business in the mainland? These are all legitimate political contributions. If you're going to accuse us of taking [China's] money, you better have proof. This is political persecution,' Lin says.
Lin was reacting to a raid on the Unionist Party on Aug. 7 by Taipei prosecutors, who suspected the party of being financed by Chinese money and of violating Taiwan's Organized Crime Prevention Act.
The Unionist Party was founded in 2005 by the "White Wolf" Chang, formerly a key member of the Bamboo Union, a gang accused of engaging in organized crime. Its strong pro-unification bent has sparked controversy, whether being disruptive outside the venue where the 2014 Sunflower Student Movement took place, provoking violence at the "Sing! China" event at National Taiwan University, or holding Chinese flags outside the Taipei 101 skyscraper every day to confront Falun Gong members.
Local media has previously identified the main Unionist Party officials as underworld figures. Yet this organization, which says it has more than 100 locations around Taiwan and over 30,000 members, had two people elected to village and town councils and two others elected as ward chiefs in local elections in 2014. In 2016's national elections, it received over 56,000 votes (about 0.5 percent of the votes cast) in the legislative party vote to determine at-large legislative seats.
So can it really be seen simply as the preserve of mainlander gang members who have purportedly gone straight?
Main Unionist Party Forces: Gangs, Temples, Business
In fact, the three main pillars of the Unionist Party are gangs, temples and overseas Taiwanese businesses. No party dues are required and only 50 party members are needed to set up a local party chapter.
Its membership consists of people sympathetic to China and to Taiwan's two main parties, the Kuomintang (KMT) and the ruling Democratic Progressive Party (DPP), as well as people with organized crime links.
Specifically, members tend to be fiercely opposed to Taiwan independence but disillusioned with the China-leaning KMT and are turning "red." There are even KMT and DPP figures who are "invisible" party members to curry favor with China.
"It's more accurate to call the Unionist Party a concept instead of a political party," says a source who has worked with the organization.The party does not have an organizational framework, and while its members generally know each other, but they tend to go their own way.
They are mainly linked together through temple groups around Taiwan. The White Wolf serves as the spiritual leader, and because of his strong network of "red" (Chinese) connections, he is able to bond closely with influential local factions.
The Unionist Party does have several party chapters, especially in Taipei, Miaoli, Pingtung, Yunlin, Chiayi and Tainan, including three in the "deep-green" Xinying District in Tainan, and also features two women's groups consisting mainly of spouses from China living in Taiwan.
At the same time, it maintains close ties with other pro-unification groups in Taiwan, including the Taiwan People's Communist Party. Yet because each party chapter is run locally in towns where personal relationships reign supreme, its views are respected even if they are at odds with mainstream opinion.
A source knowledgeable on the workings of the party says the Unionist Party is not a new organization but a collection of long-entrenched vested interests, such as village and ward chiefs, temples, and farmers and fishermen's associations, that are now being rebranded.
In the past, these organizations accepted KMT resources to get off the ground and build a relationship in which the two sides used each other for their own ends. But the KMT is in serious decline and falling out of favor with China, opening the door for the Chinese Communist Party to fill the void and lavish benefits on these local interests.
Helping China Reach Out to Taiwan's Grass Roots
So how has the Unionist Party been able to maneuver to deepen its roots in local communities?
Lin Kuo-ching says many Taiwanese businessmen operating overseas (mainly in China) are party members and represent an important source of political donations. Local businessmen seek the party's help in developing contacts with companies in China, and when Taiwanese enterprises in China run into problems, they also try to tap into the party's "red" connections.
"The Straits Exchange Foundation needs official documents. I just use my mobile phone to call the Taiwan Affairs Office in Guangdong. I do it as a service for free, and it is much more efficient than the government," Lin says, referring to the semi-official organization responsible for Taiwan's contacts with China.
He boasts of having very good ties with Chinese city governments, China's Taiwan Affairs Office, and CCP officials.
The assistance he provides ranges from helping companies apply for commercial licenses in China to getting young entrepreneurs hooked up with financing, and many people have come knocking at his door because of word of mouth, he says.
A local elected official observes that it was in President Ma Ying-jeou's second term in office (2012-2016) that the Unionist Party's role as a go-between started to grow and says it has truly blossomed since President Tsai Ing-wen took power in May 2016.
With official cross-Taiwan Strait exchanges stuck in neutral the past two years, virtually sidelining Taiwan's government from the fray, and China extending its united front strategy to Taiwan's grassroots level, Beijing has developed an evaluation system for judging the progress of its united front strategy. It focuses on such indicators as how many villages and temples have been contacted, how much fruit has been bought from Taiwanese farmers and how many MOUs have been signed.
That has enabled the grassroots-oriented Unionist Party to leverage its influence in local communities and gain considerable benefit from this "intermediary dividend."
"Mainland China is more inclined than ever to go through non-political, private intermediaries like us to encourage young people to go there to work. As long as we're not asked to do something illegal, we're willing to help," Lin says.
His party now acts as a go-between for China through temples, village and ward chiefs, university students and young entrepreneurs, and it also sets up agricultural exchanges with China for representatives of Taiwanese farmers' associations and agricultural production and marketing groups.

Unusual for a political party, little of what the Unionist Party does is to better its chances in elections.
"There's no way I would be elected. I used to be a member of the Bamboo Union, and though I'm not involved in gangs anymore, everybody would smear me. To be honest, I don't really care how others see me," Lin says bluntly."I don't depend on them to make a living and I don't want to run in an election. But when people need help, including people with the blue and green camps, they still seek me out," referring to the colors associated with KMT-leaning (blue) and DPP-leaning (green) supporters.
The Unionist Party's existence is not driven by electoral politics. Using its local networks nurtured over many years, the party directly cultivates all segments of society at the grassroots level and sends them to China to be taken care of by united front groups, deepening the concept of "one family across the Taiwan Strait" and build recognition for Red China.
The Lure of Temple Cash, Connections, Service
The murky world of temple organizations, as opposed to democratic institutions, serves as the key platform through which the Unionist Party connects all of Taiwan. Because of their huge cash flows and unsupervised finances, temples have always been a pillar of Taiwan's underground economy. One insider says some Unionist Party members have secured important positions in temple groups, but by and large the party and temples have a cooperative relationship.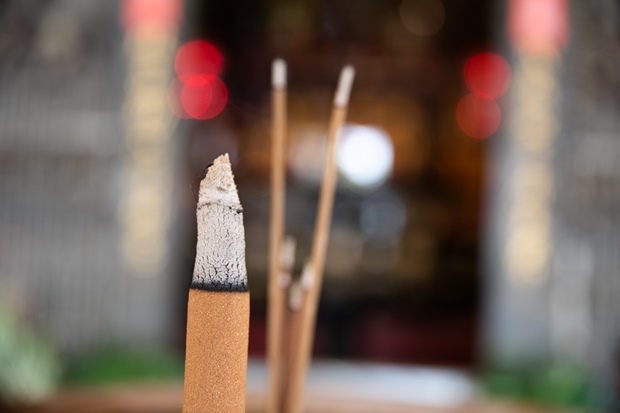 Temple organizations serve as a key platform for the Unionist Party to extend its influence in Taiwan because their finances are not monitored and not transparent.
A clear hierarchy exists in religious spheres in Greater China, making it hard for smaller temples to establish channels for interaction with temples in China. So they turn to the Unionist Party for help and in exchange give party members lucrative contracts for the temple's processions and rituals.
"Mainland China, in fact, doesn't have to spend much money. It's money from followers that are supporting these people," the insider says. A person involved in the temple world says the White Wolf often visits temples around Taiwan and makes donations, and his Unionist Party organizes major rituals to honor the gods, inviting friendly temples to join in the festivities.
Lin Kuo-ching serves as the honorary chairman of several temples, and he has excellent relations with the Taiwan Mazu Fellowship run by Yen Ching-piao, a former legislator who also has allegedly had underworld connections. Several small private temples along the Yunlin County coast and people in charge of a few well-known temples in Tainan are also said to have links with the Unionist Party.
Ultimately, providing timely assistance is the guiding principle of the Unionist Party's leaders.
One party member revealed that China's Taiwan Affairs Office has a budget to help Taiwan's farmers, but that it is now being used differently than in the past.Agricultural purchases previously made with the funds were strictly political acts, the source says, but purchases are now reserved for crops that have gone unsold, with the products bought delivered to people in needy communities."It's the concept of emergency relief, so the price isn't too high. We're just helping out," Lin says.
Building Loyalty by Reaching Out
The Unionist Party embraces the same logic to extend its presence into parts of society burdened by an inadequate safety net, using different channels to reach out to the disadvantaged. It could mean making donations or leaving rice in temples for low-income families, or working with local charity groups and organizing fundraising dinners at which the White Wolf publicly pledges a donation of tens of thousands of Taiwan dollars to spur the generosity of others. The White Wolf will even make donations to disadvantaged people whose stories he spots in the media.
An even more important strategy has been undertaking schools' responsibilities.
The Unionist Party features a group of members dedicated to working with schools and donating money to help dropouts. One source says party members will visit or track low-income students and introduce them to odd jobs at temples or teach them to do temple parade dances. They provide support to these children from when they're young to adulthood, never mentioning "unification" or talking politics. The process cultivates unswerving loyalty and recognition of the group's stances.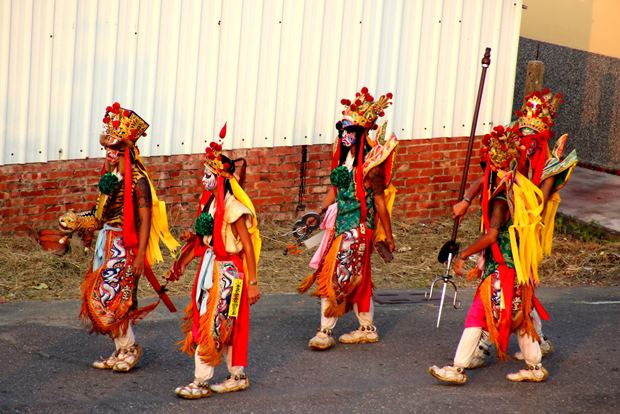 The Unionist Party seeks out students from low-income families or dropouts and teaches them to dance in temple processions. Giving them jobs and caring for them builds loyalty. (Image: flickr@136514205@N03 CC BY-ND 2.0)
"You give them a helping hand when they have nowhere to turn, care for them, guide them, feed them boxed lunches, and they are totally loyal to you," Lin says."Our guiding of young people has nothing to do with unification or independence. Today's youth are very smart; they won't believe talk no matter what you say. We arrange exchanges and have them experience and see things for themselves.
"Over 60 percent of today's young people are highly receptive to China, and they do not feel any hate toward it. After visiting there, they feel it's very advanced. Everybody speaks the same language and has the same ethnic background, and they don't think about independence. They just want to have enough to eat, to have a job, and to be able to settle down," Lin says.
The Unionist Party is combining philanthropy and factional politics to deploy a tightly woven interpersonal network at the local level, but can it actually enable "red" power to rise from the countryside and encircle cities? The seeds are being planted, and only time will tell whether or not they bloom.
Translated by Luke Sabatie
Edited by HanSheng Huang
---
Additional Reading
♦ Does the KMT Still Have a Cross-Strait Role?
♦ Beijing's New Battlefront: Enticing Taiwan with Culture
♦ The DPP's True Rival: Xi Jinping