Yung Ching Realty Group Goes Against the Flow
Creating a Different Realtor Image
精華簡文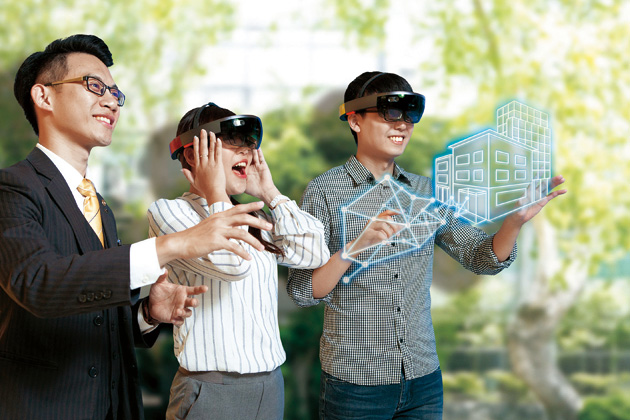 Source:Yung Ching Realty Group
Thanks to a Yung Ching Realty app that enables users to look for homes while exploring the property's neighborhood and scenery in Google street view, users typically eliminate more than 80 percent of available homes that do not meet their needs or expectations and then, supported by the professional advice of experienced Yung Ching Realty agents, quickly settle on a matching property, smoothly completing the transaction.
Creating a Different Realtor Image
By Yung Ching Realty Group
Sponsored Content

Having arrived in Taipei around noon, Ms. Chang from Tainan manages to inspect three properties before 4 p.m., and then finishes her house hunting, signing a contract for a NT$30 million home. Across the Taiwan Strait at Shanghai's Pudong International Airport, Mr. Cheng, a China-based Taiwanese businessman, takes advantage of a short vacation to fly to Taiwan, where he finds and buys his dream home for retirement in just one afternoon. These deals are owed to a Yung Ching Realty app that enables users to look for homes while exploring the property's neighborhood and scenery in Google street view. Thanks to the app, users typically eliminate more than 80 percent of available homes that do not meet their needs or expectations and then, supported by the professional advice of experienced Yung Ching Realty agents, quickly settle on a matching property, smoothly completing the transaction.
The main reason behind the company's ability to close real estate deals faster is Yung Ching Realty Group Chairman Sun Ching-yu's "insistence on innovation". An analytical thinker, Sun accurately foresaw the rise of the Internet era and the spread of mobile tools, and therefore kept pushing for the development of innovative mobile apps.
The Yung Ching Realty Group quickly expanded after 2000, becoming Taiwan's largest real estate brokerage chain. At the same time, the group led the transformation of Taiwan's real estate industry from a low-tech conventional industry into a high-tech brokerage business.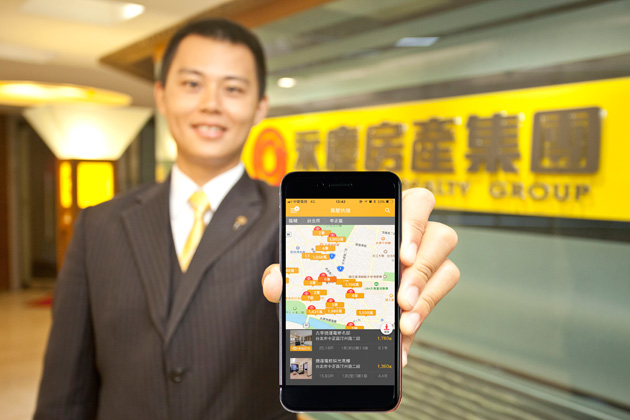 Embracing Innovation to Create
Realtor Services Beyond Imagination
The frontline agents get most out of the improved service efficiency. Chu Chi-hung, head of the Yung Ching Realty branch at Technology Building MRT Station in Taipei, has experienced both the old and new ways of brokering homes. He smiles as he recalls his arduous beginnings, working the streets and knocking on doors to find customers.
"When I entered the trade, I had to hand out flyers on street corners with more senior colleagues, or we had to go house-to-house, stuffing advertisements into mail boxes; we really had a hard time." However, when the company began to use iPads, their methods and servicesdelivered changed completely. While showing customers a property, agents were able to immediately connect to the company's cloud-based database to look for other suitable objectives in the neighborhood, thus shortening time spent on house hunting and at the same time earning greater customer recognition.
Assistant sales manager Tsai Ming-han thoroughly enjoys the perks of high-tech brokering. In his previous job as an engineer in the high-tech industry, Tsai worked 12 hours or more per day, which left him exhausted and frustrated about life. When he decided to switch careers, joining Yung Ching Realty, friends and family members worried that he might be jumping out of the frying pan into the fire.
Much to everyone's surprise, Tsai now starts to work at 9 a.m. and ends his work day on time at 6:30 p.m., and he doesn't have to distribute flyers or put advertisements in mailboxes. Instead, Tsai deftly swipes his fingers across the touchscreen of his tablet to find potential customers and match them to suitable properties, taking advantage of the online connection to the company database.
Thanks to technical innovation, real estate services have changed. After Sun continued to break the industry's old habits, exploring possibilities for its survival and development, he managed to eventually change the industry ecosystem.
"Innovation remains our unshakable strategy. To ensure this, we will keep applying globally leading technologies to realtor services to create a different image for them," he says.
Always Taking the Lead
Introducing MR for Global Property Hunting
Yung Ching Realty has always been the bellwether for the industry when it comes to Internet-related and mobile services.
In late 2017, the company introduced its brand-new i-Plus Smart Innovative Experience Center, which uses mixed reality (MR) technology to virtually immerse customers in prospective properties. The center serves as an incubator for innovation. The novel service of letting customers experience their future neighborhood has drawn global attention, and realtors and technology companies from around the world have been eager to visit this base of innovation.
Consequently, Yung Ching Realty was the only real estate agency to win a jury grand prize at the 2018 Future Commerce Awards in Taiwan.
As Sjoerd Hylkema, founder and CEO of Germany's largest real estate marketing provider My Vivenda, toured the newly opened experience center, he admiringly admitted: "It will take at least two years for Europe to replicate an innovative experience center like this. Most crucial is whether companies are willing to make massive investments."
Representatives of globally renowned IT research and consulting firms as well as a delegation of veteran realtors from Myanmar all praised the i-Plus Smart Innovative Experience Center, foreshadowing the future of realtor services.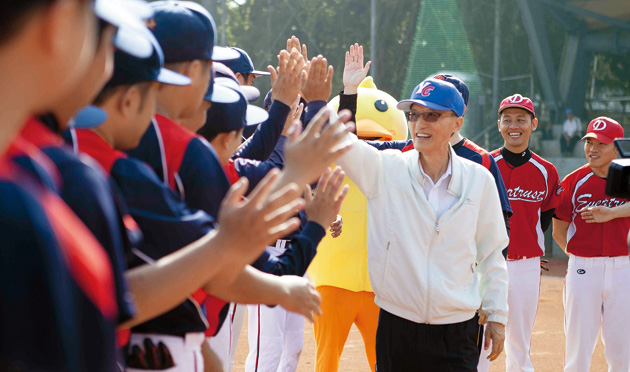 Yung Ching Driving Force behind
Changing House Hunting Patterns
Yung Ching Realty has long been a driving force behind changing house hunting patterns, setting innovative milestones that also reflect the transformation of the real estate industry.
Benefitting from innovations pioneered by Yung Ching Realty, house hunters today habitually go online to screen photographs and make lists of available properties before buying, all using tablets or mobile phones. They preselect properties based on location, price range, personal needs and preferences via smartphone apps. Public transaction records and the condition of a property can often be found online too.
Innovation has fueled Yung Ching Realty's growth and expansion. Twenty-five years after its founding, the number of member realtors under the group had topped 1,000 branches, making it the largest realtor chain in Taiwan. In 2017, the group's annual sales broke the NT$470 billion mark, and its market share skyrocketed to 35 percent from 17 percent five years earlier.
Yung Ching Realty's stellar performance came amid a general downturn in the real estate industry. As many competitors registered shrinking sales and closed branches in droves, Yung Ching Realty bucked the trend with rapid growth thanks to the innovation that is embedded in its DNA.

Providing Work-Life Balance
Yung Ching Realty a Sought-After Employer
As Yung Ching Realty gradually increased its market share, it resolutely stuck to an innovation strategy that created the public perception that "Yung Ching Realty is truly different."
Aside from leading the industry in terms of hardware and technology as well as spearheading real estate sector transformation, Yung Ching Realty also successfully reengineered the realtor profession. Real estate agents became property salespeople and further moved up the value chain to provide real estate consulting services, in the meantime becoming i-Plus smart agents as they take advantage of innovative tech tools.
Responding to the younger generation's aspirations for a good work-life balance, Yung Ching Realty again broke with established industry practices and preconceived notions in 2015 when Sun insisted on introducing a flexible eight-hour workday system.
The company's agents are encouraged to use technological tools to boost efficiency and reduce working hours. The measure drew widespread attention from industry peers, and even inhouse people were incredulously asking: "Is this for real?"
The answer they heard was: "Don't doubt it, just do it." Chu and Tsai are living proof for the viability of an eight-hour workday. Tsai is all smiles as he states: "Because you can really leave the workplace after eight hours, everyone naturally makes an all-out effort to complete their tasks within these eight hours. You also gradually ferret out habits that cost time and then eliminate them."
Chu points out that the tech tools are very helpful, particularly when it comes to instant online communication with customers. His work naturally becomes more efficient as he is able to get immediate feedback from house-hunting customers, which in return allows him to refine the search criteria and pinpoint more suitable listings.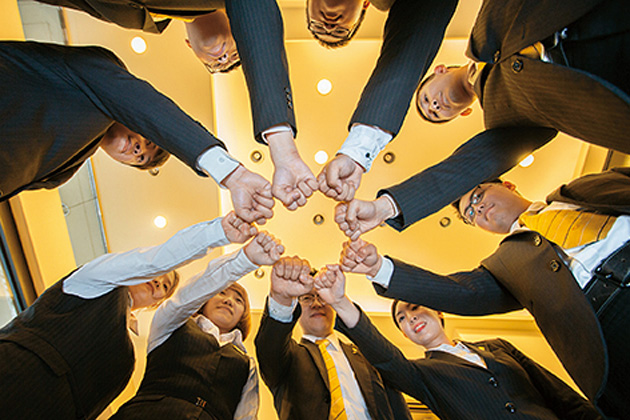 Flextime Eight-Hour Day Featured on
Yung Ching Community Facebook Page
Since the launch of the flextime eight-hour workday, Yung Ching Realty agents have reduced their worktime by 20 percent. Yet since their services have become more targeted and efficient, they actually serve a higher number of clients and close 30 percent more deals, against the industry trend.
Now Yung Ching Realty employees are both working hard and playing hard. They display a strong team spirit at work and do their best to provide excellent services, but they also fully enjoy life in their spare time, spending time with family and friends, forming online game teams, exercising, riding bicycles or motorbikes, or learning new skills and cultivating hobbies such as baking.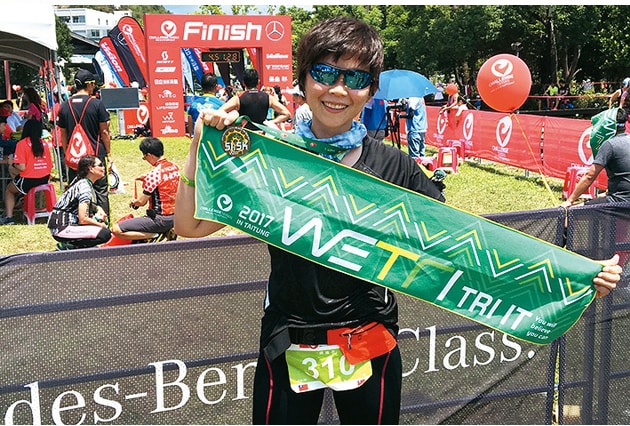 Yung Ching Realty staff live active lives so that the term work-life balance is no longer just an empty slogan. They enjoy a happy workplace where they "make good money with little work close to one's home," as Sun envisioned it for them.
"Clever work, healthy life" is the new standard at Yung Ching Realty. Staff members eagerly post messages on Facebook showing off their good life. Tu Chen-hung, a human resources manager , notes, "It is like a reality show; everyone is a real-life star." Yung Ching Realty employees post several dozen entries on the Yung Ching Community Facebook page per day, sharing insights about work, expressing gratitude to teammates, and featuring birthday parties, joint dinners, as well as sports and travel activities. The site effectively functions like an inhouse hospitality and entertainment guide. On top of that, multitalented employees also display endless creativity with entertaining videos that go beyond simply documenting their everyday lives.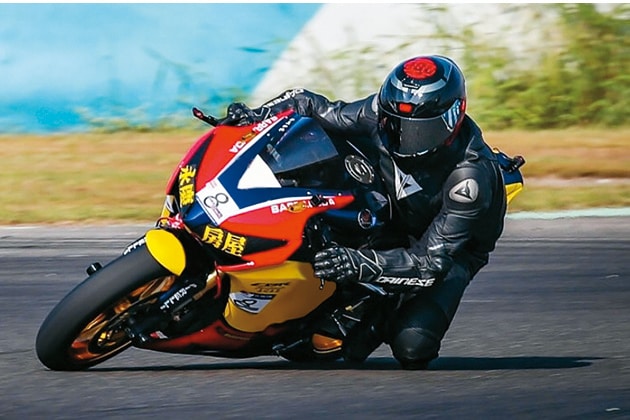 Lots of Money, Little Work, Close to Home
Yung Ching Voted Among 'Best Companies to Work for in Asia'
Thanks to the flexible eight-hour system, Yung Ching Realty agents can choose when to start their workday. While the workplace environment sets the company apart from its peers and is highly appreciated by Yung Ching realtors, it was far from being uncontroversial when it was launched in 2015. Even within the company, misgivings, doubts and concerns were raised.
Back then, Taiwan's real estate market had just begun to go downhill, and very few branch managers or agents dared to call it a day after only eight hours. "Everyone was worried that their tasks wouldn't get done, and even more that they wouldn't reach sales targets," recalls Chen Szu-chieh, assistant manager in the sales management department.
But due to Sun's insistence on a shorter workday, the employees began to eliminate time-wasting activities. As a result, one innovative tool after another was born such as the "Yung Ching Bulletin", for which a patent is pending. With a few swipes on the touch screen, employees can design customized brochures in a few minutes.
As the company expands its technological edge, it also strengthens the team spirit among its employees and fosters a corporate culture where colleagues help each other out. Despite the marked reduction of work hours, customer satisfaction keeps going up. Backed by strong employee identification with the company, Yung Ching Realty was voted among the "Best Companies to Work for in Asia 2018" earlier this year, gaining international recognition.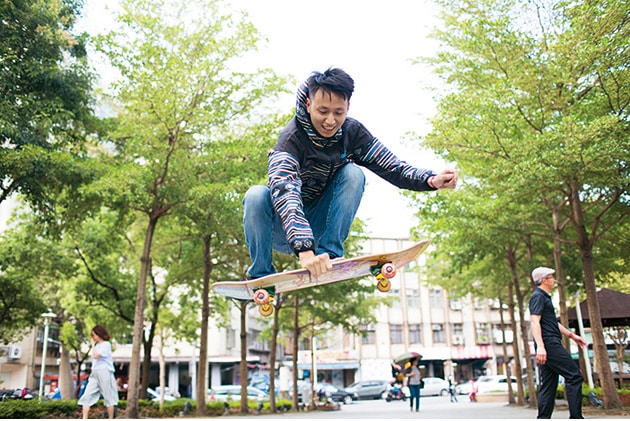 Innovation sparks change and also highlights Yung Ching Realty's values. For thirty years, the company has been riding the wave of technological progress, again and again leading Taiwan's real estate sector during times of transformation and upgrading, changing consumers' user habits, improving agents' work environment, and successfully creating a multiple-win situation.
Without doubt, with its innovation engine fully fired up, Yung Ching Realty will continue to create even more spectacular sparks to ignite the transformation of Taiwan and the industry so that the goal of "Living a fuller life thanks to Yung Ching" will come true for everyone.
Translated by Susanne Ganz
Edited by HanSheng Huang
This content is sponsored by Yung Ching Realty Group
---
Additional Reading
♦ Is Taiwan Out of Kilter with Reality?
♦ Co-opetition Key to Labor-Management Ties
♦ 3 Things Every Company Can Do to Benefit from Digital Disruption