Eckart Mayer
Top Mercedes-Benz Exec Plants Trees, Eats Stinky Tofu
精華簡文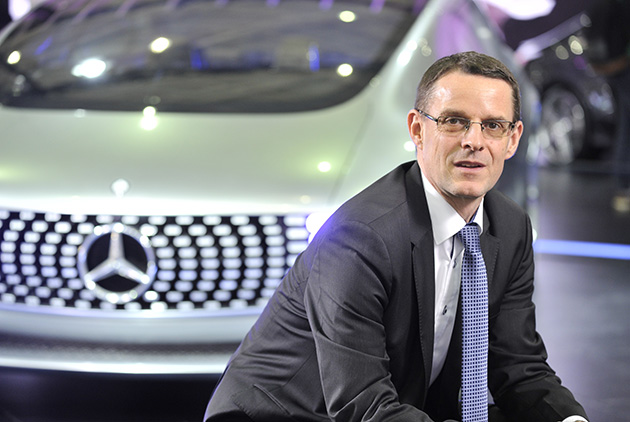 Source:Kuo-Tai Liu
"What's cool about Taiwan is that it's got both the mountains and the sea. A city like Taipei has the beautiful forests of Yangmingshan, and just half an hour down the mountain is the gorgeous coast. It's stunning," exclaims German national Eckart Mayer, the top executive at a leading automobile importer to Taiwan.
Top Mercedes-Benz Exec Plants Trees, Eats Stinky Tofu
By Hocheng Yen
web only

Have you ever driven up Hehuan Mountain in the middle of the night, then after watching the sunrise, headed back down and over to Taroko Gorge, and then straight back to Taipei? This sort of "one-day tour" itinerary might strike many people as crazy, but this is one of the favorite ways Eckart Mayer, president and CEO of Mercedes-Benz Taiwan, Ltd., a man that has covered Taiwan from tip to toe, likes to travel.
"It's really a long trip. But I've got a nice car," says Mayer with a chuckle.
After becoming a resident of Taiwan in 2013, Mayer fell in love with the island. On weekends he would go cycling with his wife, spinning easily along the Taipei riverside bikeway, or taking on more challenging routes like ascending Yangmingshan before descending back down to Jinshan before returning to Taipei. And no matter how steep the terrain became, he never got off to push his bike.
With both Mountains and Sea, Taiwan is Cool
"What's cool about Taiwan is that it's got both the mountains and the sea. A city like Taipei has the beautiful forests of Yangmingshan, and just half an hour down the mountain is the gorgeous coast. It's stunning," says Mayer. "I really enjoy Taiwan," he adds.
Prior to being posted to Taiwan, Mayer had been to Taiwan previously in the capacity of senior market manager for the Asia-Pacific region, coming away impressed with the friendliness and energy of the people. So when his term as vice president of sales and marketing for Daimler-Benz South Africa came to a close and he learned that there was an opening in Taiwan, he decided to come here. And he stayed for six years.
During that six-year period, he traveled all around Taiwan, not only circumnavigating the main island but covering the outer islands of Penghu as well. Along the way, he discovered that Taiwan has many stunning places he had never heard of. An avid photographer, he captured his beauty with his camera. From the beaches of Penghu, to sunrise on Hehuan Mountain, to the Qingshui Cliffs, old houses on street corners, to birds soaring over Yangmingshan, numerous everyday scenes that have escaped the notice of even local Taiwanese people are lyrical and beautiful through this German's lens. (Read: A German Voice for Taiwan)
Luxury Brand Executive Becomes 'Ambassador'
"Taiwan has so many beautiful places that are perfect for photography. Unfortunately, our company does product photography in places like South Africa or California," he says as he shares pictures he has taken of beautiful places around Taiwan. "I'll try to suggest that we shoot in Taiwan in the future," Mayer adds. (Read: Danish Photographer Bundles Love for Taiwan in Time Lapse Video)
"The European Chamber of Commerce in Taiwan promotes travel in Taiwan to Europeans, and I share these pictures with my friends, because most Europeans have no idea that Taiwan has such beautiful scenery," says the luxury automobile executive, practically becoming an 'ambassador' of sorts.
Mayer's way of showing his love for Taiwan goes beyond promoting Taiwan to Europeans, to investing Mercedes-Benz's resources towards protecting Taiwan's natural environment. In addition to its longstanding sponsorship of golf tournaments and music concerts, beginning in 2015, Mayer teamed up with the HIMA Foundation towards the adoption of 10 hectares of hillside land in Miaoli to create the world's first medium-elevation Taiwan native variety tree conservation zone. And each year since the onset of the program Mayer has planted trees himself. (Read: German CEO Takes Lead in Local Reforestation)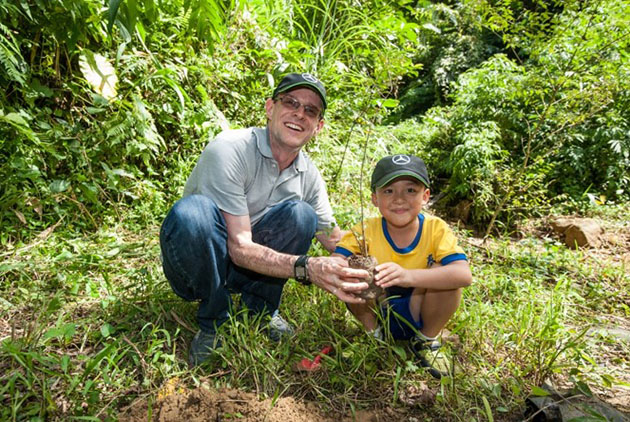 (Image: Mercedes-Benz Taiwan)
Not only has this program helped Mercedes-Benz win the top prize in the foreign enterprise category of the CommonWealth Corporate Social Responsibility Awards, but this year it also earned the company's parent company an environmental leadership award. The first time Taiwan has achieved this honor, it has attracted branch companies from other countries to inquire about Taiwan's methods.
"Maybe someday in the future we'll see something like the Formosa Forest project in another country," says Mayer, with obvious pride in this CSR effort.

Laureus Helps Turn Around Young Lives Through Sports
In addition to planting trees, Mayer introduced the Laureus Sport for Good Foundation to Taiwan. Co-founded by Mercedes-Benz, the foundation's mission is to "change the world through sports," which it does by promoting sports growth programs most suited to local youths. While posted in South Africa, Mayer worked with the foundation to promote basketball programs. Coming off that success, after coming to Taiwan he proposed continuing the program with basketball.
However, as the foundation did not have a Taiwan branch, all communication had to be conducted long-distance with European headquarters, and local counterparts and approaches were elusive. Finally, after two years of efforts, he began working with the Chinese Christian Relief Association, former national team basketball star Rosa Chien, and the Taipower women's basketball team to form seven reading groups in six cities in central and northern Taiwan and launch a charity weekend basketball program to help counsel disadvantaged youths through basketball. Although basketball brings everyone together, the focus is not on honing their basketball skills, but to improve their people skills through teamwork training.
"Letting kids do something meaningful, instead of running around up to no good, is something very worthwhile," says Mayer. "This program is well known in South Africa; I'd say about half of our customers know about it. But here it's maybe only around five or 10 percent. So we need to keep working on promoting it, and we anticipate distributor support expanding to southern Taiwan sometime this year."
Setting an Example for Staff
Beyond the scope of company events, Eckart and his family made visits to preschools and daycare centers, donating clothing and toys the children no longer use. "When you see their smiles when my son is teaching them how to play with the toys, that's when you feel investing all that time is worth it. And this is also another way to educate children," Mayer says cheerfully while showing a photo of his son with children from a daycare center in Yilan.
Whether planting trees or playing basketball, Mayer takes personal interest in everything, despite his status as the top executive in Taiwan of a prestigious global brand. This is all part of his philosophy, that corporations must power CSR from the top down. If one is all talk and no action, it is difficult to actually get anything done. "If I want staff members to participate, then I must roll up my sleeves and lead by example and do my small part," he says. "Beyond that, it also provides a chance to chat with staff members. The conversation isn't about business, but getting to know them better, and about seeing the best aspects of Taiwan, not just constantly talking about automobiles."
Stinky Tofu is Tolerable, But Chicken Feet Are Too much
For Mayer, Taiwan is not just a place with beautiful scenery, let alone fine food. A Japanese food aficionado, he discovered that Taiwanese food is also quite surprising, with fresh seasonal food all year round, and that he could even tolerate stinky tofu. "It's not that great smelling, but it actually tastes pretty good," he says with a laugh.
However, if there is one thing that he absolutely cannot stomach, it is chicken feet. At one strategy meeting a challenge was arranged - chicken feet eating. As the boss, Eckert had no choice but to participate. "The worst thing was that it was cold, not hot. But I couldn't let the team down, so I ate it. But like other German colleagues, I didn't like it." Apparently, even this German fan of Taiwan could not escape a dose of "culture shock."
Translated by David Toman
Edited by Sharon Tseng
Eckart Mayer has returned to Germany in Aug 2018. Read more about the German CEO: Taking Lead in Local Reforestation
---
Additional Reading
♦ 12 Facts German Travelers Want To Know About Taiwan
♦ Taipei 101: World's Tallest Public Service Platform
♦ Indigenous Culture, not Food, is Taiwan's Top Tourist Attraction
♦ A German Voice for Taiwan
---

CommonWealth Magazine began its advocacy of corporate social responsibility in 1994, and in the coming years since, CSR has gradually grown in importance to companies, investors and society. In recognition of that trend, CommonWealth created the website "CSR@CommonWealth" in 2017 to highlight the most forward-looking CSR visions and ideas and create a CSR platform that can help build a better world.