Taking Stock of Taiwan's Approach to Waste
Trouble in the Recycling Kingdom
精華簡文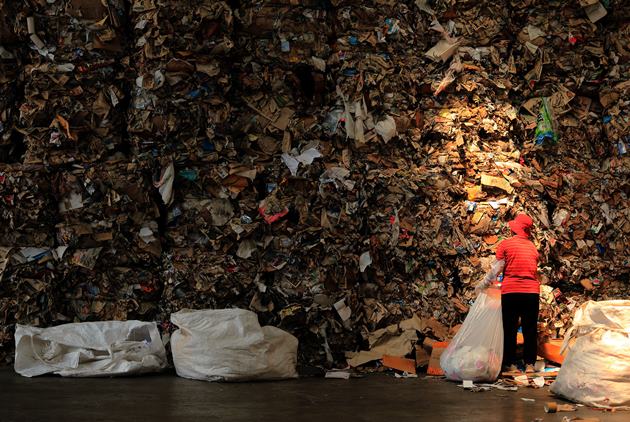 Source:Chientong Wang
Taiwan has been described as the "recycling kingdom," but the recent influx of overseas waste has exposed serious recycling problems in the country. What can Taiwan do to address its mounting collection and sorting problems?
Trouble in the Recycling Kingdom
By Kuo-chen Lu
From CommonWealth Magazine (vol. 657 )

English subtitles available. Click the settings icon at the bottom of the video screen >> Subtitles/CC >> English.
A foreign garbage war is exposing Taiwan's recycling myths, prompting people in local industrial, government and academic circles to suggest that Taiwan stop boasting of high recycling rates and that local residents stop chasing after recycling trucks and wasting time on ineffective sorting methods. (Read: Which Countries Recycle the Most?)
Instead, they say, if Taiwan wants to put an end to the invasion of foreign garbage, the most urgent priorities should be to properly sort waste and develop a set of standards that are aligned with international norms.
"What China doesn't want, Taiwan should not want either," says Lai Ying-ying, the director-general of the Environmental Protection Administration's Department of Waste Management, during an interview with CommonWealth Magazine.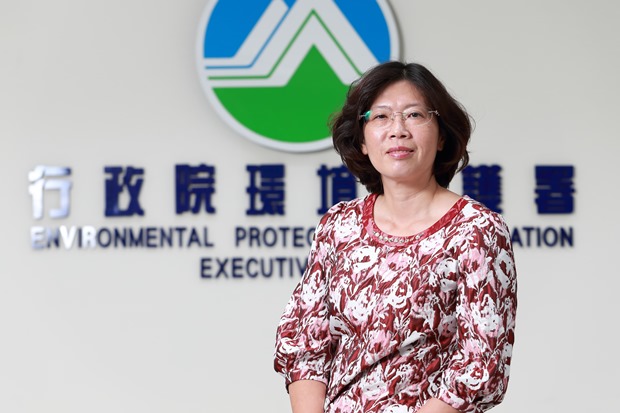 Lai Ying-ying, the director-general of the Environmental Protection Administration's Department of Waste Management (Photo by Chientong Wang)
The crisis was triggered in mid-2017, when China's government publicly announced a ban on certain imports of "foreign garbage" – waste paper, plastics, computers, PC boards or other recyclables mixed with regular garbage that is shipped from advanced economies in the West or Japan to poorer countries such as China, India, and African countries to be treated.
China's measure set limits on the amount of household garbage that could be commingled with recyclable materials in the imported waste; in other words, for waste to be imported into China, it would first have to be pre-sorted on foreign shores.
As a result of Beijing's edict, the "foreign garbage" that could no longer be dumped in China was immediately diverted to Taiwan, which, like China before mid-2017, did not have any waste standards in place.
Yet when foreign waste paper started flowing in, its lower cost (about NT$1.2 per kilo vs. NT$5 per kilo for domestic waste paper) distorted the domestic market, sending prices plunging.
Perng Yuan-shing, a professor in National Chung Hsing University's Department of Forestry and a former plant manager at Yuen Foong Yu Paper, estimates that the influx of cheaper foreign waste paper meant that 400,000 metric tons of domestic waste paper had nowhere to go.
Expecting this year to even be worse, Perng worries that if nothing is done, Taiwan will become America's garbage can and its recycling supply chain that has been diligently built will be destroyed.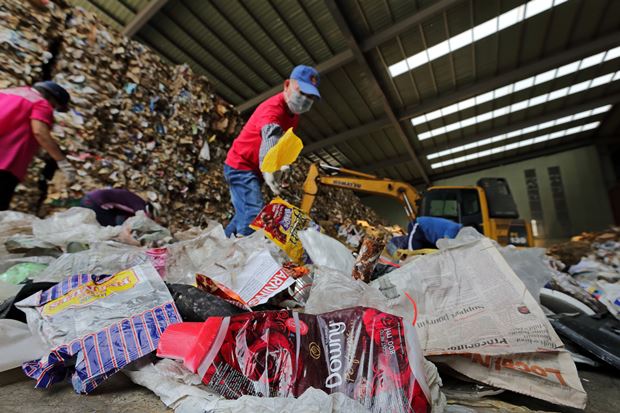 Importing waste paper, making Taiwan America's garbage can? (Photo by Chientong Wang)
Faced with this mounting crisis, the EPA at the end of August revised regulations on "Industrial Waste Required as Materials for Industrial Use." The revisions, which would severely restrict all types of waste paper, are set to take effect in October.
Under the initial plan, unbleached kraft paper, corrugated paper and cardboard can be imported freely if they are certified to be free of non-paper materials (typical household waste). All other waste paper will require a permit to be imported.
In other words, waste paper from Europe and the United States used to make cartons and 100 percent free of garbage can be freely brought into Taiwan, but imports of waste paper from the production of office paper or newsprint require permits.
The policy sparked a backlash from the recycling, business, and academic communities, which wondered why the government would allow imports of waste paper from cardboard production in Europe and the U.S. while putting restrictions on other of sources of imported waste paper.
The main reason is the severe shortage of cartons used for home deliveries in both Taiwan and China. Demand is high in Taiwan not only to satisfy domestic market needs but also for export to Chinese vendors, who are looking for cheaper cartons since Beijing banned lower grade "foreign garbage" last year.
The Taiwan Paper Industry Association cautioned that allowing only some types of waste paper would help but a small number of paper producers while leaving the majority of vendors without the raw materials they need. The association argues that any approach should benefit the industry as a whole rather than a few major suppliers, and that Taiwan's top priority should be sorting waste for recycling better rather than blindly focusing on the total volume of material collected.
There are four potential approaches that could help extract Taiwan from the dilemmas it faces in trying to maintain its reputation as a "recycling kingdom."

Solution 1:
Block Foreign Garbage, Not Waste Paper
More than anything, the government truly needs to manage the invasion of garbage from overseas sources.
Following China's edict in July 2017 and the massive influx of "foreign garbage," the government should be focused on managing "garbage" without depriving its recyclers of recyclables, something local recyclers say is not that hard to do.
Wei Chin-yi, the head of Taiwan's largest waste paper recycling business "First Resource Cooperative," says the paper division of the U.S. Institute of Scrap Recycling Industries sets rigorous sorting standards for waste paper. The higher the grade and the lower the solid waste content, the higher the price.
Europe and Japan have similar associations and waste paper sorting standards.
"Importers should be required to report the grade of the waste paper they buy based on the American waste paper grade, which allows people to quickly understand the solid waste content of imported waste paper. It would get immediate results," National Chung Hsing University's Perng adds.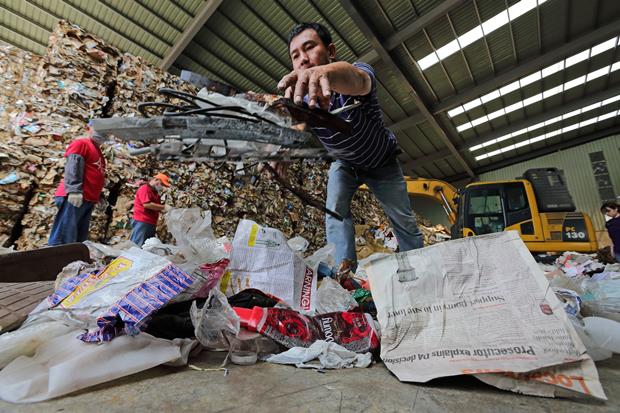 (Photo by Chientong Wang)
As long as the government is systematic in its approach, it will be able to detect who is importing garbage at a glance, Perng argues.
The key, therefore, is not how tight Taiwan's line of defense is but rather can it keep the real garbage out while still allowing in recyclables that the country can work with?
"The Environmental Protection Administration requires that imported waste paper not contain any non-paper ingredients, in other words zero tolerance for solid waste. It's the strictest standard in the world," Perng says. "This has to be the work of somebody sitting in an office who doesn't understand the paper industry or typical practices."
The policy should emphasize blocking garbage from overseas, rather than stopping imports of waste paper from the West. For the recycling kingdom of Taiwan, the disadvantages of doing the latter far outweigh the advantages because scrap paper from the West complements Taiwan's own scrap paper market.
Perng, who has managed a paper-making factory, says Taiwan's public has excelled at recycling paper, with the same sheet of paper being recycled six or seven times on average. But the more times a piece of paper is recycled, the shorter its fibers become, to the point where it cannot be recycled anymore.
The opposite is true for American scrap paper, mainly because it uses original wood fibers that are relatively long.
Mixing in American waste paper can resolve the issue of domestic paper's shorter fibers and ensure it can be recycled more times. In effect, it's like having 60 million trees planted in Taiwan's cities and ensuring their survival by importing waste paper from the West.
Solution 2:
Set Up Local Recycling Stations
To sort waste effectively, it has to be appropriately managed at the source. The seeds of a viable solution can be found in a report on Taiwan's recycling system issued last year by Taiwan's Paper Carton Alliance based on a survey of sanitation teams, recyclers and waste treatment plants.
In many parts of Taiwan, households sort waste into several categories (such as paper, plastic bags, and containers) and then dump the recyclables in "second" smaller garbage trucks accompanying the main garbage truck that collects regular waste.
The report cited several problems with that recycling approach: the public's inadequate knowledge of how to sort recyclables properly, difficulties sanitation teams face collecting recyclables, and the uneven execution of the policy in different parts of the country, culminating in high recycling costs and the wasted efforts of average citizens.
Such recycling efforts have turned into a masquerade, undermined by the growing use of composite materials that make effective sorting and the creation of new value through recycling impossible. The result: items the public thinks are being recycled in fact get incinerated.
The first priority of any reforms, therefore, should be to reconsider the function of the "second" garbage trucks that collect recyclables. Local residents should no longer have to chase after those trucks, which ultimately complicate the sorting process and lead to different recyclables being dumped together when the trucks return to their stations.
The EPA's Lai Ying-ying admits that while the volume of recyclables collected would never be as high today if the policy of compulsory sorting had not been implemented 12 years ago, "the best public services are not necessarily able to meet the highest quality standards."
"There's no way [the public] is capable of simply and precisely sorting," she acknowledges.
Taiwan Watch Institute secretary-general Herlin Hsieh contends the current system is not working.
Chasing after trucks collecting recyclables that pass by one's home is anything but convenient for local residents, and sanitation workers cannot effectively sort the collected materials in the limited time and space they are given, Hsieh argues.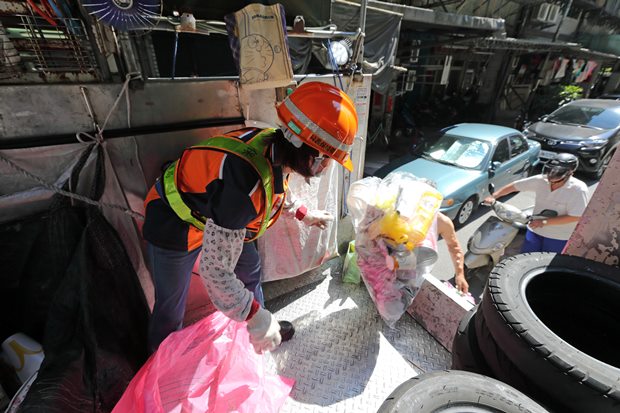 (Photo by Chientong Wang)
Neighborhood or village collection stations being promoted around Taiwan could serve as viable substitutes for the trucks collecting recyclables.
The executive secretary of the EPA's Recycling Fund Management Board (RFMB), Hsu Yung-hsing, says the station model relies on ward chiefs getting people in their communities to collect recyclables at a fixed location and then sort the items before selling them or handing them over to sanitation teams for resale. Because the value created by recycling is shared by local residents, the more precisely they sort waste, the greater the benefits they receive.
That will represent a major shift in people's mindsets. Where in the past they sorted waste for the good of the environment, they will now have a monetary incentive to raise the value of recyclables and sort items more precisely. Hsieh sees the shift as worthwhile, believing that the sorting process will be more effective if every participant derives gains they deserve.
The RFMB expects 1,250 collection stations to be set up by the end of the year.
Solution 3:
Promote Accountability with Smart Machines
Vendors and private groups can also be encouraged to serve as substitutes for the "second" garbage trucks. On a visit to the town of Kamikatsu in Shikoku, Japan, for example, the EPA's Lai discovered that private interests can be every bit as effective as the government in providing guidance and assistance to the public in collecting and sorting recyclables.
Kamikatsu residents can sort their waste into 45 different categories, dramatically increasing the value of those items and reducing the amount of garbage that has to be incinerated. The system also eliminates the need for sanitation teams and garbage trucks.
What can private Taiwanese concerns do? In the Taiwan Recycling Tour exhibition at the Taipei Flora Expo in 2010, Taiwanese vendors displayed smart recycling machines for drinking cups and PET bottles. Visitors simply had to remove their straws and throw their cups and bottles into the machine to be eligible for a drink voucher.
Such machines have already been installed and used in Tainan. Sung Hsin-chen, the deputy executive director of the RFMB, says the measure accomplishes three things at once. Vendors are forced to take responsibility for recycling products, participants are given an incentive to recycle, and the machine filters out any improper materials, ensuring the quality of the sorting and recycling process.
Solution 4:
Support the Circular Economy, Resist Biodegradable Plastics
The final way to get to the root of the problem is having consumers support and embrace the circular economy. The biggest problem faced by the recycling kingdom is the ongoing introduction of new composite materials, which can cost a lot to sort or simply cannot be recycled.
A visit to Lien Tai Paper Corporation in Miaoli County reveals the extent of the problem. In the past, it only accepted the cold-beverage drinking cups from breakfast or beverage shops for recycling. Then Starbucks and convenience stores introduced coffee cups to indulge the take-out culture.
The two types of cups have identical appearances, and are collected and stored together before recycling. But the breakfast shop cups are made of the plastic polyethylene (PE), while the take-out coffee cups are made of polypropylene (PP), two completely different materials.
Because neither the human eye nor machines can distinguish between the two, they are recycled together, resulting in the lowest grade plastic material. The material's recycling value is so low, in fact, that recyclers fraudulently mix it in with waste paper rather than treat it on its own.
Another material muddying the picture is the biodegradable plastic PLA (polylactic acid) #7, the "7" the plastic's recycling number under the international resin coding system.
With Taiwan banning regular plastic straws starting in 2019, PLA 7 straws could be used as substitutes. (Read: Time to Say Goodbye to Plastic Straws, but What's the Best Alternative?)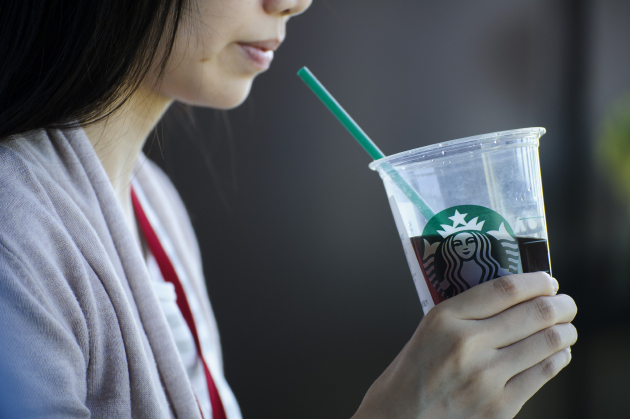 (Photo by Mingtang Huang)
Lien Tai Paper deputy general manager Lien Ta-chun worries that if PLA straws are widely used in the future, the volume of scrap plastic will rise and consequently the cost of recycling it will increase, all for nothing.
Why? PLA needs its own special environment for it to be handled properly or left to decompose, something Taiwan has yet to set up. But because PLA is hard to distinguish from other plastics, it can be easily mixed with other plastics for recycling, with bad consequences. The presence of PLA can plug up recycling machines, hurting productivity, and because of its biodegradable nature, the recycled plastic is virtually unusable and has to be dumped and incinerated like regular garbage.
From the perspective of the circular economy, consumers should boycott PLA unless PLA users set up a sound recycling system. (Read: Don't Call Me 'Garbage')
According to the EPA's Sung, recycling policies do not carry the authority to mandate what kind of materials manufacturers use; they can only encourage consumers to buy and use products consisting of a single material, which can in turn pressure vendors to use a single material in their items. That can give added value to sorting and reduce waste generation.
Ultimately, what should be feared is not the intrusion of foreign garbage but rather Taiwan's own generation of waste that cannot be recycled or allowing recyclables to be thrown out.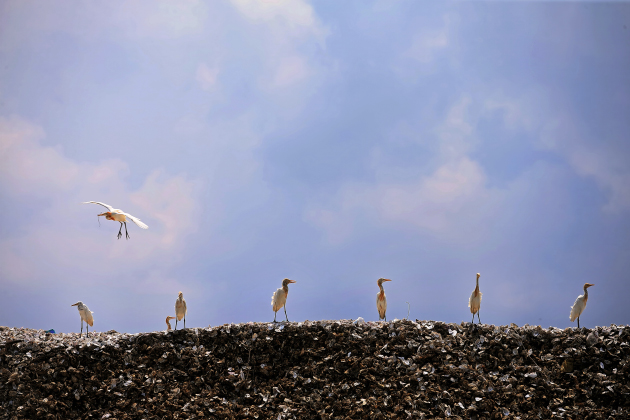 (Photo by Chientong Wang)
Achieving that will require reforms at multiple levels, from consumers, sanitation teams and recyclers to waste treatment companies. For Taiwan to be truly recognized as the recycling kingdom, sorting will have to be improved at every step of the process so that recyclables meet international sorting standards and achieve volumes and prices consistent with those high standards.
Translated by Luke Sabatier
Edited by Sharon Tseng
Video produced by CommonWealth Magazine Video
Video subtitles translated by David Toman
---
Additional Reading
♦ Serving Clients Like Starbucks and Nike, Arthur Huang Makes Recycling Popular
♦ Leave No Footprint Taiwan
♦ Taiwan Must Market Itself as a Global Steward of Green
♦ You Waste, You Pay
♦ Real Madrid's New Football Shirt Is Garbage - in a Good Way