4 Artists + 9 Hidden Champions
This Mechanical Flower Symbolizes Taiwan's Soft Power
精華簡文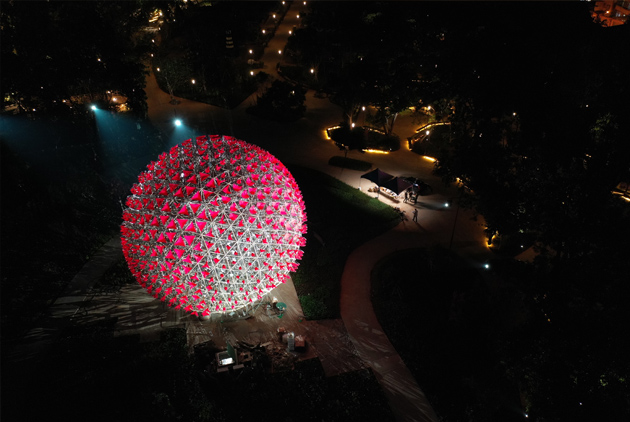 Source:Luxury Logico
The Taichung World Flora Exposition opened on Nov. 3, and its centerpiece is a 15-meter tall mechanical flower. The creation of innovative artists and nine suppliers, it symbolizes Taiwan's soft power and a sea change in its manufacturing sector.
This Mechanical Flower Symbolizes Taiwan's Soft Power
By Yuan-Chien Cheng
FutureCity@CommonWealth

Nestled among the trees at the 2018 Taichung World Flora Expo is a huge mechanical ball towering 15 meters high. A closer look reveals that the structure moves in tune with 250 individual parts that control the movements of 697 triangular strips of red canvas. Those strips open, close and even bloom like petals to the sound of music, quivering and shaking ever so slightly, giving the appearance of a sea of small, red flowers. The overall effect is one of a small palm reaching toward the blue sky.
This mechanical flower, called the "Sound of Blooming," is without question the most eye-catching of all of the "flowers" on display at the Flora Expo, which opened on Nov. 3. The creation stems from the collaboration of nine of Taiwan's "hidden champions" – small, highly successful but relatively unknown companies – and represents the only "flower" in the world born of the fusion of artistic design and mechanical artistry.
The saxophones, umbrella fabric, motors, LED lights, cable reels, fiberglass truss bars, truss structure, and software engineering controls that make up the "Sound of Blooming" were made in Taiwan by hidden champions in the construction, paper, sheet metal, umbrella, machinery, and electromechanical sectors and academia (Asia University College of Artificial Intelligence, China Medical University Hospital and the Taichung Cultural & Educational Foundation). Through that collaboration, "Sound of Blooming" displays elements of Taiwan's national strength to the world.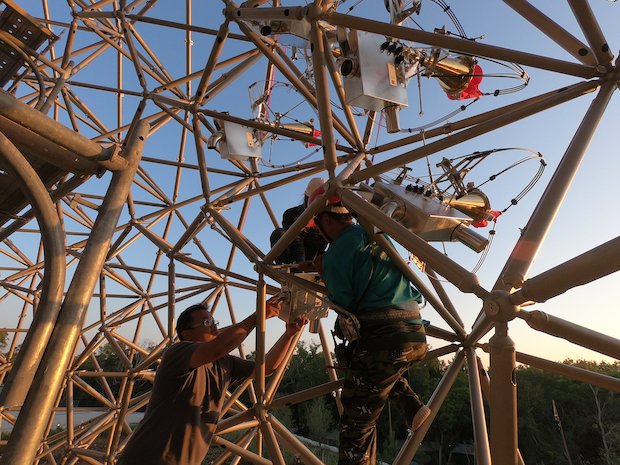 Source: Luxury Logico
The creative minds who molded these disparate components into a work of art come from the studio Luxury Logico. It was founded in January 2010 by four artists born in the late 1970s and early 1980s – Chang Keng-hau, Chang Geng-hwa, Llunc Lin and Ken Chen. Chang Keng-hau died of cancer in May 2018, but the other three continue to pool their diverse skills to create unique installations. Their first work to capture the public's imagination attention was the mobile flame cauldron they designed for the 2017 Summer Universiade in Taipei.
"We have always wanted to create a work in Taiwan similar to the Eiffel Tower in Paris," Lin says. When the Eiffel Tower was built as the symbol for the World's Fair in 1889, it projected France's metalworking technology and artistic flair, and it remains to this day one of the country's unshakable cultural monuments.
Now in the 21st century, how did the Taichung World Flora Expo get the nine makers involved – Earth Power Construction, Reiju Construction, Kuan Yuan Paper, GForm Machinery Sheet, Ta Chen Fong Umbrella, Signify Taiwan, Hiwin Technologies, Hiwin Mikrosystem, and Li Ming Machinery – to set aside their competitive egos and collaborate to showcase Taiwan's strengths?
Three forces were critical: competition from foreign rivals, internal transformation through second-generation successors, and artists' advocacy of public art.
Taiwan's New Manufacturing Environment
Through their experience in designing the Taipei Universiade cauldron, the Luxury Logico artists recognized that the landscape was changing in Taiwan's old economy sector. Facing stiff competition from China and Southeast Asia and with second-generation successors taking over their companies, old economy manufacturers had begun to think differently and were willing to experiment with ideas they had never contemplated before.
"There was one person who every morning at 8:30 would send me test results of how mechanical flowers reacted to being blown by the wind, rained on, or exposed to the sun. He later brought his father- and mother-in-law to see the tests," Chang Geng-hwa recalls.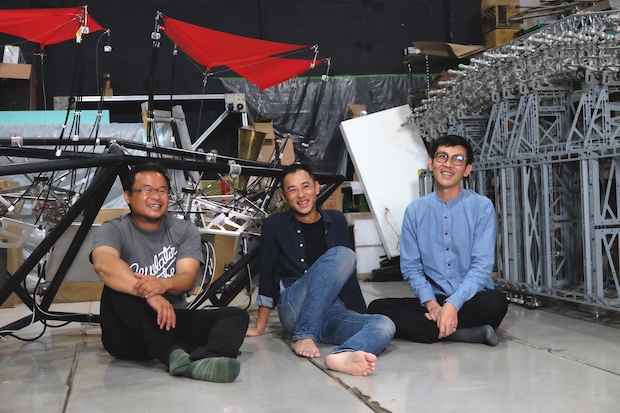 Source: Yuan-Chien Cheng
He has seen the attitudes of local manufacturers evolve from outright rejection to skepticism and curiosity and finally a willingness to turn down orders and invest manpower and money to say "we made this!" That consensus resulted in a sense of mission typified by the attitude: "This is our Flora Expo."
A Marriage of Artists and Factory Hands
That's not to say the "Sound of Blooming" got off to a thunderous start. Initial attempts to marry art and manufacturing were not promising.
"Every time we designed something, we would send it to a factory. The response we often got was 'Nobody does it this way,'" says Chang Geng-hwa, Luxury Logico's mechanical specialist, who has faced rejection by many manufacturers over the past 10 years.
That's not surprising, considering that Taiwanese from the time they're young get used to seeing art class hijacked by other subjects for tests, contributing to the general sense that art is too lofty and beyond their reach. It's an attitude that has contributed to the lack of a design aesthetic in Taiwan's manufacturing sector, which has favored mass production and producing to specifications. Trying to convince them to develop components for the sake of art could only be described as next to impossible.
As the business environment has changed, however, many Taiwanese companies have begun to search for new paths to success, including moving toward Industry 4.0. That has given art new fertile soil in which to thrive. Given that trend, however, how could artists cooperate, create and reach new heights of craftsmanship in harmony with old factory hands?
The answer becomes apparent once one enters Luxury Logico's workshop not far from the Taipei MRT's Qiyan Station.
Under the Xi'an Bridge in Beitou District lies a whole row of small electronics, machinery, and textile factories. Turn into a small side alley, and one comes upon a building that from the back appears to be an abandoned factory. Go inside, however, and it turns into an unexpected gem. The artists have created a fashionable, culturally creative workshop out of an old industrial-style building equipped with everything the designers need, from computers and books to tools and a tea bar.
"When people from different fields cooperate, they have to look after each other and learn to appreciate what each other does," Chen, Lin and Chang Geng-hwa all say in unison.
The Luxury Logico team combines expertise in philosophy, music, art, architecture, technology, and visual arts, and they have also taken tangible action to bond with their corporate creative partners, manning the factory floor or minding job sites together with hands-on factory bosses.
Changing the Image of Installation Art
For the creative chemistry and design and production quality spawned by the multifaceted team working on the "Sound of Blooming" to be replicated and enjoyed by urban residents across Taiwan, local governments will need to devise systems that allow such collaborations to flourish.
Chang Geng-hwa admits his team used to avoid public art projects because the public review system would often end up eliminating 50 percent of their design, feeding a negative image of public art as a waste of money.
"Public art is the first window through which people can access art. You don't have to go to a gallery. You can simply step outside and see it on the street," Chang Geng-hwa says. He believes public art installations should be more than just projects to boost a politician's resume, and instead shoulder the mission of bringing aesthetics education to the nation.
The Taipei Universiade cauldron and the Taichung Flora Expo mechanical flower may be amazing in their own right, but they have also transformed public art's image. Luxury Logico has demonstrated through tangible action that the seeds of the manufacturing sector watered by the imagination of art can break through communication barriers no matter how great the challenge.
It is that ability of the two sides to appreciate each other and work together that has enabled citizens of Taiwan and the world to hear the sound of flowers blooming.
Translated by Luke Sabatier
Edited by Tomas Lin