Good Things Take Time
Patience Turns Troubled Youth Around
精華簡文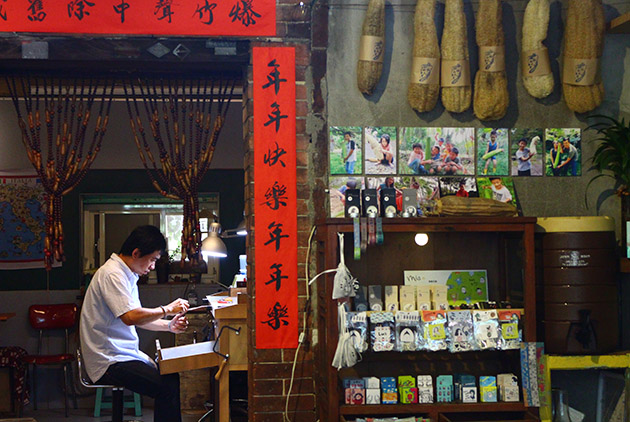 Source:Pei-Shu Lee
At 24, Jeffery Lin returned to his hometown of Sanxia in New Taipei City to save his grandfather's soap factory from going under. Together with a few friends, Lin established a new soap brand that generated sales worth NT$50 million in four years. Despite his commercial success and a bright future, Lin decided to call it quits and test uncharted waters. With borrowed money, he launched a community-based social enterprise.
Patience Turns Troubled Youth Around
By Hocheng Yen
CSR@CommonWealth

Why on earth would someone leave a place where he made millions as cofounder of a business and take out a loan to start anew?
Lin, founder of cultural and creative company The Can Co. Ltd. [CAN stands for Culture, Art and Nature], is just the type to throw common sense to the winds. "Everyone said I'd gone crazy," recalls Lin, now 34, on how people reacted to his seemingly silly decision at the time.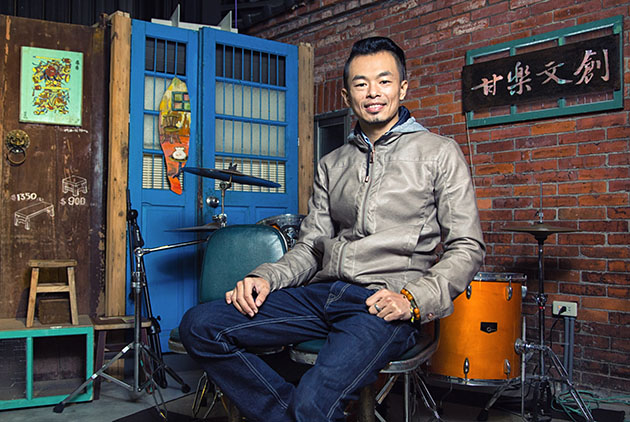 Jeffery Lin, founder and CEO of The Can Co. Ltd. (Photo by Chuang-wei Wang)
At the age of 24, Jeffery Lin returned to his home town of Sanxia in New Taipei City to save his grandfather's soap factory from going under. Together with a few friends, Lin established a new soap brand – the famous Tea Soap - which generated sales worth NT$50 million in four years. Although Lin made money after returning home, he also discovered that he hardly knew Sanxia. "One time a friend called me and asked what Sanxia had to offer for visitors. I couldn't think of an answer; it was quite ironic," notes Lin. The experience of being a stranger in his own hometown gave Lin the idea of reacquainting himself with Sanxia.
Business Comes in Where the Government Fails
As he explored the situation, Lin realized that Sanxia, as an old town, had a rich traditional craft heritage, includingindigo dyeing, metalworking, blacksmithing, and temple carving. However, these traditional crafts are rapidly declining as young people move to other places where they find better job opportunities. Lin also found out that Sanxia has the highest illegal drug consumption in New Taipei City, mainly because the town's remoteness lowers the risk of detection, which makes drug trafficking an attractive proposition for income-seeking school dropouts.
Sunset industries, youth gone astray and a community in decline – these were Sanxia's problems in a nutshell. How could they be addressed? While most would think this is the government's job Lin decided to give up the soap business to go on a mission to save the local community.
He rented an old house on the banks of the Dahan River and founded The Can to work for the town's revitalization, also known as placemaking. "I am a local myself. No one is doing this job. To be honest, everyone is looking for an approach, including me," says Lin. With the government notably absent, Lin concluded that entrepreneurs must do the job themselves.
Walking along the river from Zushi Temple next to Sanxia Old Street, a front yard with exuberant green vegetation comes suddenly into sight. A few tables and chairs are arranged under the shade of trees and huge parasols. After pushing open the door to the shop, an array of traditional kites suspended from the ceiling greets the visitor. The walls are covered with movie posters, and local arts and crafts are on display on cabinets along the walls. The site includes a metalworking workshop in a contemporary design that turns the image of Sanxia as a very traditional place on its head.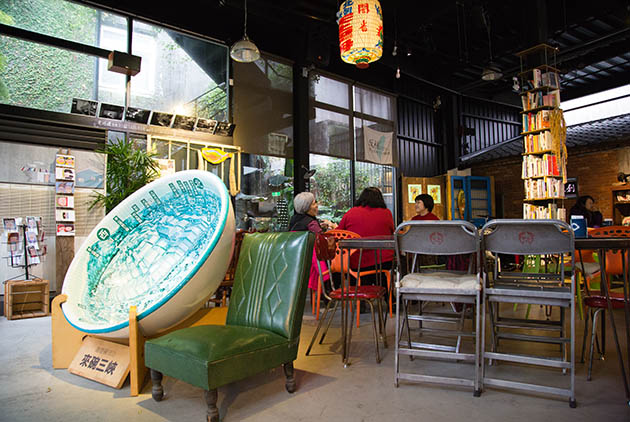 Photo by Chuang-wei Wang
Hit Products Basis for Charitable Work
Videos screened on a TV inside feature various activities and events promoted by The Can. There are river-cleaning drives for kids, creative products recycled from cardboard firecrackers set off during Mazu pilgrimages, and several Sanxia experiential travel itineraries. "We connect the community through travel, offering things like traditional craft experiences, souvenirs, and food and drink, thus revitalizing local industries. Over the past few years, a lot of people have participated, mostly on company staff trips," explains Lin. Those who visit often hope to reacquaint themselves with their hometown while also encouraging outsiders to discover the place.

Moreover, Lin and his team have launched the brand Hidekawa, which uses locally grown, non-GMO soybeans to produce Tofu (bean curd), soy milk, Japanese-style Miso paste and other fermented soybean products. "Relying solely on food and drink is not enough. We are constantly looking for sure-to-sell products, hoping to eventually become the largest brand that uses locally grown soybeans." Presently, sales are quite brisk, and Lin does not rule out opening an outlet in Taipei. "Once you are selling big, it's like having a goose that keeps laying golden eggs. Then you can do other things," says Lin.
A Community-Based Business Model
Among the "other things" Lin refers to is assisting disadvantaged families and students. While The Can hires dropouts to work for its various ventures, they have also founded an after-school tutoring program for children and teenagers who are underachieving in school and need help discovering their hidden talents. Nine local elementary and junior high schools collaborate with The Can.
"If kids drop out of school, they don't have any skills and can't find work easily. Very likely they will marry and have kids early, which will cause even greater problems. On the one hand, we nurture their skills; on the other hand, we revitalize the community, which will enable the young people to find work later on," explains Lin.
"These two may not appear to be related, but it has a lot to do with the community as a whole, because it provides a guiding context."
The program started out with summer camps for elementary school kids. But Lin discovered that underachieving children often hail from disadvantaged families, requiring more personal attention. Therefore, they rented an old house in 2015, formally founding the Grass Life Skills Academy. After school, the students can do their homework and participate in activities there until returning home around 8 p.m., keeping them off the streets and out of trouble.
"We keep the kids company. We focus on skill building such as family life education, daily living skills, character building, intellect, and diverse learning skills for the future. It's more like the relationship between family members; we don't just emphasize schoolwork," notes Lin.
An Emotionally Touching Cup of Tea
One of the middle school dropouts Lin hired for the Tofu store initially had a very bad attitude in the workplace, either showing up late for work or not showing up at all. The tofu master couldn't stand it anymore and wanted to fire the teen, but Lin begged to differ.
"The school has already given up on him. If we also give up on him, who else will help him?" he told the tofu master.
After half a year of constant communication and mentoring, the unenthusiastic apprentice began to come around, not only reporting for work on time but also gradually opening up to others. "A while ago, he even bought me and the tofu master a cup of bubble tea. It was the first time, and moved me almost to tears," admits Lin.
What made him become involved? Lin's motivation has to do with his own upbringing. As a child, Lin experienced the violent outbreaks of an alcoholic father. In his first year of university, he had to drop out due to the family's financial difficulties. He began to work in the TV business, starting out as an assistant for Taiwanese comedian, actor and television host Hsu Hsiao-shun. Having experienced the realities of life at an early age, Lin has considerable empathy for young people with similarly difficult backgrounds.
"When I see school dropouts, I feel it's such a waste. I always feel that the family and society exert an influence on the children; there is not a single kid who is willing to give up on themselves," says Lin. "I don't consider this a charitable undertaking but a calling. It is also a part of our lives. It's not the CSR (corporate social responsibility) of The Can, but rather one of the very important purposes of The Can's existence."
Even Influential People Need to Make a Living
People with lofty ideals still need to face the harsh reality of paying their bills. In the past six years, The Can has never turned a profit, and Lin once even had to enlist the help of friends to be able to pay employee salaries. Lin has two children, and his wife also works in the store. The family still lives in a rented home. "When it comes to influence, I think you could say we have some. But our financial statements are not presentable," says Lin.
Of course, Lin feels the pressure as he faces reality, but in the process of keeping the children and teenagers company, he has learned that everything good needs time.
"It's not that the kids don't grow [as people]; it only happens very slowly, it needs time,; it's the same for a company. Of course, you can choose to call it quits, but then they won't have any opportunities," Lin points out.
Lin's efforts are far from being all for naught. DBS Bank (Taiwan), which promotes social enterprises, will put The Can on its list of businesses that it incubates. B Current Impact Investment Inc. (BCI2) and a few companies are already investing in The Can so that the company can expect to turn a profit this year.
"The Can is engaged in community building. It's not just about the environment and industry; there is also basic education. It is a very comprehensive framework," observes Chu Chun-yi , a vice president with DSB Taiwan.
As Lin looks into the future, he hopes to modularize the Sanxia approach to inspire other communities. "If what The Can does is right, then we should keep doing what we do until one day everyone takes note," says Lin. When facing challenges, all it takes is an optimistic can-do attitude, true to the company's name.
Translated from the Chinese Article by Susanne Ganze
Edited by Shawn Chou
---

CommonWealth Magazine began its advocacy of corporate social responsibility in 1994, and in the coming years since, CSR has gradually grown in importance to companies, investors and society. In recognition of that trend, CommonWealth created the website "CSR@CommonWealth" in 2017 to highlight the most forward-looking CSR visions and ideas and create a CSR platform that can help build a better world.