Fasten Your Seatbelts
Air Travel in Asia is Taking Off
精華簡文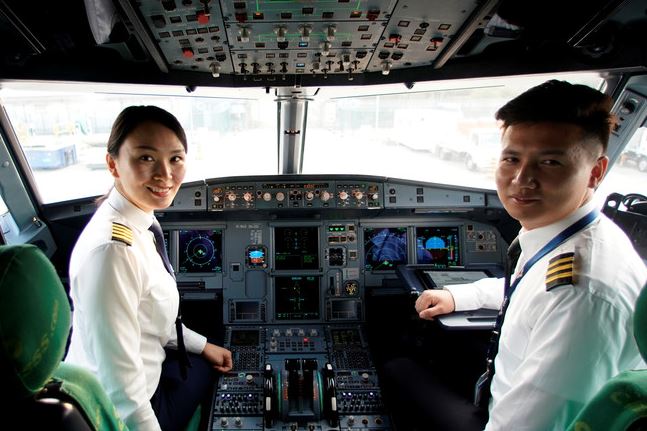 Source:REUTERS/Aly Song
As the aviation industry continues to expand rapidly over the next two decades, growing demand for airline seats will outstrip the supply of qualified pilots. The biggest shortage will be in Asia where airlines have more new planes on order than anywhere else.
Air Travel in Asia is Taking Off
By Johnny Wood
web only

Economic growth and rising incomes across the region are fueling unparalleled growth in business and leisure travel. Airlines in Asia-Pacific already account for over a third of current global passenger numbers and that market share is set to increase. The region had almost 280 million international arrivals in 2015.
To meet demand, aircraft manufacturer Boeing forecasts airlines in Asia will require an additional 261,000 pilots and 317,000 cabin crew by 2037. (Read: Hong Kong-Taipei, World's Busiest Airline Route 3 Years In A Row, Why?)
The airline sector in Asia is growing faster than in any other region. (Source: Statista)
China's Aviation Boom
China is spearheading the region's air travel boom and is set to overtake the US as the world's largest aviation market by 2030, according to the International Air Transport Association (IATA).
The country – with an expanding middle class – has substantial potential for future growth in tourism and business travel, helicopter flights and private jet hire, IATA says.

Increasing passenger volumes mean expanding existing airports and building new ones. The Civil Aviation Administration of China plans to build an additional 74 airports to make a total of 260 by 2020.
India's Airline Sector Takes Off
As with China, India's emerging middle class is driving a rapid expansion of the airline industry and the country is set to become the third-fastest increasing market in terms of additional passengers per year.
India has experienced continued growth over the last 15 years, as the number of international arrivals reached the 8 million mark in 2015, according to the Forum's 2017 Travel and Tourism Competitiveness Report.
IATA forecasts India's air passenger traffic will triple by 2036.
Indonesia's Tourism Appeal
Along with China and India, Indonesia is also turning into an Asian aviation powerhouse. A burgeoning domestic tourism industry on the island of East Java, coupled with the lure of Bali's exotic beaches for overseas holidaymakers, have expanded passenger numbers at key airports.
IATA forecasts Indonesia will see 183 million new passengers by 2034, making it the fourth-fastest growing aviation market after China (856 million new passengers), the US (559 million) and India (266 million). And Indonesia will also become the world's fifth-largest domestic aviation market.
Such unprecedented growth in demand for flights will increase connectivity between Asian countries and destinations around the world, with obvious benefits for their economies. But it also brings challenges.
As well as more pilots and planes, the world will need new airports along with all the supporting infrastructure, and this will require government policies that are sympathetic to future aviation growth. At the same time, more planes taking to the skies will mean more greenhouse-gas emissions.
The global aviation industry has agreed to measures including improving fuel efficiency of planes, capping net emissions from international flights at 2020 levels, and a 50% cut in net emissions by 2050 (relative to 2005 levels).
But the International Civil Aviation Organization (ICAO) predicts that by 2020 emissions from global aviation will be around 70% higher than in 2005, and that by 2050 they could grow by a further 300-700%.
Source: Emission Reduction Targets for International Aviation and Shipping Share
Edited by Tomas Lin
---
Original content can be found at the website of World Economic Forum: Fasten your seatbelts, air travel in Asia is taking off
This article is reproduced under the permission of World Economic Forum (WEF) and terms of Creative Commons Attribution-NonCommercial-NoDerivs 4.0 Unported License ("CCPL"). It presents the opinion or perspective of the original author / organization, which does not represent the standpoint of CommonWealth magazine.