CommonWealth Magazine
Inside a Digital Transformation
精華簡文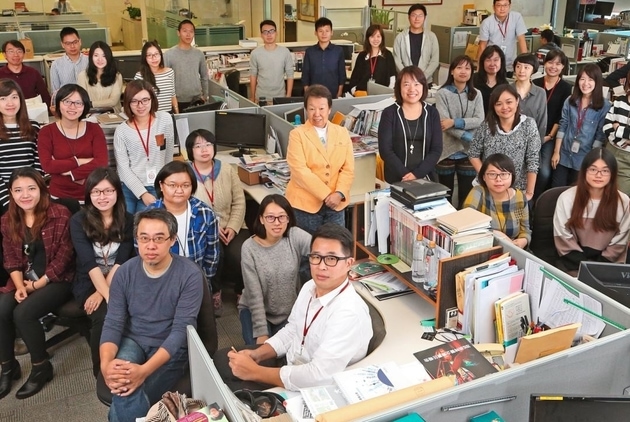 Source:Chientong Wang
The digital economy has upended every industry, and the media is no exception. But while international media outlets have been overhauling their operations to adapt to the changing world, the business models of most Taiwanese media organizations have remained stagnant. Even specialized financial and business news companies that report daily on how companies are transforming their operations have made few advances in their own operations.
Inside a Digital Transformation
By CommonWealth Magazine
web only

CommonWealth Magazine has been a leading window into Taiwan's business and financial world for 37 years, but, like all companies looking for new models and approaches, it has faced an "innovator's dilemma."
As an organization becomes bigger, its main concerns are meeting shareholder expectations and satisfying performance targets. It therefore tends to focus on businesses that can deliver immediate results, while paying less attention to new businesses that account for only a small fraction of their revenues.
Even if management is intent on pushing a new venture and sets strategies and goals, its organization, processes and culture remain resistant to change. In addition, the organizational structures that arose in the print era are often byzantine and difficult for even the people in charge to manage and change.
To address these many challenges, CommonWealth Magazine's management decided in 2017 to introduce the most important product in its transformation: the digital CommonWealth All Access content subscription service. (Read: Taiwan's First Successful Media Paywall)

In its first year and a half, the service has racked up impressive results and earned a Golden Tripod Award for digital innovation.
The Golden Tripod Award panel of judges said of the service: "As the attention of readers shifts from print to the internet, from web portals to social networks, the traffic dividend of media is weakening and ads are being devoured by the biggest platforms.
Amid this challenging environment, the digital subscription service represents not only a new business model but also a generator of organizational transformation. CommonWealth's All Access model should be considered by other businesses."
Digital content subscriptions generate content revenue, which is important not just because they contribute to the company's overall income; they also help mitigate the risk of overdependence on ad revenue, which can no longer be taken for granted by media organizations with the advent of the digital era.
Print advertising revenue is in a downward spiral, while Taiwan's digital advertising market is dominated by multinational high-tech platforms that suck in 75 percent of all ad spending.
To fill the revenue shortfall and get a piece of the shrinking pie, media outlets have aggressively promoted customized activities and even helped customers create sponsored content and embedded advertising.
They have also chased web traffic, which has emerged as an important KPI (key performance indicator) in determining ad revenue.
But that has meant producing cheesy or sensational content designed to catch reader eyeballs at the expense of serious reporting of important stories that may not generate huge numbers of hits.
The Economist has predicted that display advertising will pretty much disappear by 2025, warning that the media needs to take steps to be prepared and find new revenue streams.
For CommonWealth, developing digital content subscriptions was indeed a business strategy devised to drum up new revenue, but it also represented a decision to make values part of its operations.
In the internet era, every company must reinvent itself if it hopes to carve out a niche in the new digital environment.
CommonWealth may have only just started down this path, but it is happy to share what it has seen on the journey so far with others in the industry searching for a breakthrough and dedicated to serious news.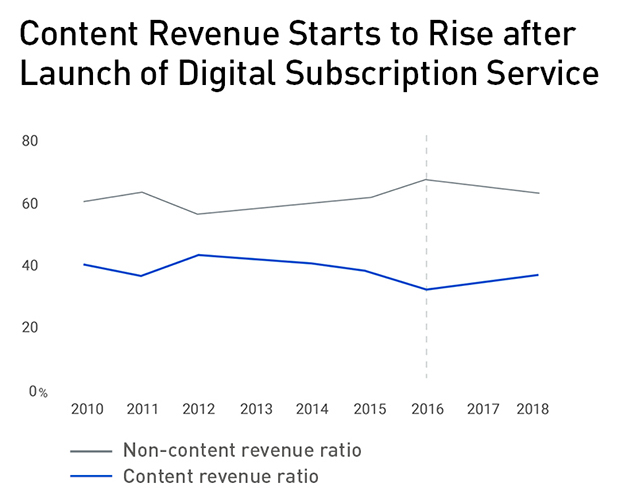 Since the digital subscription service was introduced, content revenue has risen. (Source: CommonWealth Magazine)
The Decision: Paid Content, Supporting Values-driven Media
In 2017, CommonWealth Magazine introduced Taiwan's first news subscription product – CommonWealth All Access. But with massive amounts of free content available online and major tech platforms monopolizing most of the ad revenue, many wondered whether paid digital content represented a step backwards or a way to find a new path.
At 4 p.m. in the afternoon of March 14, 2017, CommonWealth Magazine founder and publisher Diane Ying asked Chief Digital Strategy Officer Michael Chien to come to her office.
"Do you think people will really subscribe to All Access?" Ying half-seriously asked Chien, who has spent more than 25 years involved with the internet and joined CommonWealth in 2016 from a multinational internet media technology company.
"You can rest assured. This should work out well," Chien told Ying, despite feeling a bit uneasy himself.
CommonWealth Magazine was one of the first media outlets to put its content online in 1990. It was also the first to make its magazine available to online subscribers on Zinio and produce an interactive iPad edition.
But setting up a paywall and promoting paid subscriptions on a website that had always been free in a market accustomed to free news content was a risky step that was still unsettling to many in the organization.
The day after Ying's meeting with Chien, All Access formally went online. Previous subscribers used to receiving magazines could now opt for a wide-ranging package of member services, including access to the newest and past editions of the magazine as well as social networks, apps, and e-newsletters.
Despite his concerns, Chien saw this as a rare opportunity to use digital subscriptions to better understand each user's preferences, which could spawn two new opportunities: first, bringing together people willing to pay for content and second, adjusting the organization's content to cater more to that group's needs.
Chien had predicted that launching paid content would enable CommonWealth to analyze online subscriber behavior, which could drive innovation and transformation in the 37-year-old organization.
The idea of paid content had been on CommonWealth's strategic radar for a long time, but it was never sure that readers in Taiwan would be willing to pay for news. To find out more, Ying took her management team to visit media partners such as the Economist and the Guardian.
It was not until 2013 that the decision to take action was made. After Joyce Cheng, the head of the company's internet department at the time and CommonWealth's current chief of digital content operations, went to Berlin for a digital media forum and learned about the New York Times' paywall model, she returned to Taiwan and started working with the IT department on the idea. They began deconstructing the mechanisms of foreign media to create the company's own paywall.
It was a gamble by any standard, because while foreign media outlets were already announcing yearly rises in digital subscribers to record levels, few Taiwanese news organizations had even tried the concept.
Only Digitimes was charging for content at that point, while initiatives by Initium Media, and daodu.tech had yet to be implemented.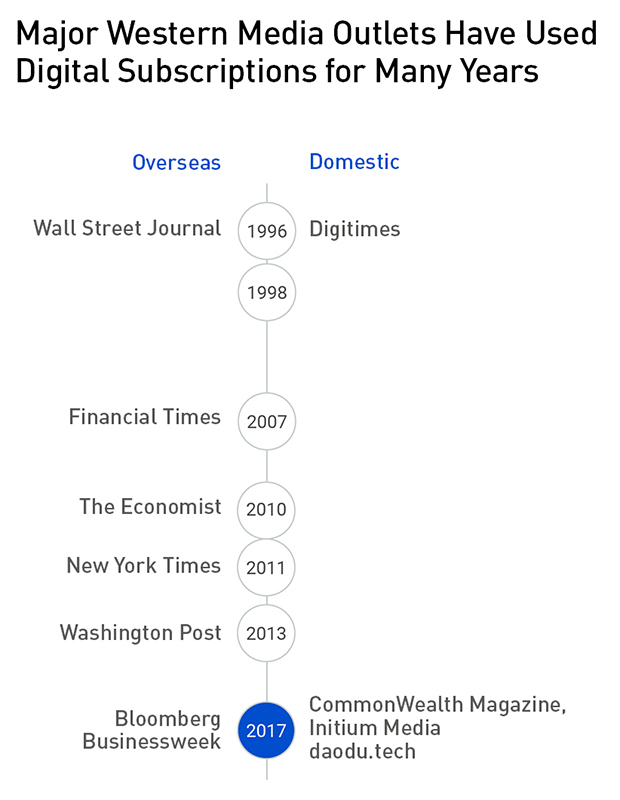 Major Western Media Outlets Have Used Digital Subscriptions for Many Years
Note 1: The New York Times introduced its TimesSelect service in 2005, requiring payment for certain types of online content. It was discontinued in 2007.
Note 2: The predecessor of daodu.tech, the YoWuReport, charged for access in 2015 but abandoned the paywall in 2016.
The issue was fiercely debated within the organization, with younger employees in their 20s in particular firmly believing that charging for news content was going against the tide and that CommonWealth was conceptualizing new media using outdated and conservative thinking.
At that time, the nearly 200-year-old Guardian was advocating news as a public good and readers' right to know, and it opted for a reader funding model rather than charging for access.
The Huffington Post, now known as (HuffPost), and BuzzFeed trumpeted the model of "free content + high traffic," which relied on ad revenue to cover the lack of subscription or distribution revenue. Though the initial results were optimistic, their financial picture has been less positive in recent years.
Around 2014, native online media groups Storm Media, The News Lens, and The Reporter hit Taiwan's market, while traditional media outlets tried expanding their revenues by investing in e-commerce and offering online courses and activities.
To counter declining ad revenues, CommonWealth's marketing department in 2015 and 2016 also rolled out an event every week in pursuit of new sources of revenue, and despite the treacherous media environment, the company maintained its record of having never having lost money since its founding.
But this came at a cost – working its employees to exhaustion.

At this key crossroads, CommonWealth once again felt pressure to make another strategic decision: Where should its next step take it?
Going digital would inevitably be part of the answer, but what should the strategy be and how should it be executed?
The market offered no obvious answer. The flame of Taiwan's new media had burned brightly for more than two years, but capital markets were unwilling to continue fueling the fire, and it slowly lost strength.
Some media outlets went bankrupt, others were transferred to new owners, and the survivors struggled financially.
Traditional media companies, facing resource constraints, lacked the daring to invest in developing new models, preferring to hold off and wait to see how the market would shake out.
By this time, Ying had spent two years studying the media landscape in search of an answer, and a solution had gradually taken shape.
In the beginning of 2016, Ying suddenly asked Wu Yin-chuen, CommonWealth Magazine's president and the person responsible for the company's profitability: "What is it that you most want to do?"
"An online subscription service," Wu answered. "We have created content our entire lives, and people are willing to pay to read what we produce. It's a matter of the most basic dignity for people working in the news business."
She supported the idea of paid content because it represented an approach that proved the value of the media's existence.
Market data has also supported the choice.
According to the Digital News Report issued by the Reuters Institute for the Study of Journalism, in 2018, 18 percent of Taiwanese readers were willing to pay for digital news content, up three percentage points from a year earlier.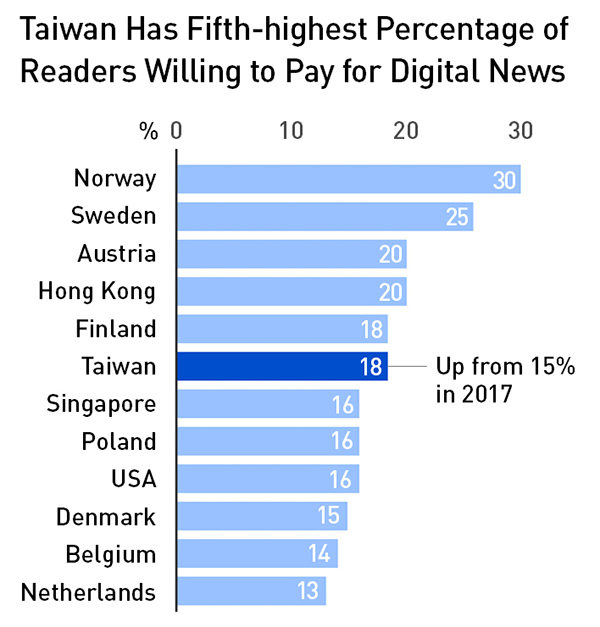 Taiwan has the fifth-highest percentage of readers in the world willing to pay for digital news. (Source: 2018 Digital News Report, Reuters Institute for the Study of Journalism)
At a time when most media organizations were stuck contemplating the dilemma of offline vs. online digital content, the enterprising Diane Ying boldly announced CommonWealth's digital goal for 2017: the introduction of a digital content subscription service.
But this digital transformation was harder and more complicated than anybody had imagined.
Next on CommonWealth Magazine's Digital Transformation Report: The Print vs. Digital Dilemma >>
Translated by Luke Sabatier
Edited by Tomas Lin