CommonWealth Magazine Top 2000 CEO Survey on the Economic Prospects of 2019
Southeast Asia Replaces Longtime Favorite China
精華簡文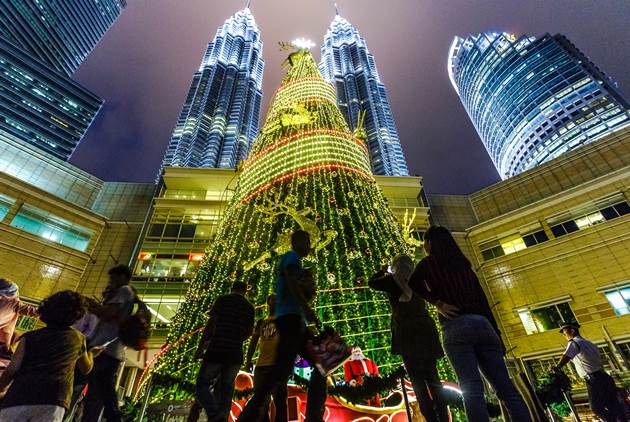 Source:Chien-Ying Chiu
The top executives of Taiwan's 2,000 largest enterprises believe economic prospects for 2019 are glum. Due to the potential fallout from a looming trade war between China and the United States, few dare to be optimistic about the global economy and economic development at home. The prelude to the big relocation of Taiwan's supply chain is already over, and, while massive challenges are ahead, we can prepare for the battle by taking Chinese strategist Sunzi's advice: Know yourself and your enemy, and you will not be defeated.
Southeast Asia Replaces Longtime Favorite China
By Chuo-han Yang
web only


The spectre of an escalating trade war has already disrupted the global supply chain structure, also affecting Taiwan. The CommonWealth Magazine Top 2000 CEO Survey on economic prospects for 2019 found that almost half of the respondents felt a major impact from the trade war. The majority is pessimistic about the global and the domestic economy, turning conservative in their forecasts of next year's revenue and profits.

In comparison with previous CEO surveys, this year's results stand out in four areas:

Global Economy: Trade Skirmish Pushes Pessimism to 7-Year High

The latest CEO survey shows that a major change is underway in terms of Taiwanese investment flows: Entrepreneurs are turning away from China, their longtime top investment destination, to invest in Southeast Asia. For the first time in a decade of annual CEO surveys, Southeast Asia has outshone China as the most favored investment destination.

As the upward slope of the global economic cycle comes to an end, more than 75 percent of CEOs are pessimistic about the global economy in 2019. Pessimism has reached a seven-year high. It seems that last year's optimism has evaporated overnight.

The key factor influencing executives' views is the United States. More than 60 percent of CEOs who are optimistic about the global economy point to the "continued expansion of the American economy" as the main reason for their rosy expectations for 2019. Yet at the same time more than 60 percent of corporate leaders who are pessimistic about the world economy think that "the upheaval caused by the Trump administration" will deal a blow to the world economy.

A trade war between China and the United States is widely viewed as the greatest risk factor. Across all sectors and industries, around 70 percent of CEOs believe that a trade conflict poses the greatest challenge for business in 2019. Aggravating the situation is the "slowdown in Chinese economic growth", fueling boardroom fears as a second major corporate headache. While last year only 20 percent of executives admitted they were worried, this year more than 40 percent expressed concern.

Trade War Effects: Southeast Asia Replaces Longtime Favorite China
How will the trade war affect Taiwanese enterprises in a substantial way? While Taiwan will feel the pinch from declining Chinese orders, the island might also benefit from the fact that overseas customers now look to produce or source their products outside of China to avoid punitive tariffs. Almost every second business leader, or 46.3 percent, believes that "the disadvantages outweigh advantages" regarding the trade conflict, whereas 43.7 percent think it will have "no impact" on their businesses. Only 10 percent believe their companies could benefit from the trade friction.
Among the negatively affected businesses, 42.7 percent point to "a decline in orders from Chinese customers." This problem first of all plagues conventional industries. Cho Yung-tsai, Chairman and CEO at machinery component maker Hiwin Technologies Corp., has told the press that Taiwan's machine tool industry will most likely be directly hit by the trade war given its reliance on the Chinese market. In the first half of this year, 34 percent of machine tool exports went to China, so a decline in orders from China would certainly affect sales.
In response, conventional industries are mainly turning to proactively "adjusting export shares by country" by soliciting customers in countries other than China. In a recent interview with CommonWealth, China Steel Corporation (CSC) Chairman Weng Chao-tung noted that the company had already begun to diversify risk by targeting the Southeast Asian and European markets.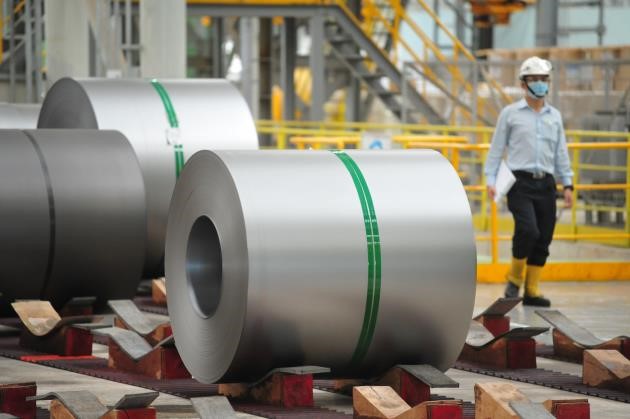 Conventional industries are mainly turning to proactively "adjusting export shares by country" by soliciting customers in countries other than China. China Steel Corporation (CSC) has already begun to diversify risk by targeting the Southeast Asian and European markets (Source: Kuo-Tai Liu)
The second directly affected group of businesses is technology manufacturers with production plants in China, because their products for export to the United States have been listed for punitive tariffs. Therefore, about 50 percent of CEOs in the tech industry are preparing to increase manufacturing output in Taiwan at the expense of China.
Power supply maker Delta Electronics has already approved two investment projects in Taiwan. "We will expand our plant in the Tainan Science Park and build an R&D center in Taipei. This will add a production line and give us greater flexibility," Delta Electronics CEO Yancey Hai told reporters at a recent news conference. Aside from Delta, other tech companies such as Quanta Computer, Compal Electronics and Sercomm Corp. are reportedly considering relocation production plants from China to Taiwan.
Trade row fears have also hit capital markets, causing increased stock price and asset price volatility. The financial industry is currently taking a wait-and-see attitude.
What also deserves attention is the fact that the trade friction affects companies' investment plans. The survey shows that Taiwan's supply chain has already begun to pull out of China. In 2010, the share of Taiwanese companies planning to invest in China stood at more than 50 percent. Now only 17.7 percent of companies say they plan new investments in China.
Replacing China is Southeast Asia, which for the first time outstripped China as the favorite investment destination. Next year, 18.4 percent of Taiwanese businesses are preparing to increase their investment in the Southeast Asia region. Vietnam is most popular with 24.1 percent of new investments being planned there, while Taiwan follows in second place with 19.2 percent.
That Southeast Asia has emerged as the favorite investment destination can be also attributed to the effects from the New Southbound Policy under President Tsai Ing-wen. Another major reason in the eyes of the CEOs is the rapidly worsening investment environment across the Strait, which makes China less attractive. A record high share of more than 80 percent of business leaders believe that investment conditions in China "have worsened" or "are very bad." They cite rising labor costs, uncertain cross-strait relations and stricter environmental requirements as the main reasons for the deteriorating investment climate.
In a survey on investment conditions and industry development in China published in September, the Taiwan Electrical and Electronic Manufacturers' Association (TEEMA) found that the investment climate in China had deteriorated for the ninth year in row, and that investment risks stood at a ten-year high.
Taiwan's Prospects: Conservative Profit Forecasts Ahead of Economic Downturn
The looming trade war undermines business leaders' confidence in the economy. The survey showed that 84.3 percent of respondents do not believe that economic growth in 2019 will reach the 2.55 percent projected by the Directorate General of Budget, Accounting and Statistics. Just 15.7 percent expect the economy to grow at a faster pace than forecast by DGBAS.
A higher ratio of CEOS than in previous years expect "negative growth" for revenue and profits in 2019. Shrinking revenues are feared by 8.4 percent while 9.4 percent foresee decreasing profits. At the same time, the ratio of CEOs who expect double-digit growth for revenue and profits has declined from last year.
Investing in Taiwan: Improved Investment Environment to Bring Salary Hikes
Leaving aside trade war concerns, the survey also brought some good news. The share of business leaders who are upbeat about Taiwan's business climate has risen for the fourth successive year. While 18.9 percent of CEOs expected the business environment to "improve" or to be "very good" in 2015, now 32.8 percent subscribe to this view, up almost 14 percentage points. This finding is in line with the recently released World Bank report Doing Business in 2019, which ranked Taiwan 13th on the list of top places for doing business, up two ranks from last year.
However, Taiwan's investment climate still faces challenges. Corporate leaders are most concerned about uncertainties resulting from "cross-strait relations", industrial transformation and upgrading" as well as "talent shortages."
It also deserves attention that a rising amount of CEOs are concerned about possible power shortages. Concern over "Energy (hydropower) supply problems" registered the sharpest increase among troubling issues cited by business leaders, rising from 13.1 percent to 24.8 percent year-on-year. This shows not only that business leaders did not buy Premier William Lai's assurances that the government would solve the "five shortages" (water, electricity, land, talent, labor) but also that the government's energy policy fuels insecurity about Taiwan's investment climate. (Read: Tug-of-War Between Time and Pollution)
Companies have become passive in terms of their willingness to invest. The ratio of companies who have "no investment plans at all" increased to 34.4 percent from 29.2 percent last year. The vast majority of companies has no plans to adjust staff numbers. Nevertheless, 80 percent of companies are planning to raise salaries for their current employees, a figure that has increased for four years in a row.
Lin Por-fong, chairman of the Chinese National Association of Industry and Commerce, Taiwan (CNAIC), believes that the changed international trade situation is bound to constrain Taiwan's space for survival. In the wake of the election, the government needs to attach importance to the investment environment, or it will not be possible to take Taiwan's human resources and salaries to a higher level.
About the Survey
This survey covered 2,000 large enterprises, including 1,350 in the manufacturing industry and 650 in the service industry, as well as 100 large financial services companies and 16 financial holdings. It was conducted between October 8, 2018 and October 31, 2018 using questionnaires. After eliminating companies that could not be successfully contacted and those who refused to participate, a total of 1,703 questionnaires were sent out. The survey yielded 769 valid answers for a response rate of 45.2 percent.
Survey execution: CommonWealth Magazine Survey Center Jimmy Hsiung, Ya-ling Chang
Translated by Susanne Ganz
Edited by Sharon Tseng