Tsai Pao-chang
Tainaner Ensemble Seeks Global Stage
精華簡文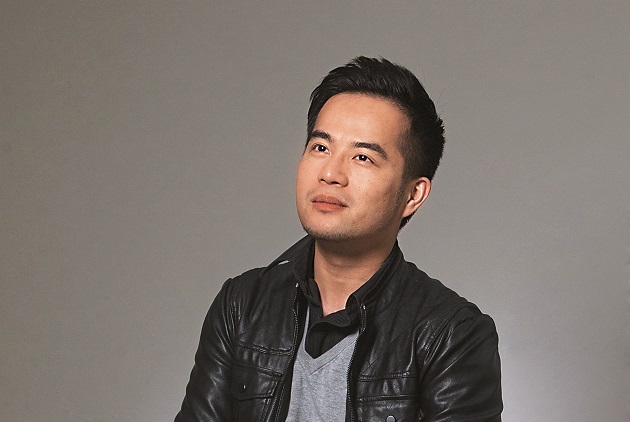 Source:CW
Having barely graduated from university ten years ago, Tsai Pao-chang created a novel play consisting of six one-hour episodes, building his reputation as one of Taiwan's most promising theater talents. Now, Tsai wants to take his innovative playwriting abroad to entertain European audiences with plays in English and French.
Tainaner Ensemble Seeks Global Stage
By Sydney Peng
From CommonWealth Magazine (vol. 575 )


Eight actors in 30 roles performing for six hours of total stage time – this is K24 (Chaos). The K24 comedy drama series, one of the Tainaner Ensemble's signature productions, has been performed without interruption a hundred times over the past decade.

In K24 (Chaos), rehearsals for William Shakespeare's Romeo and Juliet are interrupted when one of the actresses vanishes mysteriously, and a terrorist plot to assassinate the president's daughter, who plays Juliet, is uncovered. The play follows a typical Western TV serial format with six episodes per season. Each of the open-ended episodes is an hour long, so that a performance of the full series takes six hours.

The first two episodes of K24 premiered on Matsu Island in 2005. Tsai, who directed his own work at the time, had graduated from the Department of Drama and Theater at National Taiwan University only one year earlier. Theater critic Chen Cheng-hsi was so pleased with Tsai's work that he called him "the most promising young creative talent in Taiwanese theater."

Fast forward ten years, and K24 is now nearing its 100th performance. The play has represented Taiwan at the Chinese Drama Festival and has also been staged in Beijing.

Tsai talks about the past in a video interview with CommonWealth Magazine from his Paris studio. He cracks a joke, claiming that, as a kind of "mountain hermit" for whom time hold little meaning, the 10-year anniversary of his first work does not seem to be a big deal.

Refraining from using the exaggerated facial expressions and gestures of a stage actor, Tsai, now 33, calmly remarks, "Probably it's because I rather want to look forward at this stage."
No Limits after 30
In April, Tsai held a one-day vocal training workshop with 16 young French actors at the French National Conservatory of Rouen.
Last year Tsai, who is a playwright, director and actor, had his first solo concert as a singer. Early this year he embarked on a nine-month trip across Europe. In November, he will direct the opening ceremony for the Golden Horse Awards, Taiwan's most prestigious film awards.
"I have not set myself any limits because I feel that I can do anything!" remarks Tsai with a chuckle. "If you lack experience, look for an experienced person to help you. I think once you are over 30 you should not restrict yourself," posits Tsai. At the invitation of the Quanta Arts Foundation, Tsai joined the 2015 QA Ring project, an international interdisciplinary collaboration with Arts Electronica that marries technology with performing arts. Assisted by five consultants and mentors from Europe, Tsai is tackling the script for Solo Date, a monodrama using the English and French languages.
In portraying a man who dates Siri, a virtual personal assistance, instead of real partners, the play explores our human relationships against the backdrop of the increasing role of artificial intelligence and virtual reality. This will be a drastic change from the 30-actor extravaganza of K24 to a one-man show that Tsai writes, directs and performs all by himself. He is also targeting a larger, international audience.
Difficulties Abroad
In 2008, Tsai went to Britain to study for a master's degree in Music Theater from the Royal Central School of Speech and Drama at the University of London. One year later, he graduated at the top of his class. Yet Tsai was still at a loss over the direction of his future career.
During his studies, he realized how limited the spectrum of roles was for male Asian actors in British theaters, with few roles and limited subject matter, and the harsh reality made him question the wisdom of his decision to study abroad.
With this sense of failure as well as a sense of responsibility for his native country, Tsai decided to leave London to return to Taiwan. For Tsai, his work with the Tainaner Ensemble constituted an awakening. The theater company was like home, a place one does not give up.
So he took the post of co-artistic director of the Tainan Ensemble to overcome the despair he felt when leaving Britain. He wanted another challenge. "To take my work abroad, cooperate with international directors…this is my clear goal at the current stage," notes Tsai.
Stimulation and Inspiration
For Tsai, who is an avid traveler, living abroad provides opportunities to witness many different scenes of life, and also helps honing one's skills.
Composer Owen Wang, who collaborated with Tsai as playwright for the hugely successful musical Mulan, notes that Tsai has absorbed many different cultural elements. "His language, rhythm, humor and performance techniques are all more Western," says Wang.
Mulan is a Broadway-style musical that gives the ancient Chinese folk tale a contemporary twist by addressing social issues such as homosexuality and gender discrimination.
Four years ago, an antique doorknob that Tsai had seen during a trip to Tibet inspired him to write the musical play Re/turn.
Through the mysterious Tibetan door knob, the main protagonists – a mother and a daughter, a couple of lovers, and three high school friends – travel back in time, gaining an opportunity to undo past decisions they regret. Their "returns" lead to six different endings. The setting quickly changes between Britain, China, Taiwan and the United States, the language between Cantonese, English, Japanese and Taiwanese, reflecting Tsai's own experiences during his studies and travels abroad.
The perfectionist also felt a certain anxiety when working with fellow students from other countries during courses at the American Repertory Theater and the Chekhov Moscow Art Theater. "Your counterparts are from all across China, all over the world. No matter whether these young people use the same language or belong to the same ethnicity as you, they are just about to surpass you by making double, triple, five times or ten times your own efforts."
Tsai wrote this in a blog post two years ago after he accepted a teaching assignment at his alma mater NTU, urging students to place higher demands on themselves.
He used concrete examples from the vocal training classes at the Chekhov Moscow Art Theater and the Stockholm Academy of Dramatic Arts to encourage young Taiwanese to try harder. "Only if you are well prepared you will stand a chance of finding the right partners and talent scouts."
Taiwan lacks Attention to Detail
A decade ago, Tsai was interested mainly in enjoying himself, but these days he places even more emphasis on connecting with the international theater world. He wants Taiwan's theater environment to become better and healthier.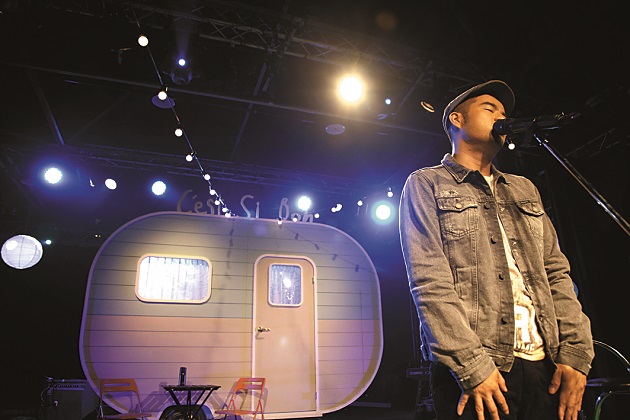 Wearing a yellow vest, Lin crisscrosses Taipei to draw attention to the Appendectomy Project.
He believes that Taiwanese society is so focused on efficiency that people easily lose patience. "We must elevate things to another plane; the difference lies in attention to detail," he says.
Pointing to France, Tsai notes that many theater troupes have their own performance venues or a resident artistic director.
They usually move into the venue a month ahead of the opening performance to design the set, costumes, props and lighting and to hold rehearsals. Within the troupe, the dramaturge helps the director adapt a work for the stage. By offering expert criticism during the production process on the use of light and sound effects, the wording of the text or the acting, he ensures high quality.
However, Taiwanese theater troupes are usually not resident companies. If a performance is scheduled for the weekend, the theater workers move into the venue on the Monday of that week. By Wednesday, they are finished setting up stage, and on Friday there will be the technical rehearsal followed by the opening performance, which due to lack of time doubles as the dress rehearsal.
"This makes me very frustrated, so I think we need to reconsider our work approach in the theater," remarks Tsai.
In order to improve the sophistication and refinement of his new play, Tsai asked Quanta Arts Foundation to let him move into the venue for rehearsals two weeks before opening night.
According to Tsai, foreign approaches shouldn't be used in Taiwan just because they are foreign. Rather, as long as one does the things that he likes to do well, he will lure many more interesting people into the theater world.
In the future, he not only aims to break the image that people have about theater, he also wants to melt the hearts of European audiences.
In the eyes of this died-in-the wool son of Tainan, the Tainaner Ensemble cannot remain just a local Taiwanese theater group but must become an internationally renowned one as well.
Translated from the Chinese by Susanne Ganz