The Road to Democracy
Lifting Martial Law and Opening-up Taiwan
Lifting Martial Law and Opening-up Taiwan
By Chou Hui-ching
web only


On 7 October 1986, sitting in the presidential palace reception room with Washington Post publisher Katharine Graham, President Chiang Ching-kuo declared:
"After formulating a new National Security Law, we will lift martial law and allow the formation of new political parties."
Ma Ying-jeou, the 36 year-old presidential secretary present as an interpreter, later recalled this moment in his memoirs, saying: "my scalp tingled, and it felt like an electric jolt traveled through my body. For at that moment we were re-writing Taiwan's history."
Lifting martial law and the ban on the formation of new political parties were the most important starting pints of Taiwan's democratization process, as well as a necessary response to the growing internal and external pressure to reform and the overall tide of globalization.
Throughout this period, President Chiang Ching-kuo was experiencing rapidly deteriorating health. Following a retinal operation, he underwent an operation for glaucoma and was fitted for a pacemaker. In addition, he experienced intense pain due to swelling in his feet from his diabetic condition, making every step a chore. Yet what pained him the most was a series of events that soon prompted him to quicken the pace of reform.
On 15 October 1984, author of The Biography of Chiang Ching-kuo, Henry Liu, a US citizen, was gunned down in the garage of his Daly City, California home. Three members of Taiwan's Bamboo Union gang, including purported gang leader Chen Chi-li, along with Vice Admiral Wang Hsi-ling, director of the Military Intelligence Bureau, were implicated in planning the hit. An uproar ensued, and the US sent FBI agents to Taiwan to investigate.
"We have been on the right side since the ROC and the US severed relations, but in the Liu case we are unfortunately not in the right, making dealing with it more difficult and painful. Nevertheless, we shall take responsibility for handling the case to help secure national interests," said Chiang Ching-kuo to fellow KMT party members.
Shortly thereafter, the story of the first financial scandal in Taiwan's history, the Tenth Credit Cooperative scandal, broke wide open. The Tenth Credit Cooperative had over 70,000 savings account holders, whose combined savings exceeded NT$15 billion, making it Taiwan's largest credit cooperative.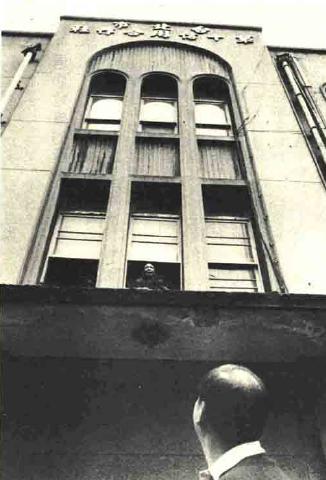 The Tenth Credit Cooperative was Taiwan's largest credit cooperative (Source: CW archives)
Board Chairman Tsai Chen-chou, also a legislator, illegally diverted NT$7.8 billion in savings, leading to a rush by TCC account holders, as well as those of the Tsai family-run Cathay Trust, to cash out over NT$10 billion in savings. This triggered a severe crisis of public trust in financial institutions, and led to the resignations of Minister of Economic Affairs Hsu Li-teh, Minister of Finance Lu Run-kang,
KMT secretary-general Chiang Yen-shih, and KMT Taipei municipal party chairman John Kuan.

Rickety KMT Machine
The Tenth Credit Cooperative and Henry Liu murder scandals heightened Chiang Ching-kuo's awareness that screws had become loose on the KMT's rattling party machine. The KMT convened the Twelfth Party Congress of its Third Central Committee in late March of 1986, at which Chiang Ching-kuo demanded that reform of the party's affairs should drive overall political reform.
At his direction, a 12-member ad hoc committee was formed to discuss six major reform initiatives, including congressional reform, lifting martial law, permitting the formation of opposition parties, local self-government, and party reform. With Yen Chia-kan as the convener and Lee Teng-hui as deputy convener, the committee subsequently added potentially permitting Taiwan residents to visit relatives in China to the topics for discussion.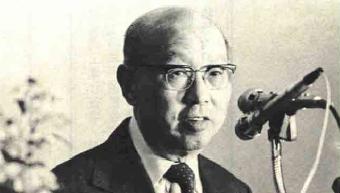 Yen Chia-kan, convener of the 12-member ad hoc committee (Source: CW archives)
Speaking through the international media, Chiang Ching-kuo signalled his determination to lift martial law in Taiwan over the short term. However, this was met with opposition from several senior military figures, who argued that lifting martial law would be premature.
In Interviews with Mr. Chiang Ching-kuo's Aides-de-Camp and Subordinates, former Chiang aide Ko Kuang-yueh revealed that an ailing Chiang Ching-kuo paid four visits over a short period to a senior general in the effort to convince him to support the lifting of martial law.
Each time he approached the entrance to the general's home, Chiang would get up from his wheelchair and walk under his own power, insisting that no one help support him. Then, after making his way to the living room, he would sit down with a thud, and proceed with his attempts to convince the general to come around to his side.
In addition to considerable impediments to reform at home in Taiwan, the Beijing regime frequently complicated matters through its actions. In September 1985, Prime Minister Lee Kuan Yew of Singapore traveled to Beijing to meet Deng Xiaoping. Knowing that Lee was close friends with Chiang Ching-kuo, Deng Xiaoping asked him to send his regards the next time the two met, and expressed his desire to work with Chiang Ching-kuo.
After all, once upon a time the two had been classmates in Moscow. The next month, Lee Kuan Yew flew to Taipei, where he conveyed Deng's message to Chiang in person, who listened intently and said nothing in response. Back in 1926, nearly 60 years earlier, the 22 year-old Deng Xiaoping had arrived in Moscow to study at Sun Yat-sen University, becoming classmates with 16 year-old Chiang Ching-kuo.
Both diminutive in stature, the two young men took frequent walks along the Moscow River, during which Chiang Ching-kuo enjoyed listening to the older Deng recount his experiences in Paris. Deng even wrote about some of his experiences working in France, giving them to Chiang for inclusion in Red Wall, a publication for which Chiang worked as an editor. Deng returned to China one year later, while Chiang Ching-kuo ended up staying in the Soviet Union for a dozen years.
On 19 December 1984 Chinese Prime Minister Zhao Ziyang met with British Prime Minister Margaret Thatcher in Beijing, where they formally signed the Sino-British Joint Declaration on Hong Kong, stating that Hong Kong would be handed back to China on 1 July 1997 as a Special Administrative Region, and that under the "one country, two systems" principle, the PRC government would refrain from instituting a socialist system, preserving Hong Kong's capitalist system and lifestyle unchanged for the next 50 years.
The Joint Declaration exemplified Deng Xiaoping's "one country, two systems" policy, and helped further consolidate Deng's status in the party. As for the target of the "one country, two systems" policy, it was ultimately aimed at Taiwan.
Democratization, Taiwanization, Economic Prosperity, Opening to China
Not long after his meeting with Lee Kuan Yew, Chiang Ching-kuo sat down with US National Security Adviser Ramsey Clark, stating: "Beijing's current tactic is to force peace through threats of force. If we agree to negotiate with them it would be akin to sowing our own destruction. We have two fundamental positions: outwardly, we stand forever with the United States; and internally, we uphold the implementation of democratic constitutional government. We will never change these two fundamental principles."
James R. Lilley, who had served as US Ambassador to South Korea and China, as well as director of the quasi-official American Institute in Taiwan (AIT), recalled that prior to assuming the directorship of AIT in January 1982, Chiang Ching-kuo communicated through an emissary the four pillars of his government's reform plan for Taiwan, namely democratization, localization, continued economic prosperity, and opening up to China.
Chiang Ching-kuo believed that Taiwan must work to become a political and economic model as the basis for maintaining autonomy and independence in its relations with the PRC.
Chiang Ching-kuo understood well that, whether for the sake of the "Republic of China on Taiwan" or "the Three Principles of the People Unite China," developing the economy and promoting democracy were the most potent counterbalances for competing with the Chinese Communist Party.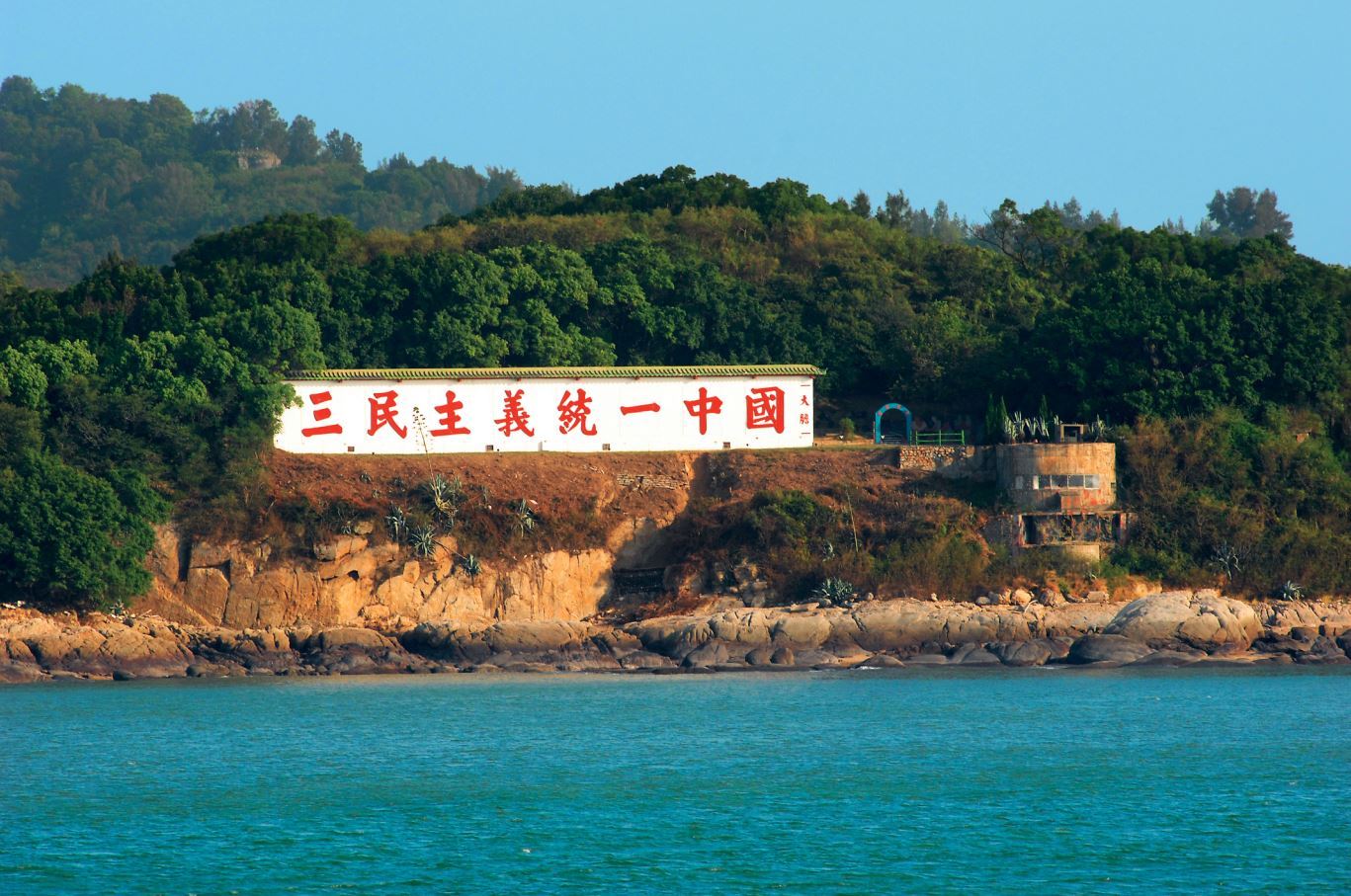 A signboard of the slogan "Three Principles of the People Unite China" (Source: CW archives)
Taiwan was under pressure from across the strait, and even more so from across the Pacific. As the new wave of globalization swept the world in 1980, Britain's first female prime minister, Margaret Thatcher, joined former actor Ronald Reagan to promote a neoliberal agenda on both sides of the Atlantic. Under their program, "liberalization, privatization, opening, and deregulation" became popular buzzwords, as well as the guiding principles according to which Uncle Sam formulated policy for application both within the neoliberal camp and with other nations.
In the effort to close a widening trade deficit, the United States amended its regulations governing trade tariffs, replacing emphasis on "free trade" with "fair trade," and putting Taiwan squarely within the crosshairs of the "Super 301" trade bill and suspension of its GSP (Generalized System of Preferences) towards Taiwan. (Read: From GATT to WTO, Taiwan's Global Chess Match)
Under the gun from the threat of revised US trade law, Chiang Ching-kuo directed the Executive Yuan under Yu Kuo-hwa's leadership to push forward "economic liberalization, globalization, and systemization."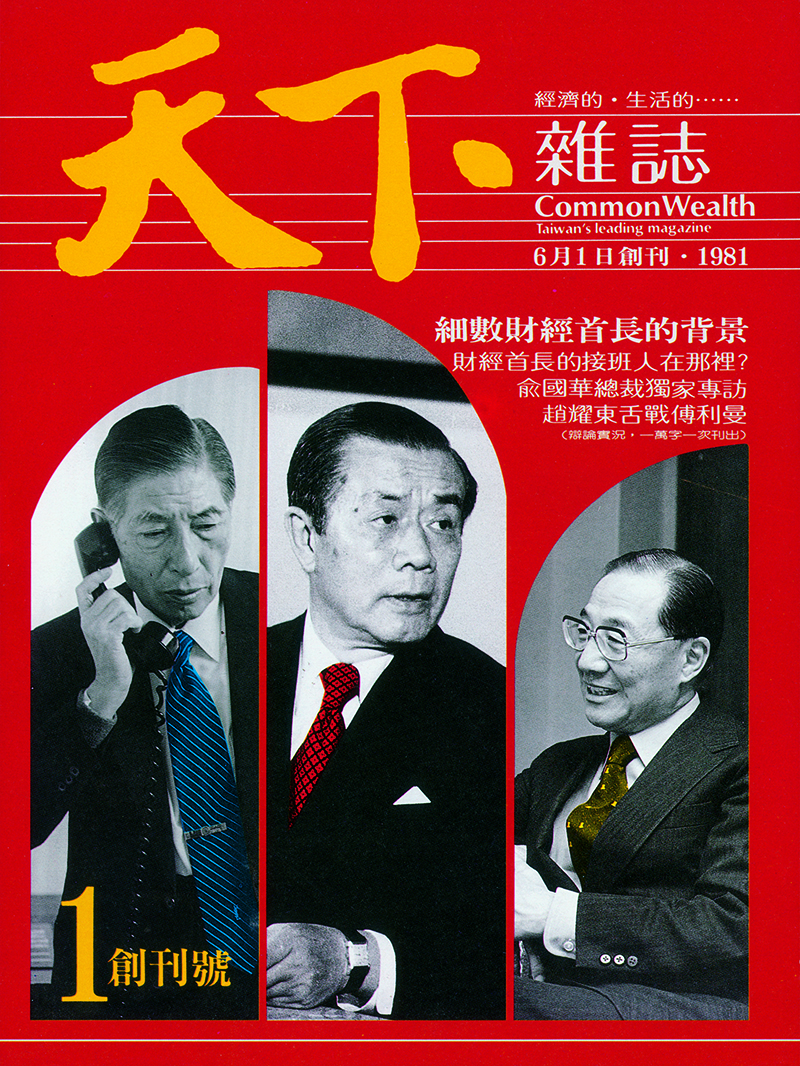 The first issue of CommonWealth Magazine, published in 1981, with former Finance Minister Li Kwoh-ting (left), former Economic Minister Sun Yun-sua, and Central Bank CEO Yu Kuo-hwa (right) on the cover
In 1986 Taiwan entered trade negotiations with the United States, covering such topics as opening Taiwan to tobacco and alcohol imports, opening up the banking and insurance markets, lowering import tariffs on agricultural products, restrictions on machinery exports to the US, and the demand that Taiwan allow the appreciation of its currency, the New Taiwan Dollar. Chiang Ching-kuo had various reservations about assorted reforms.
As Wang Shao-yu, former vice chairman of the Kuomintang's Finance Committee, recalled, adviser Li Kwoh-ting - considered the architect of Taiwan's "economic miracle" - long advocated for the privatization of Taiwanese banks, believing that more government interference made it more difficult for banks to conduct business. (Read: Chronicling a 20-Year Decline)
This was especially true for the three banks under provincial government control, in which provincial assemblymen meddled extensively. Chiang Ching-kuo subsequently told Li Kwoh-ting that he was not opposed to permitting the privatization of publically-run banks, but that he was afraid they would fall into the hands of conglomerates.
Under pressure from the US to open its doors, Taiwan was forced to rescind or lower various tariffs and other trade protections, dropping tariffs on 7079 items between 1985 and 1988. In 1988, under the threat of the Special 301 trade bill, the United States demanded that Taiwan allow the import of turkey meat, prompting poultry farmers to take to the streets of Taiwan in protest.
Dressed in a suit and tie, Vincent Siew, director-general of the Bureau of Foreign Trade and Taiwan's chief negotiator at the trade talks, was pelted with eggs by the protestors.
At the same time, the New Taiwan Dollar currency was forced to appreciate by around 50 percent in value between 1987 and 1989, leading to an influx of hot money in the stock market and real estate markets, and worsening the domestic production environment.
Economic liberalization and the tide of globalization sparked calls around the world for democratization and reform. In 1985, 54 year-old Mikhail Gorbachev was seated in the Kremlin as the leader of the Soviet Union. His policies of glasnost (opening) and perestroika (restructuring) helped pave the way for the end of the Cold War.
Meanwhile, a popular revolution in the Philippines made the country the first in Asia to follow the third wave of democratization. When former President Ferdinand Marcos fled to Hawaii on 26 February 1986, Corazon Aquino succeeded the disgraced dictator, becoming Asia's first female president on the wings of the People Power Revolution.
Three years before, her husband, Senator Benigno Aquino, was assassinated at the airport upon his return from exile in the United States, immediately upon landing in Manila after a two-night stopover at the Taipei Grand Hotel. Aquino's assassination pulled the Philippines' opposition forces together to oust Marcos's dictatorial kleptocracy after 20 years in power.

The DPP's Formation
On September 28 of the same year, the 1986 Dang Wai Election Support Committee held a nomination congress, coincidentally also at the Taipei Grand Hotel.
When the congress commenced at 9:20 AM, Frank Hsieh and Yu Ching - members of the 10-person committee for the formation of a new opposition party - suddenly proposed a motion to revise the agenda to discuss the party's immediate formation. Just then, a petition was passed around from the front of the room.
"Those willing to be founding party members, sign the petition," called a voice over a microphone. In short order 132 people had signed the petition, nominating the well-regarded Fei Hsi-ping to preside over the day's proceedings as chairman.
When the session resumed in the afternoon, Frank Hsieh suggested the organization's name be the "Democratic Progressive Party," as it avoided the use of the terms "China" and "Taiwan," thereby preventing unnecessary conflicts of identity between those born in China and Taiwan.
One of the congregants suggested organizing a "Taiwan Democratic Party" with Hsu Hsin-liang, who had formed a party overseas; and someone even suggested reviving the name Lei Chen gave his "China Democratic Party." Ultimately, Hsieh's suggestion won out, and Democratic Progressive Party was chosen as the party's name.
Having determined the party's name, Fei Hsi-ping appointed seven members of the party formation task force. With everything in order, at 6:05 PM Fei declared, "the Democratic Progressive Party has been established!" Yet the mood among those gathered remained tense, not knowing whether the Kuomintang would launch reprisals at next light.
Wang Chia-hua, who directed the Presidential Office Department of Special Affairs, recalls breaking the news of the DPP's formation to Chiang Ching-kuo in his bedroom. After listening to the briefing, Chiang remained silent for quite some time before directing Wang to summon certain concerned individuals to a meeting the next day.
Although certain hardliners wanted something to be done, others opined that no actions should be taken until a better assessment of the situation could be made. Finally, after listening to everyone speak, Chiang Ching-kuo said, "The times, environment and the tides are changing… acting even the slightest bit rashly could throw everything into chaos."
Among Third Wave democratizing countries, the relative restraint of both those in power and the opposition movement prevented Taiwan from swinging to either extreme, and move steadily towards democracy and openness with relatively few hiccups.
Just three months after its formation, 23 of 44 DPP nominees won seats in the year-end supplemental National Assembly election of 1986 to become a bona fide opposition force to be reckoned with.
Just three days after the election in Taiwan, students in the Chinese city of Hefei, the capital of Anhui Province, took to the streets shouting slogans including "we want democracy!" and "there can be no modernization without democracy!" This soon blossomed into a full-fledged student movement in 17 Chinese cities, including Wuhan, Shanghai, Beijing, Nanjing, and Tianjin.
Beijing met the protests with strict crackdowns, and Hu Yaobang, General Secretary of the Chinese Communist Party (CCP), was forced to resign for "mistakes on major issues of political policy."
South Korea Holds First Direct Presidential Election
China's students failed in their efforts to achieve democracy, but South Korea's democracy movement helped give birth to a popularly elected government.
In early June of 1987, the death of a student struck on the head by a tear gas canister fired by riot police in Seoul caused outrage nationwide. Koreans took to the street en masse, with millions calling for constitutional amendments. Clashes on the streets of Seoul were so severe that the New York Times described the city as a "war zone."
Concerned by the unrest, the International Olympic Committee threatened to revoke Seoul's 1988 Summer Olympics hosting rights, forcing the military government of Chun Doo-hwan to fall into line.
On 29 June 1987 President Chun Doo-hwan's hand-picked successor and presidential candidate, Roh Tae-woo, made a watershed speech outlining various reforms going forward. Officially titled the Special Declaration for Grand National Harmony and Progress Towards a Great Nation, and subsequently known simply as the "June 29 Declaration," it outlined eight points for reform, including granting amnesty to all political dissidents, holding a referendum to amend the constitution, and conducting the direct election of the president. On December 19 of that year, Roh became the first popularly elected president of South Korea. (Read: Korea's Economic Model: Leaving Taiwan in the Dust, at a Price)
The mantle of the democracy movement across Asia was passed onto Taiwan, and at 6:00 PM on the evening of July 14, with over 200 members of the Taiwanese and foreign press crowding into the meeting room at the Government Information Office (GIO), GIO Minister Shaw Yu-ming made the following announcement: "By presidential order, it is hereby announced that martial law will be lifted across the Taiwan region effective at midnight local time on 15 July 1987."
With this, following 38 years and 56 days, martial law was lifted from Taiwan. It was accompanied by a series of liberalization policies, including, lifting the ban on the formation of political parties, deregulation of foreign currencies, relaxation of travel to visit relatives in China, and the lifting of restrictions on newspapers, setting Taiwan well on its way toward becoming a free and open society.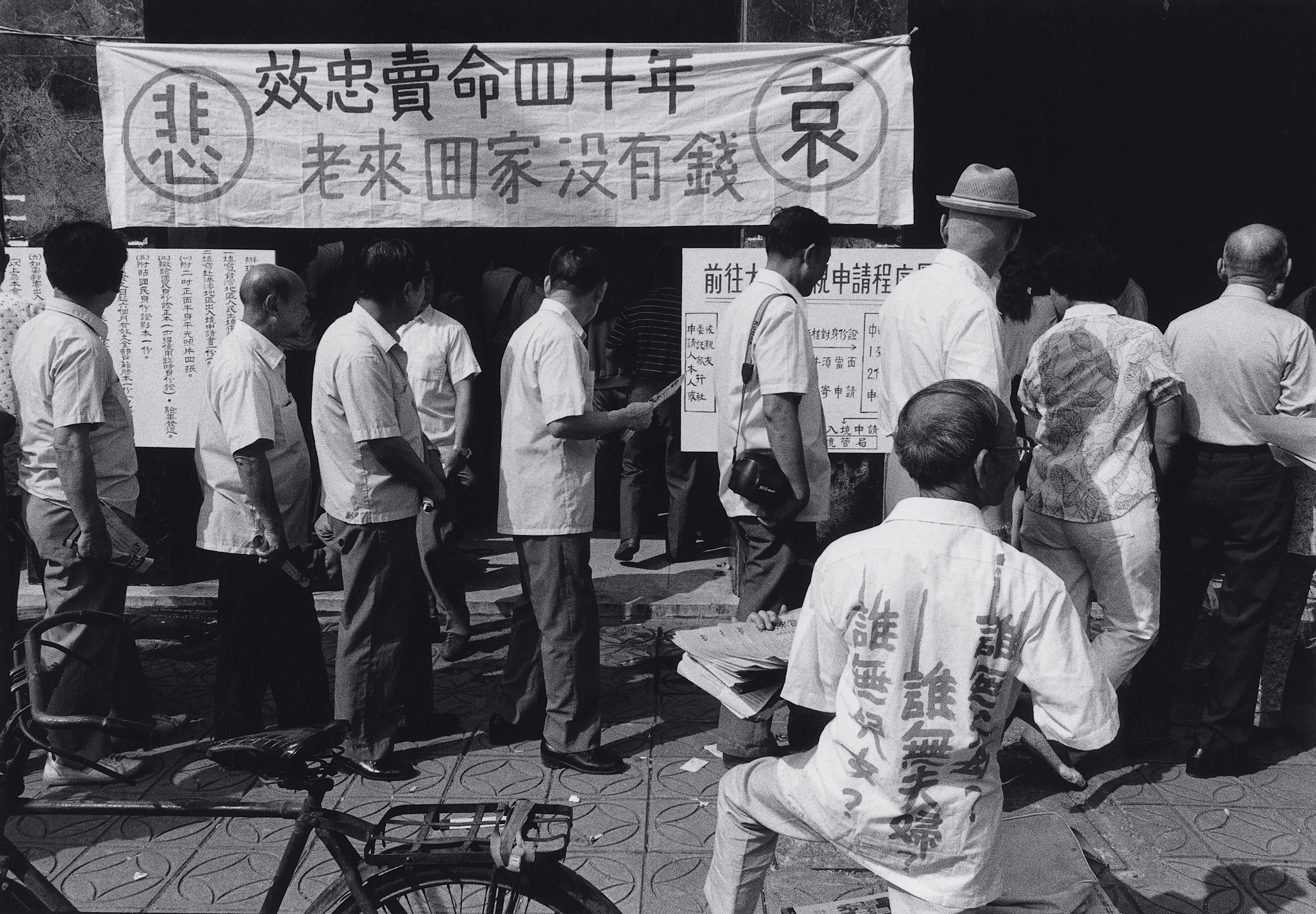 Taiwan residents lining up to apply for visiting relatives in China (Source: CW archives)
Shortly thereafter, on 27 July 1987 Chiang Ching-kuo had 20 influential veteran local figures over for tea, including Chen Chi-ching, Tsai Hung-wen, and Wu Hsiu-chi. Among his remarks, Chiang told those gathered, "I have lived in Taiwan for 40 years, so I suppose I can be considered Taiwanese."
James Soong recounts how Chiang Ching-kuo once told him of his lifelong love for Taiwan, having tread over nearly every inch of the land, and joking that he would be amply qualified to become a tour guide in his retirement.
Lee Teng-hui similarly describes Chiang Ching-kuo's concern over the cost of daily necessities, and that each day when he arrived at work Chiang would already have a table on his desk with the latest prices of such daily necessities as vegetables, rice, and pork, compiled in person at the produce market by a presidential office Protocol Department staff member.
"Politically, to progress toward freedom, democracy, and the rule of law, and economically to pursue wealth equality, prosperity, and plenty; working in concert with one heart and one mind to establish a peaceful, happy, egalitarian modern society." These were the words Chiang Ching-kuo used in his final National Day address to describe the ideal Taiwan he sought to establish.
Translated by David Toman
Edited by Sharon Tseng
---
The original article is a sneak-peek extract from the following book, which will be published by CommonWealth Magazine on Dec. 25, 2018. Find more excerpts in From Constitutional Reform to Democracy and How the '1992 Consensus' Colors Taiwan's Fate.