Cars of the Future
The Taiwan IT Sector's Next Act
精華簡文
Source:CW
Automotive electronics represent the IT sector's next major growth engine and an opportunity for Taiwan to transform itself. It's no wonder, then, that Taiwan's tech players are eager to find ways into the global automotive supply chain.
The Taiwan IT Sector's Next Act
By Elaine Huang, Kuo-chen Lu, Shu-ren Koo
From CommonWealth Magazine (vol. 574 )


Ask most information technology companies what the next hot product is, and they'll sketch the car of the future: a car highly connected to the Internet. What they really have in mind though is a big, mobile smartphone.

In May, Kirk Yang, managing director and head of Asia ex-Japan Tech Hardware Research at Barclays Capital, issued a more than 100-page report called "Smart Tech for Smart Cars – The auto electronics opportunities" that foresaw the car industry moving toward "IT-ization."

"The IT-ization of the auto industry is beginning to blur the lines between autos and consumer electronics and is creating opportunities for non-traditional auto players," Yang wrote in the report.

"The IT-ization of the auto industry means more electronics per car, and should make this the next tech industry catalyst after the established 3Cs of computers, communications, and consumer electronics," he added.

To the IT kingdom of Taiwan, this represents a golden opportunity.

"The car industry is one of the biggest in the world. If you can grab a 3 percent share, that would be huge," said Acer founder Stan Shih at a summit on the Internet of Things in Berlin in April.
Terry Gou: The 'Catfish' of the Electric Car World
Shih's thinking captured the mindset of Taiwan's IT operators. Their assault on the automotive supply chain of the future resembles a collective action based on a high degree of consensus and is catching on like wildfire in the country's IT circles.
On May 26 at the 2015 Big Data Expo in Guiyang, Terry Gou, whose Hon Hai Precision Industry Inc. is the world's biggest contract electronics manufacturer, declared, "I want to become the catfish of the electric car world," referring to a species known for potentially destroying entire ecosystems.
In his speech, Kou presented to an audience comprised mostly of guests from China and Taiwan the results of Hon Hai's efforts to build a smart car network. The company, also known by its trade name Foxconn, has made major inroads into the supply chain of world electric car leader Tesla, providing it with lighter metal for car shells, the base for electric car battery boxes, and displays for cars.
But Hon Hai has gone beyond providing components to the industry. In June 2014, it teamed up with China's biggest electric car manufacturer, Beijing Electric Vehicle Co., Ltd. (BAIC BJEV), on a joint venture called Beijing Hengyu Electronic Vehicle Services Co. that has already emerged as China's biggest EV leasing company.
IT Operators: A Chance for Transformation
Hon Hai, which had consolidated revenues of NT$4.21 trillion in 2014, is hoping for annual sales of NT$10 trillion within five years. A key to achieving the goal is following its biggest customer Apple in pursuing smart cars. Gou's ambition rides on having a presence throughout the supply chain, from manufacturing to distribution and services.
As the world's largest provider of electronics manufacturing services, Hon Hai intends to break into the conservative, often impenetrable car industry, acting as "catfish" disrupting the order of the sector's supply chain.
Chris Hung, a research manager and senior industry analyst at the Market Intelligence & Consulting Institute under Taiwan's Institute for Information Industry, heads to the United States every year to attend the Consumer Electronics Show and follow the latest trends. Over the past three years, he has noticed smart cars emerging as the hot commodity, overtaking personal computers, the fast-growing smartphone category and tablet computers, which are poised for a decline this year.
"The IT sector is working hard to transform itself, but where will it turn to?" Hung asks. The answer, he suggests, may be the two core technologies for the cars of the future – smart innovation and mobile communications technology. Both are strengths of Taiwan's IT sector but not of the global automotive sector.
"Cars in the past were like isolated islands. Today, they can no longer exist in a closed environment. They need to open up. This is the chance for Taiwan's IT companies," Hung says.
Unlike ambitious Hon Hai, which seems to want to do everything in the supply chain, most Taiwanese IT operators have adopted a more conservative strategy of "encircling cities from rural areas" to gain a foothold in the sector. They hope to make their mark by providing smart devices and integrated vehicle systems that do not affect a car's core power system.
Hot Commodities: Intelligent Vehicle Systems
The "Wish" model car being assembled at Kuozui Motors' factory in Guanyin in northern Taiwan is Toyota's best-selling model in the domestic car market. The car's main information and entertainment system, equipped with navigational and weather functions, is being carefully installed in the cars on the production line.
What catches one's attention is that the hardware package includes a tablet computer that can be detached from the main unit. A closer look reveals the tablet to be a second-generation Nexus 7, a product co-developed by Asustek Computer and Google.
The detachable tablet means that car owners can simply update navigational aids or personal music databases on their own without having to take the car into the shop.
This intelligent vehicle system, the only one in Taiwan with a detachable tablet, is the brainchild of AsusTek subsidiary UniMax Electronics Inc.
Many other high-tech stalwarts in Taiwan are also eyeing the intelligent vehicle system business, including Lite-On Technology Corp., Quanta Computer Inc. subsidiary Quanta Storage Inc., Royaltek Co., Ltd., and Acer Cloud. Even companies that penetrated automotive supply chains early on, such as Garmin Taiwan and E-lead Electronic Co., Ltd., are vying for a share of this market.
"Automotive infotainment (e.g. navigation, entertainment and traffic detection systems) has increasingly become a standard requirement for mainstream auto consumers," Barclay's Yang wrote in his report, adding that autos, smart devices and the Internet are being integrated to a higher degree than ever before.
A Market with Huge Potential
Asustek felt so strongly about the automotive electronics market that the company's vice chairman, Jonathan Tsang, deployed 18-year Asustek veteran and multimedia business unit general manager Kent Chien to head UniMax's operations.
The growth potential of smart cars has given Chien the sense of launching a new business. He now has the chance to extend mature electronics technologies, such as video software, graphics cards and motion-sensing technology to intelligent vehicle systems and make cars more "intelligent."
The trend represents a shock to the automotive industry, which has been notoriously slow and conservative in introducing IT products, to the point that it only completely eliminated outdated radio cassette players last year.
"Last year I obtained information indicating that automotive IT products had a penetration rate of only 3 percent. That means out of every 100 cars, only three have Internet of Vehicles or information communications functions. The market's potential is huge," Chien says.
Chien found little interest when he tried to pitch car companies on IT products more than two years ago, but that changed last year when smart cars suddenly emerged as a hot topic. UniMax worked with Hotai Motor Co., Toyota's authorized distributor, to launch the new Toyota Intelligent System that can now be found in the Toyota Wish, the Toyota 86 sports car and the hybrid Prius.
"We only had the chance to go after other car vendors once we had the Hotai partnership under our belt," Chien says.
But each car vendor's products are highly customized, according to E-lead section chief Ko Mao-chuan.
"The vehicle's information package and the car's design are closely related. There's no way to develop a 'universal' system, unlike smartphones that have a common version. Just the dashboards alone of every car brand are different," Ko says.
Trying to secure footholds in automotive supply chains has also been a new culture shock for Taiwan's high-tech operators.
Navigation device specialist Garmin has worked with the car industry for 10 decades, and its Taiwan branch sells more than the small GPS devices commonly seen on car dashboards. At Garmin Taiwan's plant in Linkou, Taiwan-made multifunctional vehicle systems roll off the production line.
New Competitors Emerge in Brewing War
Jay Shen, director of automotive OEM and mobile applications for Garmin in the Asia-Pacific region, had recently rushed back from a consumer electronics show in Shanghai to attend Computex Taipei, the second biggest computer show in the world.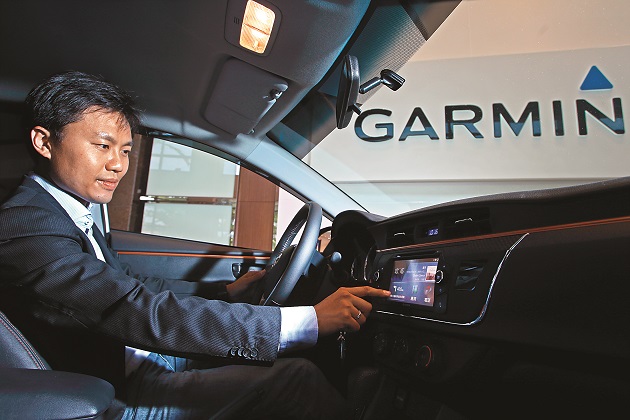 Garmin executive Jay Shen says IT companies face challenges in getting into car industry supply chains, both in terms of communicating and adapting to a different culture.
"You can see our navigational devices in C-Class and E-Class series Mercedes-Benz cars around the world. Our contract with them goes until 2020," says Shen, who is wearing Garmin's NT$20,000 smartwatch that is currently in short supply. He explains that once you get into a car maker's supply chain, it is hard to be replaced, a trait that Taiwan's high-tech companies find particularly attractive.
But Shen, who is in constant contact with car customers, also admits that the industry's culture can be a shock.
"First, Taiwan's IT companies need to realize that their competitors could be different from those they usually face," he explains. In Garmin's case, its competitors in the GPS car navigation device aftermarket are Mio, Papago and other Taiwanese brands. But in the original equipment market for vehicle systems, big multinationals such as Bosch of Germany and Denso of Japan have emerged as some of Garmin's biggest rivals.
Even more important, every component and function of an intelligent vehicle system must be fully compatible with the signals from other components in the car.
"You are no longer just making an individual component. You're making an automobile sub-system, which means you have to cooperate with other vendors in the supply chain," Shen says, explaining why communications are much more complicated in the car industry.
Yet cross-industry cooperation is destined to become a common feature of the automotive sector of the future, even with the challenges.
A New Mind-set for a New World
Taiwan's biggest telecom operator, Chunghwa Telecom Co., has begun working with the automobile industry for the first time, though taking a very cautious approach.
At a routine morning meeting in May, Lin Kuo-feng, the president of Chunghwa Telecom's mobile business group, asked his subordinates to visit Hotai Motor showrooms as "mystery shoppers."
"(I wanted them) to better understand and study how salesmen sell cars to customers and how customers react to smart car services," Lin says in explaining why he gave the order.
Lin joked that teaming up with UniMax and Hotai Motor on an intelligent vehicle system was liked getting involved in a business with "aliens."
"The car vendors, sales channels and user mindsets were totally different than in the communications sector," he admitted. With smart cars just getting started, everybody is trying to get a feel for cooperative models, and consumers need to be educated, Lin realized.
Having a Voice in Smart Car Standards
From a broader perspective, the business models and technical standards for smart cars are still being developed, creating a good opportunity for Taiwanese suppliers to participate in setting new industry norms.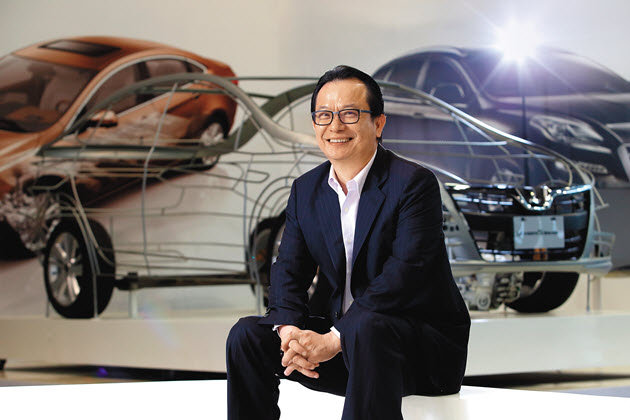 Yulon Group Chief Operating Officer Chen Kuo-rong sees the cars of the future as mobile value chains rather than simply transportation tools.
"In the past, Taiwanese vendors were simply followers of international standards. Now, with technical standards in international markets yet to be determined, we can stake our claim (in the process)," says James Wang, the general director of the Office of Strategy and R&D Planning at the Industrial Technology Research Institute (ITRI).
"But Taiwanese companies must first have their own technology if they expect to convince others to use our components."
Wang says that when car makers develop a new technology, they will generally seek out a major systems solution provider that then looks for components makers. The process is similar to ITRI's search for Taiwanese component makers willing to develop new technologies that it then takes overseas to test, helping Taiwanese vendors work their way into the supply chains of international systems solution providers.
The smart car wave has arrived. If Taiwan's high-tech sector hopes to reach the crest of that wave and remain on top, it will have to rely on its IT prowess and even more importantly, develop a "car mindset."
Translated from the Chinese by Luke Sabatier