Nojima Tsuyoshi
Opinion: Taiwanese Drivers Turn Streets into Warzone
精華簡文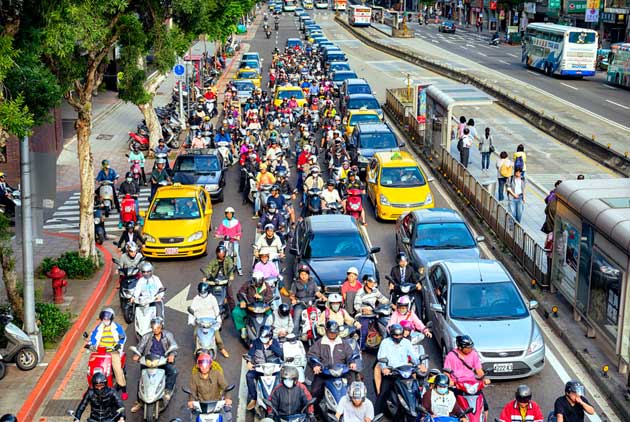 Source:Shutterstock
Famed Japanese journalist and writer Nojima Tsuyoshi describes Taiwanese roads as similar to Japan in the 1970s: no better than a battlefield.
Opinion: Taiwanese Drivers Turn Streets into Warzone
By Nojima Tsuyoshi
web only


In September of 2017, Hiroyuki Nakagawa, head of Japanese newspaper Nishinippon Shimbun Co.'s Taipei office, died after being hit by a taxi while crossing Zhongshan North Road in the middle of the night. Of all the foreign journalists stationed in Taiwan, Nakagawa was famous for his love of this country, travelling all over the island in search of news stories. His sudden death was a terrible tragedy.

Nakagawa was not using a crosswalk when he was hit; he was jaywalking, and so ultimately he's responsible for his own death. Putting this aside, statistics show two to three thousand people die of traffic accidents in Taiwan every year. Nakagawa was just one of many.

According to the Tokyo Metropolitan Police Department, just 3,694 people died of traffic accidents in Japan in 2017, a record low since the end of World War Two. This is just 20% of the number of casualties in 1970, when 16,000 people died and Japanese streets were described as a warzone. During that period, private automobiles became popular and young "bōsōzoku" (Japanese biker gangs) used the roads as racetracks, plunging Japan into a dark age reminiscent of the fictional world of "Mad Max."

Japanese police and schools threw themselves into solving this problem. In the nearly half-century that followed, they updated traffic policies and educated the public. I was in primary school at the time, and I remember our principal telling us during the school's morning meeting to "be careful out there, the streets are a lion's den." On the way to and from school every day, concerned parents took turns being crossing guards at busy intersections to protect the children.

Japan has roughly 5.5 times the population of Taiwan. Do the math and you'll see Taiwan's traffic-related death rate is much higher than Japan. Taiwanese roads are like Japan's in the 1970s—warzones. Why is that? Officials and experts have their opinions; I'm just an outsider who has no right to offer any policy advice. Simply as a pedestrian, I feel Taiwanese drivers are more arrogant than drivers from Japan or any other country.
For instance: though this is inadvisable behavior, lots of Japanese pedestrians look at their phones while crossing the street, something that few Taiwanese dare to do. This is because it is fatally dangerous in Taiwan, but not that risky in Japan. It's a matter of automobiles yielding to pedestrians: people are more important than cars in Japan, but in Taiwan it is as if cars were one step higher on the social ladder.
I never use my phone when crossing the street in Taiwan. Automobiles and motorcycles are very disrespectful of pedestrians. They are rude and obtrude on your personal space, forcing you to give way. I once turned to glare at such a driver; he retaliated by leaning on his horn. In Japan, a driver knows he is in the wrong when a pedestrian expresses anger.
Maybe Taiwanese drivers are arrogant because they grossly misunderstand the concept of "right of way." Roads are not built for automobiles; they are built for people. A car is just a way to get people around faster. But Taiwanese drivers seem to think roads were built expressly for cars. This is a sad misconception.
People drive, ride bicycles and motorcycles, or they walk. Of all these ways to get around, the human body is the most fragile vehicle. A car made of solid metal should naturally give way to fragile humans on the road. It is the basic concept of chivalry—that the strong should be humble and protect the weak.
Taiwanese society is orderly, respectful, and generally holds enlightened views on life and human rights. It is a shame that Taiwanese traffic is lagging so far behind, stuck in a corrupt, bygone age. I sincerely hope Taiwanese drivers can remember three words: "humility, humility, humility." This mantra may decrease traffic fatalities and improve the reputation of Taiwanese traffic.
The views and opinions expressed in this article are those of the author and do not necessarily reflect those of Commonwealth Magazine.
Translated by Jack C.
Edited by Sharon Tseng