U.S.-China Trade War
Eye on Vietnam, The New Electronics Manufacturing Hub
精華簡文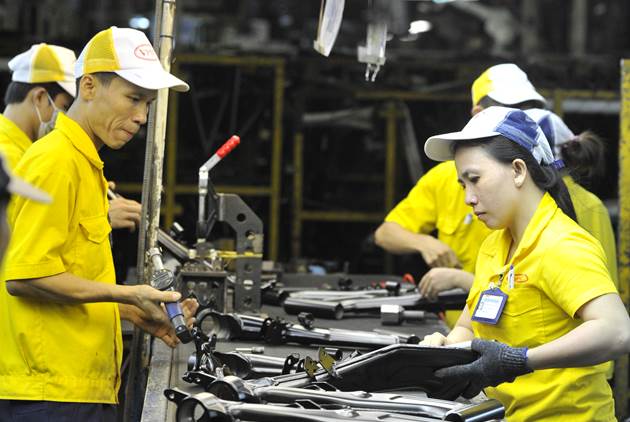 Source:Kuo-Tai Liu
Major electronics makers are desperately seeking new production bases as the U.S.-China trade war shows no signs of abating. For many, Vietnam is the top choice, with a powerful electronics cluster taking shape in the northern part of the country. We went there to find how what's happening.  
Eye on Vietnam, The New Electronics Manufacturing Hub
By Elaine Huang
CommonWealth Magazine


At the beginning of 2007, not long after Vietnam gained accession to the World Trade Organization, Hon Hai Precision Industry (Foxconn) Chairman Terry Gou set out from his factory in Shenzhen and drove through Nanning in the Guangxi Autonomous Region to Hanoi in Vietnam. (Read: Terry Gou's Secret Bases)

He wanted to get a firsthand look at a possible cross-border transportation route in anticipation of setting up a Hon Hai assembly line in northern Vietnam, where wages were less than a third of those in Shenzhen. The factory there would be fed parts and components from the company's plants in Guangdong and Guangxi provinces.

At the time, Gou realized that, with the drive from his plant in Shenzhen to Nanning taking 13 hours and the 300-kilometer drive from Nanning to Hanoi taking only six to eight hours, he could ship goods from the Shenzhen facility in the evening and have them in Bac Ninh just west of Hanoi the next morning, ready to be processed.

One person familiar with Hon Hai's operations described Gou's thinking behind the strategic move and why he opted against southern Vietnam, where most Taiwanese were investing at the time, saying,
"If it had been southern Vietnam, which was much farther away from China's supply chain, the timing of the shipments would not have worked."
Consequently, Hon Hai bought more than 400 hectares of land in Bac Ninh that included space in the future for upstream suppliers in the supply chain. The company's plans to build a new facility there were temporarily derailed, however, when the global financial crisis undermined the world economy in late 2008.
Twelve years later, though the United States and China have reached a temporary ceasefire in their trade war, Taiwanese electronics manufacturers continue with plans to shift production out of China to avoid punitive American import duties, worried about lingering uncertainty over U.S.-China relations. (Read: Terry Gou's U.S. Gambit: The Eagle Has Taken Off)
As a result, the electronics connection envisioned by Gou more than a decade ago has blossomed.

Hon Hai now has three factories in the northern Vietnam provinces of Bac Ninh and Bac Giang, and leading notebook assembler Compal Electronics is planning to re-launch its facility in Vinh Phuc province, northwest of Hanoi.
Many other businesses and investors have flocked to northern Vietnam over the past three to four months, scouting the area.
One of those that moved in was communications equipment company Wistron NeWeb Corp., which quietly rented a factory from Taiwanese company Mitac Precision Technology Corporation in the Kinh Bac City industrial park in Bac Ninh.
"When you make products for American brands, if you deliver one to two months late, it will affect distribution in the market. Those who were in a rush decided to rent factory space to meet production needs, because buying land, building a plant and ramping up production takes at least a year. They would not have made it in time," says the general manager of a Taiwanese company that has set up a factory there.
We followed the same route Terry Gou did in 2007, starting from Nanning to experience this new electronics industry artery firsthand and get an understanding of the speed, scale and sustainability of this latest Taiwanese migration tide.
Scene 1: Nanning to Friendship Pass in Pingxiang
Core Hub of the China-Vietnam Electronics Artery
Our vehicle left from Nanning and got on the flat and wide Nanyou Expressway, the major roadway heading toward the major border crossing near Pingxiang.
During the trip, we saw one 45-foot container truck after another scream by a "One Belt One Road" banner.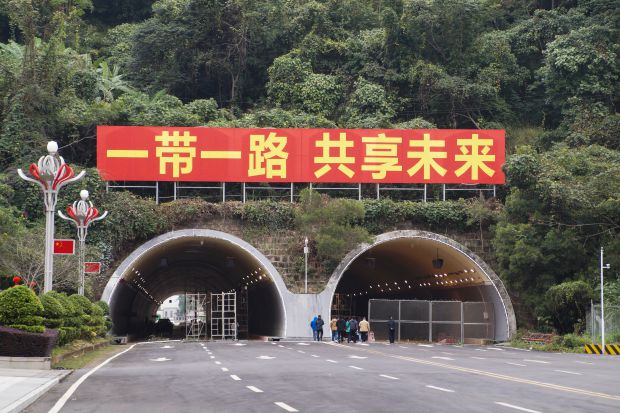 It took less than three hours to reach the China-Vietnam border – the Friendship Pass in Pingxiang – and line up for immigration and customs procedures to enter Vietnam. Pingxiang is the hub of this 300-kilometer-long electronics artery.
All of the parts and components produced in China's main electronics clusters in Chongqing, Chengdu, and the Yangtze and Pearl River deltas have to pass through here before being delivered to industrial parks in Bac Ninh, Bac Giang and Vinh Phuc about 150 kilometers away to be processed.
"Of all the land bordering checkpoints in China, Pingxiang has the biggest volume of electronics products passing through. Eight hundred cargo trucks a day deliver components to Vietnam, with each container carrying tens of millions of renminbi worth of parts," says Catch Cheng, the 31-year-old vice general manager of logistics company Guangxi Greating Fortune International Cooperation Logis Co., Ltd.
He has promised one of his customers – Samsung – that components manufactured in the Kunshan area near Shanghai will arrive at Samsung's factories in Bac Ninh and Bac Giang in "72 hours, without fail," he says.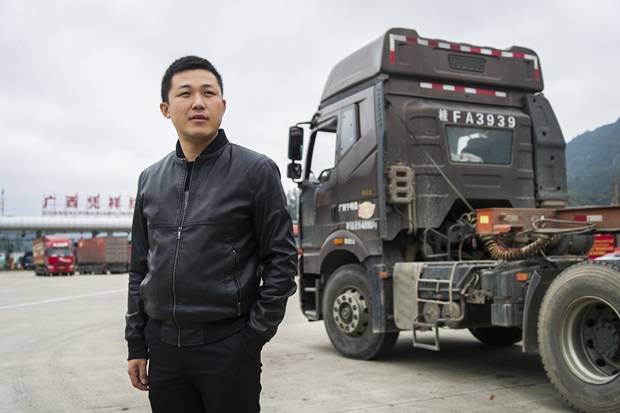 Catch Cheng, the 31-year-old deputy head of a logistics company who has settled in Pingxiang on China's border with Vietnam, handles about 10,000 containers of goods a year and foresees 20 percent growth in traffic in the future.
A native of Hunan Province, Cheng was stationed by his company in Pingxiang for three years, and he has since married a woman from the minority Zhuang people. He handles about 10,000 containers of electronics parts shipped from China to Vietnam a year, an average of nearly 30 a day.
He said the volume of goods being transported on this major artery is growing about 20 percent a year, and he has seen many companies from Shenzhen set up logistics and trading companies over the past year in the Pingxiang customs building where he has his office.
Scene 2: Friendship Pass to Hanoi
A Different Look in Vietnam
After we drove through the Friendship Pass and entered northern Vietnam, the gap in basic infrastructure between China and Vietnam became immediately apparent.
The high-quality expressway within China's borders narrowed into a regular two-lane dirt road.. A long line of container trucks seemed to occupy the lane, and intrepid drivers would occasionally veer into the opposite lane to pass a truck or two, often just barely averting direct collisions with oncoming traffic.
Ultimately, it took four hours to cover the roughly 170 kilometers to Hanoi.
When our vehicle arrived at the Vietnam Singapore Industrial Park in Bac Ninh, about 30 kilometers from Hanoi, it drove into ALS East Hanoi Joint Stock Co., a customs bonded warehouse exclusively serving the electronics sector. There, 40 people work in shifts around the clock.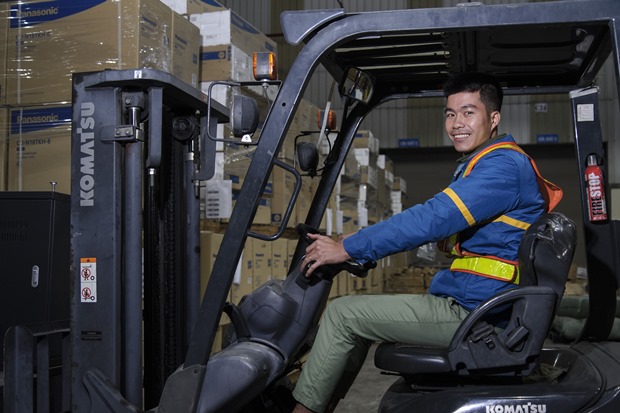 In ALS East Hanoi's customs bonded warehouse in Bac Ninh, electronics components are being pulled to ship to electronics makers in local industrial parks. The completed products are then returned here and shipped to the airport.
The containers of electronics components shipped by Catch Cheng from China are sent to the ALS warehouse and sorted before being reshipped to electronics manufacturers in industrial parks in Bac Ninh and Bac Giang.
"The factory that Foxconn uses to assemble Nokia phones, Fushan Technology, is right next to us, not even five minutes away," says Tran Do Trong Khanh, ALS East Hanoi's deputy director, in fluent English.
ALS serves 50 electronics manufacturers who have set up factories in the area, including Foxconn and Samsung. (Read: A Threat to South Korea? Terry Gou's American Dream)
Compared with the one week it would take to ship the components by sea, trucking goods from Shenzhen, Dongguan or Guangzhou in Guangdong province or even from Xiamen through the Friendship Pass to Bac Ninh, Bac Giang or Vinh Phuc takes only one or at most two days.
That's roughly the same amount of time required for shipments within China, explaining why northern Vietnam has emerged as a dominant player in the global electronics manufacturing services market, especially as the U.S. and China continue to duke it out.
Translated by Luke Sabatier
Edited by Sharon Tseng