Cars of the future
Who will Rule the Roost?
精華簡文
Source:CW
The automotive industry is currently embroiled in a fierce battle with the IT, telecommunications and Internet sectors for supremacy in the age of connected vehicles and new mobility solutions. As new paradigms begin to emerge, collaboration across sectors is the key to win.
Who will Rule the Roost?
By Shu-ren Koo
From CommonWealth Magazine (vol. 574 )


Self-driving cars, the Internet of Cars, and various forms of carsharing services...when will these become reality and available to everyone? Some say it will take a decade, while others say we will only have smart mobility in 20 years.

At the New York Auto Show in late March, investment guru Warren Buffett took a cautious stance on the prediction that self-driving vehicles would have a ten-percent market penetration in 2030, saying that autonomous cars that drive themselves "will be a reality at some point, but I think it's a long way off."
Internet of Everything
For the internet and the information communications technology (ICT) sectors, cars count among the least technologically "smart" objects in our daily lives. In other words, within the Internet of Everything, vehicles are the biggest blank. As the smartphone market reaches saturation, the smart, connected car is likely to become the next goldmine.
International consulting firm McKinsey & Company concludes that the coming five years will be decisive for setting standards for a transformed automotive industry. In The Road to 2020 and Beyond, the company predicts that "the number of networked cars will rise 30 percent a year for the next several years; by 2020, one in five cars will be connected to the Internet."
Therefore, new players from non-automotive digital sectors such as Internet service providers, ICT firms and app designers are entering this new market, competing with the traditional carmakers for dominance. Since last year, the fundamental changes that the smart and eventually autonomous car will bring to the global automotive industry have been in the media spotlight.
Yet, the new paradigms and new rules of the game are only gradually taking shape. Presently, there is an abundance of opportunities, but it is hard to tell where this transformation is headed and who will come out on top.
Google stunned the world when it presented its driverless car in 2009, unleashing a raging discussion on the Internet and in the media about the potential disruption of the traditional auto industry.
The media hype about the Google car did not sit well with established carmakers who had been working on driver assistance systems for many years. "The automotive industry has actually been developing automatic driving systems for over ten years," notes Taiwanese engineer Dennis Huang, who has participated in automatic driving technology R&D for German carmaker BMW.
Over the past years, the internet and communications industries, led by Google and Apple, has become even more aggressive with its automotive projects.
Google founded the Open Automotive Alliance, released the Android Auto operating system with a specialized user interface for cars, and a fully autonomous Google car completely devoid of any driver's features – you won't find a driver's seat, steering wheel, accelerator or brake pedal.
Apple, the big winner in the smartphone sector, released CarPlay, a standard that allows devices running the iOS operating system to function with built-in dashboard displays. Subsequently, rumors and speculation arose that Apple was pursuing an electric car project called Titan near its company headquarters in Silicon Valley.
As connected mobility requires ease of communication, the major telecommunications players cannot afford to stay on the sidelines either. Leading the pack are AT&T and Verizon from the United States as well as Deutsche Telekom from Germany. Aside from offering mobile communications services, their core business, these companies are branching out into the development of inbuilt car infotainment systems with embedded cloud computing services and a common software/hardware design environment.
A Battle over Digital Ecosystems
As one would expect, Chinese Internet businesses, which operate in the world's largest automobile and online markets, are not twiddling their thumbs as these huge business opportunities loom. They are aggressively forging alliances and releasing systems and services for Chinese users.
China's three Internet giants, namely Baidu, Alibaba and Tencent, have all released their own car-based operating systems. Tencent has even teamed up with Taiwan's Hon Hai/Foxconn Technology Group and Hong Kong-listed carmaker China Harmony Auto Holding to cooperate in the Internet sector and on a manufacturing platform for a smart electric car.
Baidu, which has been emulating Google, last year revealed that it plans to roll out a "highly autonomous car." At the first International Consumer Electronics Show (CES) Asia in Shanghai in late May, Baidu and Germany's Daimler AG announced that they would deepen their strategic partnership by integrating Baidu's CarLife smartphone-based in-car infotainment system in Mercedes-Benz vehicles for the Chinese market.
In May, Audi AG also announced extensive cooperation agreements with Baidu and Chinese network provider Huawei Technologies Co. Aside from using Baidu's smartphone integration CarLife, Audi's partnership with Baidu includes the development of map data, positioning algorithms and point-of-interest functions. Huawei will develop a China-specific LTE module for Audi to guarantee seamless data transmission for in-car Internet services.
A surprise entrant into the car connectivity game is Chinese video content provider LeTV, which announced the founding of Supercar Automobile Ltd. and the launch of its LeUI operating system for cars at the beginning of this year. LeTV wants to replicate the vertical integration of "platform, content and hardware devices" that it developed for its Super TV series of giant intelligent terminals in smart car software and web-connectivity systems.
While LeTV presented little more than two concept drawings of the super car at the event, LeTV Chairman and CEO Jia Yueting expressed his strong commitment to the smart car project. "Even if LeTV's carmaking effort is a complete disaster, I won't back off as long as we can inspire more people to dream," he stated.
Like their European and American counterparts, China Mobile and Huawei are also developing infrastructure for car communication, in-car systems and the Internet of Cars.
As Internet and communication companies try to break into the smart car market, the automotive industry is not sitting idly, but is doing its best to fight back.
Ford: We are a High Tech Firm
Some four years ago, major carmakers began to venture into the digital arena of the Internet and mobile communications. Gradually they encroached on the traditional territory of the high-tech companies at major electronics shows such as CES in Las Vegas and the Mobile World Congress in Barcelona, competing for the media limelight with glitzy displays of the latest car electronics.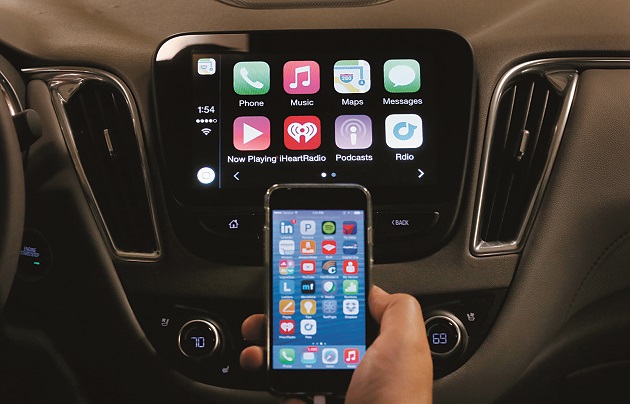 Demand for mobile apps, which are crucial for connecting the car of the future with various services, will skyrocket in coming years.
Four years ago, Taiwan-based Ford Lio Ho Motor Company Ltd. also began to participate in Computex, the world's second largest ITC trade show, in Taipei. While Ford mainly presented its latest in-car infotainment systems at previous shows, the carmaker introduced the new Ford Mondeo Hybrid to the Asian market at the just concluded Computex this year.
"We want to let everyone know that Ford is also a high-tech company," remarks Ford Lio Ho Motor Company President Thomas Fann.
Automotive and non-automotive companies are all pursuing the same goal: They want the autonomous car and the Internet of Cars to become reality. This requires the creation of digital platforms and ecosystems that bring together people, cars, infrastructure and the environment with providers of all sorts of digital and mobile services.
Google and Apple endeavor to transplant their successful smartphone platforms Android and iOS to the automotive industry. This would be an important piece of the puzzle known as the Internet of Everything.
Amid this fierce battle for supremacy in smart mobility, the plans of Finnish multinational communications company Nokia to sell its Chicago-based mapping service HERE have prompted a bidding war.
HERE holds an 80-percent share of the European and American dashboard navigation market. Mapping information is a crucial advantage in the race for driverless cars.
German premium car brands Mercedes-Benz, BMW and Audi have joined hands for an acquisition bid to prevent American Internet firms from gaining control over HERE.
"The greatest threat to the automobile industry would be if Google developed an operating system for self-driving cars and made it available for free to everyone," the Wall Street Journal quoted a person familiar with the situation as saying. "We need the maps for the operating system in the cars."
Cross-Sector Collaboration
Who will emerge as the ultimate winner once the dust has settled from the battle over the future of the automotive industry?
Some say the car industry is doomed because the car of the future competes on "information power" instead of horsepower. Cars, once wonders of mechanical engineering, would deteriorate into mere carriers of a large number of mobile computing and communication devices.
But this doesn't necessarily mean a showdown between traditional automakers and technology firms is imminent. "Cross-sector collaboration" seems to be the key word for the future of the automotive industry. Carmakers must open up their supply chains to tech companies that can provide the software and hardware for automated driving and vehicle connectivity.
Ford last year teamed up with service design company Livework to develop an intelligent assistance system that helps drivers find a parking spot.
This is one of the 25 "smart mobility" global experiment plans announced by Ford Motor Company CEO Mark Fields at this January's CES, designed to test new transportation and mobility concepts in cooperation with innovators and developers around the world.
Livework, founded 14 years ago, is based in an old brick building in East London's Tech City, the world's third largest startup hub. Less than 20 people work at the London office, which is almost devoid of any interior decoration.
Livework service designers and Ford engineers collaborate in this small space to integrate large amounts of vehicle movement and traffic information provided by Ford, parking lot operators and the London city government.
They are trying to create a smartphone-controlled intelligent parking system by combining vastly differing expertise such as Internet connectivity, big data analysis, software design and product planning.
"Combining different forms of big data to provide users with useful information real-time is a very big challenge," says Ben Reason, founding partner and senior service designer at Livework. "But when a business model has been established, you can create new customers and new business."
The smart, connected and probably fully autonomous car of the future can only become reality through the kind of cross-sector collaboration that Ford and Livework are currently trying out.
Translated from the Chinese by Susanne Ganz