'Made in China 2025'
How will Taiwanese Enterprises Cope?
精華簡文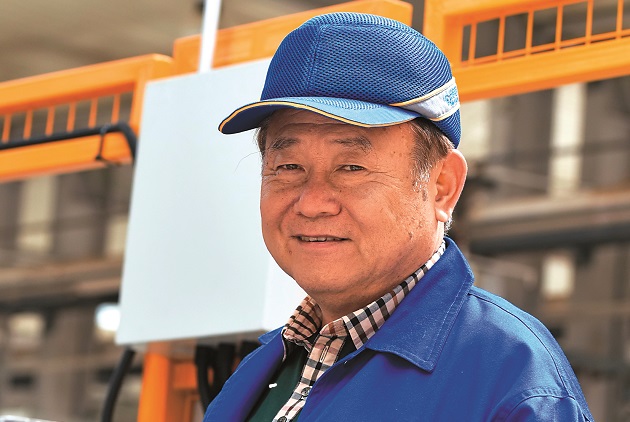 Source:CW
What does it take to upgrade production and people's attitudes to meet the challenges of running a smart factory?
How will Taiwanese Enterprises Cope?
By Kuo-chen Lu
From CommonWealth Magazine (vol. 573 )


If enterprises cannot keep pace with the "Made in China 2025" plan, will robots then not only snatch away our jobs but also steal our business? This may seem like alarmist talk, but the Engley Group, which is headquartered in Changchun in northeastern China, is currently building a fully automated factory in which industrial robots will replace all but a few human workers.

Changchun, the capital of Jilin Province, is known as China's Detroit. The headquarters of the country's largest carmaker, the FAW Group Corporation, are located here. FAW churns out more than two million vehicles in the city per year. Changchun has also helped spawn legendary entrepreneurs, including Lin Chi-pin, chairman of the Engley Group.

When we arrive at the site, we find the first phase of the construction project underway, with a footprint of some 66,000 square meters already completed. Workers are busy installing equipment. Robots from Germany and Japan are being mounted and tested. The robots can automatically weld parts and load materials into other machines. Next to them stands a huge punching machine and automation equipment. At the very end is the loading gate. This is a streamlined, fully integrated factory.

Can production continue if the lights are out? "It can," remarks Lin, smiling reassuringly.

Lin left Changhua County in central Taiwan in 1991 with two people in tow, traveling to Changchun to set up a factory there. In the beginning, the company manufactured hand-made car parts. Since then, Engley has grown into a tier one supplier of the FAW Group as well as its partner in development.

Engley produces more than 50 million stamped metal parts as well as 16 million plastic parts per year. To cite an example for a single part, Engley manufactures more than two million dashboard base frames annually, which is almost a 10-percent share of the Chinese market. In other words, every tenth automobile produced in China contains Engley parts.

Liou Horng-yih, president of CECK Auto Parts Co. Ltd., a joint venture of Engley, China Steel Corp. and two more investors, admires Engley for its penetration of the Chinese automobile supply chain. "Mercedes-Benz, BMW, Audi, VW, Dongfeng Nissan, FAW, Toyota – they are all equipped with Engley parts, even the Hongqi (Red Flag) limousine used by then Chinese President Hu Jintao when reviewing troops [during the National Day Parade] in 2009," Liou points out.

As a result, Engley has factories not only in Changchun but also across all China, including Liaoning, Tianjin, Suzhou, Yizheng (a county-level city east of Nanjing), Foshan and Chengdu. Another plant is under construction in Changsha, and one is in the planning stage for Chongqing.

Inside Engley's old factory in Changchun, car parts for Beijing Benz, a joint venture between the Beijing Automotive Group and Daimler AG, are being packed in shipping crates. On the factory floor industry 1.5 – traditional labor-intensive mass production - and industry 3.0 – robotic assisted manufacturing – conditions coexist alongside each other.

Production here is partially done by humans and partially with the assistance of robots. Some production lines have already been refitted with robotic arms that fill materials and process them automatically without human involvement.

Lin explains that Engley has to find ways to upgrade the old plant while keeping its operations going. He points out that robots are easier to supervise than humans, while workers in China are becoming more expensive and more difficult to recruit.

Carmakers and their suppliers face two major challenges as they move toward the new era envisaged by "Made in China 2025".
Scale and Flexibility
The first challenge is just-in-time (JIT) production. Lin observes that carmakers used to produce big batches of the same car in the past, piling up inventory that then waited to be sold. Now carmakers want to reduce the stockpile of unsold cars and shorten inventory time. Ideally, they would only produce the number of cars that have actually been sold.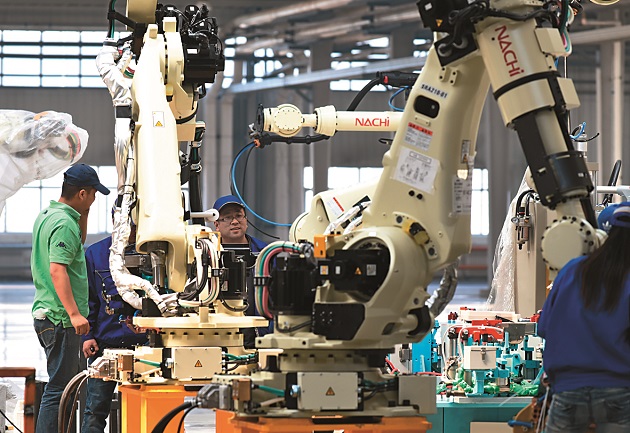 Engley workers and technicians from a Japanese automation equipment maker install a fully automated production line.
As a result, auto parts makers also need to bring their operations online. The carmakers will notify Engley how many cars they expect to produce in the coming month to enable Engley to stock up on raw materials. However, the exact time of delivery remains undefined.
When carmakers notify Engley, the company is supposed to produce and deliver the required parts within two hours. Therefore, a high degree of automation and just-in-time production are necessary if an auto parts supplier wants to do business with leading carmakers.
The second challenge is mixed model production, in which several distinct models of a product are processed or assembled on the same production line without changeovers.
Taiwan has long adopted mixed model production lines, but in China, where a single car factory produces millions of cars, economies of scale constituted a competitive advantage for a long time. Only now that the government is promoting its "Made in China 2025" scheme, is flexible production becoming a larger part of the equation than pure scale.
Is there a greater risk of mistakes on the production line when large quantities of a wide range of products must be processed and shipped within just two hours? Lin explains, "Every engine and component has its serial number, which the robots identify via the Internet of Things. This allows us not only mixed model production but also enables us to calculate the average production time for each vehicle accurately up to the second."
Investing in a brand-new smart factory and turning the old one into a fully automated one means that Engley is pouring all the money it makes into the procurement of robots and equipment. On the other hand, it would not be able to meet the needs of China's leading carmakers if it did not switch to fully automated robotic production lines.
This only corroborates a statement by Qu Daokui, the CEO of Shenyang Siasun Robot & Automation Co., Ltd., who believes that everyone is working on Industry 4.0 or "Made in China 2025," which is not just changing modes of production but also creating new platforms. "If you don't participate, then sorry, the global division of labor system may not use you," Qu says.
Translated from the Chinese by Susanne Ganz
---
Engley Group
Year of founding: 1991
Chairman: Lin Chi-pin
Main products: stamped metal parts, plastic parts for the automotive industry
Annual revenue: Over NT$100 million