Exclusive Interview with Terry Gou
Drawing Strength from Misfortune
精華簡文
Source:CW
Terry Gou, chairman of the Hon Hai Group, tells how disaster struck at the top of his game, and what he learned from it.
Drawing Strength from Misfortune
By Sara Wu, Elaine Huang, Whitney Huang
From CommonWealth Magazine (vol. 572 )


The setting sun glows over the National Taiwan University (NTU) campus beyond the French windows of the NTU YongLin Biomedical Engineering Center, but the atmosphere becomes tense as Hon Hai Group Chairman Terry Gou rushes into the meeting.

Terry Gou has just returned from Germany, where he visited the Hannover Messe industrial fair to check out the latest on Industry 4.0, as well as announce a US$6 million investment in NTU electrical engineering associate professor Yeh Ping-Cheng's company.

With revenue of NT$4.2 trillion dollars, Hon Hai Precision is at the head of CommonWealth's 2015 Top 2000 Survey of the Manufacturing sector, exceeding the combined turnover of Taiwan's Big Five OEMs – Pegatron, Quanta, Compal, Wistron, and Inventec, and sending ripples through the entire world's high tech industry.

Terry Gou, 65, still mans the front lines in pursuit of new opportunities. And he has set the ambitious goal of 10 trillion in sales within five years.

Gou is in total control of customer allocation for Hon Hai. Nobody within the company dares challenge his authority.

Rare for him, time slowed down for a beat on the day of our interview.

"Today is my daughter's sixth birthday." Gou's aggressive demeanor softens the moment he speaks of his daughter. "She told me, Daddy, you'd better come home on time today. We're having dinner out with Mommy tonight."

With this, his face wrinkles into a smile. "I can be late for other things, but not when it comes to my daughter."
Life Challenges
This year marks the tenth anniversary of the death of his first wife, Lin Shu-ru, from breast cancer. Gou's exclusive interview with CommonWealth at NTU's YongLin Biomedical Engineering Center, largely a cancer research institute, thus takes on additional significance.
It was a major turning point for the Hon Hai boss.
"Just as the company was at the height of its growth, God decided to test me," he says.
Lin Shu-ru passed away from breast cancer in 2005. Just two years later, Gou's younger brother and appointed successor, Tony Tai-cheng Gou, died of leukemia.
Having freshly completed a series of global mergers and acquisitions, Hon Hai leapt to the fore as the world's leading EMS firm. At the pinnacle of his career, happiness had deserted Gou.
After his remarriage and the birth of another two children, Gou put a new emphasis on diet and health. During our interview he reached for an ear of organic corn from the Yonglin Organic Farm, husked it, and took a big bite.
Following Typhoon Morakot in 2009, Gou donated the funds to start the Yonglin Organic Farm, providing job opportunities for typhoon victims from Hsiaolin Village – the area hit hardest by the devastating storm. Today it has become Taiwan's largest organic farm. Gou receives regular deliveries of fresh produce from the farm for his family to enjoy.
After the interview, he rushes off to another appointment, leaving his bifocal glasses on the table in his haste, along with a hint of warmth and humanity underneath his tough exterior. The following is our interview, edited for brevity and clarity:
This year is the tenth anniversary of my wife's death. Life, it has its ups and downs – hardships and setbacks are inevitable. God tested me just as the company was in the midst of its biggest period of growth.
We worked together with the team at National Taiwan University (NTU) to conceive and establish a cancer center, the NTU YongLin Biomedical Engineering Center. Also, to commemorate my younger brother, we established the Tony Tai-Cheng Gou Stem Cell Treatment Center to conduct stem cell research.
I spent a lot of money to find the most reputable doctors, but ended up making a few mistakes. Those experiences had to be translated back to NTU, where, under Dr. Jih-Luh Tang's direction, we've helped several hundred patients.
I do all this willingly, with joy.
At the time of Typhoon Morakot, Liu Chao-shiuan was the premier. The Tzu Chi Foundation built homes for storm victims and we gave them jobs, which is how we came up with the idea to set up Yonglin Organic Farm. We adopted the spirit of BOPT (build, operate, profit, transfer), and we will turn a profit before transferring the operation to someone else.
When we conceived it, we had it in mind to use mainly local people, and at present 90 percent of staff are locals. We want local residents and indigenous people to become top growers. Though they have their own culture and customs, they try hard.
Their (Yonglin Organic Farm) corn is my favorite. Before, when I made hot pot at home, I couldn't bring myself to buy corn, as corn absorbs pesticide into the stem, so it turns hot pot into pesticide soup when you heat it up. But the farm's corn is super sweet. See, corn grown from Taiwanese soil can be refined into sugar.
Happiness at a Price
Taiwan is a fine place. If you apply yourself, and work hard, things will turn out well.
Look at the recent earthquake in Nepal. People tend to take things for granted until tragedy strikes, and only then are they reminded what is truly valuable. But there is no such thing as a free lunch, nor eternal happiness, and happiness always comes at a price.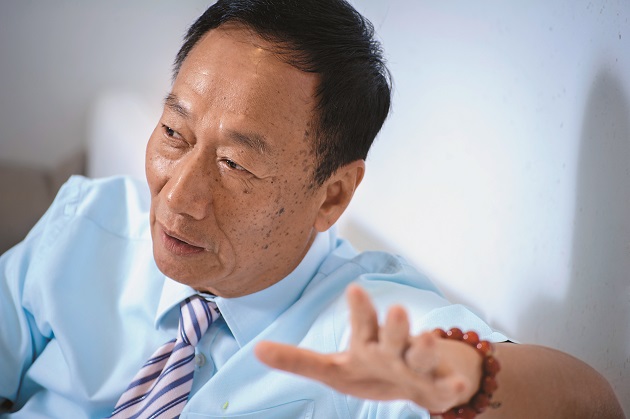 "Just as the company was at the height of its growth, God decided to test me," recalls Terry Gou.
Everyone's definition of happiness is different; when there are no disasters, that is happiness. We here in Taiwan should cherish the land and her people.
The youth of Taiwan, the younger generation, are her hope for the future.
I was born in Taiwan in 1950; I'm in my sixty-fifth year. I heard the sound of artillery fire when I was a soldier stationed in Kinmen.
Taiwanese youths today have grown up in an environment without any cares. We in the older generation are different; I only got my first pair of shoes in elementary school. When I tell my daughter about it she thinks I'm pulling her leg.
Taiwan's younger generation has its own way of thinking, but they have also had relatively few setbacks – and setbacks are a type of test. Look at the many setbacks I have faced in the past decade. To top it all off, 200 professors have outright called me the "Disgrace of Taiwan."
To me, what is important is that you must allow others to test you. Even more important is to follow your conscience in what you do. I still work hard every single day.
Young people need to be able to accept setbacks, which can be good for them. As I often say, "live and learn."
Experience definitely helps with judgment. Today's youths lack experience, and when you lack experience you are afraid to do things for fear of making mistakes. But if you don't try something, how can you get experience?
I always tell colleagues, mistakes are nothing to fear – what's really scary is repeating the same mistakes.
For instance, my brother's cancer tore me up. We couldn't save him. But what I could do was transplant the experience we gained in treating him to NTU.
Taiwanese youths must learn how to take on work, and not be afraid of making mistakes or shrink from criticism.
I'm a good example of that; I accept any criticism that comes my way, no matter how nasty. Young people need to have the guts to own their work, not be afraid of mistakes, and know that making mistakes leads to experience.
People Power
In addition to NTU Department of Electrical Engineering Associate Professor Yeh Ping-Cheng, last year we also invested in Hope Bay Technology founder Ben Jai's company. Both of them are innovators and practitioners that overturn convention.
The world today lacks not ideas, but people to put them into action. Anyone can come up with ideas; "thinking" is easy, it's the "doing" that is hard.
We are throwing our support firmly behind people with ideas and creativity. For instance, in mainland China I'm working with Kai-fu Lee's Innovative Works, and also with Ma Yun's "Mining Wealth" program. (Editor's note: Terry Gou and Ma Yun are partnering on a high-tech innovation and R&D/manufacturing base that merges the virtual and real worlds, helping Taobao sellers upgrade without having to resort to price wars.)
Many people are on Taobao selling knockoffs. When Jack Ma came to me, I told him that Taobao should not be selling fakes. I said I'd help him, so that he could sell genuine merchandise. If I offer good items at a good price, then on the one hand Taobao succeeds, and on the other Foxconn succeeds, and of course Taobao sellers "mine wealth" as well, so it's significant on many different levels.
A phrase that gained currency in the Taobao community goes, "Instead of being price destroyers, we should be value creators." Looking back to Taiwan, we have no lack of people ready and willing to work. I'm a big fan of JFK's famous quote, and agree that people should stop asking their government to take care of so many things. Expecting governments to change is asking too much.
The people's capabilities and energies are the impetus for Taiwan to move forward. (Compiled by Elaine Huang)
Translated from the Chinese by David Toman