Taiwan's Flat Panel Leader
Innolux on the Comeback Trail
精華簡文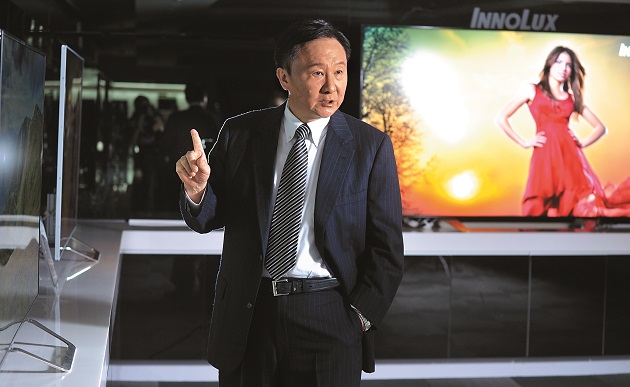 Source:CW
Five years ago, Innolux, Chimei and TPO Displays merged to become Taiwan's flat panel leader. The company then fell NT$530 billion into debt after a slump in the global display market, but teetering on the edge of bankruptcy, it somehow recovered.
Innolux on the Comeback Trail
By Elaine Huang
From CommonWealth Magazine (vol. 572 )


April 27, the day before an Innolux Corp. board meeting.

Innolux Chairman Tuan Hsing-chien arrives at an interview with CommonWealth Magazine half an hour late, his hair trimmed, the poker face he often puts on when facing the media nowhere in evidence. He appears completely rejuvenated, and with good reason.

Tuan had completed the biggest debt repayment plan in Taiwan's corporate history a month earlier. Innolux's combined debt and outstanding loans amounted to NT$530 billion at one point, enough to build another high-speed rail system in Taiwan. But at the end of March, Innolux successfully concluded debt negotiations and formally extracted the company from its predicament.

In effect, the company had been rescued after teetering on the edge of bankruptcy following the merger between Innolux Display Corp., Chi Mei Optoelectronics and TPO Displays Corp. five years ago.

With the help of a thriving flat panel industry, Innolux had sales of NT$426.86 billion and after-tax net income of NT$21.68 billion in 2014. Its net income was the highest since 2008 and 300 percent higher than a year earlier.
Overcoming AUO, Chinese Makers
Innolux's Chinese name – literally meaning "group creation" – was chosen by Tuan. "It means that a group of like-minded people created the company," says the Innolux chairman, who showed patience and an iron will in doing what a professional manager is supposed to do and keep the company alive.
In Tuan's case, facts outweigh eloquence. A professional manager's strongest form of validation is the company's performance, and Innolux took advantage of the booming display market last year to pull itself out of the red and return to profitability.
In 2014, Innolux's earnings per share even overtook the EPS of its domestic rival – AU Optronics Corp. (AUO).
Eric Chiou, the senior research director of LCD display research firm WitsView, observes that AUO has always followed a relatively stable and steady path, while "Innolux dares to take risks and pursue product differentiation."
That aggressive approach is evident in the speed with which Innolux introduced 4K2K ultra high definition LCD TV panels.
"Innolux went for the 39.5-inch spec. It is the only company in the world offering panels of this dimension," Chiou says.
He believes that Innolux is betting on special specifications with strong price-performance ratios to grab market share, supplying the panels to Chinese TV brands and hoping to drive new trends when the economy recovers.
The panel maker also was among the first to roll out ultra thin panels with wide color gamut technology.
"(Innolux) has the courage to try new technology. Though it doesn't move as quickly as Korean suppliers, it's faster than AUO or Chinese flat panel vendors," observes an executive with North American LCD TV brand Vizio.
Tuan says the keys to Innolux's future will be continuing to increase the company's degree of automation and developing LTPS (low-temperature polysilicon LCD) technology for small and medium-sized screens.
Because displays are generally commodities, the business is highly volatile and vulnerable to swings in the overall economy. So even though Innolux's fortunes appear to have improved, Tuan is taking nothing for granted. "There are always things that can be done better," he says.
The following are excerpts of CommonWealth Magazine's interview with Tuan Hsing-chien.
---
All in on Automation
CommonWealth Magazine: You just completed the biggest repayment plan in Taiwan's corporate history. What challenges did you face during the process?
Tuan Hsing-chien: When we merged, there were anti-trust issues and we quickly ran into a three-year slump in the display market. This merger transcended the Zhuoshui River (laughs) (referring to the great divide represented by the river that divides northern and southern Taiwan).
The merger of three companies involved more than making things three times more difficult. The software used by the three companies was different and their cultures were even more dissimilar. But, in fact, the toughest thing to figure out was the market. If we ran into a market downturn, there would be no way for us to have cash coming in.
But even with the market the way it was, we made a major effort to change our existing management structure. After the merger, the first thing we did was to create a management system that enabled information to be timely and accurate. Real-time and accurate information is the first step in good management.
We did face a period of economic weakness at the time of the merger, but looking at it from another angle, it was only in that context that the merger could have been consummated. There were two sides to the situation, and there's no reason to complain.
To Innolux, our paid-in capital doubled after the merger from about NT$30 billion to more than NT$70 billion, and our production capacity rose from two and a half plants to 12 plants. If we had followed our original development trajectory, adding a new factory every two to three years, we probably would not have achieved even half the scale that exists today.
CW: Was that your original plan?
Tuan: At the time, we did not think it would be this fast. Innolux's plan was to go from displays to full systems. After merging (with Chi Mei), our TFT capacity become very big, and if we started making complete systems, it would have raised concerns among our customers. So we gave up the idea of making systems and concentrated on TFT panels.
But going from two and a half to 12 factories, our Chairman Gou (Hon Hai Group Chairman Terry Gou), you know him, he really likes "big." So when he heard (about the chance to get to) 12 factories, it was a temptation he couldn't resist! (laughs)
CW: Was it also very attractive to you?
Tuan: It was the same for everybody. And competition was fierce. My understanding is that the night before, AUO was still trying to merge with Chi Mei Optoelectronics. We got in on this in the middle of the process.
A Merger that Prevented Marginalization
CW: For your company to go from two factories to 12 overnight, was that a good thing or a burden?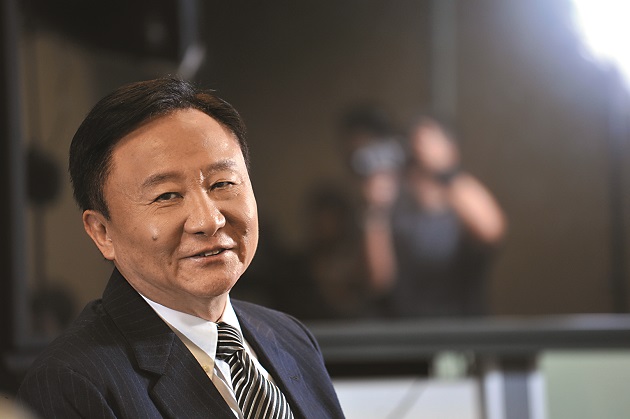 Innolux Chairman Tuan Hsing-chien says the company will focus on automation and the development of LTPS factories in the future.
Tuan: If we didn't go for the merger, Innolux may have been marginalized. It's very hard to predict the state of the flat panel industry, but I do think it's relatively balanced at present. In the merger, TPO Displays was brought in to strengthen our small and medium-sized screen LTPS technology, and Chi Mei helped round out the large TV panel dimensions we didn't have and strengthen our 5th- and 6th-generation production capabilities.
I think that in the next two years, competition in the small and medium-sized panels will be extremely fierce.
CW: Was it worth fighting through everything?
Tuan: It's not a question of being worth it or not. That's not how I think. The flat panel supply chain affects nearly 400,000 jobs in Taiwan. If Chi Mei and TPO Displays did not merge with anybody at the time, they probably would have collapsed. From that point of view, the three-company merger was a good thing for Taiwan.
CW: What are your plans going forward?
Tuan: We built a plant in China in 2004. We have since seen a structural change in Chinese society, with wages on the rise and a growing number of people heading to coastal areas to work. But these people are like nomads and have a high turnover rate and also a high accident rate.
I felt at the time that the pay structures on the two sides of the Taiwan Strait would gradually move closer together and decided to bring some of our capacity back to Taiwan. But how would we bring it back? Promoting automation has become very important, and not just for Taiwan but also for China because finding people there is also very hard. This is especially true now because with Germany pushing "Industry 4.0," mainland China has also listed automation as a priority.
I decided to move about 30 percent of our capacity back to Taiwan. Right now in our factory in Tainan, in our module factory alone, we have about 9,000 workers, including foreign workers. That's a pretty big number of people. We can produce 3 million to 4 million panels a month, and we hope to be at around 6 million panels by the end of the year. (Editor's note: Innolux's total monthly production worldwide is about 30 million to 50 million panels a month.)
CW: How hard is it to increase the degree of automation?
Tuan: Very hard, because the product is constantly changing, and automation has a relatively low degree of flexibility. But if you make the effort to do hard things, then it will be harder for others to overtake you.
The harder automation is, the more I want to do it. My target is to save 70 percent of the direct workers in the factory. This is a very hard challenge.
CW: How far have you gotten to date?
Tuan: We're at about 10 percent right now. It's very difficult to get off the ground. I think we'll need at least two to three years.
CW: Innolux and Hon Hai have joined together in investing in LTPS technology at the Lujhu plant in the Kaohsiung area. Outside observers think Innolux is jumping into another money pit.
Tuan: There isn't more pressure than what we faced when we had to repay our debt. The investment in Lujhu is a win-win for Innolux and Hon Hai.
To Hon Hai, Apple is an important customer, and for Hon Hai to do end-user mobile phone business, it needs this capability. To Innolux, the only LTPS technology it had was TPO Displays' 3.5-generation production line. Both companies have the need for this.
Innolux has just emerged from its debt crisis and it would have been hard for it to finance (the Lujhu project) alone. So Hon Hai shared some of the burden. It won't be that big a burden on Innolux's finances.
Competing with China Has Never Been Fair
CW: How many 8.5-generation plants do expect China to roll out? Will they hurt Taiwan's flat panel sector?
Tuan: This has never been a fair competition, but it's the reality. We cannot escape it, but China building that many plants will be difficult for Taiwan in the short run but not bad in the long run.
This is similar to when Taiwan built up its semiconductor industry. A Taiwanese semiconductor vendor suddenly built a lot of 8-inch wafer factories, putting all of its capital into that. But two years later, factories with 8-inch technology could not keep up, but that vendor did not have the capital to invest in 12-inch plants.
Taiwan's flat panel sector faced a similar problem. There was a time when too many producers built 6th-generation plants, tying all of their technical capabilities in them. China is now tying all of its factories and product specifications to 8.5-generation facilities.
I think if you build too many plants of a single generation, it's not the right decision. If you really want to compete, Taiwan is more competitive because Taiwan's factories have all been fully depreciated and they are still well maintained.
But I also worry because I'm seeing that the understanding Taiwan's science and engineering professors have of the flat panel industry comes from newspapers; they see it as a so-called "miserable industry." So I want to promote industry academia collaboration and have teachers bring their students to visit our plants.
Do science and engineering professors not have confidence in Taiwan's optoelectronics sector, or do they believe it is a "miserable industry"? I hope they have the chance to see our technical level for themselves.
I live near the entrance of National Chiao Tung University. The university's Department of Photonics is the biggest and the best in Taiwan. But people have branded it as one of Taiwan's "four miserable industries," so where will these students go? There's only one place they can go, and that place may not be Taiwan.
CW: What are your expectations for Innolux and the overall flat panel sector in 2015?
Tuan: Innolux's finances have taken a turn for the better. We want to strengthen our small and medium-sized dimensions this year and of course the LTPS facility in Lujhu is a big focus for us.
In addition, all of our factories are now more than 10 years old and we have to upgrade our equipment. We will expedite that, but this will not be easy because new equipment will have to be installed in old factories.
Innolux has 100,000 employees, with over 60,000 of them in China, and the difficulty of managing this workforce is only getting harder. So there are many management jobs we have to do. When I look at myself in the mirror every day, I realize there are still many areas in which we can get better.
As for the overall flat panel sector, everybody will have to face up to the intense competition in small and medium-sized panels. I think the biggest competition in the future will come from South Korea. China relies on investment to compete, but I believe relying on injecting a lot of money cannot immediately narrow the technology gap, so our Lujhu factory is being managed very carefully.
Translated from the Chinese by Luke Sabatier