Sharp President Tai Jeng-wu
Turning Employees into Tigers
精華簡文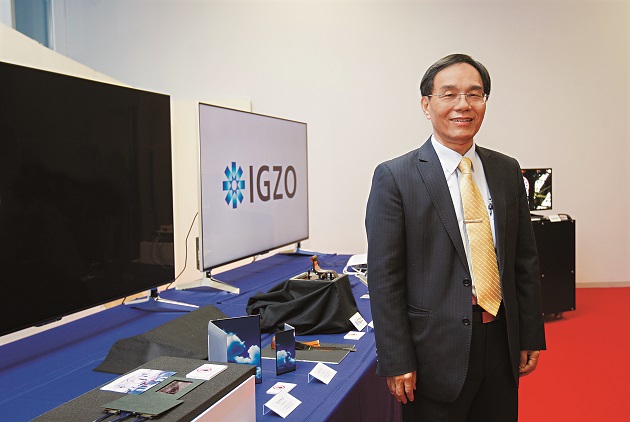 Source:CW
Sharp's first foreign president, Tai Jeng-wu, has brought a sense of urgency to the money-losing Japanese electronics giant, insisting that pressure is necessary to foster growth. He explains his strategy in this interview with CommonWealth Magazine.
Turning Employees into Tigers
By Pei-hua Yen
From CommonWealth Magazine (vol. 608 )


It's 5 a.m. as dawn appears over Osaka, and Sharp President Tai Jeng-wu is just waking up.

Every morning, Tai emerges from a 30-year-old Sharp employee dormitory and boards the company shuttle, arriving for work by 7:10 a.m. He first pays his respects to the gods at Sharp's shrine and prays that everything goes smoothly before bowing to a bronze statue of Sharp founder Tokuji Hayakawa and pledges his determination to revive the money-losing conglomerate.

When Tai showed his respect to the Sharp founder on Sept. 21, one month after taking over as Sharp's president, he had with him an open letter to the company's employees he spent all night writing. The letter announced his goal of making Sharp profitable in the second half of its fiscal year, a year ahead of schedule.

Sharp has posted losses exceeding 200 billion Japanese yen (US$1.94 billion) the previous two years, and lost another 27.5 billion yen in the first quarter of the 2016 fiscal year. (Sharp's fiscal year runs from April 2016 to March 2017.)
A Focus on 'Discipline' and 'Execution'
The 65-year-old Tai never imagined having to return to the battlefield at retirement age and assume the mission of restructuring Sharp as its first foreign president in the company's century-long history.
Within the Hon Hai Group (known overseas as the Foxconn Technology Group), Tai is seen as the Japan expert and is addressed as "Tai-san." Though maintaining a low profile during his 30 years with Hon Hai and rarely speaking publicly, he has long been Hon Hai Group Chairman Terry Gou's right-hand man, and helped Hon Hai gain a foothold in Sony's supply chain when he secured orders for the Sony PlayStation 2.
Today, he is still responsible for Hon Hai's consumer electronics business subgroup and its peripherals group, and he is the most important anchor of Hon Hai's NT$4.5 trillion in annual revenues.
At Hon Hai, the name "Tai Jeng-wu" is synonymous with "discipline" and "execution," and he is recognized as "Mr. Costs" for dismantling cost structures and squeezing out higher profit margins. He also established a production management system to control costs and enhance productivity that set a foundation for Hon Hai's dominance in the world of electronics manufacturing services.
Just as impressively, he successfully turned around money-losing Sakai Display Products Corp., the world's only 10th-generation liquid crystal display (LCD) plant, returning it to profitability within a year after it was acquired by Gou and Hon Hai from Sharp.
Now responsible for addressing Sharp's financial woes, Tai released two open letters to 47,000 Sharp employees within one month emphasizing the need for drastic change. He issued a clarion call to revive the company through urgent reforms covering the company's operating strategies, organizational structure, salary system and brand channels.
Japan's Nikkei Shimbun described Tai's move to set up a new president's office staffed by 200 people as similar to "concentrating power at the Japanese prime minister's residence." In the future, all decisions on appointing and removing personnel will be made from Tai's office without consulting outside board directors, a complete reversal of the previous reliance on collective leadership.
What shocked Sharp employees more than anything was Tai's rejection of such perks for top executives as their own chauffeured car and five-star hotels when traveling on business. Tai currently lives with other workers at Sharp's old men's dormitory near Nishitanabe Station between Sakai and Osaka and rides the company's shuttle bus to work.
Japanese media workers stake out Tai's dormitory around the clock in two shifts starting at 5:30 a.m. and 10:30 p.m. to keep track of his every move. Though Japan's press has a generally positive impression of Sharp's new boss as a person, his real test will be whether Sharp's new operating strategies can achieve Tai's objectives.
The Most Important Decision of His Life
Tai's connection to Japan did not happen by chance; it was the result of a conscious choice he made when he was young.
"Taking the Japan road was the most important decision of my life," Tai recalls when looking back over his 40 years of endeavor, which have seemingly built up to this pivotal moment.
That choice was driven in part by circumstances. Soon after he earned a spot in a public university through the college entrance examination, his mother suffered a stroke, putting a strain on the family's finances. At the time, the private Tatung Institute of Technology (now Tatung University) was recruiting students by offering them cheap tuition and a job with Tatung after graduating. It was a deal that was too good for Tai to pass up, and he abandoned aspirations of attending a more prestigious public university.
Tai was interested to discover that the school required students to study Japanese.
"It was an opportunity. I thought that maybe I could work abroad and make my wish to go overseas come true," he says. He immersed himself in learning the language and finished top of his Japanese class two years in a row.
After graduating and completing his military service, Tai started working as a paint engineer at Tatung, which at the time was every bit as big as the Formosa Plastics Group. He saw an internal notice for a position in Japan that required candidates to have graduated from a commercial
college and have at least one year of experience at the company.
"I hadn't worked there for a full year and I was a chemical engineer," Tai remembers, but he still wanted to pursue the opportunity. So he urged the human resources director and department chiefs to make an exception, and eventually got the chance to test for the opening. After studying hard for a month, he got the job and began his lifelong journey in Japan.
In taking on his difficult mission in Japan this time, Tai has replicated his fighting mentality of 40 years earlier by foregoing his salary and car and living in an old 33 square-meter dorm room. He has embraced a philosophy of "living in combat conditions to be stronger" as he takes on the most difficult final exam of his professional career that poses just one test challenge – turn Sharp around. He also is hoping to take the brand's flag from the top of Japan to the top of the world.
How will Sharp's first foreign manager tackle his mission? In a rare interview granted by this normally low-profile executive, Tai answers that question and many others on his vision for the future.
The following are excerpts of the conversation.
---
CommonWealth Magazine: You are first foreign president in Sharp's long history and you are going it pretty much alone. How do you plan to promote your policies?
Tai Jeng-wu: The managers support my policies. I felt they would support me, first because of my sincerity. I have sincerely communicated in depth with each department. Second was creativity combined with the character of the Japanese people. On my first day, I asked that executives stop using luxury cars and change to Toyota Alphards [an SUV model]. Managers enthusiastically supported the move, which really surprised me. Out of curiosity, I asked one of them why they did. He said the move would help lower costs, and the bigger cars would be more convenient because they could carry more people. He also felt there was no problem of face. It is something that Japanese society would typically not accept, but we got it done.
CW: Many people feel that since taking over you have used only people you trust and gotten rid of the monthly meeting with outside board directors from banks, consolidating power in your own hands. Have you broken with Japan's collective leadership approach?
Tai: Sharp is facing bankruptcy. If power isn't concentrated, isn't that the same as the old Sharp? In that case, things would be over quickly.
When the two sides signed the agreement, it clearly stated that the Hon Hai Group would hold a 66 percent stake in the company and control two-thirds of the directors. So of course the directors are people that Chairman Gou and I trust.
I have not used the original chairman and president and other directors and branch presidents who I thought had problems
As for the collective leadership of the outside bank directors, Sharp previously gave the banks and the Japan Industrial Solutions Fund a total of four seats on the board because it was dependent on their credit. They were the main culprits in selling the Sharp brand and the company's headquarters and causing the business to retreat. And when Sharp falsified its accounts, they turned a blind eye to it to maintain the company's listing in the first section of the Tokyo Stock Exchange. So now, do we still really want to lead Sharp together with them?
Training in Hell
CW: Considering Japan's different culture, how were you able to initiate large-scale reforms in a month?
Tai: It's because I used Japanese-style management. This was related to when I worked under Japanese management. When I was working in Japan for Tatung in 1977, I was assigned to Naito Densei Kogyo (NDK) to learn before returning to Taiwan. The company was located in northwestern Japan on Sadogashima in Niigata Prefecture that had once been the site of a prison that forced lifetime convicts to mine for gold, earning it the nickname "Alcatraz Island."
When I was there, it was the coldest month of the year. I would set out in the morning in the cold and the snow to get training during the day and then return to the hotel at night. It was a typical Japanese wood building that offered little resistance against the cold drafts that blew in through the gaps in the windows. I felt like a convict in having to put up with the bone-chilling cold, but I was able to tap into the Japanese manufacturing management gold mine.
After I returned to Taiwan I was promoted to section chief. At the time, my boss was a Japanese from NDK who put in a strict Japanese management system. So now when I make demands of Sharp's Japanese workers using Japanese management concepts, they respect me for it.
CW: What is Japanese-style management?
Tai: I have dealt with the Japanese for 40 years, and Japanese culture has become a part of me. It's hard to put into words. I know Japanese culture and what people care about when they come into contact with others and how you should express yourself. You basically have to ask of your people what needs to be asked of them. Sharp is facing a crisis, and the employees are all watching to see if everything is being done for the common good.
Only if we do what's good for Sharp can the company get back on track and will the managers respect you. Now everybody is together day and night. I live in the dorm for male employees and communicate entirely in Japanese every day. If you act in a straightforward way and you are consistent and offer an operating strategy and a future vision, the management process will of course be smooth.
CW: What are the biggest sources of resistance you have faced in pursuing reforms, and how did you deal with them?
Tai: [Hon Hai] has had an advisor named Takeo Nakagawa who has been with us for 15 years. He is a well-known Tokyo University professor who has an excellent reputation in Japanese business circles and is a key advisor to the Hon Hai organization. He is also Chairman Gou's teacher and his [Gou's] most important advisor in Japan. But [Nakagawa] always felt that Hon Hai was not capable of managing Sharp. I later asked him to serve as a director to participate in the company's operations and carefully laid out my operating strategies. After that discussion, he told me that he felt confident and wrote a letter to Chairman Gou saying so.
There were some Japanese employees who said it was hard to deal with such pressing reforms.
The workers were sure to feel anxious, and I felt nervous taking on such a big responsibility. But it's impossible to grow without some unease. Reforms mean pressure; without pressure, reforms will not succeed.
After I finished a bowl of ramen for dinner tonight, the restaurant owner actually came up to me and thanked me for buying Sharp. I was really moved. I used an open letter to employees to convey my message, and it drew three times the number of hits from employees than letters issued by the previous president. Within Japanese corporate culture, the number of hits you get speaks louder than anything else.
Hon Hai's System Brings Big Turnover
CW: Why did you present the goal of reversing Sharp's losses in the second half of 2016 within one month after taking the job? That was a full year ahead of the original timetable.
Tai: I drew up a strategy for running Sharp before I started in the post. The short-term goal was to make Sharp profitable in the shortest amount of time by increasing revenues and lowering costs. The long-term vision was to make Sharp a world brand. After a month of consolidation, I told managers I would not accept the idea of losing money. We needed to save any money and costs that we could.
We have some specific measures to achieve our short-term goal in half a year, but in terms of our long-term goals, we have to go through at least half a year of challenges before we can come up with related strategies and transformation plans.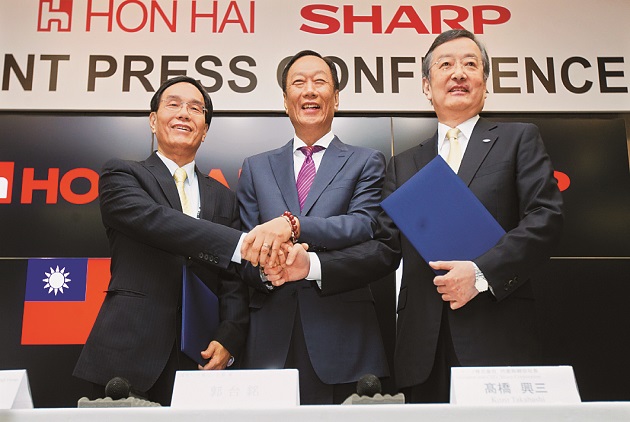 As Sharp's new president, Tai Jeng-wu (left) has moved forward his plan to return Sharp to profitability by a full year, hoping to achieve the goal in the second half of the current fiscal year.
CW: What are some of the measures you are putting in place?
Tai: We need a division of labor with Hon Hai to have a chance at turning a profit in the second half of the fiscal year. We are working with Hon Hai to concentrate Sharp's resources on product planning, development and sales while making Hon Hai responsible for purchasing and manufacturing. We are using Hon Hai's resources to expand Sharp's firepower.
In terms of LCD TVs, their production will be turned over to Hon Hai on a contracting basis this year, and the worldwide sales goal for 2018 will be 10 million sets, about double the number in 2016.
Also, we are undertaking a complete, in-depth restructuring by introducing Hon Hai's system and building a merit-based human resources system. I will not take a salary until the company becomes profitable, and all Sharp employees will be subject to personal performance evaluations, and they will be rewarded if they help increase revenues regardless of age, gender or nationality. We will also introduce a stock options system, which is rare for Japan, as an incentive for employees and a demotion system for management-level employees.
To clearly delineate responsibility, we will reorganize several divisions into 10 more independent business units or subsidiaries. That will enable us to pursue greater business efficiency and attack the market together as "One Sharp."
On Oct. 3, Sharp's "Intellectual Property Department" led the way when it was turned into a subsidiary called ScienBiziP Japan Co. Next in line is the logistics department.
CW: How did you introduce employee stock options, given that they are not common in Japan?
Tai: Sharp borrowed 25 billion yen by issuing Class B shares to the Japan Industrial Solutions Fund I that belonged to Japanese banks. But the interest on the shares was 12 percent, and every year these preferred shares were not converted into common shares, there would be an additional 7 percent interest charge. That translated to snowballing 19 percent interest a year. So the first thing I did after taking the post was to buy back the 25 billion yen in Class B shares with an eye to having managers use them as stock options as incentives for employees.
In addition, on Oct. 3, we launched an incentive plan for salespeople on a trial basis to improve performance. It was a departure from Japan's typical seniority-based system.
CW: Did you introduce stock options at Sakai Display Products (SDP)? Why was SDP able to go from a loss to a profit in just one year?
Tai: In the past, before we obtained a stake in Sharp, Chairman Gou and Sharp each had a 38-percent stake in SDP, and the two of them co-managed SDP. Whenever employees performed well and we wanted to give them bonuses, Sharp asked that we reduce the planned amounts because of its financial difficulties. So Chairman Gou would take all of his dividends and use them as bonuses to reward SDP workers. That's why SDP employees admire Chairman Gou. A "covered walkway" Gou used his own money to build has become known as "Terry Road." When we introduce stock options at Sharp, SDP employees will be included in the program.
SDP was able to go from a loss to a profit in a year because we used incentives to get SDP workers to go from selling modules and flat panels to selling whole devices and systems. We also took advantage of the 10th-generation plant's highly economic cutting ratio to cut low-cost 60-inch panels for TVs and then made use of Hon Hai's integrated production line [to assemble the products] and sell them overseas. That increased SDP's capacity utilization.
CW: Why have you decided to take back Sharp's brand licensing rights in Europe?
Tai: The agent [for the licensing rights] in Europe, Universal Media Corporation, pays only 3 percent in licensing fees, and some users stick the Sharp brand on low-end TVs. Sharp is not only not getting much in revenues but also cannot even maintain a high quality level. So we will use joint ventures and requirements that a certain proportion of Sharp panels be used to make finished TVs to enter into cooperative agreements.
Buying Back the 'Old Home'
CW: Sharp is losing a lot of money right now. Why buy back Sharp's "old headquarters?"
Tai: At an international press conference in April, outside observers wondered about Sharp wanting to buy back its old headquarters building, but the media reported the next day that it was "simply a joke." People on the outside were so skeptical, that I decided to buy it back within my first month on the job. I was determined to do this. It was something I really wanted because I could use its location in downtown Osaka to attract talent and develop new businesses to move Sharp forward. When many old employees saw us buy back "the old homestead," they were extremely happy and moved. Japanese society was quite shocked we did what we said we would.
CW: As the top leader, what is your management philosophy?
Tai: When you step out of the lab, there is no high-tech, only execution and discipline. I put a big emphasis on discipline. Also, I am mindful of the phrase: "living in combat conditions to be stronger." These were the words of military figure Chiang Pai-li, and Genghis Khan is the best example of this.
Of course, leaders are very important. If a lion leads sheep, the sheep will become lions, but if a sheep leads lions, the lions will become sheep. Because Chairman Gou is a tiger, all of his subordinates have become tigers. Now is the time for Sharp's employees to turn into tigers.
CW: Will you continue to issue open letters?
Tai: Sharp founder Tokuji Hayakawa once said "make products people want to copy." It's something that constantly echoes in my mind. On Oct. 21, I will release my third open letter titled "Be Original," hoping that people at Sharp can once again discover the entrepreneurial integrity and spirit of creativity that existed when the company was first founded.
Translated from the Chinese by Luke Sabatier
---