One Belt, One Road
Urumqi--At the First and Final Mile
精華簡文
Source:CW
It is risky to place all one's bets on Xinjiang when doing business in the fractious Central Asian region. Yet China maintains a tight grasp on the area due to its rich oil and mineral resources, despite the thorny issue of Xinjiang independence.
Urumqi--At the First and Final Mile
By Fu-yuan Hsiao
From CommonWealth Magazine (vol. 571 )


On the 2,530-kilometer flight to Urumqi from Xianyang Airport in Xi'an, on-board announcements are made in Mandarin Chinese, Uyghur, and English. Stickers placed on the meal boxes read "Halal Cuisine."

The farther west one goes on the Silk Road Economic Belt, the less the elements symbolizing Chinese orthodoxy come into play, while colorful Islamic elements become increasingly prominent.

Urumqi, the largest city in Xinjiang Uyghur Autonomous Region, is like an ethnic color wheel, with over 50 different ethnic groups making up its 3.5 million population – 70 percent of whom are Han Chinese, with the Uyghur and Hui minorities each accounting for 10 percent.

Still, outwardly Urumqi looks like just any other Han Chinese city, with its tightly clustered tall buildings.

Xinjiang is positioned as the "heart of the Silk Road Economic Belt," which in plain terms means that Xinjiang is "the final mile" within China proper, as well as the "first mile" extending beyond China of the country's One Belt, One Road initiative.

From geography to culture, language and lifestyle, Xinjiang – 44 times bigger than Taiwan – is the least "Chinese" of China's provinces.

Urumqi and Central Asia are separated by just an hour or two by airplane – closer than major Chinese cities like Shanghai or Beijing. The predominant language of Xinjiang, Uyghur, is closely related to and mutually intelligible with those of Central Asian countries, as all of them belong to Turkic language groups.

Over one million Kazakhs of the same language and ethnicity with Kazakhstan also live within Xinjiang's borders. Nurlan Abdul (努爾蘭.阿布都), 29, is one of them.

Born with a model's good looks and strong features, the 184-centimeter-tall Nurlan grew up in the Altai Mountain region to the north, later attending university at Nanjing University of Aeronautics and Astronautics. He still recalls how it used to take three days to get from Altai to Nanjing. But with China's high-speed rail lines now in place,"It only takes a day via high-speed rail," he says.

A first officer at an airline, Nurlan has just flown from Hetian to Urumqi, with another flight back to Altai that evening. He has noticed an increase in the number of people coming from neighboring countries to do business in Xinjiang of late, and that foreigners are now more visible around Urumqi.

Some of Nurlan's friends have left China and gone back home to Kazakhstan. For him, the biggest impact of China's "One Belt, One Road" initiative is that his airline is opening up more and more routes, and soon he will be able to fly to Kazakhstan himself.
Belt and Road Concept Stock
Apart from Guangzhou, Urumqi is the largest hub for China Southern, China's largest airline.
The people of Xinjiang often refer to China Southern as "the Southern Lord of the Skies."
Fu Puyan, president of China Southern's Xinjiang branch, was dispatched to Urumqi 36 years ago as a pilot.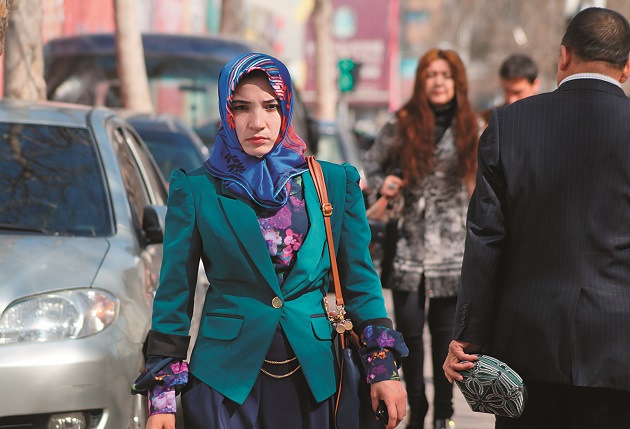 With a population of 3.5 million and around 50 distinct ethnic groups, Urumqi is an ethnic color wheel of diverse cultures, languages and faiths.
Over that period, he has witnessed Urumqi and Central Asia go from zero to 16 flight routes, with flights to 13 destinations. Southern Airlines' Urumqi branch carries over seven million passengers per annum, around 800,000 of whom are transit passengers to Central and South Asian destinations.
Chinese enterprises like cable and wire and transformer company TBEA, petrochemical company Cathay Chem and mining firm ZiJin Mining, have made inroads into Central Asia in recent years along with China Southern.
Having attained the position of corporate president, Fu Puyan flies up to 50 hours per month. A massive wooden globe is prominently displayed in his office, too broad in diameter to hold in one's arms. "Xinjiang is located at the center of the land bridge between Europe and Asia. To the east are over a billion Chinese; to the west, into Central and South Asia, are another billion people," Fu remarks as his hand traces flight routes from Urumqi to Central and Western Asia and Europe.
China Southern is a prototypical "One Belt, One Road" concept stock. Fu Puyan candidly allows that, for national strategy purposes, air routes will be opened up to nearly every country along the One Belt, One Road route. However, passenger traffic to South and Central Asia is sparse, remaining in the development stage at the moment, and therefore not generating profit for his company.
Piggybacking on the One Belt, One Road initiative, Urumqi sports one significant advantage other provinces and municipalities along the route lack: the central government's Xinjiang aid policy.
Young Entrepreneurs Rushing In
Gao Zhigang, dean of the School of Economics at Xinjiang University of Finance and Economics, relates that 19 of China's wealthiest provinces provide aid to Xinjiang, allocating 0.3 to 0.6 percent of their financial income to support Xinjiang's development.
Nineteen national technology development zones in Xinjiang rely on investment in manufacturing plants from wealthy developed provinces, such as Volkswagen's first production plant in China's northwest.
With the implementation of the One Belt, One Road initiative, products made in Xinjiang industrial parks will be dispatched for export, saving thousands of kilometers in transportation costs over coastal provinces.
Consequently, more young people are starting businesses along the Silk Road and doing business with Central Asia.
Mali (馬麗), 33, a member of the Muslim Hui ethnic group, worked for Taiwan's Uni-President Corporation in Xinjiang for nine years, starting out by delivering goods via pedicab and making 70 to 80 deliveries a day before working her way up the ladder. Breaking the mold, she made company president at the age of 27.
She left Uni-President a year ago to start a business in Urumqi, employing nine staff members and selling local dried and fresh fruit to China's coastal region and Central Asia.
Working on a contract arrangement with Turfan farmers, Mali selects goods herself. They are then shipped to a Kazakh wholesaler in Horgos on the China/Kazakhstan border. This summer, Mali aims to set up a flagship dried fruit store on (leading Chinese auction site) Taobao to promote her own brand.
"The One Belt, One Road initiative still lacks good prospects. But as long as planning is carried out, state investment will follow, and preferential border trade business policies will be introduced." Forthright and dressed in a unisex style and sunglasses, Mali comes off as a cool customer. For her, the One Belt, One Road initiative presents "a historic opportunity for brand building."
An Indispensible Link
Placing all of one's investments in Xinjiang as one's Central Asian business strategy is too risky, the most unreliable element being the attitude of neighboring countries.
Take Kazakhstan, for instance: In 2003 the leaders of Kazakhstan and China signed a bilateral agreement to jointly develop a cooperative border center at Horgos, with five square kilometers within China and close to two square kilometers inside Kazakhstan. A decade later, China had built skyscrapers and trade centers, and attracted vendors to its side, while the Kazakh side today still only has temporary structures.
"They aren't too enthusiastic," allows Gao Zhigang. With its GDP having surpassed Xinjiang's as consumption power continues to rise, Kazakhstan no longer has Xinjiang in its sights, focusing instead on China's developed coastal provinces.
Over a decade ago, Xinjiang accounted for 80 percent of bilateral trade between China and Kazakhstan, but that figure has diminished to under 40 percent in the past two years. "Xinjiang's regional geographic advantage has seen a relative decline," admits Gao.
Based on economic considerations alone, cities like Chengdu, Chongqing, Xi'an, and Lianyungang are accessible via rail to Central Asia and Europe, so that Xinjiang is no longer a "must" area.
Nevertheless, in the Chinese government's eyes, Xinjiang has rich mineral and oil resources, as well as the thorny issue of Xinjiang independence, making Urumqi a port of call that is strategically impossible to ignore.
Translated from the Chinese by David Toman