Toung Loong Textile
Stretchable Textiles in Vibrant Colors
精華簡文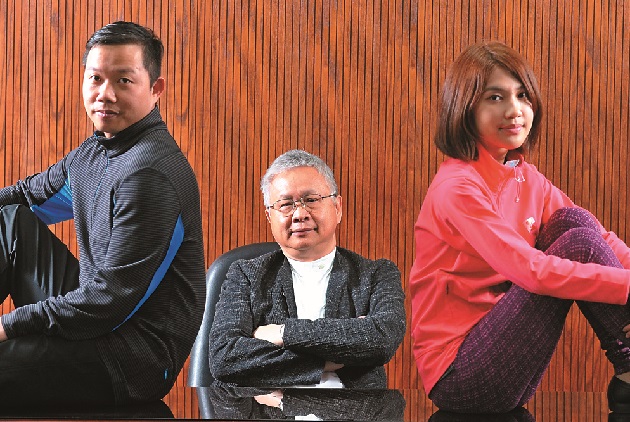 Source:CW
Traditional yarn manufacturer Toung Loong Textile Mfg. Co. Ltd. stayed in Taiwan as industry peers flocked to China. Instead of competing on price, the company repositioned itself as a manufacturer of high-end premium yarns.
Stretchable Textiles in Vibrant Colors
By Kuo-chen Lu, Elaine Huang
From CommonWealth Magazine (vol. 570 )


Sitting in his office in a high-rise in New Taipei City's Banqiao District, Toung Loong Textile President Yu Chih-cheng pulls at the ends of a piece of fabric to demonstrate its stretchability. The fabric is actually a pair of Lululemon yoga pants, which made headlines back in 2013 for becoming almost see-through when stretched.

"That's what happens when you do too well on stretchability," Yu explains, "Women who originally wore a size 6 will squeeze themselves into a size 4. Their body shape will be terrific, but the fabric will be stretched too thin and sheerness will of course increase as a result."

Founded in 1960, making it even older than Formosa Plastics Group's textile arm, the Formosa Chemical and Fiber Corporation, Toung Loong has successfully established itself as a manufacturer of high-end yarns.

Daniel Y. J. Ho, CEO of petrochemical industry consultancy Danny Material Intelligence, notes that most people know Eclat Textile Co. Ltd. because it is the highest priced stock in the textile sector. However, few are aware that Eclat Textile depends on Toung Loong for its high-end products.

The average consumer has probably not even heard of Toung Loong's cutting edge product – dyed yarns. These stretchable, colorful yarns are woven or knitted into fabrics and garments. Leading sportswear brands such as Lululemon, the North Face or Under Armour rely on such fibers for fashionable clothing that is highly flexible, super elastic, brightly colored and comfortable. U.S. lingerie brand Victoria's Secret also uses the company's yarns.
Avoiding the Bottom in China
How did Toung Loong manage to get orders from these famous brands?
Well aware that Rome was not built in a day, the company started out with making basics such as zippers and sewing thread for apparel. Sewing thread is yarn for sewing clothing and shoes.
Experience with these rather unexciting products proved very helpful for Toung Loong later on when it began to develop dyed yarns. For garments and shoes of different colors, a matching sewing thread must always be developed. If the color of the thread is not right, the seams become visible. Therefore, the most fundamental skill in sewing thread manufacturing is meeting high requirements for color management and product development.
However, being able to produce sewing threads does not mean that a company is able to manufacture yarns that meet the demands of international top brands. Crucial to Toung Loong's success was its decision almost three decades ago to stop competing on the basis of low cost.
Just after China launched its economic opening policy, Yu made several trips to Shanghai in 1986 to evaluate the business environment there. Back then, three of his industry peers had already invested in China. They gushed about China's cheap labor costs and told Yu, "In Shanghai not only are the wages cheap. If you announce today that you want 100 workers, there will be 1,000 standing in line tomorrow."
With China lacking everything but labor, Yu thought his options over and decided against investing there. "Our competitors had already rushed to China; if we had taken the same things to make them in China, we would have ended up embroiled in cutthroat competition," Yu says.
Instead of relocating production to China, Toung Loong built a new factory in Changhua County in central Taiwan, hoping to chart a new course for the company by looking for opportunities to develop special textile products.
In 1992, Yu happened upon the information that U.S. sportswear brand Nike was planning to develop Dri-FIT products. The fabric used for these products needed to be woven from super fine microfiber. It was supposed to wick moisture away from the body, be stretchable and colorful, and have a nice handfeel and appearance.
This is where Nike ran into problems. Ultra fine synthetic fibers can only be dyed at temperatures above 130 degrees Celsius. Such high temperatures, however, destroy elastic fibers that are made from polyurethane. Designers faced a dilemma: Fabrics were either elastic and quick-drying but could not be dyed, or they were colorful but not elastic.
Yu reckoned that if Toung Loong was able to solve this problem, the company would be able to join Nike's supply chain for the new product line. So the company boldly decided to try a new manufacturing method: Dying first, weaving later.
After the microfiber yarn was dyed, it was blended with elastic fibers and then woven into the fabric with the desired qualities. By dyeing the microfiber filaments before combining them with the heat-sensitive elastic fibers, the resulting brightly colored fabric retained its elasticity. That is how Toung Loong became the first synthetic textile maker worldwide to develop colorful Dri-FIT fabrics.
Becoming the world's No. 1 is not just a matter of being smart and clever. Getting there is actually very difficult, because the rejection rate can be very high if things do not go well. No one else in the industry had been willing to give it a try.
Sunny Huang, CEO of fabric and garment manufacturer New Wide Group, explains that while microfibers can be dyed easily, it is difficult to render the dyes stable. Different batches of microfiber dyed with the same color will not necessarily come out exactly alike. Achieving a stable dyeing outcome is extremely difficult.
Faced with failure after failure, forced to frequently start all over again, even the workers on the production line can become exasperated and frustrated. Yet Yu put up with the setbacks, honing production techniques over the period of a decade. Gradually they made progress, and in 2001, Toung Loong began to see light at the end of the tunnel when monthly sales of the novel fabric ballooned from a few tons to 200 or 300 tons.
During the worst period, Toung Loong shares, which currently trade above NT$100, fell below their face value to NT$3.6 per share. At one point, the situation was so bad that employees were forced to take three months of unpaid leave.
For many years, Yu has refrained from traveling to China for fear that Taiwanese investors there would sway his decision to focus on special textile products instead of cheap, large-volume products. His friends had told Yu how much progress Shanghai had made, inviting him to come for a visit to see for himself. Yet Yu remained steadfast.
"I didn't want to go because I was afraid I would get confused. I feared I would rush to invest there because their infrastructure had made so much progress. I didn't want to see it because then I wouldn't get excited and wouldn't be drawn into low-cost competition. Only if I didn't travel to China would I be able to keep my eyes focused on the markets in the industrialized nations," Yu says, recalling his reasoning at the time.
Why did Yu opt for this approach? It was a matter of placing demands on oneself. Toung Loong wanted to win American and European customers. Therefore, it needed to maintain a high measure of flexibility to be able to produce a large variety of products in small batch sizes instead of manufacturing a handful of products in large quantities.
Low variety, high volume production is at the opposite end of the spectrum from high variety, low volume production. Had Toung Loong relocated to China, it would most likely have moved toward making large quantities of cheap products, thus even cultivating new competitors.
Maintaining flexibility in production is not easy. While other companies take orders for volumes of 300-500 tons, Toung Loong products are typically ordered in small quantities of just one or two tons.
Bai Chi-chung, president of the Taiwan Textile Research Institute, observes that this is the reason why international brands riding the current "sports and leisure wear" trend have chosen Taiwan. The island's manufacturers provide good and reliable quality as well as short lead times, take small orders and offer flexible production that can react quickly to market changes. Furthermore, when a product becomes a hit, the Taiwanese supply chain is expected to develop second-generation and third-generation products to support the brand in question.
Toung Loong was able to capitalize on the needs of international sports wear brands such as Lululemon and Victoria's Secret for fabrics with a soft, natural feel as well as rich, vibrant colors and a snug elastic fit. Yu proudly points out that microfiber fabric woven from dyed yarns with such a great handfeel can only be found in Taiwan.
Translated from the Chinese by Susanne Ganz