2015 Golden Service Awards
Healthy Competition within Conglomerates
精華簡文
Source:CW
This year's Golden Service Awards saw seven new winners emerge in their respective industries. What makes these champions special?
Healthy Competition within Conglomerates
By Ming-ling Hsieh, Shiuh-sheng Hsu
From CommonWealth Magazine (vol. 570 )


The results of CommonWealth Magazine's 2015 Golden Service Awards are out. While 12 previous golden service enterprises retained their top slots, four companies made it to the top for the first time: CTBC Bank, the Taipei Rapid Transit Corporation (TRTC), Cathay Life Insurance, and the Songshan Cultural and Creative Park.
Winning Customers with Unique Innovation
CTBC Bank was able to dethrone E. Sun Bank, the unchallenged No. 1 for the past four years, mainly thanks to its "innovative ability." The bank believes that part of the groundwork in service innovation is "figuring out how to resonate with customers." On top of that, willingness to promote the brand is crucial.
Last year, bank officials analyzed customer data such as when customers frequented bank branches and what kind of transactions they conducted during their visits. The bank ended up simplifying 270 transaction procedures as a result, reducing red tape and the number of repeat visits for finalizing procedures.
Cathay Life Insurance is another first-time champion. Over the past few years, Cathay Life Insurance has been able to rid itself of its somewhat staid and old-fashioned image as it invested in digital technology and a younger, more dynamic approach to attract new customers.
Not only did the life insurer release 15 apps for mobile insurance services, it also equipped its more than 23,000 sales people with tablet computers for the immediate handling of new insurance policies and settling insurance claims. Cathay Life received good scores in the areas of attitude toward customers, service environment and service satisfaction.
The Songshan Cultural and Creative Park in Taipei took the crown in the cultural centers category, toppling the previous champion, The Pier-2 Art Center in Kaohsiung. The restored former tobacco factory has become a popular attraction for its good performance with regard to innovation, service satisfaction, service efficiency and service environment.
With its historic industrial buildings, a shopping mall and beautiful outdoor scenery, the park offers a unique blend of old and new, commerce and culture in a relaxed atmosphere. While this makes for a special customer experience, the park also inspires creative business ventures.
TRTC, the company that runs the subway and commuter train network in the greater Taipei area, ousted the Taiwan High Speed Railway Company from the top perch in ground transportation thanks to its high market penetration and its unique service.
TRTC benefits from its expanding, increasingly dense network of subway and commuter rail lines. Aside from offering mere rapid transit services, the company has begun to branch out into travel services, and is planning special attractions for its stations.
The opening of new lines is usually celebrated with a series of themed events. When the Taipei Metro's Songshan Line opened in late 2014, passengers were encouraged to send in photographs taken during their rides on the newly opened line. The senders of the photographs were entered into a prize draw for mobile phones. Thanks to these MRT-related events and sightseeing attractions, public transportation is no longer just a boring trip from point A to B, but a more entertaining experience in itself. As a result, customer loyalty has increased.
Reclaiming Former Glory
Three enterprises regained top spots in their respective industries this year, including Sinyi Realty in the real estate sector, Singapore Airlines in the airline industry, and Taichung's Matsu International Festival in the celebrations and festivals category.
In all areas except innovative ability, Sinyi Realty leads its sector in terms of the six other major indicators.
Sinyi Realty has always emphasized its work at the grassroots. Given the fact that the real estate market has been cooling off recently, Sinyi Realty's longstanding groundwork in cultivating its customer base is paying off.
In March, the company created a buzz within the industry with a new measure: Newcomers who feel after training on the job for a month that the real estate business is not their cup of tea are not only able to claim one month's salary, worth NT$50,000, but also a career change package of the same amount.
During the one-month orientation period, Sinyi Realty provides new employees with many opportunities to get to know the real estate business firsthand so that they can judge for themselves whether they are cut out to work as realtors. The company hopes that it will become easier to identify the right person for the job through this measure. If unsuitable candidates quickly leave to pursue other career options, the company can pool its resources on training new people who fit the requirements of the industry and like to work in it.
Another returning champion is Singapore Airlines.
In comparison to Taiwan's three domestic carriers, Singapore Airlines' market penetration is not high. But when it comes to customer satisfaction, innovation, service environment and uniqueness, the Southeast Asian airline shines with top scores.
Its strength lies in its ability to figure out what customers really want. Instead of using traditional approaches such as asking focus groups or sending out questionnaires when outfitting new airplanes, Singapore Airlines invites high-end customers, airline industry insiders and travel agency sales representatives for intensive discussions. On the first day, the participants get to know each other. On day two, they work together using tape and plastic materials to build their dream passenger cabins, which they then present to airline officials.
The Taichung Matsu International Festival outrivaled its competitors with a high score for its "uniqueness." In recent years, festival organizers thought up schemes to attract a younger, entertainment-oriented crowd such as an app that allows adding festival highlights to one's Facebook profile or mobile phone stickers featuring cartoons with good wishes from the Goddess Matsu. Such campaigns have turned the traditional, religious celebration into a modern cultural festival for a broader audience of all ages. (Table 3)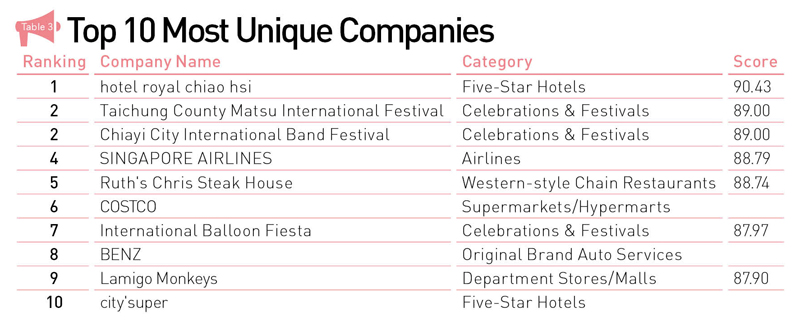 Companies not only compete with their industry peers; in some cases members of the same conglomerate emerge as rivals as well.
In the overall top ten rankings across all sectors and industries, the President Starbucks Coffee Corp. clinched victory over its affiliate, the President Chain Store Corporation, which also belongs to the retail conglomerate Uni-President Group. The Starbucks coffeehouse chain has been able to maintain its popularity by launching new services and products such as opening a drive-thru outlet in Tainan and selling its coffee beans online. (Table 1)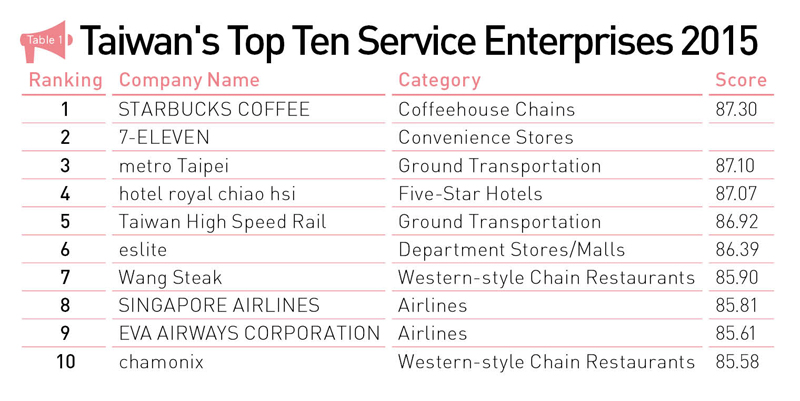 President Chain Store, which runs the 7-Eleven convenience store chain, last year headed the top-20 list for innovative ability, an indicator that had just been added to the survey. Yet this year, the online shopping portal 7net, another member of the Uni-President Group, took the No. 1 spot in innovation. (Table 2)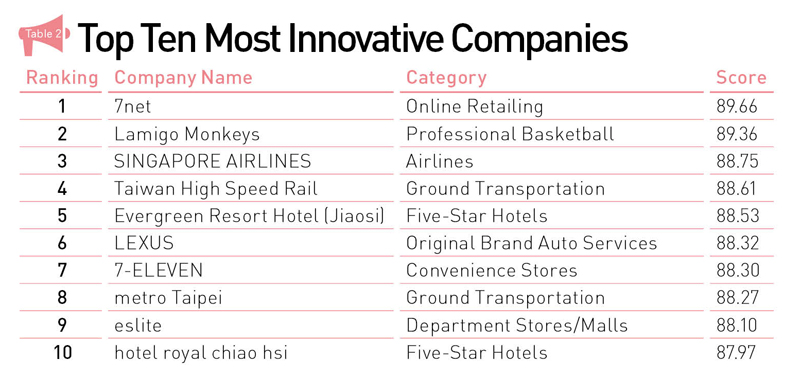 On the surface, President Chain Store's brick-and-mortar stores seem to compete with the company's own online shopping portals. But in reality, the company has created a successful business model for the integration of real-world and virtual stores.
7net has been able to set itself apart from its competitors because it is backed by Uni-President's Logistic Sub-Conglomerate, which comprises over 30 retail service subsidiaries. Uni-President brands such as Starbucks, the Muji lifestyle products and Organicshops health food are all sold on 7net. The portal also cooperates with the Black Cat delivery service, another group company, to bring local delicacies from all corners of Taiwan to every household.
For real-world stores with limited space, the convenience store in the cloud functions like an extended shop shelf. In a perfect interplay between the real and virtual worlds, customers buy online but they can pick up their goods at the convenience store around the corner if they choose, which again boosts foot traffic to the shops. It is a win-win situation for both sides.
Professional baseball was added to this year's survey, bringing the number of industry sectors covered to 21. Baseball remains one of Taiwan's most popular and most representative sports despite numerous betting and game-fixing scandals in the past. Nevertheless, the sector still needs to improve its services and image.
Lamigo Monkeys Think across Sectors
In this first-time ranking, late-comer Lamigo Monkeys came from behind to clinch the top slot, outstripping favorites such as the Uni-President Lions, EDA Rhinos and Chinatrust Brothers.
The Taoyuan-based team reinvented itself, overturning expectations in the process. Competing with department stores and cinemas for the attention of its fans, the team wants the audience to enjoy watching the ball game even if the Lamigo Moneys are losing.
In this year's survey, the online shopping sector was split into online shopping malls with a comprehensive selection of goods from all categories and vertical shopping platforms.
In the past, when Taiwan's e-commerce market was still in its infancy, online vendors were forced to sell almost everything to be able to survive. With the ensuing boom in the e-commerce market, however, websites and vendors began to specialize in certain product categories such as creative products, fashion and shoes. With growing differentiation, the trend toward online specialty stores has gained steam.
Lativ, King of Online Specialty Shops
In the field of vertical e-commerce platforms and online specialty stores, fashion apparel vendors reign, occupying the top five ranks.
Still leading the pack amid fierce competition, casual wear vendor Lativ, which was founded eight years ago, gripped the top spot.
Lativ has stayed true to its original design principle of offering simple men's and women's clothing in many colors at affordable prices. The company emphasizes basic skills such as logistics and inventory management, pursues high efficiency and never produces TV commercials in order to control costs.
At a time when the majority of e-commerce brands still relied on large online platforms to sell their products, Lativ decided to build its own website to stay in control of its sales channels as well as the company's development. Thanks to this approach, Lativ secured not only high profit margins but also demonstrated that an online brand can survive independently. This confidence led to a whole new wave of e-commerce ventures.
Amid ever fiercer competition, Taiwan's service sector can only remain at the top if it continues to exceed expectations, excel at integration, pursue uniqueness and continuously reinvent itself.
"The biggest secret of the services industry is constant progress and upgrading," Hsu Chung-jen, Taiwan's godfather of retailing, once noted. Hsu, president of supermarket chain PXMart, sums it up by saying, "Your biggest competitor actually is your customer."
Translated from the Chinese by Susanne Ganz
---