Huang Sheng-Yuan
The Down to 'Earth' Master Architect
精華簡文
Source:CW
Huang Sheng-Yuan's many architectural landmarks in Yilan reflect a free and rebellious style honed over the past two decades. That sometimes unappreciated style has now earned him the chance to exhibit at a Japanese architectural shrine.
The Down to 'Earth' Master Architect
By Jimmy Hsiung
From CommonWealth Magazine (vol. 569 )


Twenty years ago, he was armed with a master's degree in architecture from Yale University and seemed headed for the big time. Yet he settled in the backwater of Yilan County and immersed himself in the design of community projects. Among them: a neighborhood basketball court, a chicken barn for an Yilan County civil servant, and social welfare and public health centers.

But firmly planted in the middle of Yilan's "fields" where he conceives his architectural narratives, architect Huang Sheng-Yuan has steadily expanded his reach in the county and made a name for himself there.

In 2008, when Cloud Gate Dance Theatre's studio and storage complex in Bali Township on Taiwan's northern coast burned down, the dance troupe's renowned founder Lin Hwai-min chose Huang to design Cloud Gate's new home in nearby Tamsui, the "Tamsui Culture and Art Education Center." That job further advanced Huang's burgeoning reputation.

The new facility, set to formally open on April 25, has elicited widespread attention and discussion with a design that cleverly integrates the surrounding landscape with nearby historical landmarks and embodies "how the wind blows, how water flows and how people breathe."

Going International

That was simply a harbinger of things to come. As Huang and his Fieldoffice Architects (田中央聯合建築師事務所– the firm's Chinese name literally means "in the middle of a field") add the stunning Cloud Gate center to their list of achievements, an intrepid journey into the international architectural arena will be just beginning.

In July, Fieldoffice will exhibit its many projects at the Toto Gallery ‧ Ma in Tokyo, recognized by Japanese architectural circles as their most prestigious temple. Huang will be the first Taiwanese architect to exhibit there.

"This is a step all architects in Japan must take on their way to fame," says Wang Chun-hsiung, an associate professor in Shih Chien University's Architecture Department. Famed Japanese architects such as Tadao Ando, Toyo Ito, Kazuyo Sejima, Kengo Kuma and Sou Fujimoto all exhibited at the gallery before earning recognition as top architects.

This year is also Toto Gallery ‧ Ma's 30th anniversary, and giving a non-Japanese architect like Huang the honor of showing his work during the summer session from July to September, the gallery's most important session of the year, indicates how much the Japanese value the Yilan-based architect.

Taiwan, however, has never been as taken with this "master architect" as people from the outside, perhaps because Huang has been living in Yilan for too long or because of his typical unfashionable get-up consisting of an undershirt, shorts and flip-flops.

When Nobuyuki Endo, the gallery's director and a key player in deciding its exhibits, was in Taiwan two years ago to give a lecture, he took the opportunity to visit some of Huang's works in Yilan and was struck by Fieldoffice's focus on the natural environment in its architectural designs. Upon his return to Japan, he reported his findings to the gallery's planning and management committee, consisting of such luminaries as Ando, Sejima and Hiroshi Naito, and it decided unanimously to invite Huang to exhibit there.

Delivering Inspiration

Endo is hoping that Huang will inspire Japan's architectural community and encourage reflection. Endo told Shih Chien University's Wang: "Japanese architects today only care about buildings and lack vision. But Fieldoffice's consideration of the overall effect is what architecture should be all about."

What, in fact, should architecture really be about? Spend any time around Huang and one discovers the field's boundaries are becoming increasingly blurred.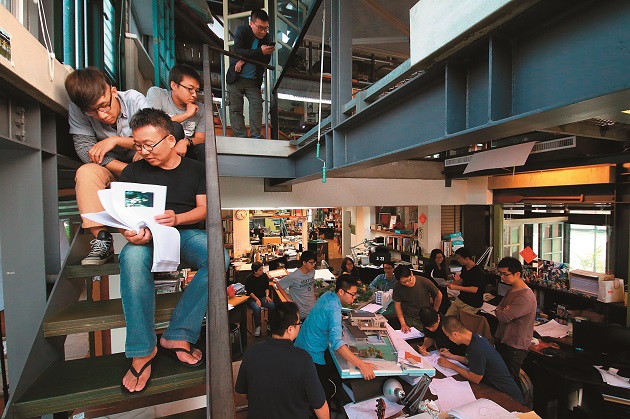 A group of young people passionate about architecture gives Fieldoffice Architects the feel of a spontaneous architecture academy.
One example is the Kamikaze Aircraft Shelter Museum in Yuanshan. Huang was drawn in 2001 to the bunker where Japanese kamikaze pilots hid their aircraft during World War II when he saw on the news that it would be torn down to build a senior citizen's activity center. He successfully lobbied the county government to change its mind after extensive mediation and discussions and not only preserved the bunker but renovated and redesigned parts of the site. It is now one of Yilan County's main tourist attractions.
Then there is a "moat" in a lush green area fronting Yilan Guangfu Elementary School. It is just one component of a city-preservation project being undertaken by Fieldoffice architect Bai Tsung-hung.
The project, named "Vascular Bundle of the City," entails turning buried underground water channels into open rivers meandering through the city.
"Yilan originally had more water and green landscapes to nourish it," says Bai, who decided on his own to initiate the project because he felt it would make Yilan a better place.
Bai, who joined the firm after graduating with a master's in architecture from Tunghai University, jokes that his job is to "hang out" in old Yilan and build emotional bonds with local residents and employees of the old Yilan Distillery located in that part of the city.
"It's been hard but wonderful," he says when asked if it has been difficult to get the project going. The optimistic Bai adds with a laugh: "I've had to go around trying to sell the project to people. When I wasn't able to push it any further, I had to stop and wait. In any case, I live here and I'm not going anywhere so whenever the person holding up the project figures it out, the call will come."
Fieldoffice as a 'Graduate School'
Unlike most architectural firms, Fieldoffice resembles an "architectural graduate school," largely because of the environment created by the relatively open-minded Yilan County bureaucracy.
Huang explains that people with ideas on how to make Yilan better, from the county commissioner to the average farmer, are frequent Fieldoffice visitors.
"It's hard to imagine. How many officials in other counties and cities even dare visit potential vendors? Just thinking about (being vulnerable to accusations of) 'lining people's pockets' leaves them unwilling to take action," Huang says laughing.
Yilan County's willingness to engage professionals in dialogue dates back to when the late Chen Ding-nan led the county from 1981 to 1989. When Chen took office, he launched an Yilan architectural movement that later was at the root of Huang's decision to settle there.
Chen Teng-chin, the head of Yilan's Environmental Protection Bureau, recalls that when Chen Ding-nan was planning the Dongshan River Water Park and the Yilan County government complex, he established an internal construction task force that closely interacted with the projects' designers Atelier Zo and Takano Landscape Planning Co.
That strategy imbued Yilan with a culture in which the government and the people joined together to give the county a new architectural look.
As an Yilan native and graduate of Tunghai University's Department of Architecture, Chen Teng-chin was infected by the vibrant atmosphere and joined the county government. Starting as a low-level technician with the county's economic affairs department, he personally took part in this new movement and later recruited his best friend from college to join him.
That friend was Huang Sheng-Yuan.
After Huang's graduation project at Yale was exhibited at the Venice Biennale of Architecture, he worked at a world-renowned architectural firm in Los Angeles and taught at North Carolina State University.
Though Huang established himself as a budding star in the field, he eventually abandoned what appeared to be a bright future because "it wasn't the life I wanted" and returned home to Taiwan.
At that time, Huang's parents had just emigrated to Canada, and when Huang arrived back at his home in Taipei, he felt even lonelier than ever. That's when Chen Teng-chin extended a friendly hand.
For Huang, who had only been to Yilan twice before, the third time was the charm. He embraced an environment that he had never witnessed before – the smell of wind-swept fields, the sound of raindrops falling in ponds and the dense but intimate earth. He was also taken with Chen's parents, farmers who were as natural and real with him as with members of their own family.
Huang, who grew up in a family that came to Taiwan after the Nationalists lost the Chinese Civil War in 1949, had finally found home.
Helping Huang's transition is that the potential flashed by Yilan's architectural movement was finally catching on even though Yu Shyi-kun had by that time taken over for Chen Ding-nan as county commissioner.
"Some people say that it was very courageous of Huang Sheng-Yuan to settle in Yilan at that time, but I never felt he was taking a risk," says Chen Teng-chin, who recalls that the county was actually an ideal place in which to settle and grow.
A Rebel Working within the System
Behind his rebellious personality, Huang clearly understands what needs to be done to engender change, an attitude perhaps derived from his parents, who were both teachers. Though he dislikes living his life by going along with established ways, he came to realize that to get things done he had to rely on working within the system.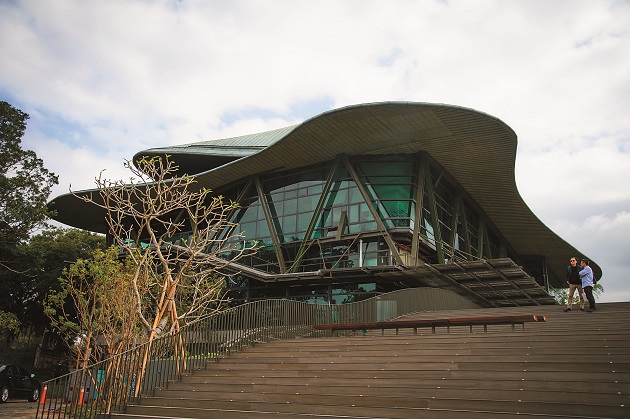 The Tamsui Culture and Art Education Center was designed by Huang as the new home for the renowned Cloud Gate Dance Theatre.
CoConsequently, he has patiently tried to persuade and influence the bureaucracy to give him the chance to bring greater freedom to the city and maintain open spaces. In works such as Diu Diu Dang Forest and the Luodong Cultural Working House, Huang set up urban metallic frames on different scales to occupy spaces that might have otherwise been developed or turned into malls.
"Other people try to think of ways to build more 'floor space.' We have always tried to bring it down, so it's no surprise we have offended so many people," he says with a tinge of helplessness.
By the non-conformist architect's own admission, he needs courage to continually toil within the establishment, and that courage, he says, "comes mostly from my wife."
The self-deprecating Huang confides to lacking common sense and "smarts" in many situations but that he has always surmounted challenges by listening to his wife, Lee Ching-hwei.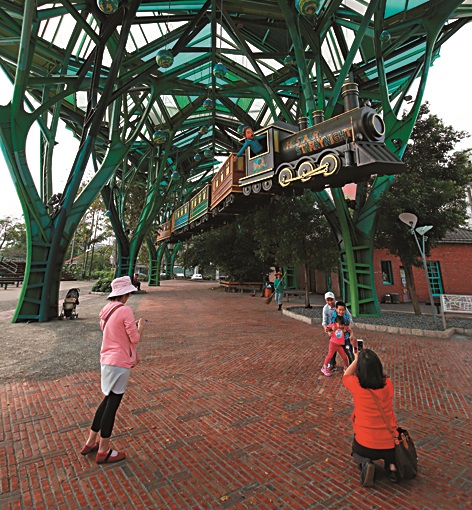 Huang Sheng-Yuan used Diu Diu Dang Forest to occupy a city space on behalf of local residents.
One example: During the four years when Lu Kuo-hua of the Kuomintang was county commissioner from 2005 to 2009 after 24 years of Democratic Progressive Party rule, Huang hit a low point in his life. The Luodong Cultural Working House project was constantly held up by "technicalities" raised by the county, which then turned around and accused Huang of delays in the design process and construction schedule.
Huang considered suing the county to clear his reputation, but he dropped the idea after his wife reminded him that taking the case to court would only result in the project being suspended, which would be unfair to the young staffers at Fieldoffice who had put so much into it.
Also during that time, Tunghai University's Department of Architecture tried to recruit Huang to head the department. He started to think he might be better off returning to academia, but he decided instead to continue fighting after his wife told him, "I think you still prefer practicing architecture."
Lee's unflinching support for her husband has included seeing the bright side of the "difficult times" they have endured, including financially. Though Huang has been well-known for many years and Fieldoffice has created several public landmarks in Yilan County, he remains in debt to the present day because of his firm.
Lee recalls one day when she and her husband took their children out for a spin, and they went to a steamed bun shop for a snack. They picked out several buns, only for Huang to tell his wife after ruffling through his pockets, "Wait a second. I may not have enough money."
In the end, they could only afford two buns, "but we were actually even happier, thinking it was kind of fun," Lee says.
On the subject of "not making money," Fieldoffice CEO Tu Teh-yu explains that "the projects we do are capable of making money. It just comes down to how many problems you want to solve."
Spreading the Seeds of Change
In fact, Fieldoffice is a profitable firm, and even when it was most stressed financially during Lu Kuo-hua's time in power it still managed to pay its employees half of their salaries. Its debts largely result from the company's high "research and development" costs – the extensive time and expense it invests in young workers seeking out problems and studying those problems' historical contexts and general environments.
But Tu is generally dismissive of talk of the firm's finances.
"Isn't it a bit foolish to gauge what we do based on money?" he asks.
Both he and Huang have developed the habit of using "value" to weigh success. "This is the dynamic that allows us to continue moving forward."
To Huang, Fieldoffice's role as an "architectural academy" is far more important than making money, not only because the firm has 20 to 30 young people conceiving ideas to make Yilan better but also because the seeds that have moved on from Fieldoffice are sprouting "small Fieldoffices" around Taiwan, from Tainan to Yilan.
"Our teacher (Huang) has only one expectation of us and that is to be ourselves," says Chen Yo-zhong, who is preparing to leave Fieldoffice after finishing work on the Cloud Gate Dance Theatre project in Tamsui.
Whether they join major architectural firms or go abroad to study or start their own business, these "seeds" are always reminded by Huang to "remember to be yourself."
By having the courage to be himself, attaching himself to the land and squatting in the "middle of a field" forging new architectural values, Huang has arrived as a prominent architect drawing international attention.
Translated from the Chinese by Luke Sabatier