Microsoft Changes Course
精華簡文
Source:CW
As it faces its fifth decade, Microsoft is making changes to compete with newer companies. Julia Liuson, corporate vice president at Microsoft, is at the forefront of the company's recent moves towards open-source software.
Microsoft Changes Course
By Hsiao-wen Wang
From CommonWealth Magazine (vol. 569 )


Microsoft, which used to command an overwhelming 90-percent market share in the PC era, now holds less than 10 percent of the computing device market, according to investment and research firm Alliance Bernstein.

At the age of 40, the global technology giant is looking to adjust its strategy and explore new markets.
Openness and Embracing the Enemy
Moving toward open source is Microsoft's most dramatic change of direction.
Last year, Microsoft launched mobile applications finally allowing the free use of Office applications on mobile devices running on the operating systems of its archrivals Apple (iOS) and Google (Android). Previously, users had to subscribe to the apps for a fee.
At the end of 2014, Microsoft also decided to make its developer platform .NET Core open source by publishing its entire source code on GitHub, a software project-hosting site. Now, nine million software engineers around the globe can develop new apps on the Microsoft platform without having to pay a fee. They only need to write the source code once before being able to use it across different platforms such as PC, Internet and mobile apps, cutting costs for the migration of software across platforms and devices.
"It is hard to imagine that a few years ago the Microsoft CEO still considered 'open source' a cancer, a disease that needed to be eradicated," notes Julia Liuson, global vice president of Microsoft's Developer Division.
But transformation means going through labor pains. In its second-quarter results from the fiscal year 2015 released in January, Microsoft announced a negative impact on the company's financial performance related to its restructuring plan and the ongoing integration of the Nokia Devices and Services business.
Putting Food on the Table
While commercial cloud revenue more than doubled over the prior quarter, revenue from Microsoft's moneymaking machines, the Windows operating system and the Office suite, continued to decline. Profits declined 11 percent with net income falling to US$5.86 billion last year.
"Striking a balance is definitely very difficult. As my colleagues say, we must continue to eat while restructuring; not eating at all is impossible, since if we starve to death we won't be able to restructure. However, you can't only take care of eating and forget about restructuring, or you won't have anything to eat in the future," Liuson says.
Microsoft remains a technology giant that is able to post net earnings of more than NT$100 billion per quarter. The giant is currently transforming itself and redefining its battlefield. Industry insiders wonder how Microsoft will make money if it can no longer rely on software licensing.
It seems that commercial cloud services are Microsoft's answer. One of the crucial parties in overcoming in-house resistance to turning Windows into open source software is Julia Liuson. Born in Shanghai, Liuson grew up in Beijing. Upon obtaining a bachelor of science in electrical engineering from the University of Washington, she joined Microsoft in 1992, holding various technical and managerial positions when the company was still in its heyday. Liuson works closely with Microsoft's new CEO Satya Nadella and oversees software development for Visual Studio and the .Net framework.
For Taiwan's high-tech industry, whose fortunes have always been bound to Microsoft, the giant's reorientation offers deep insights. The following are excerpts from the interview with Liuson:
---
Q: When taking the helm of Microsoft, Nadella said, "Our industry does not respect tradition — it only respects innovation." How has Microsoft changed since Nadella called for the company's transformation when taking office more than a year ago?
A: There has been a very big change in terms of acceptance for going open-source. In terms of operating procedures, we have also seen massive changes. In the past we used to release major software updates every three years, as if we were selling a precious encyclopedia set. But in a speed-hungry Internet business environment, someone needs to run and maintain [software], racing against time 24 hours a day. It is like having to update one encyclopedia page per day, updating a chapter every week.
We have also changed our organization's operating model. In the past, the ratio of software developers to software testing personnel was one to one. When the developers had developed new software, they would throw it over the wall to the testing staff, where it was no longer the developers' business. Now, the real work begins when the developers have written the software and release it into the market, because we need to pay attention to customer feedback before we go back to make modifications.
In order to tear down the fences between developers and other departments, we reorganized our staff in work teams of eight to twelve members so that planning, development, testing, marketing and sales as well as customer support can communicate closely with each other and shorten the time needed for product updates and new releases.
Q: How did you deal with doubters inside Microsoft when pushing for opening the source code?
A: We took things slowly; we didn't cover it all in one big leap. Our first step in 2011 was to first ship open-source products released by others together with our products. The first step was the hardest because Microsoft was strongly opposed to open source at the time.
We first needed to get approval from our legal department. We needed to make sure that we did not infringe on the intellectual property rights of others when putting this software inside. Microsoft has fought lawsuits and has come to fear them. You need to think ahead: If there is a lawsuit, then you must be able to eliminate this software the next day. Only then you can sell [your product]. That was our first step.
In our second step, we released our new programming language TypeScript, a novel programming language that had no users yet. It was a safe choice. But other departments would ask: Why are you doing this? These things don't generate revenue either. The legal department asked if there were any new risks. The marketing department would ask what kind of message are you sending to the market. How do we define the relationship with our other products?
Many people expressed doubts. Back then, the attitude toward open-source software and developers within Microsoft was completely different from the emphasis they receive now. However, we still insisted on releasing it.
In the third step, which was late last year, we put the source code of C, (C Sharp), the core C programming language, on the open source community platform GitHub, allowing engineers around the world to develop [software] on our .NET platform.
Q: As Microsoft transforms, what attitudes and skills are needed most?
A: Microsoft must learn to listen more closely to its customers; that's a huge change.
Just the Beginning
Corresponding to these attitudinal changes, everything was different from before, like the requirements of the products, analysis of customer behavior, and the collection of big data.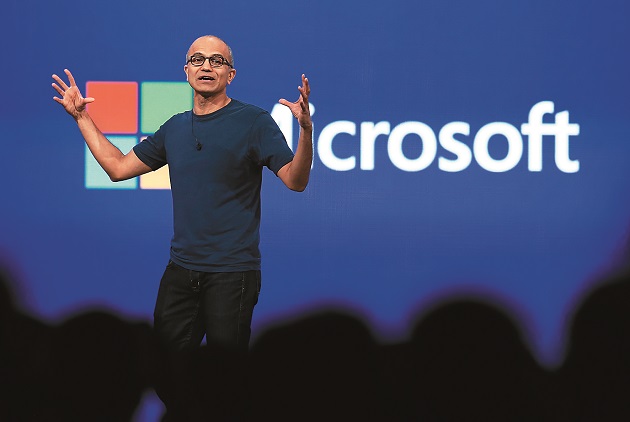 The mantra of Microsoft CEO Satya Nadella is "mobile first, cloud first." Industry observers believe that Nadella's job will get harder in his second year.
Previously, we only needed to sell our products and everything was fine; we didn't need to look at what the user wanted. However, now that I need to collect [data] on the behavior of these users, how am I going to go about my product support? How do I analyze the data I've gathered? These have all been huge transformations at Microsoft.
We cannot dig moats like before to protect the high market share of our products Windows and Office. Now we are a challenger, a new service that starts with a zero market share with zero users. We need to win over every single customer.
We need to adjust our own mindset: If I were a small startup, what would I do? This is completely different from our mindset in the past, when Microsoft was the industry leader with a market share above 90 percent.
Q: How long do you think Microsoft's transformation will take?
A: I don't think that transformation is something that can be "completed," since it is impossible to set a clear deadline for it.
Presently, this transformation only means that the demand we now see in the market tells us how we must change ourselves. However, by the time we have changed to that extent, the market will have probably changed again.
My strongest impression is that we used to make five-year plans, and then it was three years. Now, three years does not work anymore; three years is too long. Therefore, we make only 18-month plans now.
Q: When the financial report came out in January, the market value of Apple was twice that of Microsoft. Some argue that this is due to the fact that Apple virtually doesn't care about self-cannibalization; it doesn't mind if the iPhone kills off the iPod. In contrast, Microsoft has overprotected its own flagship products for a long time. What's your view on that?
A: Microsoft is now more able to boldly discard yesterday's success.
For example, the new business model for Office 365 is "pay per month", which is actually self-cannibalization to a certain degree. Since we sold licenses in the past, we can still sell them if we want. Now that users pay per month, they can cancel their subscription the following month if they are not satisfied with Office 365. But if the user is satisfied, he will continue to pay month after month without having to buy a license every three years. This is actually a big business model shift.
This will affect revenue in the short term, but in the long term, it will prove very effective for maintaining customer flexibility and obtaining immediate customer feedback.
Q: What keeps you awake at night?
A: Everything (laughs)! Just kidding. Come to think of it, I am in charge of Microsoft software, which has millions of users around the globe. But I don't know who they are and how they use our software. If you told this to the people at Amazon, they would laugh at you.
Microsoft must transform from a company that throws a box with software into the market, a company that does not know who its customers are into a company that offers pure services, that knows who every single customer is and how they use its services. This is what keeps me awake at night.
There are still many things that need to be done. How much I wish it was still yesterday. Then I would have another 24 hours to get things done (laughs).
Translated from the Chinese by Susanne Ganz