The Asian Coffee Boom
Laos – Precious Aroma from the Colonial Era
精華簡文
Source:CW
You may never have heard how good it is, because French people in the know keep it secret. Grown in tiny quantities, yet ranking among the world's finest in quality, Laotian coffee is a heavenly brew.
Laos – Precious Aroma from the Colonial Era
By Jin Chen
From CommonWealth Magazine (vol. 569 )


"It may look like water that was used for washing feet, but it tastes like heaven. The bouquet just lingers beautifully," describes Miss Ho, reflecting back on her first taste of Laotian coffee 20 years ago as if she could still taste it.

It is hard to describe the color of the "foot washing water," but, like Bordeaux wine and champagne from the Champagne region, particular climate and soil conditions shape the unusual quality of coffee from Laos. It has a rich fragrance tinged with complex layers of chocolate, vanilla, honey, and even a hint of jasmine, yet with a full, sweet body.

Hidden away within the Asian subcontinent by the French, Laotian coffee has been prized for a century.

Grown in small quantities, Laotian coffee is rated one of the world's best. "The French didn't want the world to know about it; they just shipped whatever yield there was directly to France," relates Ming Ming Gyt, a United Nations official in Laos.

Laos's coffee production, averaging 35,000 tons annually, is just one-fifth that of neighboring Vietnam, accounting for less than one percent of the world's total coffee harvest. Yet what it lacks in quantity it makes up for in quality, ranking among the world's finest. At last year's national coffee festival, hundreds of buyers from around the world swarmed to the tiny town of Pakse looking to get their hands on some of the country's coffee.

In the 1920s, French colonialists started planting coffee trees at 1,300 meters elevation in Paksong.

"Low latitude, high altitude," says Chang Cheng-ming, agricultural consultant for Thailand's TCC Group, the parent company of Chang Beer, summarizing the magic formula at work. In addition, the differential between daytime and nighttime temperatures is around 20 degrees Celsius in the Laotian coffee-growing region. Combined with the rich trace elements from volcanic ash and extremely rich soil, the country produces some of the world's finest coffee.

"The worms are as big as small snakes. The little mounds all over the roadsides are worm habitats," relates Ding Fu-liang, a longtime importer of Laotian coffee beans who is known as "Mr. Coffee," in describing how rich the soil is there. Conditions are such that untended coffee trees can reach three stories in height.

Despite such ideal growing conditions, Laos comes far short of replicating the feel of the Left Bank.

Isolation did not spare the country from the ravages of war, and many French plantation owners fled back home during World War Two, abandoning their crops.

Nationalism and patriotism spread rapidly through Laos in the 1960s. Neighboring Vietnam became a battlefield, and the conflict spilled over the border into Laos; the country's rich land is still strewn with countless unexploded American bombs. After the Communists took power, bourgeois pastimes like sipping coffee were naturally not one of the state's priorities.

Only after national policy started leaning toward capitalism in the 1990s did the coffee industry show signs of reawakening.
Fusion of Two Countries
Sinouk Sisombat is the best representative of the mixed heritage of Laotian coffee. President of the Lao Coffee Association and the goodwill ambassador of Laotian coffee, he aims to market the country's coffee worldwide.
The scion of a powerful, wealthy family, the 60-year-old Sinouk speaks English, French, German, Thai, and Lao. His father held such positions as chairman of the national chamber of commerce and served in the national parliament.
With the country in political turmoil, Sinouk was sent to study in France at the age of eight. Only after the government began to cautiously open the market and approached his father to return to help with the development of private enterprise did Sinouk, the family's eldest son, return to lend his father a hand.
Returning to Laos after 32 years away to find a country in disarray and in need of rebuilding, Sinouk chose to settle back where he began, starting a new business in his hometown of Pakse.
Pakse is located in the foothills of the French coffee growing region, Paksong Highland. Sinouk purchased 30 hectares of land there, and with seeds from a coffee research institute in Montpellier, France, he devoted himself to the world of coffee.
Ideal growing conditions, new opportunities from an opening market, plus building on the operational know-how of the French; in everything from upstream to downstream processes, Sinouk worked out every aspect of the coffee industry in the effort to create a platform for linking up the industry chain.
Starting with cultivation, his efforts covered bean roasting, trade, and conceiving and developing a coffee resort in the growing region to attract tourists. He even built his own "Café Sinouk" brand, expanding beyond Laos to locations including Bangkok, with 11 outlets so far.
Starbucks and other international coffee brands have not yet extended their feelers into Laos. In their absence, Sinouk Sisombat is confident that his Sinouk brand can become an international brand itself, treating coffee with the same passion as family and home. This year, Laos could become a formal member of the International Coffee Organization, the global governing body of coffee importing and exporting countries.
The Coming Coffee Boom in China
Laos's largest private corporation, the Dao-Heuang Group, got its start in coffee. The coffee industry alone provides a living for 20,000 Laotian families, and directly employs 300,000 people, accounting for nearly five percent of all jobs nationwide.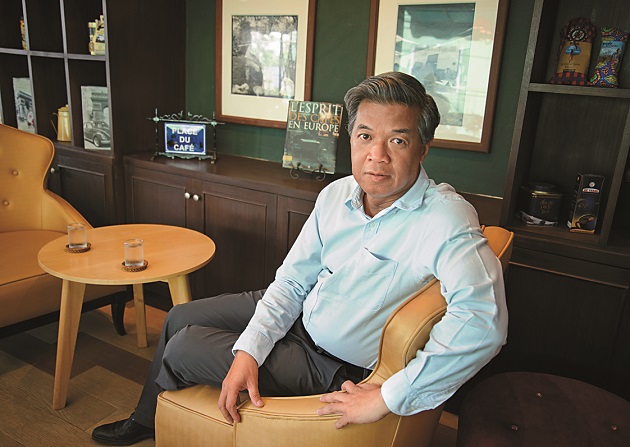 From cafés on the banks of the Mekong River to coffee plantations rich with French feeling, Lao Coffee Association president, Sinouk Sisombat, is working hard to promote Laotian coffee to the world.
Blessed with ideal climate and soil, Laos has attracted an increasing number of foreign connoisseurs with their sights set on the coffee market. The TCC Group, Asia's biggest beverage company, is just one of the many new arrivals to bring investment to the country.
Asia's largest coffee plantation, lying in the shadow of a volcano on the Paksong Highland, occupies 3,000 hectares. Coffee shrubs stand in a neat formation, as tall as a person in the middle, planted firmly in reddish soil, reaching as far as the eye can see.
"It's growing in the sky," marvels Chang Yu-tai, general manager of the Paksong Highland, as he tries to point out where the coffee plantation ends and the heavens begin.
"You won't find another place like this in Asia," he says, referring to such a large, flat highland. Chang, who also surveyed such high-elevation growing regions as Yunnan (China) and Myanmar. "If you want to grow coffee in Asia, in most places you have to go mountain climbing, and suitable highland plains are hard to find."
The TCC Group holds beer, liquor, soft drink, and green tea properties, with only coffee missing from the mix at present. Laos's large swath of undeveloped virgin territory will fill that void for the group. With the entire 3,000 hectares now fully planted, TCC's Paksong Highland coffee is poised to become one of the world's top-three largest coffee plantations.
"Coffee is growing rapidly in emerging markets, especially in China. Once coffee culture becomes established in China, and everyone there drinks coffee, the entire world's supply will not be sufficient," Chang says. "When that happens, everyone will be fighting to source coffee, which will be like gold. I think we'll see this trend within the next five years."
Not for Sale to All Consumers
"You have to take care of it as you would a newborn," says Steve Feldschneider, a New Yorker that founded Lao Mountain Coffee in Laos.
"Laotian coffee isn't for truck drivers," says Feldschneider. And Sinouk agrees, adding that superior-grade Laotian coffee, grown in small quantities, "is not for every consumer." Costing around 10 percent higher to harvest than the average market cost, roasted beans start at 50 percent higher still, and going up to two or three times more.
Laos grows premium coffee, "like Blue Mountain from Jamaica and Kona from Hawaii," says Sinouk. Positioned as a premium product within the high-end, Laotian coffee appeals directly to connoisseurs' taste buds.
Translated from the Chinese by David Toman