The Asian Coffee Boom
精華簡文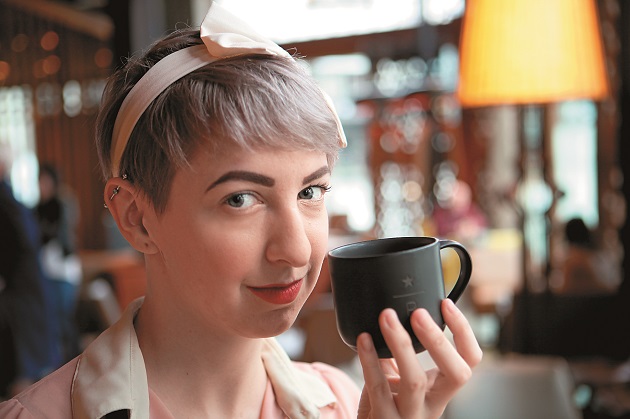 Source:CW
As more people in Asia enjoy drinking coffee, the region has become No. 1 worldwide in the consumption of the 'blackgold,' surpassing Europe and the United States.
The Asian Coffee Boom
By Yueh-lin Ma
From CommonWealth Magazine (vol. 569 )


A cup of coffee helps one unwind, relax and regain peace of mind.

This fragrant beverage is currently challenging the popularity of other drinks around the globe – alcoholic beverages in Europe, Coke and other carbonated soft drinks in the United States, as well as tea in Asia.

As early as 2011, the business news site Business Insider pointed out that coffee has already outstripped gold and natural gas as an important commodity, with a global value exceeding US$100 billion, or NT$3 trillion, second only to crude oil.

And the price of coffee has continued to rise in recent years. Late last year, as crude oil prices continued to fall, the price of coffee skyrocketed due to drought-related supply shortages. The "black gold" beverage is finally living up to its name.

The golden age of coffee is quietly dawning in Asia as consumption grows. The tea-sipping continent is not only switching to coffee; Asia is also emerging as a coffee cultivator, coffee roaster and coffee brand creator. A distinct Asian coffee culture is subsequently taking shape.

Meanwhile, Asia has a presence in every step of the coffee supply chain, from production to consumption. Different countries in Asia play different roles within the coffee industry, specializing as producers, technology providers, brand managers, marketers and promoters of coffee culture. As consumers develop a greater craving, entrepreneurs get more excited over increasingly lucrative business opportunities.

In March of 2014, the International Coffee Organization (ICO) released a report on Coffee Consumption in East and Southeast Asia 1990-2012. The report points out that Asia has increasingly become the focus of the world coffee industry in recent years. Asia has seen "the most dynamic growth in coffee consumption in the world," posting an average growth rate of 4.9 percent since the year 2000.

The ICO study, which covered 16 countries in East and Southeast Asia, observed that more developed East Asian markets like Japan, South Korea and Taiwan tend to have a higher percentage of Arabica consumption and a more developed specialty coffee industry. Southeast Asian markets such as Indonesia, Malaysia, the Philippines and Thailand show a higher demand for Robusta coffee (a coffee variety used in instant coffee), canned coffee and other ready-to-drink flavored mixes.
China Coffee Consumption Growing
In China, Asia's largest market, coffee consumption has been growing as fast as 10 percent per year since 1998. Although the per capita consumption of China's 1.3 billion people stands at just 47.6 grams per year compared to 2.2 kg in the former British territory of Hong Kong, Chinese coffee consumption could reach a level equal to the current level of consumption in Britain by 2020 if current growth rates are maintained. This makes the Chinese market "a particularly promising prospect" for the global coffee trade, the study said.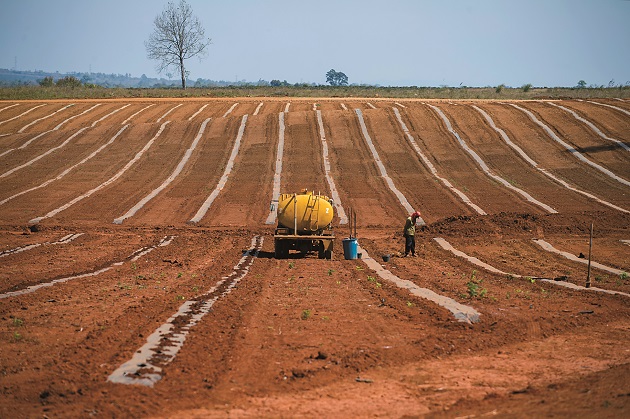 Asia's largest coffee plantation lies in Laos on a plateau at an altitude of 1,300 meters. It counts among the small number of Asian coffee plantations that are suited for mechanized farming.
While the 16 countries in East and Southeast Asia included in the study boast 31 percent of the world population and 29% of global GDP, they accounted for only 13.8 percent of world coffee consumption in 2012. Given that coffee consumption has been growing vigorously for some time, the region holds strong potential.
In Taiwan, the ICO study points out a "significant increase" in per capita consumption from 0.4 kg in 1990 to over 1 kg in 2012. Meanwhile, Taiwan boasts more than 10,000 coffee establishments. More importantly, Taiwan is one of the top importers of Arabica in the region. This means that Taiwan's coffee culture has become relatively developed as the island's increasingly urbanized consumers continue to move away from soluble and canned coffee.
As the rapidly rising figures above show, the coffee craze sweeping across Asian cities is unstoppable. While global coffee shop chains dominate major crossings and street corners with their glitzy glass shop fronts, independent cafés run by individual coffee enthusiasts are tucked away in narrow lanes and alleys.
Across Asia, the urban coffee cultures of Ho Chi Minh City, Seoul, Shanghai, Taipei and Tokyo hold many flavorful surprises.
Japan – The Most Developed Coffee Culture
In February, the hottest topic in Japan was the opening of a trendy coffee shop by Californian chain Blue Bottle Coffee in the Kiyosumi area of Tokyo, the first such outlet outside the United States. In the first week of the store's operation, customers stood in line outside for up to three hours to get their coveted coffee.
While global coffee shop chain Starbucks hails from Seattle, Blue Bottle Coffee calls San Francisco home. The company, which opened a second coffee bar in Tokyo's Aoyama District earlier in March, is considered the epitome of the third-wave coffee shop boom in Asia, and is also known as "the Apple of the coffee shop world."
The first wave introduced light roasted American-style coffee, whereas the second wave belonged to the dark roasted coffee creations concocted by coffee chains like Starbucks. The third wave responds to even more sophisticated consumer demands as coffee lovers begin to order brewed drinks based on the beans' place of origin, processing method and roasting process.
That Blue Bottle Coffee chose Tokyo as its first location abroad not only shows the strong interest of American and European coffee roasters in the Asian market, it also highlights the fact that Japan's highly sophisticated coffee house culture is drawing attention abroad. Blue Bottle Coffee founder James Freeman personally admitted that he has been inspired.
"The Japanese are the most discerning retail customers in the world," Freeman told a press conference marking the opening of the first overseas branch in Tokyo. "If we can make them happy, then think of what we can bring back to our cafés in San Francisco, L.A. and New York."
Japan has always been the third-largest coffee importer, behind the European Union and the United States. In the country's hotly contested coffee market, domestic and foreign chains are crowding out independent coffee houses. Homegrown coffee shop franchise Doutor Coffee is the largest chain, with 1,106 locations across the country, while Starbucks comes in a close second at 1,034 outlets.
Starbucks also used Japan as its first overseas testing ground when it entered a joint venture with Sazaby League in October of 1995, opening the first Japanese store the following year. Last September, Starbucks Corp. announced plans to buy the remaining 60.5 percent share of Starbucks Coffee Japan Ltd. from its joint venture partner, citing the high profitability of the Japanese outlets.
"Shanghai has more Starbucks stores than any other city in the world in which we operate," John Culver, group president China/Asia Pacific, told the annual shareholders meeting on March 18. "Over the next five years, this region will grow three times in size, and Starbucks' store footprint will double to 10,000 stores across our 15 markets," Culver said. His announcements were met with even greater applause from shareholders than the profit figures.
Starbucks has seen 20 consecutive quarters of revenue growth in the Asia-Pacific region. In late March, it opened its 5,000th store in the Asia-Pacific, again in Japan.
Taiwan – Coffee Shops with Distinct Character
As the U.S. coffee giant continues to expand its presence in Asia, Wang Xin, who runs five independent coffee shops in the Chinese city of Wuhan, is also looking to expand overseas. He has opened a small literary coffee shop with less than 20 seats called Remember Café in the heart of Taipei, near National Taiwan University.
Why would someone go through the trouble to open a tiny coffee shop 900 kilometers from his original business? "I like Taiwan's sophistication," observes Wang. "You can walk into any corner coffee shop, and the quality will be equally fine. Many roast their own coffee, and each café stands for something."
Eight years ago, Wang, who is now 47, began to operate small coffee shops in Wuhan. At one point he ran 16 distinctly different cafés. In 2012, Wang, who has a huge following on the Chinese microblogging website Weibo, published his book Just Thinking about Opening a Small Coffee Shop, which sold nearly 300,000 copies. Wang visited Taipei for the first time two years ago and immediately fell in love with the local coffee culture. Over the two following years, he traveled to Taiwan 38 times.
"Chinese youth also yearn for the 'little happiness.' It's not everybody who wants to become Xiaomi or Alibaba," Wang points out. In his CenCi Coffee Dream School in Wuhan, which has been certified as a training laboratory by the Specialty Coffee Association of America, Wang has already trained nearly 1,000 participants. He encourages his students to return to their second-tier and third-tier home cities to open small coffee shops there. Demand for the courses is so strong that people need to register half a year in advance to secure a slot.
"China's coffee era is only just beginning," Wang says.
S. Korea – Pop Culture Cracks Open US Market
At the headquarters of Seoul-based coffeehouse chain Caffebene, 47-year-old company founder Sun-Kwon Kim meets our reporter just four hours after flying in from London. "Recently we have been doing market research in Paris and Rome, since we hope to enter the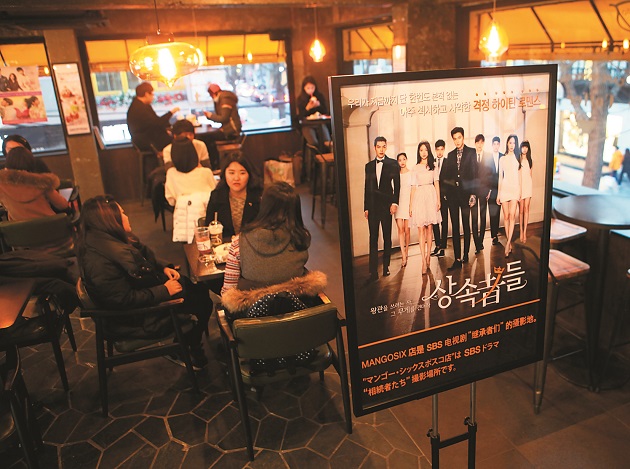 Taking advantage of the worldwide popularity of South Korean TV drama series, South Korean branded coffeehouse chains are successfully entering overseas markets.
Just as Korean pop music, TV soaps and movies have swept the Asian market in recent years, branded South Korean coffee shop chains are gearing up for global expansion. Caffebene, specialty coffee chain Hollys Coffee and European-style dessert café A Twosome Place all rely on the glitz and glitter of South Korean music and movie stars and their celebrity endorsements to launch their brands abroad, not just in Asia but also in the United States and the Middle East.
Kim decided to tackle overseas markets in 2012 after expanding his company to some 800 outlets in just four years, making it the largest coffeehouse chain in terms of number of stores. Instead of going to other Asian countries, where South Korean pop culture already has a huge following, for his first overseas expansion, Kim picked New York, opening a flagship store in Times Square in Manhattan.
"Our enemies are our best teachers," Kim says. He still remembers that, back when Caffebene entered the U.S. market, Time Magazine asked why Asian countries would want to sell coffee in America.
"Since when did coffee become an American thing? Starbucks was only born because they are very good at marketing, and their commerce is developed," Kim says. His chain's success in Korea has bolstered Kim's confidence. It is precisely because today's world is "too complex" that people are encouraged to fearlessly take on new challenges, he says.
To date, Caffebene has invested US$8.5 million in 32 outlets in the U.S. market, but the U.S. operations are not yet profitable. "However, at least the Americans can already drink our South Korean coffee," notes Kim, undeterred by the current lack of commercial success. He is still determined to take his coffeehouse brand to other countries.
South Korea is not a coffee growing nation. As a result, South Korean entrepreneurs need to rely on chain stores to take their brands international. In contrast, traditional coffee grower Vietnam has been making great efforts to join the ranks of coffee-exporting nations.
Vietnam – Second-Largest Exporter
Over the past two decades, Vietnam's share of the global coffee export market has grown from a tiny 0.1 percent to 20 percent. Meanwhile, the Southeast Asian country has overtaken traditional coffee-exporting giant Columbia and now ranks second worldwide, just behind Brazil. In years when Brazil experienced drought-related crop failures, Vietnam temporarily even outstripped Brazil to become the world's largest coffee exporter.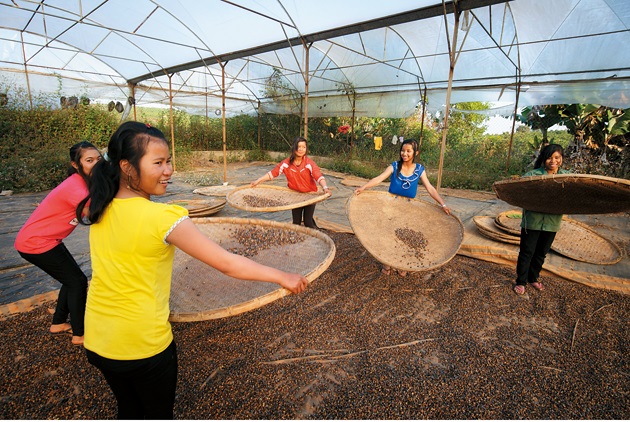 Most Vietnamese coffee is grown on small farms. These teen-age girls are helping with coffee production.
The dynamic growth of Vietnamese coffee production comes almost entirely from small farms with less than five hectares of coffee plantations. Like the other 'black gold' that gushes out of the ground - crude oil, coffee has become a crucial crop for Vietnam in developing the local economy and lifting its people out of poverty.
Vietnam's coffee culture differs from that in East Asia. The Vietnamese like their coffee strong and sweetened with condensed milk. Coffee drinking is an indispensable part of talking business, dating or casual chatting. With the legacy of more than 60 years of French colonial rule, Ho Chi Minh City, with its population of eight million people, boasts more than 6,000 cafés. This constitutes an even higher density than that of convenience stores in Taipei. As one would expect, per capita coffee consumption here is not less than in Taipei, with a growth rate of over 10 percent per year.
Coffee aficionados insist that the small roasted beans deserve to be credited for creating Western civilization: When Venetian traders introduced coffee to Europe in the 17th century, coffee culture soon became a focal point of urban life. At the beginning of the 20th century, intellectuals and scholars gathered in coffeehouses to discuss public issues, exchanging ideas and opinions as the aroma of coffee filled the air.
Coffee drinking conquered the planet in the 21st century, evolving into a global culture even in traditional tea-consuming regions like Asia. Who would have thought that the rate of coffee consumption in Asia would become higher than the world average, or that Asia would become the leading coffee-drinking continent?
British sociologist Anthony Giddens, whose discussion of the sociological dimensions of drinking a cup of coffee has become quite famous, has said that the coffee in our cups has reached us through a series of historical, economic and social developments. Like alcohol, coffee generally remains a socially accepted stimulant. Coffee drinking, which Giddens describes as "a global phenomenon par excellence," has created a worldwide market with huge business opportunities.
The coffee craze sweeping across Asia promises sweet deals, whether or not you add sugar to your cup of black gold.
Translated from the Chinese by Susanne Ganz