Taiwan's Industrial Waste Crisis
High-Tech Waste Out of Control
精華簡文
Source:CW
Waste generated by Taiwan's high-tech sector is being dumped indiscriminately around Taiwan, threatening the environment, people's health and the future of the high-tech sector itself. Has the situation reached a breaking point?
High-Tech Waste Out of Control
By Kuo-chen Lu, Liang-rong Chen
From CommonWealth Magazine (vol. 568 )


It wasn't until CommonWealth Magazine reporters visited Taiwan Semiconductor Manufacturing Co. (TSMC) on March 10 that Corporate ESH Division chief Hsu Fang-ming and top environmental engineering executives discovered a disturbing truth.

When CommonWealth asked the chipmaker's executives about one of TSMC's waste management providers, Tainan-based Nerca Technology Co., being indicted by prosecutors in Tainan on charges of violating Taiwan's Waste Disposal Act, they seemed surprised.

"We really did not know that Nerca had been indicted. Neither I personally nor the company had heard this news," Hsu said at the time. "This information is very helpful. We will look into it."

That means that for more than 90 days since Nerca was indicted on November 19, 2014, TSMC had been handing over its waste to a company suspected of treating it illegally, a violation of the company's internal guidelines.

Hsu said that when TSMC received word at the beginning of March, 2014 that Nerca had been found to be dumping sludge into the environment, it immediately canceled a pickup by a Nerca waste removal truck. A day later, however, the pickups resumed after environmental agencies gave the waste management provider the green light.

Hsu now wonders why regulatory agencies allowed Nerca to continue its operations.

"Nerca and its downstream providers were reported, but just a day after regulators conducted on-site inspections, they allowed Nerca to conduct business as usual. To us, that meant there was no evidence Nerca was violating the law, and we could not unilaterally cancel our contract with them. So we've continued to deal with them to this day," he says.

The Environmental Protection Administration has said it was not aware that Nerca had been indicted because Tainan's Environmental Protection Bureau was not notified of the indictment from Tainan prosecutors, raising questions about the local government's inter-agency communications.

"It's simply lax enforcement of the law. That's my opinion," says one environmental safety executive at a large high-tech company.
Ashamed to Face Society
"TSMC's commitment to the environment is to use very strict standards to monitor waste management providers. But we still need the government to not only prevent corruption but also to actively assist and guide a sufficient number of top-notch disposal companies," Hsu says. "We trust our suppliers. How could this happen, and what can TSMC do? I can't face Taiwanese society. We are really distraught over this."
If even TSMC, known for its exacting environmental and corporate social responsibility standards, can fall victim to such a land mine by working with a provider suspected of illegally dumping waste, then any high-tech company is vulnerable to similar problems.
Why is it that the world's largest contract chip maker and Taiwan's semiconductor leader cannot find a qualified waste disposal contractor? And why is Taiwan, with its reputation as a high-tech island, facing an environmental crisis caused by the indiscriminate dumping of waste?
"It's like a magnificent luxury apartment where the toilet can't handle feces. This is Taiwan's most pressing problem right now," says one observer of the crisis nobody in Taiwan seems to know about.
In fact, Taiwan's high-tech sector is facing its greatest environmental challenge in 15 fears. If waste treatment companies serving Taiwan's three major science parks are prosecuted for violating environmental statutes, the three parks – the Hsinchu Science Park, the Houli branch of the Central Taiwan Science Park, and the Southern Taiwan Science Park – could be shut down.
It was not a scenario envisioned in a New York Times article in November 2013 that lauded Taiwan's achievements in recycling its waste.
"Trash is valuable here — the byproduct of a world now dependent on technology," the paper wrote. "Commercial efforts, along with a government fund and increased consumer awareness, have helped clean up the country."
On the surface, the waste problem facing Taiwan's high-tech sector would appear to be relatively minor. The sector accounted for only 400,000 metric tons (Table 1) of the 18.56 million metric tons of industrial waste generated in the country in 2013 (about 2.1 percent of the total), the smallest volume of any major industrial sector.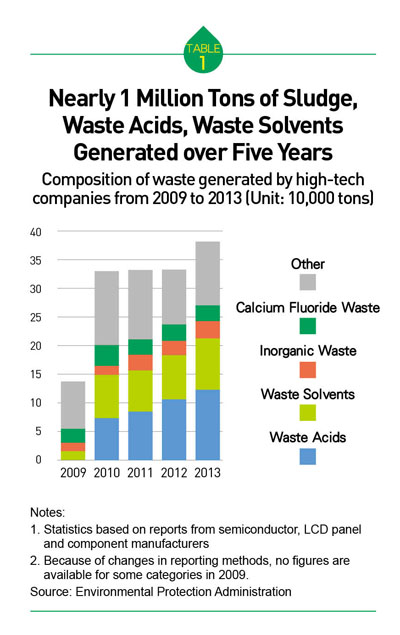 The Deadliest 2%
But that 2% represents a particularly toxic mix of waste resulting from the production of semiconductors, flat panel displays, LEDs and other high-tech products.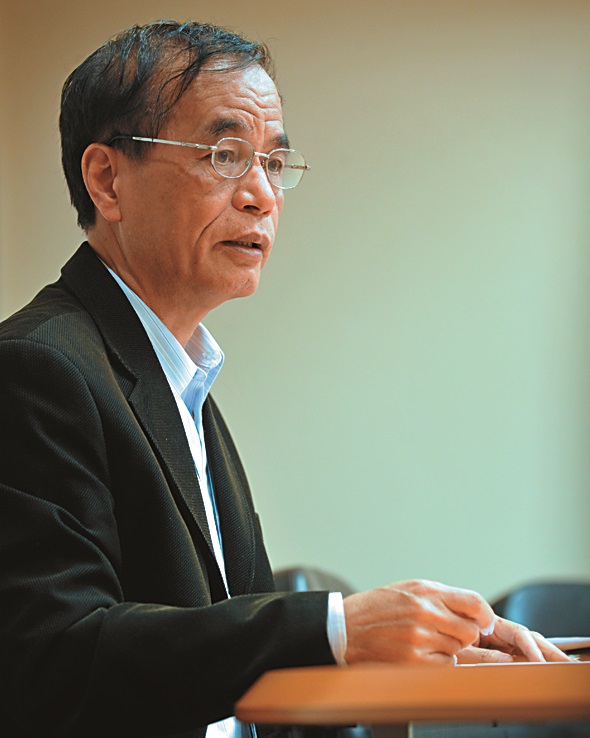 Hsu Fang-ming, TSMC's top environmental executive, was pained to hear that a TSMC waste management supplier was indicted for illegally dumping waste.
The production of semiconductor wafers, for example, requires the use of several different chemicals that must be washed away with water after every step in the process.
The resulting wastewater contains various chemicals, acids, solvents and precipitates that must be treated using such processes as chemical precipitation (which causes contaminants to form solids that can then be filtered out of the water) or flocculation (which causes fine particles in the water to form flakes). The solids and flakes filtered out of the wastewater form a sludge that must be carted away and treated, while the cleansed water is discharged.
Science park companies tend to generate four types of sludge: calcium fluoride sludge (generated by treating the hydrofluoric acid used in the production process), inorganic sludge, organic sludge and arsenic sludge.
These compounds can be treated in one of two ways. The first is to heat the waste to 130 degrees Centigrade to create pellets and then sinter them in a rotary-kiln incinerator at 900 to 1,000 degrees.
The process incinerates toxic substances and turns the sludge into a stable solid that can no longer release toxic materials into the environment. The resulting material can be used as artificial pellets or lightweight aggregates used in tiles, bricks or concrete.
The other method involves treating the waste in a high heat cement kiln and converting it into a cement substitute. But there are limits to how much can be added. The waste byproduct from calcium fluoride waste, for example, can contribute no more than three percent of a cement mix's volume or the quality of the cement will suffer.
National Tsing Hua University chemistry professor Ling Yong-chien, a member of the Hsinchu Science Park Bureau's environmental oversight task force, says that "any waste that is disposed of without being treated is capable of polluting the environment."
Untreated waste disposed of by a company named Ching Jing International (清淨國際) in Changhua County proves Ling's point. The waste was found to contain six toxic heavy metals – selenium, cadmium, lead, copper, chromium and arsenic – all of which are harmful to people's health and the environment.
Even more alarming, prosecutors found that companies like Ching Jing and Nerca have dumped toxic sludge in 12 counties and cities up and down western Taiwan, from New Taipei, Taoyuan, Hsinchu, Miaoli, Taichung, Nantou and Changhua to Yunlin, Chiayi, Tainan, Kaohsiung and Pingtung. (Table 2)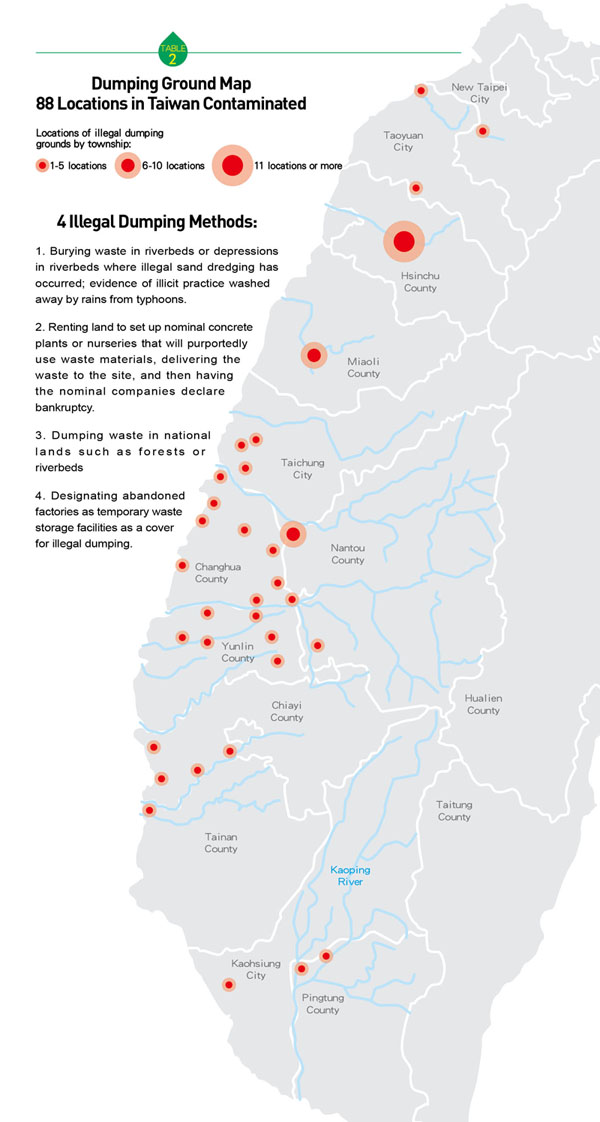 Vendors with Conviction Records
Kuo Ching-wen, lead prosecutor at the Taichung District Prosecutors Office, says Ching Jing owner Wu Hai-li was convicted as early as 2005 for violating the Waste Disposal Act and was later indicted in New Taipei for the same offense.
Yet, even though he was facing an indictment, he continued to extend the reach of his operations to Taoyuan, Hsinchu, Miaoli, Taichung, Changhua, and Nantou in partnership with vested interests in those areas.
In entrusting their waste to Wu Hai-li, high-tech enterprises were in effect partnering with a group of people at the grassroots level skilled in deception, with a long record of criminal indictments.
Today, Wu no longer heads the company, which went out of business before resurfacing under the same name with different management.
It is difficult to believe that high-tech companies were unable to find out what was happening. Ting Li-wen, convener of the Allied Association for Science Park Industries' environmental protection committee, explains that the association conducts a general inspection of vendors every January, with some vendors undergoing more detailed inspections. Those who do not pass muster or who have been reported for incidents are supposed to be disqualified.
The association also holds vendors accountable by randomly tailing waste disposal trucks and conducting "surprise searches" based on where the trucks go.
"Companies with stronger management practices even meet once a quarter with all of their suppliers, and inform them of legal requirements, problems found during inspections, and potential losses. There is constant communication," Ting says.
But vendors like Ching Jing would put up a good front and give the appearance of using acceptable processes to pass inspection.
"These vendors filed reports of their operations online, giving a clear account of their activities. As a result, the numbers on the EPA's website were perfectly normal," Taichung prosecutor Kuo says.
Even more importantly, if one of these unscrupulous vendors was reported for dumping waste illegally, they would present contracts, reports, processing records and fake accounts to inquiring prosecutors to prove they had already processed the waste and sold the by-product to a customer. The documents would show that the customer paid for the waste and then decided to dump it, leaving the vendor in the clear. This was a tactic used in particular by Ching Jing.
Beyond having criminal records, many waste management providers simply lack expertise in treating waste.
Kuo cites the example of a Taoyuan-based company named Kuang Fu Feng (廣福豐環保科技), which, like the other vendors, was also licensed but still found to be dumping waste illegally. Representatives from Taoyuan's Department of Environmental Protection stayed at the company's facility for 24 hours to see if it could reproduce the process cited on its application for a business permit: turning waste into bricks.
"The result was they weren't able to do it. They were given an additional 24 hours and they still couldn't do it," she says.
Kuo wonders why this wasn't discovered back when the company's application for a license was being reviewed. Ting suggests the problem may be the lack of integration of government oversight functions. He insists that experts and scholars are always involved in screening license applications by recycling or waste management companies.
But once the vendors obtain the needed permits, another group of people is often responsible for inspecting the companies and checking if they are acting lawfully.
Playing Both Sides of the Law
The problem may actually run deeper. The waste management business in Taiwan is characterized by collusion between government, the private sector and vested interests at every level.
An EHS (environmental, health & safety) manager of a major company in the Hsinchu Science Park, who spoke on condition of anonymity, said he once served as a member of a committee overseeing a waste landfill in Tainan County and was shocked to find that a regulatory official involved in overseeing the site and a waste management company wanting to use it were both embroiled in legal cases against them.
What that means, the source said, is that "to be part of the waste management business, you need people on both sides of the law. What does the screening mechanism involve? You have to be able to secure land, pass all related reviews, and settle local disputes."
Taiwan's waste management environment is so unhealthy that "bad money" has been driving "good money" away. The sludge treatment business, for example, has been overtaken by an organized crime mentality, and vendors truly interested in treating and recycling waste properly cannotsurvive.
Nerca: Too Big to Fail?
Of the 27 organizations registered to handle sludge in Taiwan, 10 have been implicated in illegal practices, according to Industrial Development Bureau statistics. Those 10 account for a third of all the sludge treated in the country.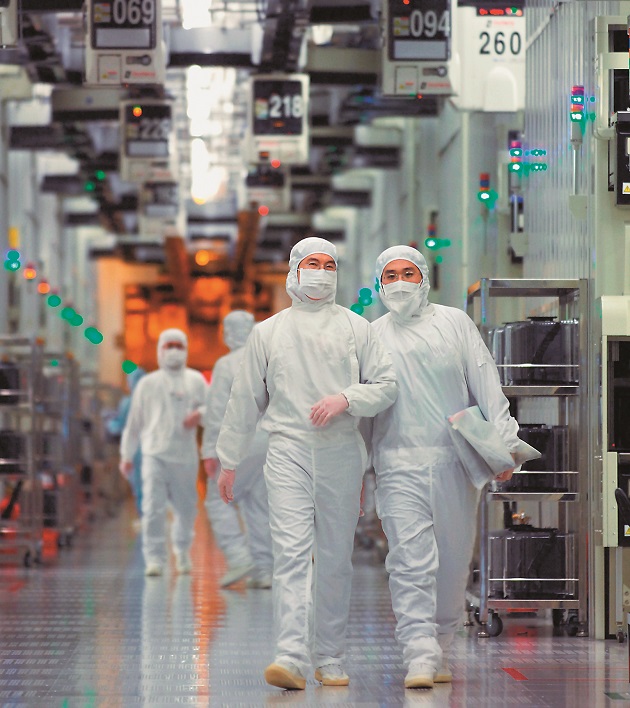 High-tech facilities are spotless, but the waste materials they generate are being dumped around Taiwan by unscrupulous waste companies.
Beginning in 2010, four big waste management companies – Kuang Fu Feng, Ching Jing, and two others – suddenly sprang up with low-price, high-volume approaches and regularly participated in sludge treatment tenders held by the Hsinchu Science Park and Industrial Development Bureau industrial parks.
But the model was not sustainable. As a result of the cutthroat competition, the price contractors were charging to treat sludge fell below NT$3,000 a metric ton, well below their costs.
Hit by indictments for illicit practices, the big four eventually fell out of favor, leaving late entry Nerca as Taiwan's biggest sludge processor and the biggest authorized waste contractor of Taiwan's science parks. That's why, when it was found to have illegally dumped waste on March 7, 2014, it came as such a shock to high-tech companies in the parks. Sludge at the Hsinchu Science Park wastewater treatment plant piled up for a month because there was nobody to remove it.
The Nerca incident illustrated the corrupt depths to which the entire supply chain had fallen. Claiming it can treat 16,500 metric tons of sludge a month, or 21.5 percent of total demand, Nerca is one of Taiwan's biggest and most reputable waste management providers, with more than 200 employees and paid-in capital of NT$100 million backed by shareholders with over 20 years of experience in treating waste.
An official with the Industrial Development Bureau said that soon after the Nerca incident surfaced, the Hsinchu Science Park office of the Allied Association for Science Park Industries and the Hsinchu Science Park Bureau spoke out on Nerca's behalf. That kept Nerca from having its operations suspended and license revoked.
The question is: Was Nerca that important? Was it too big to fail?
Nerca has become indispensable because it handles the waste by-products generated Taiwan's three major science parks.
Hsu Sheng-chang, the director of the park bureau's Environmental Protection and Safety Division, explains that if the sludge in the park's wastewater plants accumulates for more than two or three months without being removed, it could create serious problems.
What Hsu was alluding to is that the park can store up to about three months' worth of sludge on-site, but beyond that, any sludge resulting from the wastewater treatment plant will accumulate in the plant's machines. The buildup will initially result in a less efficient treatment process, resulting in the discharge of the contaminated water.
Eventually it will clog the machines to the point where they have to be shut down.
Because Nerca has only been indicted, it is still collecting the park's waste. But Hsu says that if the company's operations are shut down or an adequate substitute cannot be immediately found, the Hsinchu Science Park may grind to a halt because its waste will have nowhere to go.
At the same time, though, the "feces" that companies in the park have been turning over to Nerca have found their way into the upstream catchment area of the Kaoping River, which provides Greater Kaohsiung with drinking water, putting over 1 million people at risk, according to Tainan prosecutors. They have cited the Yunlin, Chiayi and Pingtung areas as some of the company's other dumping grounds.
The prosecutors, who suspect that Nerca illegally dumped more than 82,000 metric tons of waste in all, wrapped up their investigation into the company in November of 2014 and indicted Nerca for violating the Waste Disposal Act.
The evidence uncovered by prosecutors and the charges pressed against Nerca closely mirror those filed against Ching Jing.
Based on a surprise 30-hour inspection of Nerca's waste treatment facility soon after it was found to be illegally dumping waste in early March 2014, Tainan's Environmental Protection Bureau calculated that Nerca could handle no more than 5,760 metric tons of waste a month, far less than the 10,000 metric tons of waste it was collecting per month. Prosecutors believe Nerca was maliciously disposing of the excess waste it did not treat or couldn't treat in time.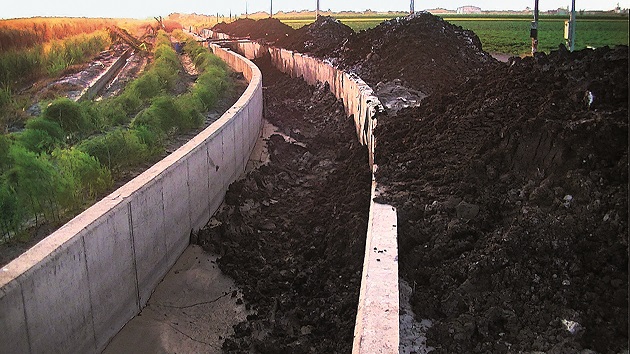 The company "Ching Jing" dumped toxic sludge near an asparagus field in Baozhong Township, Yunlin County, potentially contaminating agriculture produce with heavy metals and chemicals.
With waste management companies repeatedly running into trouble, how much of a responsibility should the generators of that waste – high-tech companies like TSMC – bear?
TSMC and other major vendors have actually sought out leading cement and steel companies to help deal with some of their waste. Ten years ago, TSMC, Powerchip Technology Corp., United Microelectronics Corp. and others discussed a partnership with China Steel Corp. to turn the Hsinchu Science Park's calcium fluoride waste into synthetic fluorspar for use by steel makers in their blast furnace operations.
"But the deal fell through," says Wang Shin-chin, vice president of China Steel's Technology Division. "First, China Steel charged a relatively high price to handle the waste, and second, we demanded a guaranteed volume."
In fact, the combined amount of waste generated by the high-tech companies was sufficient to meet China Steel's demands, but the companies did not follow through because of differences of opinion.
They then turned to the cement industry, but that plan also hit a roadblock. Reputable cement makers rejected the idea because they did not see it as a long-term solution for two main reasons: Calcium fluoride sludge is not indispensable to cement production, and only limited amounts can be added when used. Also, Taiwan's cement industry was contracting at the time, reducing the potential volume of waste that could be used as an additive.
A Case of the Numbers Lying
Before Ching Jing was caught and Nerca's illicit practices were uncovered, the New York Times article published in the paper on November 30, 2013 had painted a positive picture of Taiwan's recycling efforts.
It quoted an official with the Formosa Association of Resource Recycling as saying that the number of recycling outfits had grown from 100 to over 2,000 and noted that the revenue of waste companies had risen to NT$65.8 billion in 2012, up from NT$24.9 billion a decade earlier.
Yet these figures represented an incomplete and perhaps even deceptive look at the recycling sector.
The paper said Taiwan recycled "80 percent" of its industrial waste in 2012, citing an estimate by the Industrial Development Bureau. But that estimate was based on figures reported to regulatory agencies by the waste management providers themselves. As seen with Ching Jing and its "fake recycling, genuine dumping" practices, the hundreds of thousands of tons of sludge it illegally disposed of showed up in government statistics as having been recycled for use in red bricks or concrete.
Even more shocking, however, is the pollution caused by the indiscriminate disposal of waste compounds. In the case of Shenmei Pond in Taoyuan that erupted in 2014, large amounts of waste solvents, waste alkali and acids, and other industrial waste were dumped into the 20-hectare pond, and fish and even snails disappeared from the pond and irrigation channels.
"Just a few years ago the place was full of fish, shrimp and turtles. Now, when they die, it's normal. The survivors are the exceptions," the local ward chief said.
Yen Feng-chi, a section chief with the Industrial Development Bureau's Sustainable Development Division and the official in charge of the case, took aim at the high-tech companies generating the waste.
He contends that TSMC, as one of Taiwan's model enterprises and a member of the Electronic Industry Citizenship Coalition, should voluntarily assist the waste management sector and work with it to develop new treatment technologies if it is to help the entire sector progress in a positive direction.
Electronics companies could argue they are legally contracting companies to dispose of their waste, and that the contractors need to get their acts together. But ultimately, unless the high-tech sector, the waste management profession and government agencies all start taking responsibility and address the problem constructively, the risks of untreated waste to public health and the country's economy will only grow.
Translated from the Chinese by Luke Sabatier