Taiwan's Industrial Waste Crisis
Mining Precious Metals from Sludge
精華簡文
Source:CW
Brightly colored sludge, saturated with various metals and other pollutants, is a shocking sight. But World Resources Company (WRC) sees in it a golden opportunity for mining riches.
Mining Precious Metals from Sludge
By Liang-rong Chen
From CommonWealth Magazine (vol. 568 )


Taiwan's high-tech industry has always aspired to meet the strictest international standards. So why do local recycling companies that treat metal sludge, solvents and other industrial waste from the electronics industry have such a bad reputation?
Isn't there a single world-class recycling firm in Taiwan?
When CommonWealth asked environmental activists this question, they pointed to WRC's Taiwanese subsidiary, WRC Pacific Ltd., which operates the island's largest recycling plant for metal-bearing sludge in Kaohsiung's Gangshan District.
"You must go there and take a look," suggested Tsai Chen-chiu, section chief for eco-safe technologies at the Green Energy and Environment Research Laboratories of the Industrial Technology Research Institute (ITRI).
"In the past, electrolyte sludge [heavy metal-contaminated sludge from electroplating plants] was dumped everywhere; it was really bad, but after they set up a [recycling] plant in Taiwan, basically no dumping occurs anymore," Tsai says.
Industry outsiders find it hard to believe that the modern complex in Gangshan is a recycling plant. With its shining, silver-metallic curved outer walls and a curtain wall glass façade, the WRCP's Pacific Rim Recycling Plant could be a contemporary arts museum. Concealed behind the glitzy exterior is a semi-open factory space, which holds neatly stacked bulk bags filled with black sludge.
Trucks carrying sludge from Taiwan's major semiconductor packaging companies and printed circuit board manufacturers keep coming and going. As a small bulldozer busily scoops up the piles of dehydrated sludge, the air fills with clouds of thick dust. All workers wear protective facemasks.
However, inside the canteen, which is right next door to the dusty premises only separated by a door, everything is spotless - not a speck of dirt, no odors.
Fu Yun-chang, assistant general manager at WRC Pacific, explains that the secret behind the astoundingly clean and odor-free air is the "positive pressure design" of the air conditioning system in the canteen and offices. Since the air conditioning maintains a higher air pressure indoors than outdoors, dust and odors are effectively kept out to ensure a safe and healthy workplace for the company's 45 employees.
"No other treatment plant in Taiwan has installed such a system," notes Tsai, who thinks that there is a huge difference between foreign companies and local ones when it comes to taking care of employees. "This is truly worth studying for Taiwan."
A Gold Mine for US company
WRC was founded almost four decades ago and is headquartered in McLean, Virginia, outside Washington D.C. As a global recycler of metal bearing sludge, the company operates four recycling facilities around the world. The Kaohsiung plant is the only one in Asia.
This facility mainly engages in the "pre-treatment "of metal-bearing wastewater treatment sludge, which means the dehydrating, grinding and mixing of sludges of different origin. The dried powder is then sealed in shipping containers for transport back to the United States. In the world-class smelting plant there, precious metals such as copper, chromium, gold and silver are recovered from the sludge at a temperature of 1,500 degrees Celsius.
In other words, the processing turns industrial waste into marketable "manmade ore powder." This is where the idea of "urban mining," currently a hot topic in industrialized nations such as Japan and the United States, comes from.
Fu explains that naturally occurring copper ore contains about 1 percent to 3 percent copper. If the copper content is too low, the ore must undergo a concentration process before it can be smelted and refined. "What we get directly from the factories has a copper content with an average of 20 percent [after dehydration]; the good ones can even reach 50 percent," reveals Fu.
"Doesn't this make a very good industrial mineral aggregate?" asks Fu, who obtained his doctorate in environmental engineering in the United States. "On top of that we don't need to destroy the environment; we only recycle the things that others want to discard," he says, pointing out the benefits of urban mining.
While the concept of urban mining is compelling and easy to comprehend, it is easier said than done. The metal bearing industrial sludges come from many different sources and therefore vastly differ in their composition. A truck that just came in that morning delivered a load of sludge with a frighteningly bright blue-green color.
"This must contain bronze (an alloy of copper and nickel)," Fu says, explaining the sludge's unusual coloration.
The company's laboratory holds samples of dried sludge in a wide array of vibrant colors including red, orange and white. How can the composition of these sludges of varied origins be correctly analyzed, and then be blended with each other in the right ratios so that these manmade ore powders can be smelted together with natural ores in the U.S. smelting facility without causing any problems? "The know-how of this process is our most important business secret," Fu points out.
Buying Metal Sludge at High Prices
The attitude toward metal-bearing sludge changed dramatically in Taiwan following the establishment of the Kaohsiung facility eight years ago.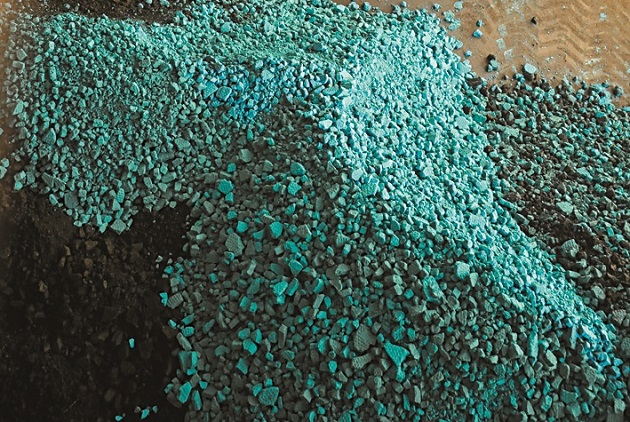 The sludges, which shimmer in the brightest colors due to their varied heavy metal content, are pre-treated in Taiwan and then shipped to the United States, where they are refined into "manmade ore powder" in a giant smelter.
Tsai notes that, before WRC's arrival on the island, electroplating sludge was recycled with the conventional method of acid washing. With the use of strong acids, it is possible to recover the metals, but the remaining waste liquids from the treatment process can harm the environment. Moreover, with this method it is not possible to recover metals that are present in low concentrations.
The law stipulates that such sludges must be solidified with cement and then buried in landfills. Many electroplating workshops consider this as too troublesome and therefore often rather dump their contaminated waste in nature where they become environmental hazard time bombs waiting to explode.
Now WRC "buys up" these sludges. It pays companies tens of thousands of New Taiwan dollars for every truckload of metal sludge they deliver.
One ton of copper-bearing sludge, which is typically generated during electrolysis processes, is worth between NT$5,000 to NT$10,000, depending on the respective copper concentrations. In the case of rare, precious metals such as gold and platinum, one ton of sludge can be worth as much as NT$30,000 or NT$40,000.
"More than a dozen years ago, the [waste generating] factories had to pay people NT$15,000 to NT$20,000 to bury the sludge. That's quite a price difference, isn't it?" Fu points out.
Despite being proud about these achievements, Fu also sighs as he recalls the difficult road to success, "We also had to promote this for more than 15 years before we got to where we are today."
When WRC first entered the Taiwanese market around the turn of the century, the company acted as a pure trading firm that publicly bought up sludge and shipped it back to the United States for treatment. Due to strong demand for such a service in Taiwan, these shipments skyrocketed to around 1,000 container loads of sludge per year after just 2-3 years.
As a result, the Environmental Protection Administration invited the WRC to establish a treatment facility in Taiwan.
The offer came just as the Environmental Science and Technology Park was being planned in Gangshan, which then still belonged to Kaohsiung County. When WRC CEO Peter Halpin visited the site, he liked it immediately.
Yang Chiu-hsing, then magistrate of Kaohsiung County [now merged with Kaohsiung City], had formerly worked for Taiwan's largest environmental consulting firm, Evec Corporation. As an environmental activist, he was also deeply aware that Taiwan urgently needed the services of a company like WRC. He immediately sent his deputy to the WRC headquarters in Virginia to discuss the matter and urge the recycling giant to pick Kaohsiung as its Asian base.
Bones might have been Broken
"We're lucky to be here," Fu remarks. The 55-year-old graduated from the Department of Environmental Engineering at National Cheng Kung University in Tainan. Many of his schoolmates have meanwhile risen to higher ranks in Taiwan's environmental protection agencies or hold leading positions in environmental engineering firms.
Therefore, Fu is familiar with the "bad money drives out the good" phenomenon in Taiwan's waste treatment industry.
"Many existing companies involved with metal-bearing sludge had connections with lawmakers or organized crime. Then WRC came in and unceremoniously "blocked their route to make money." In the early stages of setting up the Kaohsiung facility, WRC consequently faced substantial obstruction.
"Fortunately, we are a foreign investor. Had we been a local investor we would have had our arms and legs broken," Fu says only half-jokingly, alluding to the industry's shadier side.
In the end, skyrocketing metal prices in the international market were crucial to the company's decision to invest in a treatment facility in far-away Taiwan the.
Taiwan boasts the world's three largest semiconductor packaging firms and a printed circuit board industry cluster. In the eyes of a recycling firm, the hundreds of thousands of tons of copper-bearing sludge that these companies generate per year represent a hidden treasure that only waits to be claimed.
One of Taiwan's many environmental headaches could be cured because of economic incentives and officials who had the foresight to pick the right doctor for its treatment. Now the question is: Will we be able to find another WRC to deal with other types of waste?
Translated from the Chinese by Susanne Ganz