Doing it the Silicon Valley Way
Maisense Changing an Industry
精華簡文
Source:CW
With the support of senior executives from high-tech heavyweights TSMC and MediaTek, Maisense Inc. has developed an innovative blood pressure device that's changing the face of its industry. What's been its secret?
Maisense Changing an Industry
By Liang-rong Chen
From CommonWealth Magazine (vol. 566 )


In late December, news emerged that former Taiwan Semiconductor Manufacturing Co. (TSMC) executive vice president Chiang Shang-yi, nicknamed "Papa Chiang" by the company's employees, was returning to the fold as an adviser to Chairman Morris Chang.

Once positioned as a possible successor to Chang, the 68-year-old "Papa Chiang" retired in October 2013 before coming back to help draft the company's R&D roadmap for the next decade at a time when TSMC is under intense competition from Intel and Samsung.

On the same day that his return to TSMC is made public, a casually dressed Chiang wearing his trademark smile enters the premises of a company that has been around for fewer than three years.

Chiang is one of this new company's major investors and also serves as a board director. It represents the first time in his 40-year career that he has felt the rush of putting his own money and effort into a start-up.
Pursuing a Biomedical Dream
The company is Maisense Inc. and its product is a revolutionary mobile blood pressure monitor that employs a tiny sensor to replace the cumbersome cuff used in traditional devices. Currently in its final stages of clinical testing, the product could go on sale in China as soon as two months from now. When it hits the market, it will transform this century-old market worth tens of billions of Taiwan dollars globally.
Maisense's 44-year-old chairman of the board, Benjamin Chiu, was once IC design firm MediaTek Inc.'s director of design technology and was later promoted to company headquarters and made responsible for developing new businesses. During that time, he identified medical electronics as having great potential, but when MediaTek decided against getting involved in the field, Chiu left to start up his own company and pursue his biomedical dream.
A year later in 2012, Chiu recruited two other people who had also studied under National Taiwan University electrical engineering professor Liang-gee Chen to join him in founding Maisense.
By 2014, this company had expanded its technical team to about a dozen people and made a prototype of its revolutionary device that was far along in its development. Venture capitalists and others in the industry who saw the product were amazed.
It was then that Chiang came in contact with Maisense for the first time, visiting the start-up with representatives of TSMC's venture capital operation VentureTech Alliance.
He was astounded by the blood pressure monitor's technical vision. Chiang believed that Maisense's revolutionary device could empower patients to check their blood pressure at any time and inspire a completely new medical service in conjunction with the maturing Internet of Things and big data technology.
"This technology has come out at just the right time," he stresses.
Chiang also had a highly favorable impression of Chiu, seeing him as a rare talent who is "realistic and not boastful" and has a strong command of technology.
As a result, when VentureTech Alliance passed on the opportunity, Chiang decided to invest in the venture himself. According to Taiwan's Department of Commerce records, he owns 600,000 Maisense shares, making him the company's third largest shareholder.
Somewhat surprisingly, Maisense's biggest shareholder is not Chiu but MediaTek Corporate Vice President Andrew Chang. Chang does not have a high media profile but he is number four in MediaTek's hierarchy behind only Chairman Tsai Ming-kai, Vice Chairman Cho Jyh-jer and President Hsieh Ching-jiang. He is responsible for many behind-the-scenes operations such as electronics design and manufacturing, earning him the reputation among MediaTek as a mysterious "chief of staff."
Formerly Chiu's supervisor, Chang told Chiu when he left MediaTek: "Your ideas no longer have a place at MediaTek, but if you have any ideas, I will definitely support you."
Chang fulfilled his promise, putting up some of the vast wealth he had amassed over the past two decades to back his old subordinate in creating a product that stands to redefine how people take their blood pressure.
The core of the innovation is a new method to measure blood pressure called "pulse wave velocity," which calculates blood pressure based on the difference between a person's electrocardiogram and pulse waves.
Pacesetting Innovation
The many startups popping up around the world to develop similar blood pressure monitors have designed their devices around optical sensors readily available from semiconductor vendors. The sensors detect changes in the blood flow through capillaries in one's wrist to estimate pulse and blood pressure, but they are often inaccurate. Samsung's Gear smartwatch is one of the products using this principle.
Maisense appears to have defeated the pack by designing a newfangled blood pressure monitor as accurate as traditional devices. Making that possible is a sensor that Maisense designed in house specifically for the application and that the company is in the process of patenting.
The end-product looks like a stylish and compact ear thermometer, and getting a reading is simple. All you do is hold the device with your middle finger and thumb of your right hand pressing on gold-plated ECG electrodes (to get an ECG reading) while placing the head of the device on the left wrist where a pulse is felt. After holding the device in place for 10 seconds, your blood pressure, pulse and stress level pop up on the screen, and you're also warned if an irregular
heartbeat was detected.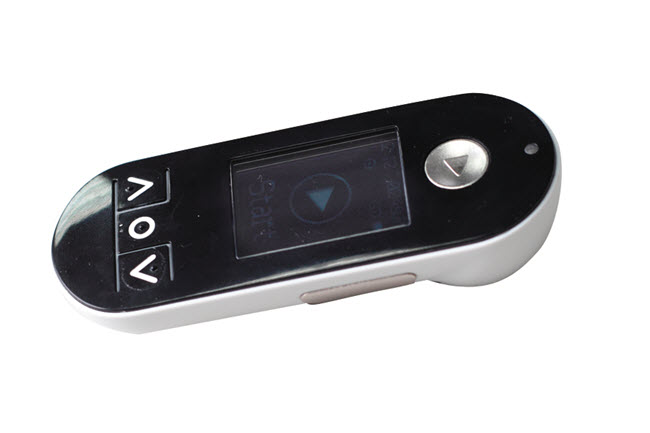 Maisense's mobile blood pressure monitor drew considerable attention when it appeared at the Medica – the world's largest medical marketplace – in November 2014.
When a visitor marvels at how quickly the Freescan™ monitor has been developed and how close to completion it is, the enthusiastic Andrew Chang suddenly tempers the mood by adding: "We're actually half a year behind the original schedule." It was an admission that inadvertently reflected MediaTek's strong discipline and intensity.
Having the backing of high-tech veterans as experienced as Chiang Shang-yi and Andrew Chang has been the secret behind Maisense's highly efficient R&D process.
Chiu and his two founding partners originally had greater ambitions, setting their sights on the high-opportunity, high-risk field of big data medicine. But midway through the process, Chiang and Chang pulled in the reins and asked that they be more practical by focusing on a product with "an existing market and new technology." That friendly nudge redirected Chiu to the development of the new blood pressure monitor
Chiu also had trouble resisting the temptation of wearable devices at one point and wanted to develop his own version of a smartwatch with medical applications. But Chiu's attitude changed when Chang, who has a wide circle of friends, invited a top executive from one of Silicon Valley's three biggest venture capital firms to discuss the project. Chiu was surprised to learn that American venture capitalists saw wearable devices as a bubble waiting to burst, and he quickly turned his attention to the "less sexy" blood pressure monitor.
Chang stresses that he uses vacation time or nights to help Maisense. "The company (MediaTek) is still my No. 1 priority," he insists.
But his involvement in the promising start-up is growing. One example: Maisense's initial product volumes were too small to get key suppliers interested in throwing their weight behind it. Then Chang, leaning on his background as a major player at MediaTek, interceded and sold suppliers on the product's bright prospects in redefining the blood pressure device market and the possibility of creating "a big pie" for everybody.
"In this area, Benjamin is relatively…….," Chang pauses, and then says "innocent."
As a result, Chang has actively worked with Chiu to improve the veteran engineer's social skills and prepare him for the company's rapid development in the future by taking him to entertain doctors and suppliers.
"Right now, he's still a little ill at ease, but he's at least willing to give it a try," Chang says.
After getting Chiu to a certain level, Chang launched an internal "mentor program," spending two hours a month training the company's two other founders, Y.P. Lee and Bach Chen.
As for "Papa Chiang," he's given the company's leaders some lessons of his own.
Chiu, for example, was thinking of selling a small volume of the blood pressure device at a low price point in China before it had been perfected to test the market. But Chiang nixed the idea.
"When you accept people's money, you have a responsibility," Chiang advised. Ultimately, the company's board resolved to invest in a focus group in Europe to get a read on the market.
Two veterans from two of Taiwan's most formidable high-tech companies – TSMC and MediaTek – are using the "mentoring" approach often seen in Silicon Valley to support a new startup, and many are full of anticipation to see how this collaboration between Taiwan's foremost high-tech bloodlines turns out.
Translated from the Chinese by Luke Sabatier