Taiwan's Unpopular Legislature
Six Questions for Wang Jin-pyng
精華簡文
Source:CW
Public support for Taiwan's Legislative Yuan is below 10 percent because of incessant partisan wrangling and the body's lack of efficiency. How much is Legislative Yuan Speaker Wang Jin-pyng to blame and what does the future hold?
Six Questions for Wang Jin-pyng
By Ming-hsien Lee
From CommonWealth Magazine (vol. 565 )


After suffering a crushing defeat in last November's local elections, the Kuomintang (KMT) has entered the "post Ma Ying-jeou" era, and many are wondering what the future holds for Ma's nemesis within his own party, Legislative Speaker Wang Jin-pyng.

People at all levels of government have suggested many possibilities for Wang – from staying on as legislative speaker or taking over as a minister without portfolio or president of the Control Yuan (the branch of Taiwan's government responsible for looking into malfeasance by public officials or agencies) to running on a presidential ticket as the vice presidential candidate. The most passionate voices, however, want him to run for president.

"I suggested it to him at the end of last year. He said the idea could be evaluated," says Hsiao Han-chun, the head of the Kaohsiung City Farmers' Association and one of Wang's most important advisers. "To succeed in life, sometimes you need to give things a try."

Is a presidential run by Wang even a possibility? Public attitudes toward the legislative speaker are highly polarized. Those who like him believe he truly represents native Taiwanese interests. His critics see him as perpetuating a political system corrupted by dirty money.

"Politics can never be completely clean, but we at least hope to maintain a certain degree of purity and ideals," says Yeh Chi-jeng, a chair professor in Shih Hsin University's Department of Social Psychology. "Wang Jin-pyng is good at taking care of people and using subtle means to allocate benefits. Basically, he's a politician who can balance the interests of all parties."

In view of the Legislature's plummeting popularity, there are six questions that need to be asked about Wang's role in the body's declining fortunes and where improvements might be made.
Question No. 1
Who Has Dragged Down Legislative Efficiency?
In CommonWealth Magazine's 2015 State of the Nation Survey, only 9.3 percent of respondents said they were satisfied with the Legislative Yuan's performance. The lawmaking body has been shockingly inefficient, with 646 pieces of legislation on different issues and budget bills still waiting to be addressed in early January.
As legislative speaker for nearly 17 years, Wang cannot evade some measure of responsibility for the Legislature's ineffectiveness, and it's also a question that cannot be avoided when assessing his career.
A good example of the Legislature's chaotic workings came last year when the budget for state-run enterprises and nonprofit foundations was up for review. The budget bill, which should have been passed in November 2013, was delayed for 13 months and ended up being enacted only recently. But because the agencies used the funds in 2014 to maintain their operations, the cuts mandated in the bill never took effect, and it was retracted soon after being passed.
Even more absurd was that when Taiwan's National Audit Office recently released its audit report on the central government's final accounts for 2013, the 2013 budget bills for state-run enterprises were still waiting in line at the Legislature to be passed. Taiwan Power Company and Taiwan Water Corporation undertook some projects in 2014 after getting approval from the executive branch of government because they could not wait for a legislative review.
"This is major dereliction of duty on the part of the Legislative Yuan," says former at-large Taiwan Solidarity Union Legislator Hsu Chung-hsin, who now teaches law at National Cheng Kung University. He argues that because state-run enterprises monopolize public services and their revenues are similar to tax receipts, they cannot operate without legislative approval.
"Spending money without (a budget bill's) passage means that the government is not being supervised by the people, violating democratic principles," Hsu says.
But lawmakers themselves often do not take their responsibilities seriously and are under little pressure to do so. And none of these issues have in any way affected Legislative Speaker Wang's smooth management of the lawmaking body and his popularity among legislators.
Question No. 2
Are Secret Consultations Necessary?
At public venues, Wang always has a sparkle in his eye, but out of view his network of connections can be complicated, granting whatever requests are asked of him even if it involves illegal lobbying or prodding government officials. Several Control Yuan members have received his phone calls expressing concern amid their investigations into questionable practices. He is also on excellent terms with several major entrepreneurs, and when Master Hsing Yun recently launched a traditional Chinese religions association, Wang was named chairman.
"Taiwan has more than 10 million followers of Buddhism and Taoism," says one person familiar with the numbers.
Returning to the Legislature itself, the man who will soon become the longest-serving head of a national assembly in Taiwan's history is completely in his element. Though the public sees the Legislative Yuan as an arena for constant partisan infighting that sometimes breaks out into fisticuffs, Wang always seems to transcend the fray.
The body's procedural model even follows the dictate of a couplet posted by Wang reading "harmony leads to good fortune," which embodies Wang's style of encouraging consultations to avoid conflict.
When the full Legislature meets every Tuesday and Friday, Wang typically sits at the chairman's podium and listens to the Legislature's Conference Department read out a bill, talking occasionally to the body's secretary-general sitting next to him, and then declaring: "Are there any objections? No objections, the bill is passed."
The process seems smooth, but those familiar with legislative procedures understand that it is little more than a show because the disputes have all been ironed out in advance.
"Bills on which agreement cannot be obtained are either frozen or shelved until the next cross-party consultation session," explains one veteran Legislative Yuan official.
From bills to budgets, from committee reviews to full floor resolutions, they generally have to be submitted for cross-party consultations to have any chance of passing. If consultations do not succeed in achieving a consensus, Wang holds another round of talks with representatives of government agencies and the whips of each party in attendance. This has spawned a unique legislative consultative culture that puts reaching consensus above how many legislative seats each party has.
Democratic Progressive Party (DPP) lawmaker Lee Chun-yi has felt frustrated under such a system, even if it can be favorable to his party, which is in the minority in the current Legislature. He believes that the consultation culture is so prevalent that legislative committees and lawmakers tend to get lazy, referring everything to negotiations if there are differing views.
"These issues should be discussed and resolved in committee. Once they get sent to consultations, they are decided after a brief discussion by a handful of people. The quality of legislation will of course suffer," he says.
Question No. 3
Operations 'Factionalized'?
To experts familiar with the system of "majority rules" found in the United States Congress, the Taiwanese model has several problems and goes against the spirit of democracy. But to many older Taiwanese, the local Legislature's backroom dealings are anything but strange because they closely mirror how local factions in Taiwan traditionally operated.
In the early days in central and southern Taiwan where local factions were active, "factional" meetings were held every six months before elections. Local kingpins would then announce the candidates chosen to run in legislative, provincial assembly or city or county chief elections, and those responsible for getting out the vote, including by buying votes, would then declare how much funding they needed to get the job done.
The faction meetings were able to proceed "harmoniously" because any differences were thrashed out behind closed doors beforehand.
"The operations were similar to how crime gangs and triads do things," one local political heavyweight says laughing.
Wang himself currently leads the "White Faction" in Kaohsiung, and he leaned in the past on the faction's support to maintain his political momentum.
Factional support and machinations embody the road traveled during Wang's political career that has spanned a series of political transitions in Taiwan from authoritarianism to the lifting of martial law to democracy.
In Kaohsiung during the martial law period, for example, the head of the KMT in the county could summon the elected county commissioner to curse him out and demand that the party's demands be given top priority. Local politicians remember that in the 1970s when the Kaohsiung Grand Hotel was moved to its current location near Cheng Ching Lake, the KMT called the shots on everything from land expropriation to implementation, and the local government simply followed orders.
When it came to decisions on political candidates, the nominations also depended on the KMT, which deliberately forged a "balance of terror" among the different factions.
Question No. 4
Why the Muting of Party Caucuses?
With the rise of a coalition of independent anti-KMT politicians, known as "dangwai" (literally, "those outside the party" because political parties unfavorable to the KMT were banned until the DPP was founded in 1986), the Legislative Yuan eventually became a battleground for consolidating political legitimacy. As a result, the KMT changed its approach to factions, trying to woo them rather than control them.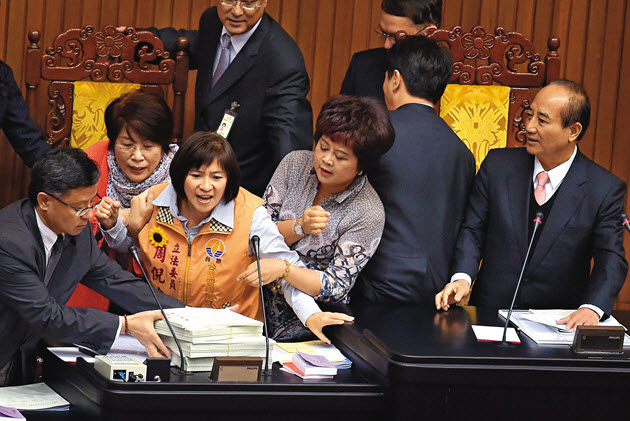 Legislative Speaker Wang Jin-pyng puts a priority on achieving consensus to pass bills instead of relying on floor votes, contributing to legislative showmanship.
Wang's strengths were ideally suited to the party's new attitude, and he demonstrated his political acumen and ability to exploit his broad network of contacts.
KMT Legislator Ting Shou-chung remembers a time more than 20 years ago when Wang led a delegation of lawmakers to the United States, and one of the stops on the itinerary was a jewelry shop opened by the wife of a congressman. Wang understood that the U.S. side hoped that its Taiwanese friends would give the store a boost and reminded members to choose some small mementos "to take care of their small business. I'll foot the bill," Ting recalls. Wang spend a few hundred U.S. dollars, but he endeared himself to his hosts.
As a young lawmaker, Wang was mentored by Liu Sung-pan, the first native Taiwanese legislative speaker and a product of central Taiwan factions. He was also active in cultivating ties with high-ranking KMT officials.
A retired legislator recalls that when Lien Chan (who was National Youth Commission chairman, transportation minister, vice premier, and foreign affairs minister in the late 1970s and 1980s) traveled overseas, Wang would make it a point to see him off at the airport. He also went through Lee Teng-hui's close advisers Su Chih-cheng and Liu Tai-ying to get close to the former president (who was in power from 1988 to 2000). Ultimately, Wang was nominated and elected as legislative speaker in 1999 at the age of 57.
When the DPP won the presidency the following year, Wang's new standing in the Legislature gave him unprecedented maneuvering room. Though newly elected president Chen Shui-bian was riding a high, he still needed the majority-KMT lawmaking body to endorse his policies. Also, there was no real precedent on how Taiwan's executive and legislative branches were to interact institutionally.
American scholar Andrew Wedeman, who studies the relationship between corruption and economic development, has observed that of the four "East Asian Tigers" (Taiwan, South Korea, Singapore and Hong Kong), Taiwan and South Korea were "developmental states" driven by machine-style politics. High-paced economic development was driven by close cooperation between technocrats and big business, an alliance that concentrated on shaping economic policy and matching product and business life cycles to sustain growth.
In contrast, electoral and parliamentary politics were simply stages on which the appearance of democracy was created, according to Wedeman.
"In reality….elections provided a means of gauging the public mood without necessarily allowing the public to directly influence the legislative or policy agendas,"
Wedeman wrote in his book Double Paradox: Rapid Growth and Rising Corruption in China.
Taiwan had traditionally put a far higher priority on executive power than legislative power, so when a major political transition occurred in 2000, the Legislative Yuan, which reflected public opinion but lacked norms or established practices, suddenly became a new battleground for democratic politics. It was also the ideal platform for Wang to exert political pull.
Question No. 5
Loyal to Power or Public Opinion?
The lack of coordination between the executive and legislative branches remains to this day, even when the party in power, the KMT, also has a majority in the Legislature. In the most recent example, KMT lawmakers refused in early January to support the Ministry of Transportation and Communications' plan to restructure the finances of Taiwan High Speed Railway Corporation (THSRC), leading to the resignation of the transportation minister and the THSRC chairman.
One KMT lawmaker responsible for party policy explains that party legislators rejected the proposal because the ministry failed to effectively communicate with society and proposed a measure that did not have public support.
"Why did the Transportation Ministry think it should get support from the Legislature?" the lawmaker asked. "I'm elected by the voters, while you're appointed by the president. You may be out of office in three months, but you want me to support your proposal. That's unbelievable."
There have been several similar cases in recent years in which lawmakers took the side of what they felt was public opinion to check and balance executive power. They include attempts to open up imports of American beef containing traces of a leanness-enhancing drug, raise electricity and fuel prices, pass a capital gains tax on sales of stock, and complete work on the fourth nuclear power plant.
There has also been stiff opposition to a trade-in-services pact with China, an oversight bill on signing agreements with China, and a plan to create free economic pilot zones, all of which remained shelved in the lawmaking body.
As a KMT member and caught between partisan confrontation between the KMT and DPP, Wang finds himself in a delicate position when such controversial issues arise.
He has to work with executive agencies in dealing with major legislation to ensure that the government runs smoothly, but he also has to take into account the "checks and balances" role lawmakers play as representatives of public opinion in monitoring the government. Views diverge widely on Wang's efforts to achieve consensus and conciliation through consultations.
Those who dislike the KMT tend to see Wang as respecting public opinion and ensuring that the Legislative Yuan is no longer just another administrative agency or an appendage of the ruling party. But others question how he maneuvers between party or personal interests and wonder if his loyalties lie with power, factions or political parties.
Hung Chao-nan, who was a legislator for 24 years (1981-2005) and served one term as a member of the Control Yuan, describes Wang's role between the two parties as very ambiguous.
"He is fair to the KMT and even fairer to the DPP. If the DPP opposes something, he will lean toward the DPP and try to be even fairer," says Hung, who adds guardedly that Wang's deliberate style can make it difficult for major initiatives to move through the legislative process.
But when lawmakers' interests are challenged, Wang reacts far more vigorously. Former TSU lawmaker Hsu recalls one incident two years ago during a budget review, when he advocated cutting "good neighbor" funds for state-run enterprises, seen by many as "lawmakers' private coffers." When Hsu insisted that he would not agree to a consensus reached in cross-party consultations, Wang showed a rare burst of anger. He blasted Hsu – an at-large legislator representing his party rather than an electoral district – for "thinking you are so clean" and lacking an understanding of the hardships endured by legislators who are directly elected by their constituents.
Hsu says that in the end, a compromise was reached that cut NT$400 million from the good neighbor fund's budget and left NT$300 million intact.
An amendment to Taiwan's Accounting Act that shocked the country when passed by the Legislature two years ago also reflects Wang's strong commitment to his factional comrades.
At the time, hundreds of professors had been indicted for using falsified receipts to claim reimbursement of research expenses, something the professors argued they were forced to do because of Taiwan's unwieldy regulations covering research grants.
TSU lawmaker Lin Shih-chia proposed an amendment to decriminalize their actions, but during cross-party consultations on the bill, the problem of elected officials' use of public funds, including their special allowances, was inserted into the bill. Its inclusion meant that a close friend of Wang's, former independent lawmaker Yen Chin-piao, would be sprung from jail, where Yen was serving a three-and-a-half year prison sentence for using NT$20 million in public funds to visit hostess bars when was a Taichung City councilor.
On May 31, 2013, the day the measure was passed, Wang deliberately cleared the room during cross-party consultations when the amendment was brought up and then changed the agenda to have it passed at 11:30 p.m., just minutes before the Legislature's spring session came to an end. But a public outcry ensued, forcing the Legislature to reconsider the measure and overturn it.
"The whole thing was handled by Wang," says a person close to Yen.
Question No. 6
Who Is the New Kingpin after Wang Leaves?
The main controversy over Wang's role as legislative speaker remains his insistence on political party consultations, subverting the professional screening responsibilities of the lawmaking body's committees. That emphasis has given those in charge huge room for maneuver and strengthened their authority inside the chamber, but has also left the Legislature without a sustainable professional system that promotes specialized knowledge and expertise in committees.
"If Wang is not the legislative speaker of the next Legislative Yuan, the party consultation system will face a challenge," asserts Wang Yeh-lih, a political science professor at National Taiwan University.
Similar problems have emerged in local factions represented by Wang.
In Kaohsiung, because of political party confrontation and the rise of television, the Internet and other new media, the local factions that traditionally held things together and served as powerbrokers have lost their functionality. One Kaohsiung political insider says the only people today who talk about local factions tend to be in their 50s or 60s or older.
Wang's conciliatory manner and efforts to foster harmony have come at a price to the Legislative Yuan – the disabling of institutional functions. With the many doubts about the lawmaking body and the role Wang has played over the past 16 years, some are questioning if Wang's loyalty as he weighs his next move will be to the country, to political parties, to factions or to power?
Translated from the Chinese by Luke Sabatier