Chaz Chang
Turning Lukang into Asia's Edinburgh
精華簡文
Source:CW
Lukang has a nostalgic grip on its natives who work in other parts of Taiwan, a grip so strong that budding arts manager Chaz Chang has returned, hoping to bring the arts to his backwater hometown.
Turning Lukang into Asia's Edinburgh
By Kwang-yin Liu
From CommonWealth Magazine (vol. 564 )


A "back to the countryside" trend has taken hold in Taiwan in recent years. A growing number of young people, who have studied and worked in big cities, have decided to return to their rural hometowns. They open coffee shops, run bed and breakfasts or develop cultural and creative businesses. They want to carve out a niche for themselves. Yet they are also guided by a strong sense of mission, determined to contribute to the development of their local communities.

When returning home to Lukang, Chaz Chang had more in mind than just opening a small store to make a living. He wanted to improve the town's living environment. Chang, who majored in arts management, regards the entire town as a curatorial platform for arts exhibitions and performances. He actually dreams of making Lukang as much a venue for the arts and cultural festivals as the Scottish capital of Edinburgh. Each summer, Edinburgh hosts a plethora of arts and cultural events collectively known as the Edinburgh Festival.

It is early December and central Taiwan basks in warm sunlight. Armed with feather dusters, wiping rags and cameras, 29-year-old Chang and his friends guide six American exchange students from National Chengchi University in Taipei through Lukang's food markets and winding alleys. While explaining the old merchant town's history, they clean and sort the community's public bookcases.

The handmade bookcases are a gift from "The Kids from Lukang STUDIO," which was founded by Chang. The group built them with leftover wood from a local wood factory, stocked them with books collected and put them up at various places in the neighborhood. Interested readers can check out the books whenever they like and return them after finishing reading them.

In the Guihua Lane Artists Village, a five-year-old girl checks out a book and pesters her mother to read it to her. The six American exchange students, who have come to Lukang to earn community service credits, find themselves surrounded by curious passers-by as they tell local children Christmas stories or neatly arrange the books in the bookcases.
Emulating Others
Chang notes that the idea of making reading a part of people's everyday lives comes from the small market town Hay-on-Wye in Wales, also known as a mecca for book lovers. Although the small town has a population of fewer than 2,000 people, it has stocked more than 1 million secondhand books.
"Many Lukang residents still don't know about these bookcases," remarks Chang. He hopes that the regular bookcase cleaning drives will raise public awareness about their existence.
Chang is a genuine son of Lukang. A music lover from childhood on, Chang passed the exam for admission into the Changhua Municipal Chinese Classical Orchestra as a player of the bamboo flute about ten years ago, giving him many opportunities to tour and perform. Little did he expect that these experiences would lead him on a path back to his hometown.
2009 was a turning point for Chang. At the time, he was studying arts management at Shu-Te University in Kaohsiung. When the school awarded him a "build your dream" grant of NT$200,000, he went on a tour of Italy with the Cho-Shui River Art Dance Ensemble from Yunlin County. The tour lasted more than 40 days with performances in more than 30 cities. During this trip, the young people on the island of Sardinia made a lasting impression on Chang.
The Mediterranean island is only two-thirds of the size of Taiwan. Yet, its festivals in the summer draw hundreds of thousands of tourists and local visitors.
"I met many young Italians who normally also work or study away from home. But when their hometowns host an important festivity, they make sure to return home to join in," Chang observes.
Many people hold that young people are forced to move to the big cities to make a living because Lukang does not offer many employment opportunities, but Chang begs to differ.
After witnessing the strong self-confidence and identification of young Italians with their own culture and local roots, Chang began to ponder Lukang's development potential. He decided to return home together with other young people from Changhua County. With financial support from the Ministry of Culture's Dream Come True Program, Chang set up The Kids from Lukang STUDIO.
"Others say they return to the countryside to serve the community. We return to serve the arts," he remarks jokingly.
Lukang as a Curatorial Platform
Their ultimate goal is to make Lukang Taiwan's artistic capital. "When thinking about arts festivals, Britain's Edinburgh springs into everyone's mind. Lukang is also an ancient town with a rich history and cultural background. Why on Earth should it not be able to become Taiwan's Edinburgh," Chang asks rhetorically.
While many young people have responded to Chang's rallying cry, many older residents have cold-shouldered their efforts.
Two years ago, the Kids from Lukang launched a "Protect Lukang" campaign, which started out with the collection of discarded trash in the streets and on empty plots of land. When they discovered a community pond that had deteriorated into a stinky, polluted water hole, they put on diving suits and dug out the sludge shovel by shovel. Yet many local residents frowned at their actions, asking "You youngsters. What are you up to?"
"It was really very smelly and very tiring. The locals all said we were idiots, and wondered why we didn't call town hall and let them do the cleanup. But if the cleanup crew came from town hall, local residents wouldn't have noticed that the pond right on their doorstep has already turned into a stinking sewer. If this is done by young people, whom they do not know, they will at least take note," says Chang in explaining the rationale behind the campaign.
Now, the Protect Lukang campaigners gather once a month to collect trash, check on the street-side bookcases, conduct guided tours through Lukang at night or organize concerts. Chang hopes to make the best of what he has studied, using all of Lukang as a platform to plan exhibitions and events. Even the town's historical temples and buildings have gotten a new lease on life as atmospheric backdrops for cultural events.
Pianist Lee Chih-hsien, who hails from Taoyuan, fell in love with Lukang and hoped to organize a concert featuring a mix of western and eastern culture in the town. When she bumped into the Kids from Lukang, the two sides immediately clicked. Originally, they had envisaged a small-scale music salon at a local coffee shop, but Chang set his sights higher. He chose the Longshan Temple, which dates back to 1786 and is one of Taiwan's finest examples of traditional temple architecture, as a venue. Temple authorities were happy to give Chang their blessing.
At year-end in 2013, they had a grand piano moved into the temple right under its colorful carved wooden octagonal roof from the Qing Dynasty. In a setting, where Taiwanese opera was routinely performed some 100 years ago, more than 100 local residents now listened to a Western classical music trio. Lee, flutist Kan Yi-chen and singer Anna Pu presented Taiwanese folk songs such as Craving for the Spring Wind and Romantic Dream by the Riverside.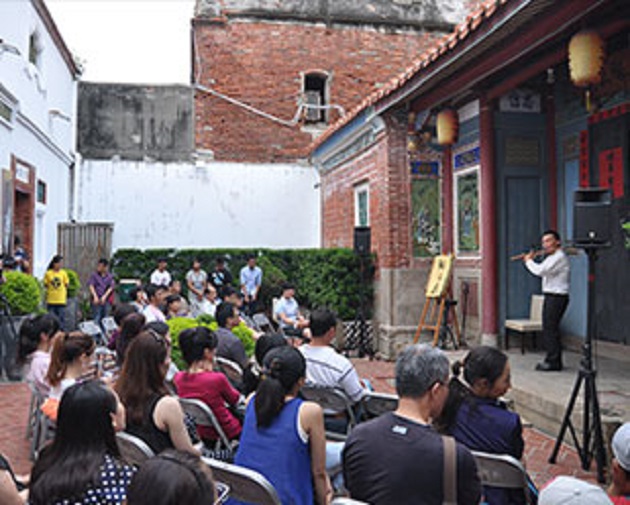 Taking the entire historic town as curatorial platform for artistic and cultural events, Chaz Chang organizes concerts in old, traditional buildings.
"The Longshan Temple is very different from the Tianhou Temple in that it has a very unique power that makes everyone calm down," observes Chang. Chang and his colleagues also organized a concert at the Ding Family Mansion, a typical merchant house with inner courtyards built over a hundred years ago. The Kids from Lukang continue to approach property owners hoping to find more old houses and empty plots of land that could serve as venues for art events. They want the locals to know that art and culture are not a privilege of city dwellers but can be part of people's lives everywhere.
"Lukang has many old spaces that require everyone's attention because they could be creatively revived and used. We have some ideas for future life and we pursue a certain direction. We need to challenge new possibilities and live the new Lukang," Chang explains.
Living the New Lukang Spirit
For Chang and the six other members of the Kids from Lukang, "living the new Lukang" is not just an empty slogan but rather an entirely new attitude toward life.
Two Chinese reporters from Hunan TV, who have come to interview Chang for a feature story, are flabbergasted when they hear that he returned to the countryside after graduating from a university in a big city. "Don't you feel it's such a waste," they ask.
"No, I don't. I think it's a choice of values. You can't say that just because your hometown does not have skyscrapers, it's a shame," answers Chang, completely unfazed. "We can have a good quality of life here, and we don't need a lot of money to feel fulfilled. City dwellers actually end up envious of us."
Chang tirelessly points out the advantages of small town life. "Life in the city turns people into machine-like creatures because a city has its own logic. No matter whom you throw into this urban environment, they must all function within it. Yet, if we live in Lukang we can live as individuals because no one is pushing us to do something," he argues.
The Chinese reporters are keen to hear whether the Kids from Lukang actually earn more by collecting trash and organizing cultural events in this small town than doing an office job in the city. Chang points out that many people think you must first make money before you can afford getting involved in culture.
"However, if the cultural environment becomes good first, everyone can make money and make a living. Therefore, we need to build an environment that suits cultural industries and attracts more cultural workers to live the good life."
Certainly, the Kids from Lukang are not making big money right now. Most of their income comes from project subsidies from the government. Chang himself makes a living from music performances and teaching. He hopes that one day the STUDIO will become a sustainable business specializing in the planning of community art exhibitions and performances.
The Kids from Lukang are working hard to make their dream come true. Lukang is still unquestionably a long way away from becoming "the Edinburgh of the East," but these young people have already charted their own course and do not need anyone to push them into action.
Translated from the Chinese by Susanne Ganz