2015 State of the Nation Survey
China, Political Infighting on People's Minds
精華簡文
Source:CW
CommonWealth Magazine's latest State of the Nation Survey found ongoing dismay with partisan wrangling at home but decidedly mixed attitudes toward China, even in the wake of social movements portraying Beijing as a villain.
China, Political Infighting on People's Minds
By Wu Ting-feng
From CommonWealth Magazine (vol. 564 )


What are Taiwan's people thinking about the country's political and economic situation as a new year begins?

And with local elections recently completed and presidential and legislative elections on the horizon in early 2016, what are the issues that most concern Taiwan's fickle public?

According to CommonWealth Magazine's 2015 State of the Nation Survey, the three most pressing issues facing Taiwan are "strengthening the economy" (35 percent), "narrowing the rich-poor divide" (28 percent), and "ensuring food safety" (24 percent). (Table 1)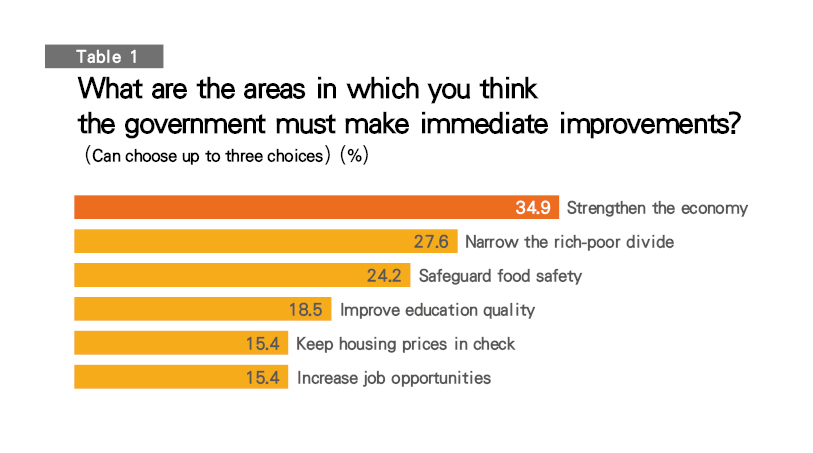 Huang Tong-yi, a professor in National Chengchi University's Department of Public Administration, says Taiwan's economic performance and the gap between rich and poor represent structural problems that cannot be immediately cured with a miracle prescription, while the spate of food safety incidents (most recently over edible oils containing ingredients not fit for human consumption) has further undermined public confidence.
In fact, only 16 percent of survey respondents expressed satisfaction with the economy's performance at present and 91 percent felt the rich-poor divide was serious. (Table 2, 3) The results were similar to last year's findings and indicate a continued high level of alarm among the country's people.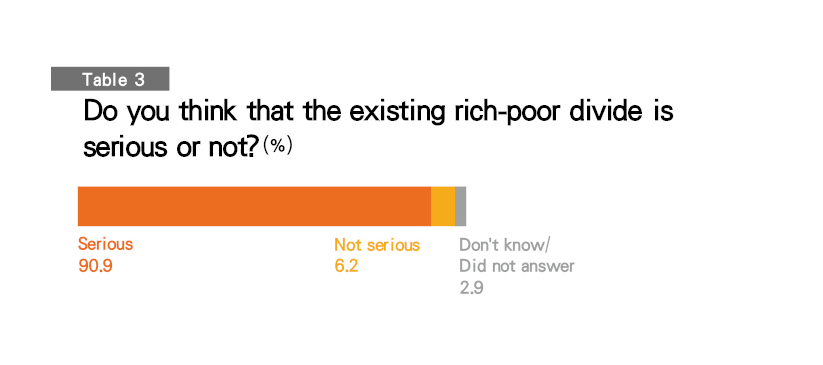 "The rich-poor gap has gradually evolved into a generation-gap phenomenon," says a concerned Hong Ming-hwang, an assistant professor in Chinese Culture University's Department of Social Welfare who has researched Taiwan's income distribution for years. The trend could result in an even more divided society in the future, he suggests.
China: Opportunity or Threat?
When students stormed and occupied the Legislative Yuan in March 2014 to protest an agreement with China to open up the services sector across the Taiwan Strait – an occupation that came to be known as the Sunflower Movement – a political signal had been sent.
"This movement brought division," says Wu Chin-en, a research fellow with Academia Sinica's Institute of Political Science.
"Years ago (in 1990), when the White Lily Student Movement pushed for the direct election of Taiwan's National Assembly, it helped move society toward a consensus on democratization. But the Sunflower Movement fought the government's China policy and left Taiwan mired in a stalemate from which opposing sides emerged less willing to compromise or even hold a dialogue."
In the State of the Nation survey, mainstream public opinion favored the opening of cross-strait economic and trade under specific conditions (47 percent), a consensus unaffected by the Sunflower Movement. (Table 4)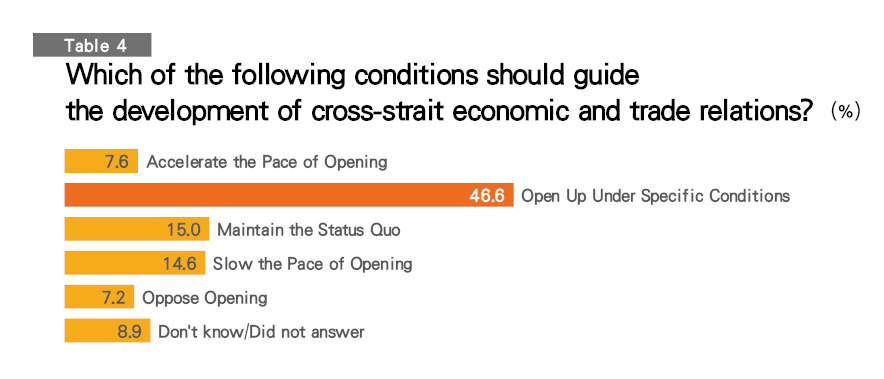 Also, even after the ruling Kuomintang, which favors closer ties with China, suffered a massive defeat in the Nov. 29 local elections, 41 percent of respondents still expected Taiwan's relations with China in 2015 to stay roughly the same as they were in 2014. (Table 5)

Wu Fu-cheng, deputy director of the Taiwan Institute of Economic Research's Chinese Industrial and Economic Research Center, was not surprised by the results.
"The media exaggerated the impact of the protests. There's no way cross-strait economic and trade relations will turn back, even if there is a change in the ruling party," he says.
Yet the Sunflower Movement did highlight the public's anxiety over the steady advances in ties with China. Sixty-four percent of respondents, for example, still expressed concern that Taiwan's economy was too dependent on China. (Table 6)

Particularly worth noting is that the Taiwanese public's concerns over expanded exchanges with China are not limited to economic dependence but also extend to resistance of Beijing's cultural values. The survey found that 70 percent of respondents were "unwilling" to let their children be educated in China, up 10 percentage points from last year. (Table 7)

"Education has implications for values and is much more complicated than simply working or doing business (in China)," says Liu Chao-lung, an assistant professor in National Changhua University of Education's Department of Public Affairs and Civic Education.
"The public's strong resistance to mainland China's education system indicates that the major difference across the strait has increasingly become the confrontation between democratic and authoritarian values. Taiwan's Sunflower Movement, Hong Kong's Occupy Central and even the sordid scenes unveiled by Xi Jinping's anti-corruption campaign have brought these differences in values further into the open," Liu says.
Separating Political, Economic Considerations
Academia Sinica's Wu observes that Taiwan's young generation, which spearheaded the Sunflower Movement, has a split perception of cross-strait relations. According to the State of the Nation survey, the younger the respondents, the more they leaned toward favoring "the opening up of cross-strait economic and trade, under specific conditions." Moreover, the respondents most willing to work in China were those in the 20-29 age bracket. Fifty percent of them expressed the willingness to work there, compared with 29 percent of all of those surveyed. (Table 8)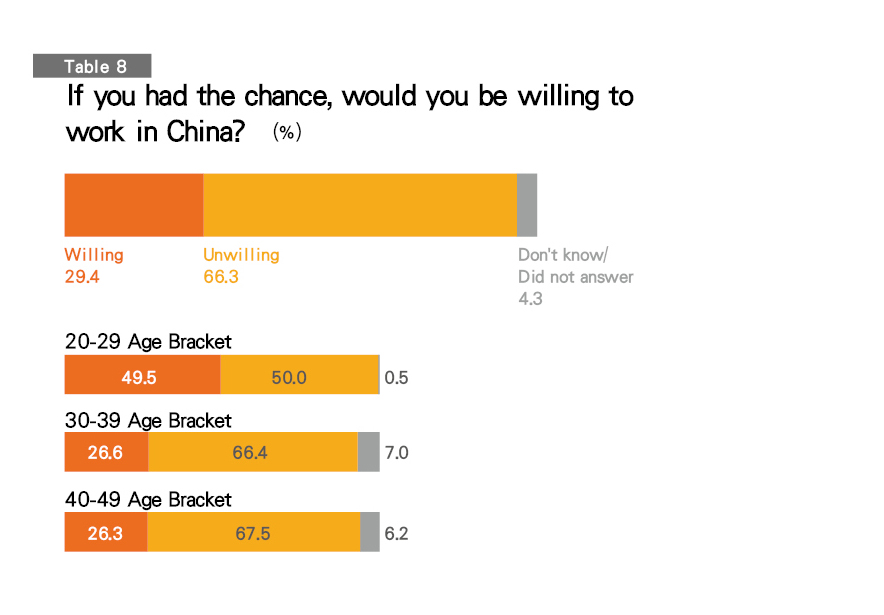 Yet those most opposed to the idea of sending their children to study in China were also from this younger age group.
"Politics and economics are considered separate," says Wu, explaining how the young generation hopes to define cross-strait relations in the future. The problem, however, is that if ties with China are further liberalized, then politics and economics will inevitably become entangled, and trying to clearly draw the line between a "Chinese opportunity" and a "Chinese threat," Wu says, may end up being exceedingly complicated.
Says National Changhua University's Liu: "The Taiwanese public's attitude toward China is to move forward but keep an eye out for trouble. It realizes that the two sides cannot split up, but it's also dead set against embracing China. The problem is that politicians and citizens have yet to hit on an appropriate way to interact."
'No Unification, No Independence' on the Wane
That attitude has resulted in a significant shift in how people see Taiwan's identity in the future.
In response to a survey question on whether Taiwan should pursue unification with China or independence, 36 percent of respondents advocated "Taiwan independence but maintaining peaceful relations with China," second only to the 40 percent who wanted to "maintain the status quo." (Table 9)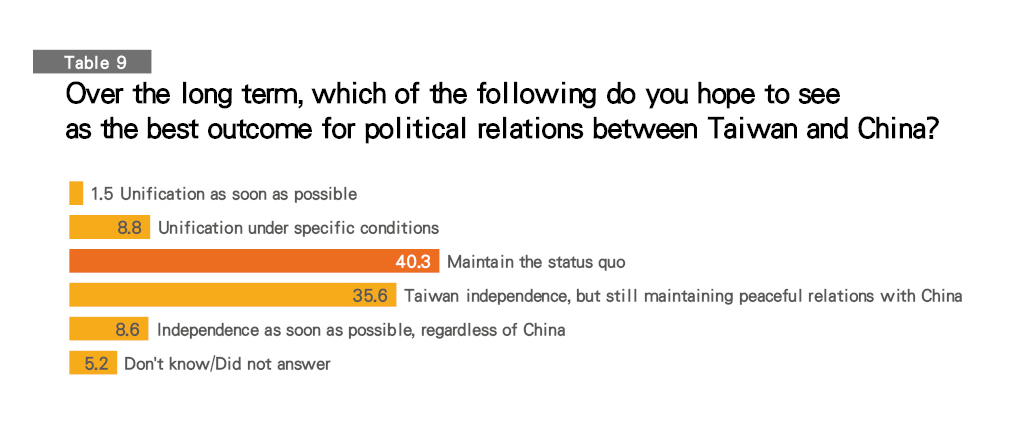 Looking at past surveys, the percentage of people who favor maintaining the status quo has fallen steadily from 63 percent when President Ma Ying-jeou first took office in 2008 while the number of those backing independence but keeping peaceful ties with China has soared from 14 percent to 36 percent this year.
"Ma Ying-jeou's mantra of 'no unification, no independence and no use of force' to define cross-strait relations differs from what people are thinking," says Huang Hsin-ta, an assistant professor in Tunghai University's Department of Political Science.
Huang says that only "no use of force," or maintaining peaceful relations, is backed by a growing percentage of the population, while the "no unification, no independence" mantra, essentially the same as maintaining the status quo, is gradually losing its ballot box appeal.
Of course, it remains a real question whether "no use of force" – i.e. peaceful relations – can be maintained with China without "no unification" and "no independence" as preconditions. But it is at least possible to trace the shift in public opinion on unification and independence to two basic factors.
First, Taiwanese identity has become increasingly consolidated. Some 62 percent of survey respondents identified themselves as "Taiwanese," (Table 10)maintaining the solid majority seen in recent years.

Second, the Occupy Central movement in Hong Kong deepened the mistrust Taiwanese have of China's system. More than three of five respondents (62 percent) (Table 11) said they did not agree with the "one country, two systems" system Beijing has applied to Hong Kong, a position held by 74 percent of those aged 20 to 29. When asked whether Hong Kong's "one country, two systems" approach was appropriate for Taiwan, 81 percent of all respondents said it was inappropriate (Table 12), and that percentage rose to 89 percent among respondents in the 20-29 age bracket.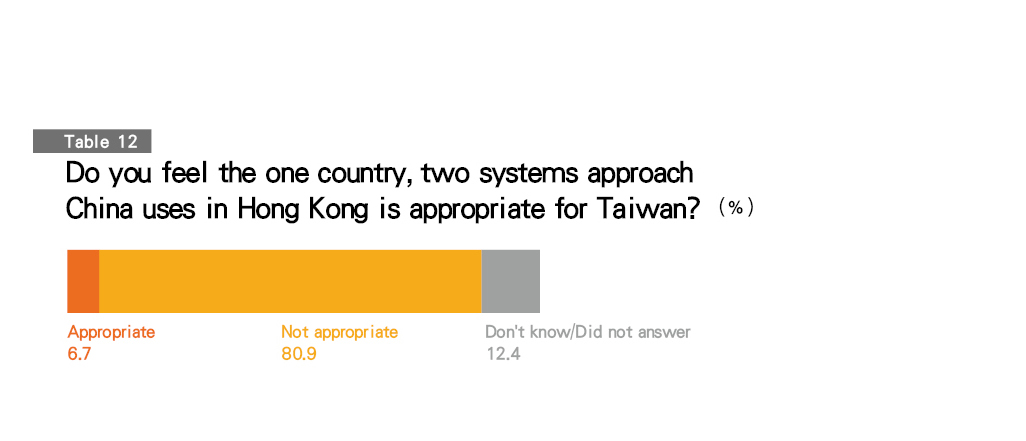 The results indicate that the figurative floor, or baseline, for relations with China is open economic relations and the figurative ceiling, or barrier, will be the differences in political systems. "Ma Ying-jeou, who is stuck in the middle, should no longer try to make cross-strait relations his historical legacy because he would just be wasting his time," argues Academia Sinica's Wu.
9% Support for Taiwan's Legislature
Back on the domestic front, survey respondents identified three main challenges facing Taiwan. Two were chronic problems – "a weak economy" and the "widening of the rich-poor divide." The third challenge, also a longtime concern but not always identified as one in the State of the Nation survey, was "political infighting." (Table 13)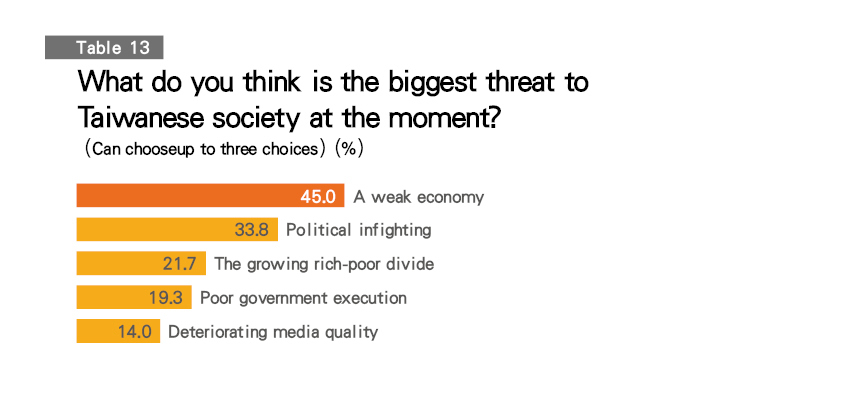 Taiwan's Legislative Yuan is seen as the place where reforms need to begin and political infighting needs to end.
"If the Legislative Yuan was fulfilling its functions, how could there have been a Sunflower Movement, with students occupying the Legislature?" asks Wang Chin-shou, an associate professor in National Cheng Kung University's Graduate Institute of Political Economy.
That only 9 percent of respondents said they were satisfied with the Legislature's performance stands out as a major warning. (Table 14)

Even legislators were not surprised by the result. "The system has in fact gone awry," says Democratic Progressive Party (DPP) Legislator Lee Chun-yi.
Says National Changhua University's Liu: "The Legislature is the embodiment of party politics, but looking at the survey's results, 63 percent of respondents said they supported neither the Kuomintang nor the DPP. It's obvious the public is dissatisfied with the performance of both parties."
So why has the Legislature's support rating fallen below 10 percent?
"Committees have not developed their own expertise, and no seniority system has been established. The background and behavior of some lawmakers have even led some observers to think they are in bed with vested interests. These are all structural problems," explains Wang Yeh-lih, a political science professor at National Taiwan University.
Since 1992, when the Legislature was directly elected for the first time, no standard legislative procedure or spirit has been created, largely because of infamous "cross-party negotiations."
Wang explains that the ubiquitous cross-party consultations have eroded the functions of committees. National Chengchi University's Huang even wonders how the public would be able to monitor lawmakers and hold them accountable if every bill, regardless of importance, were subjected to cross-party negotiations behind closed doors.
This use of backroom politics to reach bipartisan consensus and cut deals has inflated Legislative Speaker Wang Jin-pyng's power and enabled small political parties to take big parties hostage, in violation of the principle of majority rule, Huang contends.
"The idea behind cross-party negotiations is to avoid putting bills to a vote. But voting (on legislation) is not necessarily bad, because the truth can only emerge and the public can only monitor lawmakers' actions if there are votes (on issues), and the majority party can be held responsible. Otherwise, the Legislative Yuan has to choose between backroom dealings or fistfights," Huang says.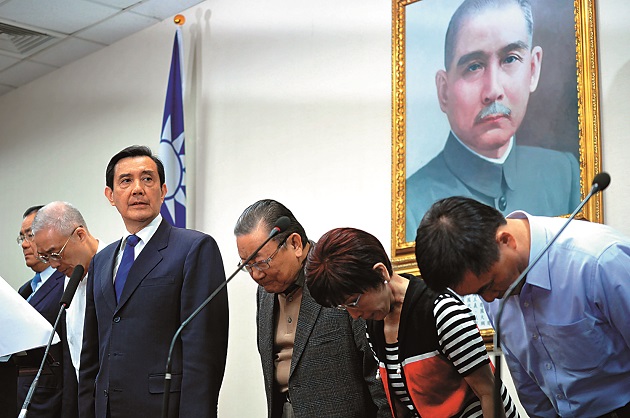 After losing big in local elections on Nov. 29, does the KMT have any chance of regaining its footing in the presidential and legislative elections in 2016?
Academia Sinica's Wu argues, however, that the secret negotiations cannot be avoided and are even a necessity when it comes to highly controversial legislation. The problem, Wu says, has been the abuse of the practice, and therefore what's needed beyond an appropriate degree of transparency is to establish a mechanism for resolving disputes over major bills.
He suggests that in view of Taiwan's split society, the Legislature should learn from lawmaking bodies overseas and establish a more comprehensive procedural mechanism.
"Taiwan's legislature currently decides votes by relative majority. A win by one vote can decide whether or not a bill is passed. That's too low of a threshold" Wu contends.
The best way to deal with highly controversial bills, such as those dealing with China relations or beef imports from the United States, Wu says, would be to raise the threshold for passing a bill to 60 percent of the vote.
"Once that big of a majority has been achieved, it meets the standard of bipartisan consensus and avoids having to choose between backroom negotiations or 'scorched-earth' protests."
Asked who should bear responsibility for the poorly performing Legislature, 23 percent of respondents said the ruling party, 22 percent said the voters and 20 percent said President Ma Ying-jeou. (Table 15) The KMT is the majority party in the Legislative Yuan, and Ma was the chairman of the KMT before stepping down after the KMT's huge defeat in the Nov. 29 local elections, so their responsibility is clear. If the party hopes to engineer legislative reforms in the short time before national elections in early 2016, it will be up to the president, Legislative Speaker Wang and new KMT Chairman Eric Chu to get the ball rolling. (Chu is running uncontested in the KMT chairman election to be held in mid-January.)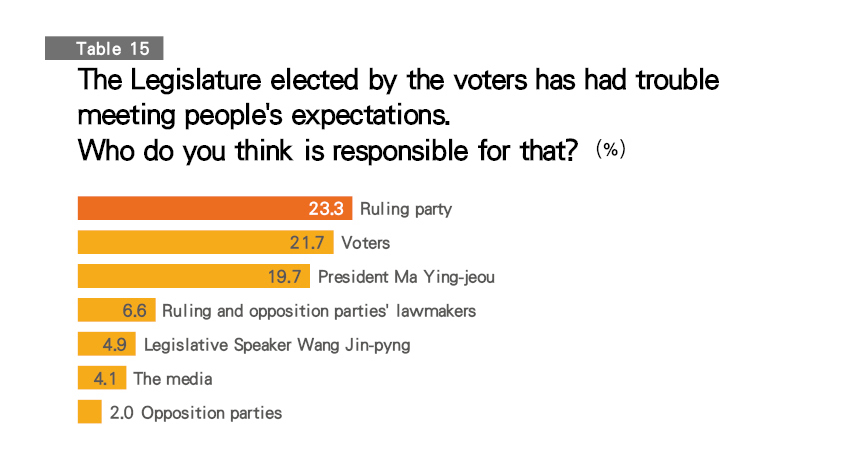 Some respondents were also willing to take a hard look at themselves in assigning blame, "but if change is really to occur, voters cannot simply just vote. They have to closely monitor lawmakers after the election," National Cheng Kung University's Wang suggests.
Wang Yeh-lih laments that Taiwan's political culture features an excess of lively election campaigns but insufficient substantive participation in the political process by the electorate.
Perhaps the bipartisan passage on Dec. 28 last year of an amendment postponing a capital gains tax on stock sales for three years, a move that essentially showed contempt for the concept of tax fairness, will be the best reminder that citizens need to get more involved in legislative matters.
The Media Needs to Put an End to Mudslinging
Stresses Academia Sinica's Wu: "Taiwan's problem is that it lacks a mechanism for compromise and solving problems."
When old problems linger and new problems pile up, the result is the erosion of the government's authority, and that was evident in the survey. Only 37 percent of respondents said they trusted the Republic of China (Taiwan) government. (Table 16)

At a more specific level, the three individuals or institutions least trusted by the public were the president (26 percent), the media (17 percent) and public officials (17 percent). (Table 17)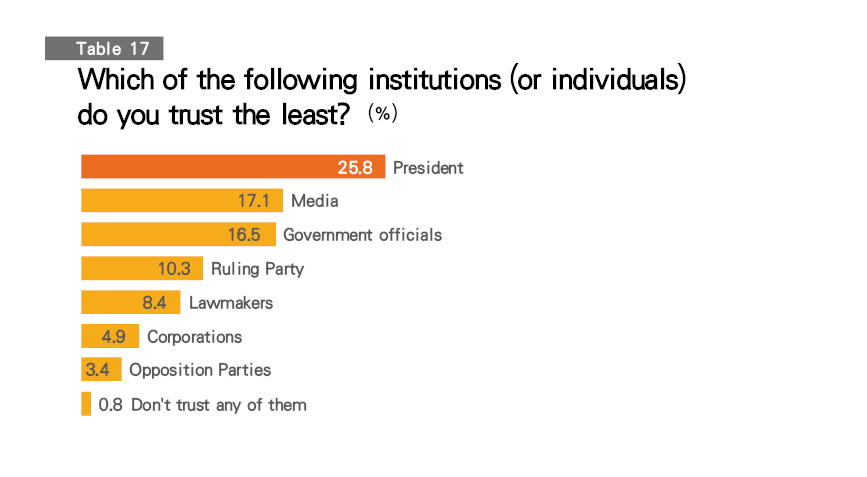 "The president and public officials are synonymous with the government," says National Chengchi University's Huang, who suggests that aside from the president needing to reset his vision and leadership, all government agencies need to adjust and try to catch up with today's changing digital society.
He wondered, for example, if executive agencies were equipped to respond in a timely way in an era when young people are using Facebook to send out messages in real time. Netizens generally take to the Internet at night after getting off work, but civil servants are 9-to-5 employees, leaving a major void to begin with, Huang says. And if government representatives assigned to respond to Internet musings need to have their superiors officially sign off on answers, then the interaction will be rendered ineffective, he asserts.
The media must also be more constructive in its role as the Fourth Estate (the fourth branch of government), Huang argues.
"There are all sorts of unverified, erroneous stories flying around that has the government wasting a lot of energy to clarify. How can that leave people with a positive perception of the government?" he laments.
The chaos has not only been a losing proposition for the government and the media, it has also engendered an increasingly fierce "media civil war," with media outlets staking out partisan positions, that has only deepened the ideological beliefs of the "faithful" and blocked any search for the truth.
Can the media reinvent itself and evolve from its currently negative role that is depleting its credibility into a communications platform that offers rational dialogue? It would appear right now that such a makeover will require self-discipline, but that may be lost on a media that shows little interest in listening to anybody preaching objectivity and reporting the facts.
Translated from the Chinese by Luke Sabatier